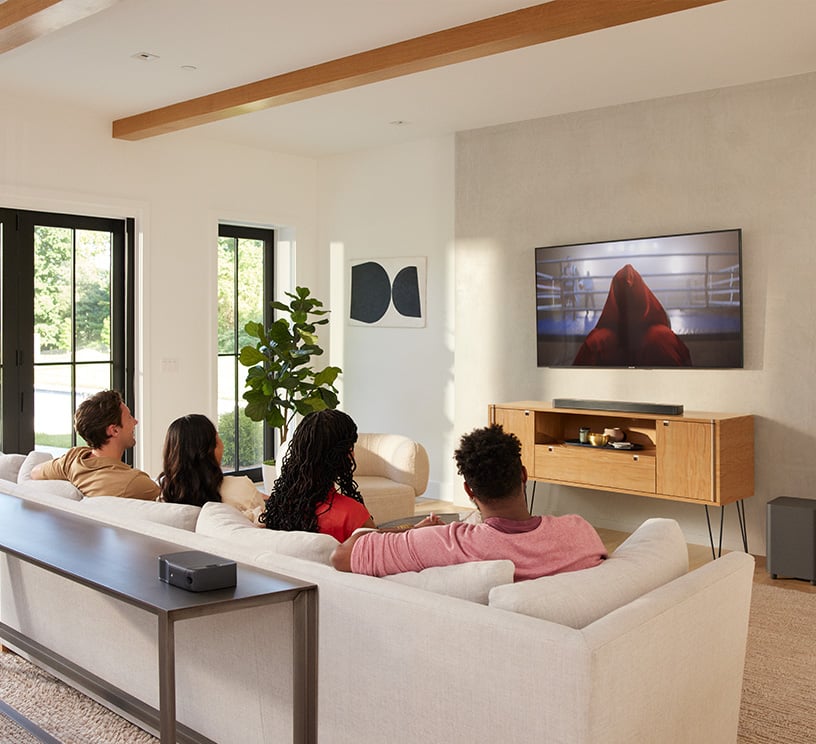 JBL Soundbars
Have a great night out without leaving your living room.
JBL soundbars turn your movies and TV shows into a true experience, and lift your games to the next level.
Fill the room with sound and turn your living room into a cinema, concert hall or stadium with one of the new JBL soundbars. They all come in a compact design yet deliver incredible JBL Signature sound. No matter if you watch movies, listen to music or play the latest games.
JBL soundbars are easy to use and easy to connect to your TV with just one HDMI or optical cable. You can also use them to stream music from your phone using Bluetooth or Wi-Fi thanks to built-in Chromecast, AirPlay or Alexa Multi-Room Music (MRM). Features like Dolby Atmos®, Dolby Digital®, JBL Surround Sound and MultiBeam™ Sound Technology bring a real cinematic experience to your home, making anything you watch or listen to, more epic, more thrilling and more powerful.

Find out more about JBL's soundbars below and see which one best fits your needs.
Read more »
Product Comparison »
Visit the movies, from your sofa

Get the popcorn ready. MultiBeam, Dolby Digital, Dolby Atmos and Dolby Vision* give you an authentic cinematic experience in your home.

* Availability depending on model

All about the bass

Enhance the drama of a tense thriller, feel the roar of your team or sit back listening to your latest album. Don't let the compact size of the JBL Bar 2.0 All-in-One (MK2) and JBL Bar 300 fool you. These all-in-one soundbars give your home cinematic experience a boost of punchy bass from their built-in bass ports. Perfect for smaller living rooms and/or smaller TV's. Do you have a medium living room? The 6,5" wireless subwoofer included with the JBL Bar 2.1 Deep Bass (MK2) delivers deep and thrilling sound. An even bigger room? A bigger TV? Or just up for more bass? The thrilling, precise bass from the mighty 10" wireless subwoofer that comes with the JBL Bar 500, JBL Bar 800, JBL Bar 1000 and JBL Bar 1300 brings extra excitement to your action movies and more emotion to your music.

Say what?

Dialogues are an important part of a movie soundtrack but can often be the hardest to hear. Now with PureVoice*, a voice enhancement technology for crystal clear dialogue, you will never miss a word. Even when the surround effects are at their peak.

*Available on JBL Bar 300, JBL Bar 500, JBL Bar 800, JBL Bar 1000 and JBL Bar 1300

Stream all of your favourite music

Stream your favourite music, with a simple finger tap, thanks to Wi-Fi*. You are free in choosing to use Chromecast, AirPlay or Alexa MRM**. With JBL soundbars you can also enjoy wireless music streaming via Bluetooth from your mobile or tablet.

*Available on JBL Bar 300, JBL Bar 500, JBL Bar 800, JBL Bar 1000 and JBL Bar 1300
**Availability depending on country

Sound in every corner of your room

JBL Bar 300, JBL Bar 500 and JBL Bar 1000 are equipped with JBL MultiBeam™ technology. This proprietary technology creates a wide, horizontal soundstage so you'll hear every detail from your favorite music, movies, TV series and games without the need for surround speakers. Enjoy movies or games with a whole new dimension. Want more? With Dolby Atmos (JBL Bar 800) and Dolby Atmos and DTS:X (JBL Bar 1000 and JBL Bar 1300) you can elevate your surround experience into a 3D sound experience by adding vertical height channels as well as detachable surround speakers.

Make a connection

Connecting a JBL soundbar could not be easier. Just connect the HDMI (e)ARC* or optical cable, sit back, and enjoy.

* HDMI eArc available on JBL Bar 300, JBL Bar 500, JBL Bar 800, JBL Bar 1000 and JBL Bar 1300

JBL One App

The JBL One app helps you to easily add the soundbar* to your Wi-Fi network, and calibrate the soundbar to your room for an optimal performance. The app also allows you to personalize your audio settings, browse integrated music services and store your favorite playlist for seamless playback.

*Applicable to JBL Bar 300, JBL Bar 500, JBL Bar 800, JBL Bar 1000 and JBL Bar 1300
Product Comparison
BAR-2-0-ALL-IN-ONE-MK2
Bar-2-1-Deep-Bass-MK2
BAR-300-
BAR-500-
BAR-800-
BAR-1000-
BAR-1300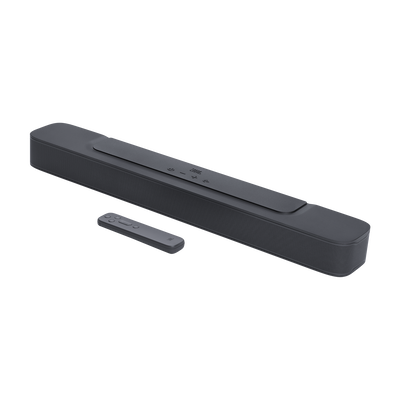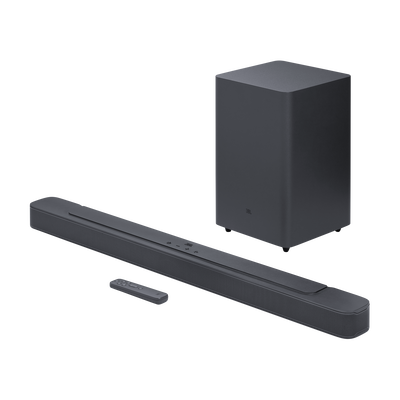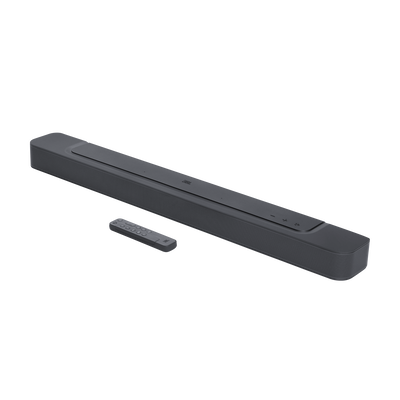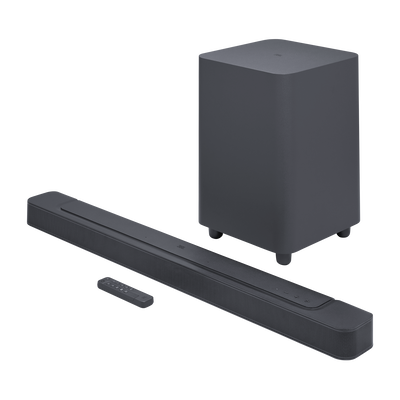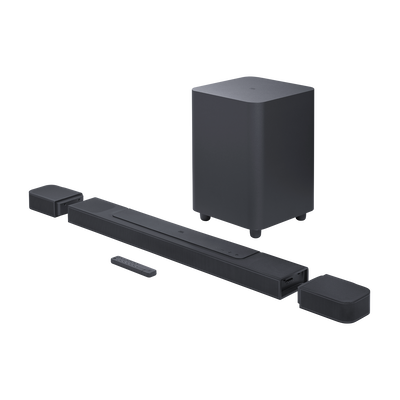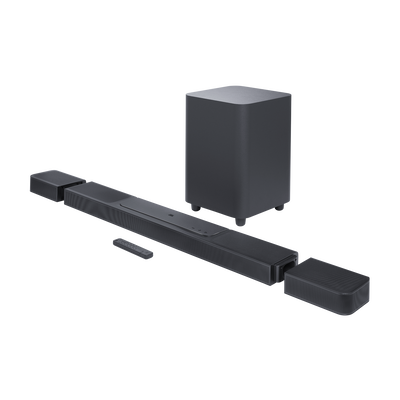 Dimensions
Weight
5.61 kg (Subwoofer)