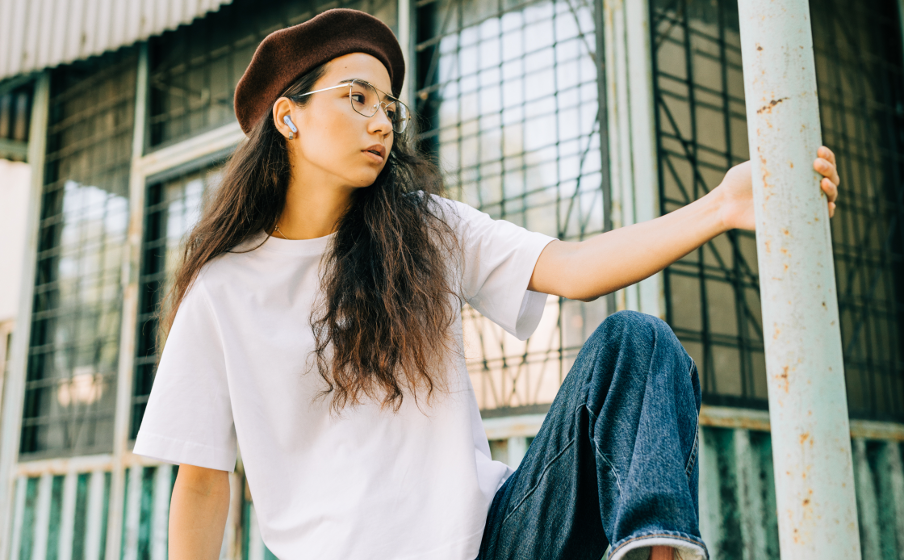 JBL Deep Bass Sound
A hefty 12mm driver delivers JBL Deep Bass sound so you don't just hear the music, you feel it.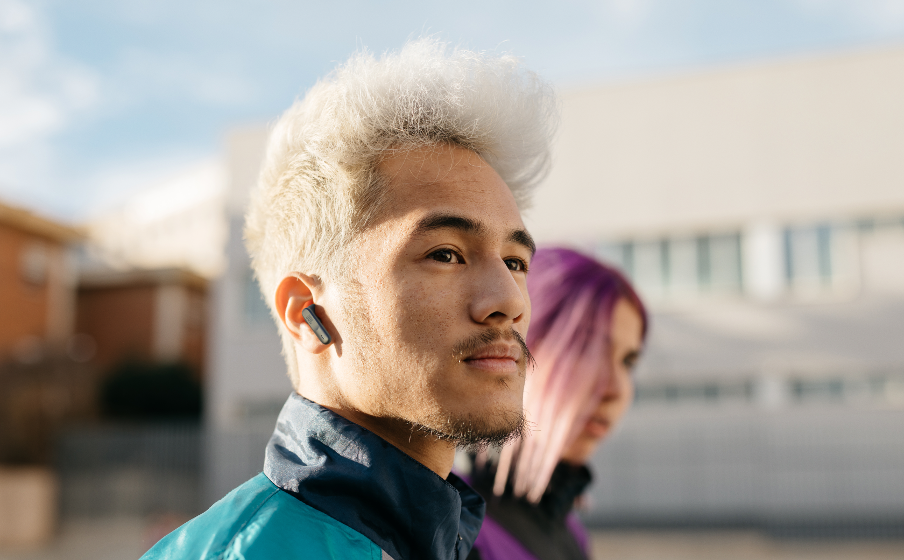 Comfortable fit with open-ear design
The ergonomic fit stays snug and secure to keep you comfortable and connected all day while the open-ear design enhances your ambient awareness of your surroundings.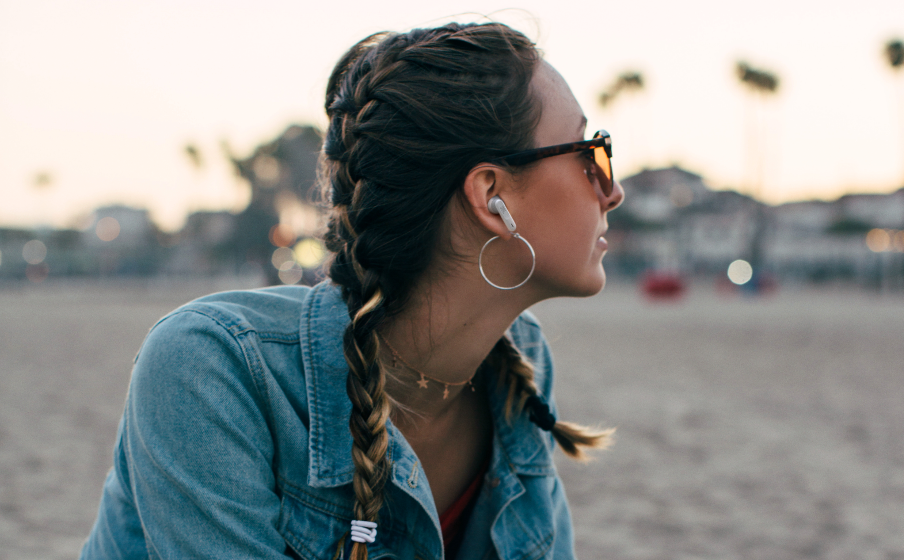 Up to 6 hours of playback plus 20 in the case with speed charge
Never miss a beat with 26 hours of combined playtime (and 6 hours in the earbuds). Or, when you need a quick power-up, you can Speed Charge another hour of battery life in just 10 minutes and for 1 hour for a full charge.
Features

Hands-free stereo calls
The single-mic Wave 300TWS earbuds eliminate background noise so you can enjoy stereo quality calls on- the-go. Easily manage sound and calls hands-free, directly from the earbuds!

Dual Connect
Easily shift between mono and stereo at any time in your left, right, or both earbuds while making calls, enjoying music, or talking with your voice assistant.

Action ready
The convenient, rain-resistant IPX2-certified design of the JBL Wave 300 TWS earbuds means you enjoy your music anytime—rain or shine.

Touch control and voice assistant supported
Convenience at your fingertips. Activate all of your JBL Wave 300TWS's audio functions with the ease of touch control and access your device's voice assistant directly from your earbuds.
Product Comparison
WAVE300TWS-
TUNE-FLEX
WAVE200TWS-
TUNE230NCTWS-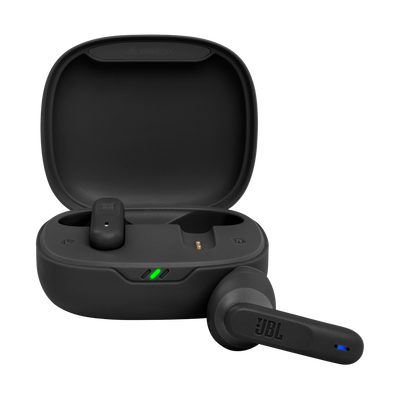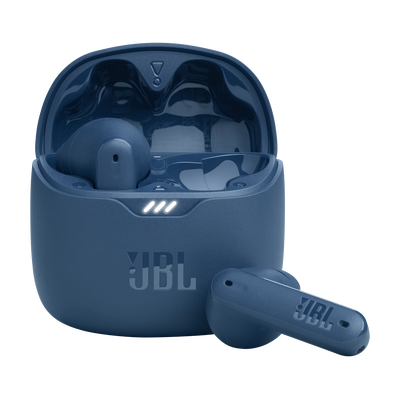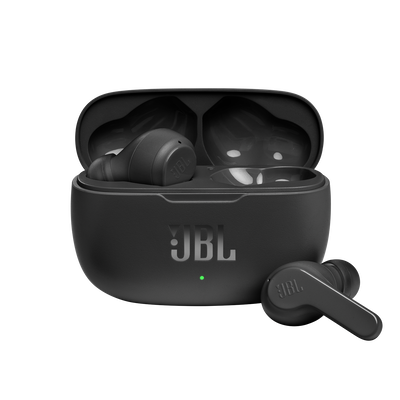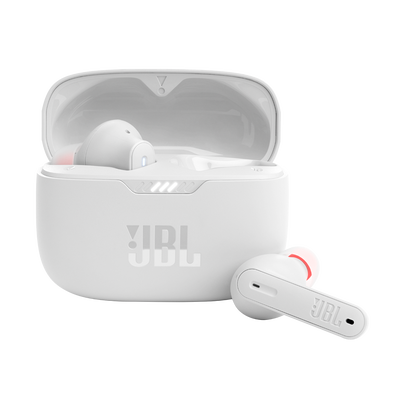 Battery
Maximum play time (hours)
6
Maximum play time (hours)
32
Maximum play time (hours)
20h (5h + 15h)
Maximum play time (hours)
40
Features
Voice Assistant integration
Voice Assistant integration
Voice Assistant integration
Voice Assistant integration
Specs & Downloads
Item# JBLW300TWSPIK
Description
True wireless earbuds

Keep on top of your world. JBL Wave 300TWS earbuds bring you your music while staying in touch with your surroundings with no wires holding you back. Enjoy 26 hours of powerful sound enriched by JBL Deep Bass. Stay in touch on the-go with stereo calls and no annoying background noise. Manage audio and handle calls hands-free from either earbud or both, thanks to convenient touch controls. Ergonomically designed, their "stick design" fit snugly and discreetly in your ears to keep you comfortable and connected all day long, so you'll never miss a beat—or a conversation.
General Specifications
Audio Specifications
Driver sensitivity at 1kHz/1mW (dB)

105

Dynamic frequency response range (Hz)

20 Hz – 20 kHz

Impedance (ohms)

32
Dimensions
Weight (g)

7.7

Weight (oz)

.27
Control and Connection Specifications
Bluetooth profiles

A2DP V1.3 AVRCP V1.6 HFP V1.7

Bluetooth frequency

2.4 GHz - 2.4835 GHz

Bluetooth transmitted modulation

GFSK, π/4–DQPSK, 8–DPSK

Bluetooth transmitter power

<12 dBm

Bluetooth version

5.2
Battery
Charging time (hours from empty)

2

Maximum play time (hours)

6
Features
Bluetooth

Yes

Charging cable

Yes

Voice Assistant integration

Yes

Built-in Microphone

Yes

Charging case

Yes

Hands Free Call

Yes

Rechargable battery

Yes

Touch Control

Yes

True Wireless

Yes

Wireless

Yes
What's in The Box?
1 x JBL Wave 300TWS headphones
1 x USB Type-C charging cable
1 x Charging case
1 x Quick Start Guide / Safety Sheet (S / i)
1 x Warranty / Warning (W / !)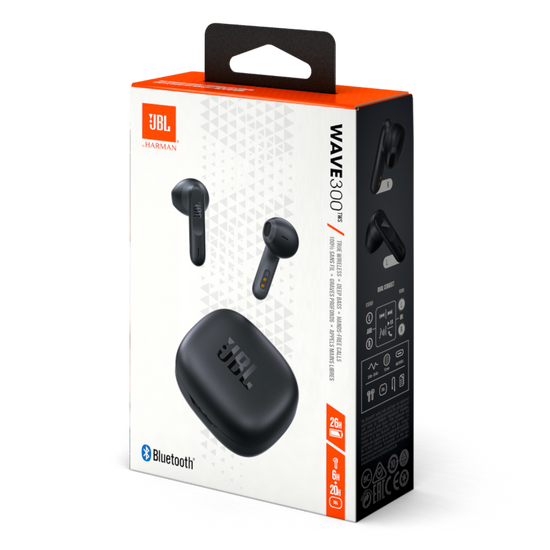 Documents & Downloads
Customer Reviews
Rated

4

out of

5
by
CW82
from
Does the job well.
I needed a small handy set of earphones but any in-ears with the buds just fall out of my ears. These looked a similar shape to the basic wired earphones that came with an old phone that I keep going back to. I was a little put off by JBLs promise of 'deep bass sound' but with few options took a chance. Happily they stay in while running, eating or leaning over and the sound is balanced enough for my liking and quite easy to listen to. They pair really easily once set up, regardless of which bud you take out of the case first, and connection has been fairly stable. They do let in quite a bit of external noise but that is to be expected. The blue is something a bit different but subtle. Case is small, charges quickly and is USB-C.
Date published: 2022-05-06
Rated

5

out of

5
by
Alfredo72
from
Goodbye Earphone Wire
I bought this item 2 weeks ago and they have been great. Sound quality and overall volume aren't going to blow you away - but then again they are relatively cheap so if that's what you want go spend more on a higher spec. The sound quality and volume I'm getting is good enough for commuting and that includes multiple airplane trips - the size of case and good battery life actually makes them the ideal travel companion for when you want some music on your travels. The hand control / touch control is also very good for pausing, skip track etc. I also use in the office for listening to music and they're great for that. I would highly recommend these to anyone sitting on the fence.
Date published: 2022-07-29
Rated

3

out of

5
by
ZnabelA5
from
Not the best sound quality
I have tried these wireless ear buds and I am happy with the easy slide functions and the music quality - but when talking on the phone I'm not impressed. The music experience is great - world class. But when I use them as headset for phone calls I'm disappointed. I can hear a kind of echo when the other party speaks. It fits well in my small ear and it doesn't hurt to wear them :-) Background noise cancellation is not very efficient.
Date published: 2022-01-13
Rated

5

out of

5
by
Karinarægaard
from
Grelt sound
The Sound is really good. They clear out other noise, so that you only hear the Music. They fit really good in the ears and do not Fall out when running or exercising.
Date published: 2022-01-06
Rated

4

out of

5
by
BeckyP
from
Go3 speaker and Wave300 earbuds
Been using for a few weeks and happy with both. Quality of sound is good. I'd say value for money. Just couldn't connect either to my laptop or PC for quite a while, had to persist... turns out it works if you disconnect then pair again then reconnect
Date published: 2022-02-13
Rated

4

out of

5
by
Audacity
from
Good wireless earphones
Really good earphones, good sound quality, good fit, sturdy materials. Just wish the charging case was a little less flimsy. The lid feels like it could break off with ease. But overall 4/5. Worth the purchase.
Date published: 2022-01-12
Rated

5

out of

5
by
Brian1988
from
Amazing earbuds
I purchased these as all other devices I have from jbl are very good quality. I did not know what to expect from these but personally I was blown away by the quality, battery life and the comfort with how long I use them. Would definatly recommend them
Date published: 2022-02-24
Rated

3

out of

5
by
Jes23
from
Great sound
As usual JBL makes very good sound. But I am not happy about the design.. and it doesn't fit all size of people
Date published: 2022-01-27
Rated

3

out of

5
by
Samii
from
There's a lot of background noise while on the call, really disappointed with that. Music quality is good.
Date published: 2022-05-13
Rated

5

out of

5
by
Carter1500
from
Amazing for the price!
I've had these for a day now and i can say for 40 quid they're a bargain. The audio quality is good and the volume is surprisingly high but it lacks bass but you don't really buy earphones for bass really. The touch control itself on the earphones are easy and I like how you just tap it instead of there being a button you have to press. Like I've said I've only had these for a day or so but for the price I really recommend and they're surprisingly good!.
Date published: 2022-08-18
Rated

5

out of

5
by
Chay123
from
Work great
I got these a few weeks ago now and can't fault them at all. They hold ther charge very well been using them on and off through the days since first getting and not had to put them on charge yet. Sound is good when listening to music, watching videos and even talking on the phone, which my last ones struggled with. Not had them drop connection once. I have fairly small ears and these fit nicely no sign of falling out. Would definitely recommend!
Date published: 2022-09-12
Rated

1

out of

5
by
MrAnaconda
from
They look nice but sound awful
Don't buy this if you care about sound quality, they sound like a pare of earphones that I bought once for £5. On the box and description it says that it's got "deep bass". No bass whatsoever when I tried them. They are also pretty quiet even at max volume and they fit weirdly in my ears. Overall, buy if you want people to THINK you have good earphones due to them looking nice, when in reality you're listening to tincan noises.
Date published: 2022-12-30
Rated

2

out of

5
by
DenissWasTaken
from
Great sound, easy to set up, poor connectivity
Bought these a few months ago and can't complain about sound quality or ease of setup. Everything is fine in that department. But what ruins everything for me is the connection when my phone is in my pocket and I am trying to listen to something on the go. The connection is weaker than Elon's pull-out game. Constant audio stutters and short connection interruption are sometimes too frustrating.
Date published: 2022-07-25
Rated

5

out of

5
by
MrMan428
from
I love these
i bought these a month and a half back and they are the best headphones i have ever owned! i love the portability of the case and the fast charging so i can charge them before school. the battery lasts a week with normal use for me and i take these everywhere! i can't recommend these enough and all my friends want to know where i got them! thanks for such a great product JBL!
Date published: 2022-10-16
Rated

1

out of

5
by
Rozza
from
Crisp sound and decent amount of bass
Bought these because my new phone doesn't like headphone adapters. Really happy with them. Unbelievably comfortable and not the horrible buds that stick deep in your ears. Hands free works extremely well also. Crisp sound and decent amount of bass
Date published: 2022-05-09
Rated

5

out of

5
by
Fernandobs218
from
Too good to be true ❤️
I used to have the same earphones before but broke them accidentally by dropping them in water, bought new ones and they're just as good if not better. I used them for 3 days straight while at work for 10 hours a day without charging and it seems like the case is on steroids and never loses battery. Thank you Jbl, love your products
Date published: 2022-08-31
Rated

5

out of

5
by
Chris Red
from
Great sound quality at an excellent price!
Brought this a few weeks ago and I can't believe they sound that good for the price. They fit properly in my ears and I like that they don't block all the background noise which is good for your surroundings when you do stuff. Good battery life as well and the pairing is quick and simple. Would definitely recommend the earphones!
Date published: 2022-07-18
Rated

5

out of

5
by
Snazzy
from
Great little buds
Bought for a present, they last a long time between charges but unfortunately are a poor fit as they are quite small. I'm sure they work well for most but keep dropping out of your ears so had to adapt with the use of a pair of rubber buds.
Date published: 2022-08-25
Rated

5

out of

5
by
Loulou31
from
Perfect and great sound
Really good quality sound! And super light! Brought for husbands birthday and he loves them. They aren't bulky and they are so comfortable to wear ! No need to spend £100s as these do the job perfectly!!
Date published: 2022-05-03
Rated

5

out of

5
by
Emjay75
from
Didn't Disappoint!
Have got the job boom box and always been impressed and have to say didn't hesitate when it came to buying wireless EarPods and they have not disappointed sound quality is very good and comfortable 2 wear
Date published: 2022-04-12
Rated

5

out of

5
by
Maca96
from
Very impressive !
Had these a few days now and i can't say enough good things about them. Very comfortable in ear, perfect for use in the gym and a bargain price. Sound quality is spot on too. What more could you ask for
Date published: 2022-08-02
Rated

1

out of

5
by
Nimesh
from
Very bad no bass not even good sound
I bought month ago but not nice don't buy it's waste of money one earbud's sound is very low not good bass and there no good sound
Date published: 2022-03-01
Rated

5

out of

5
by
Dan1984
from
Great budget option
The design is great, really nice light case and they work really well. Sound quality is really good. I'd read reviews saying the fit wasn't for everybody but they fit in my ears well.
Date published: 2022-05-16
Rated

5

out of

5
by
Pauusa
from
Very nice earphones
They are very comfortable, cute colour and design, the quality of the sound is really good and they are very easy to connect to your devices. I'm happy with the purchase!!
Date published: 2022-07-07
Rated

3

out of

5
by
Crnl
from
Average
Sound quality is good, however the fit is poor and the range is limited. It is possible to find cheaper earphones with comparable characteristics.
Date published: 2022-04-19
Rated

5

out of

5
by
Andrew66
from
great
for the price of these ear buds the sound is great, cannot fault them, better buy, even comparing them to a more expensive set
Date published: 2022-07-10
Rated

5

out of

5
by
Tekologist
from
fantastic sound and easy to use!
Use these every day to walk to work and back. They have a fantastic sound and they're easy to use! I like tht i can use one.
Date published: 2022-05-31
Rated

5

out of

5
by
Mixta
from
Good item at value for money prices
I have had these a while now and they are brill the biggest plus is they stay in my ears representing total VFM
Date published: 2022-04-26
Rated

5

out of

5
by
Maitxu
from
Great earphones, work absolutely fantastic! Shipment did not get to my address but price was very adequate
Date published: 2022-04-19
Rated

4

out of

5
by
K2K7
from
Great sound
A great sound for all types of music and is very comfortable to use but the call quality could be better.
Date published: 2022-05-31
bvseo_sdk, dw_cartridge, 18.2.0, p_sdk_3.2.0
CLOUD, getReviews, 7ms
reviews, product
Product Q&A
Hello, Can these earbuds be used apart from each other? For example can one person have one earbud, another person the other (less than 2 meters apart) - and hear the same audio? (from the same audio source)
Thank you for your question. It is possible, yes. However, you may experience some audio cuts due to the separation distance. Should you wish to receive further support, you may contact the Harman Customer Support team by telephone, email or chat in order to receive direct assistance. Please see https://uk.harmanaudio.com/support-contact.html#ns for further details. Thank you.
Date published: 2022-08-12
Did we have return policy ?? Mainly I have concern on the return
bvseo_sdk, dw_cartridge, 18.2.0, p_sdk_3.2.0
CLOUD, getContent, 7ms
questions, product