Are you looking for a portable speaker? Whether you want to take this Bluetooth speaker with you on holiday, to the park, to a rooftop hangout session, or a small party with your friends, you want a portable speaker that fits your lifestyle and has great sound quality. Both the JBL Charge 5 and Flip 6 are perfect for the job. On this page, we'll do a comparison between the two. JBL Which fits you best? Discover it here.
What is the difference between JBL Flip and Charge?
Let's start at the beginning. What are the biggest differences between the two speakers? We've summed it up for you.
JBL Charge 5. Bigger in size and weighs 0,96 kg. It has a longer battery life of 20 hours and has a better bass.

JBL Flip 6. Smaller in size and only weighs 0.55 kg. It has a battery life of 12 hours and has clear sounds.
Now let's go into the details.
Sound quality: go for room-filling sound or keep it small
Both speakers have impressive audio quality, but their sounds cater to different preferences. The JBL Charge 5 has a powerful bass and overall richness, making it ideal for parties and bigger outdoor gatherings. It creates deep bass, filling the whole room with amazing sounds.
On the other hand, the JBL Flip 6 leans towards a more balanced sound profile, offering well-defined mids and highs. Despite its smaller size, it still produces impressive volume levels, making it an awesome option for personal listening or smaller gatherings.
JBL Flip vs Charge: design and portability
These JBL speakers may look alike, but there are notable differences in how they look. The Charge 5 is larger and more robust, water- and dustproof, built to handle the outdoors with its durable fabric and rugged rubber housing. This design also features a convenient built-in carrying handle, making it easy to take on adventures.
The JBL Flip 6 is more compact and lightweight, intended for outdoor use, and convenient for travel. Its cylindrical shape creates 360-degree sounds, while its all-weather fabric makes it suitable for outdoor use.
Battery life: listen to music for 12 or 20 hours straight
Battery life is an important aspect of any portable speaker, and both the Charge 5 and Flip 6 excel in this department. The JBL Charge 5 provides up to 20 hours of continuous playback on a single charge. Because of its massive battery, you can even charge devices like laptops and phones through the built-in USB-C port.
The JBL Flip 6, though smaller, offers an impressive battery life of up to 12 hours, ensuring a day's worth of uninterrupted listening. Its USB-C charging port allows for quick recharging, ensuring you're never without your favourite tunes for long.
Connectivity and features of these Bluetooth speakers
Both speakers support Bluetooth connectivity. This allows you to pair with all sorts of devices, such as smartphones, tablets, and laptops. Both speakers also support JBL PartyBoost, meaning you can connect multiple JBL speakers by synchronised audio. Ideal for every party!
However, the JBL Charge 5 stands out with its built-in power bank feature, allowing you to charge your devices directly from the speaker. This function is very useful during outdoor excursions or when you're away from power outlets.
JBL Flip 6 vs Charge 5: which one's for you?
These Bluetooth speakers each offer amazing sounds. Whereas the JBL Flip is somewhat smaller, it's light enough to take with you all the time. It fits in almost any backpack. However, the Charge 5 has more epic sounds, a longer battery life, and can function as a power bank for other devices. This makes the speaker slightly heavier. What speaker has your preference?
Frequently asked questions about JBL Flip vs JBL Charge specs
For more information about the specs or prices, check these FAQ's.
Is the Charge 5 waterproof?
What's the JBL Charge 5 price?
Check the prices of the portable Charge 5 here:


What's the JBL Flip 6 price?
You can check the price of this speaker here:


What is louder? JBL Charge vs Flip
The Charge 5 has a slightly better bass and superior sounds on a louder volume.
What's JBL Charge 5 power output?
The output power of this speaker is 40 W.
Comparison
CHARGE5-
CHARGE-5-WIFI
FLIP-6-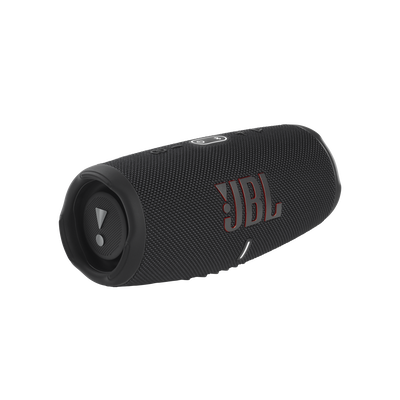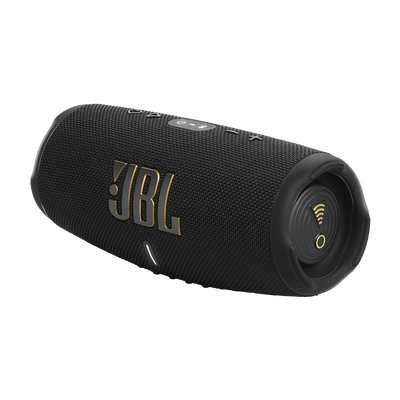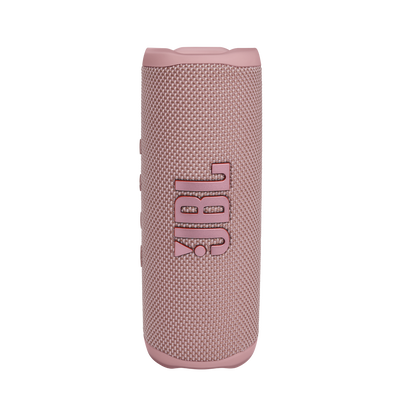 At a Glance
Bold JBL Original Pro Sound
20 hours of playtime
IP67 waterproof and dustproof
Wireless Bluetooth Streaming
Crank up the fun with PartyBoost
Power up with the built-in powerbank
Power up with the built-in powerbank
Bold JBL Original Pro Sound with deep bass
Wi-Fi and Bluetooth connectivity
Portability with 20 hours of battery life
Built-In Wi-Fi with AirPlay, Alexa Multi-Room Music, Chromecast built-in™ and Spotify Connect
Waterproof and dustproof
All fit portable speaker for inside and outdoor listening
JBL One App
Eco-friendly recycled materials and packaging
IP67 waterproof and dustproof
Crank up the fun with PartyBoost
Louder, more powerful sound
12 Hours of Playtime
Bold design
JBL Portable app
USB charging protection
Wireless Bluetooth streaming
Eco-friendly packaging