Want to enjoy your music despite the noisy sounds around you? Turning up the volume doesn't work in many cases and can even be harmful to your hearing. Do you want to enjoy your favourite music without being disturbed by your surroundings? Noise-cancelling headphones will instantly solve that problem!
What are noise-cancelling headphones?
What exactly are noise-cancelling headphones? Noise-cancelling headphones are also called isolating headphones. They make sure that you hear sounds from your surroundings less (or not at all). Therefore, noise-cancelling ensure a perfect music experience.
How do noise-cancelling headphones actually work?
Noise-cancelling does more than suppress loud external noises: it filters and muffles all surrounding sounds. There are active and passive noise-cancelling headphones and our own true adaptive noise cancellation. However, this does not mean that all headphones have a noise-cancelling function. It is a specific feature that is only added to certain models. And each type of sound reduction works differently. Check out the three types:
What is active noise cancellation (ANC headphones)?
Active noise cancellation makes use of an extra microphone that receives the background noise. The sounds are received on the ANC circuit and anti-noise is created. The anti-noise means that you will not perceive the background noise. The headphone is actively blocking out sounds for you. A great perk to this type of noise cancellation is that you can often turn it on or off.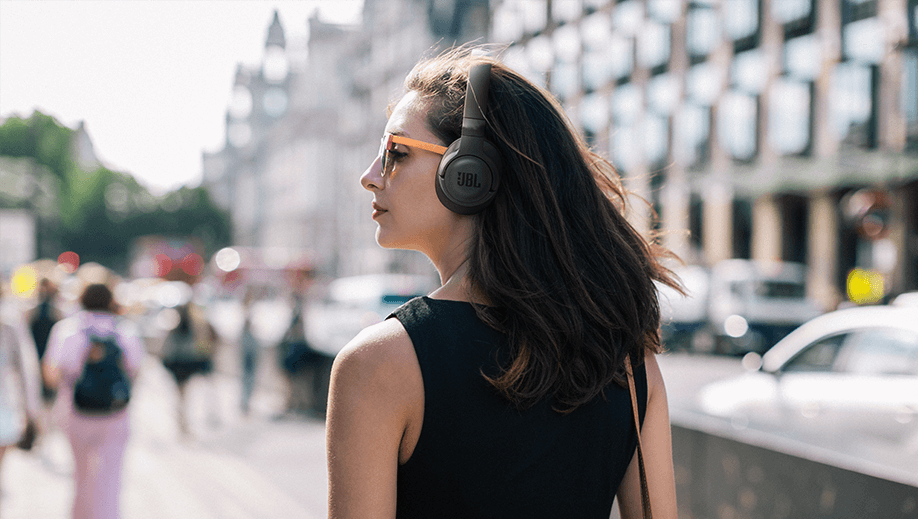 What is passive noise cancellation (NC headphones)?
Passive noise cancellation relies on the build of the headphone. The fit and the materials of the headphone make sure that no sound comes through. This type of headphone is an over-ear headphone as only this fit will go over your ears. This also means that the fit of the headphone is extra important. So, if you choose this type of noise cancellation, make sure the ear pads fit perfectly to your head.
JBL's unique adaptive and true adaptive noise cancellation
To give everyone the most undisturbed enjoyment of sound, we have taken noise cancellation to the next level. Our adaptive noise cancelling headphones listen to environmental ambient noises, using embedded microphones that create the inverse phase back to you. The level of noise cancellation is constantly adapted to your needs because the headphone is ambient aware. All this basically means that the headphone listens and actively changes the waveforms it sends to cancel out noise. That way - no matter the situation - your noise cancellation is always at a perfect level. 

True adaptive truly goes beyond noise cancellation as you know it. This type of noise cancellation adds processing to recalibrate the responding cancellation up to 50,000 per second. This basically means that the headphone actively listens, processes the sounds and responds incredibly quickly to any change in the noises around you. This allows your headphones to adjust any outside noise but also to changes to the fit of your headphone due to glasses or moving your head. 
Noise blocking earbuds
Of course, this technology can easily be applied to earbuds. If you want a smaller option or if you are just not a fan of headphones: check out our noise-cancelling earphones.
Why use noise-cancelling headphones?
So why would you use headphones with noise-cancelling? That largely depends on your own preferences and use. We have listed a few advantages.
More listening pleasure
A big advantage of noise-cancelling headphones is that you can listen to your music undisturbed. Noise-cancelling completely muffles all environmental sounds and that, in turn, is good for your hearing. This puts less strain on your eardrums, and you hear your music and other sounds better and more clearly.
Undisturbed calls
Are you often bothered by ambient sounds resulting in a conversation full of "what are you saying?" or "I can't hear you!". Noise-cancelling headphones solve that problem and allow you to make undisturbed calls anywhere. Because if you can't hear the other conversations around you, you can understand the person on the other end of the line much better. Especially our (true) adaptive noise cancelling help with crisp and clean calls.
Experience peace and quiet anywhere, anytime
Perhaps the biggest advantage of noise-cancelling headphones is that you can experience peace and quiet everywhere. Don't feel like sitting on a train, crowded with people talking? Put on your headphones. Is the office crowded and noisy like it used to be? Put on your headphones. Did you want to enjoy the beach in peace and quiet but it suddenly got busy? Put on your headphones. Noise-cancelling and adaptive noise cancelling allow you to block out ambient noise from the outside world and enjoy your music in all these situations (and more).
Frequently asked questions about noise-cancelling headphones
Are noise-cancelling headphones wireless or wired?
This isn't necessary. Even with wired headphones noise-cancellation will work. Because we know you want to live as carefree as possible, our headphones are wireless. Still love the wired option? Some products have the option to add a wire with the jack plug.
Do noise-cancelling headphones have Bluetooth?
Yes! Our headphones connect through Bluetooth. Some have the option to use an audio jack if you prefer the wired option.
What is the difference between adaptive noise cancelling and true adaptive noise cancelling?
The difference between the two is that true adaptive noise cancellation takes noise cancelling one step further. Adaptive noise cancelling creates inverse waves to the noise so that it actively cancels out any unwanted sounds. True adaptive adds processing so that the headphone constantly adjusts its cancellation to the most minor change - like moving your head or even adjusting your glasses. Both adaptive noise cancelling and true adaptive noise cancelling give you the peace and quiet so that you can focus or enjoy your music. Want the very very best experience? Then true adaptive is the way to go. 
Which JBL noise-cancelling headphones suit you best?
Are you curious to discover JBL noise-cancelling headphones? Take a look at our noise-cancelling headphones and earbuds below and compare them to see which will suit you best!