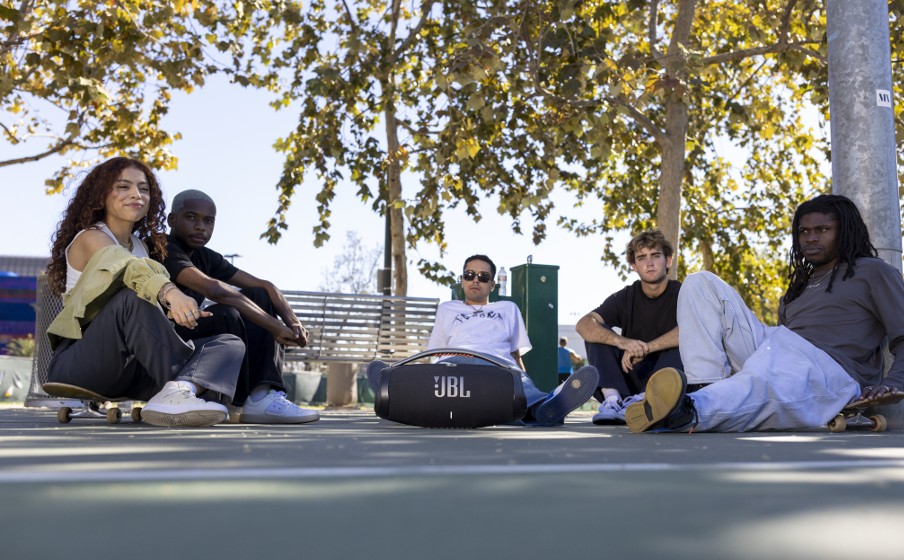 Massive sound and deepest bass
Enjoy your music with massive JBL Original Pro Sound. The new 3-way speakers deliver higher sensitivity of our acoustic design sharpens clarity while lowering distortion for monstrous bass and a rich audio spectrum—no matter how high you turn up the volume.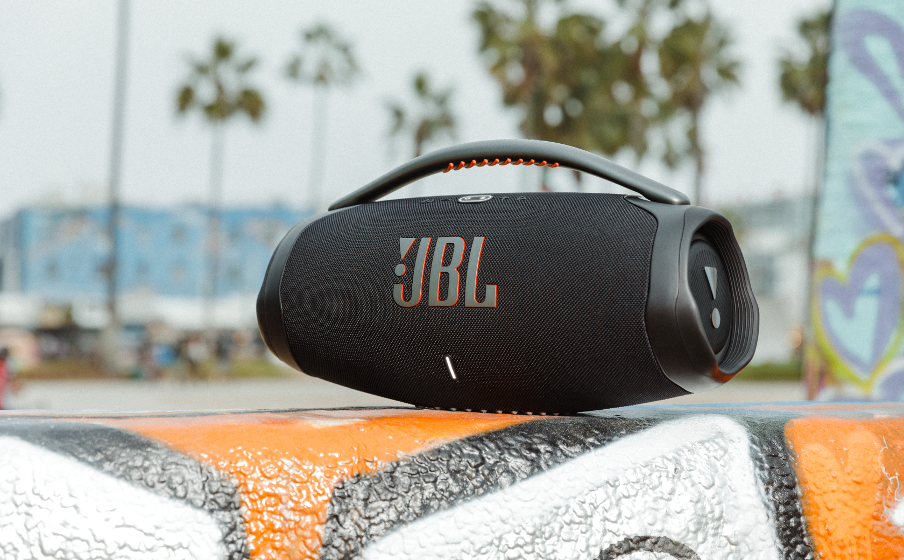 24 hours of play time
Celebrate every moment with the sounds you love. From your early morning workout to a late-night hang with friends, we've added 24 hours of battery life to keep you in your element all day.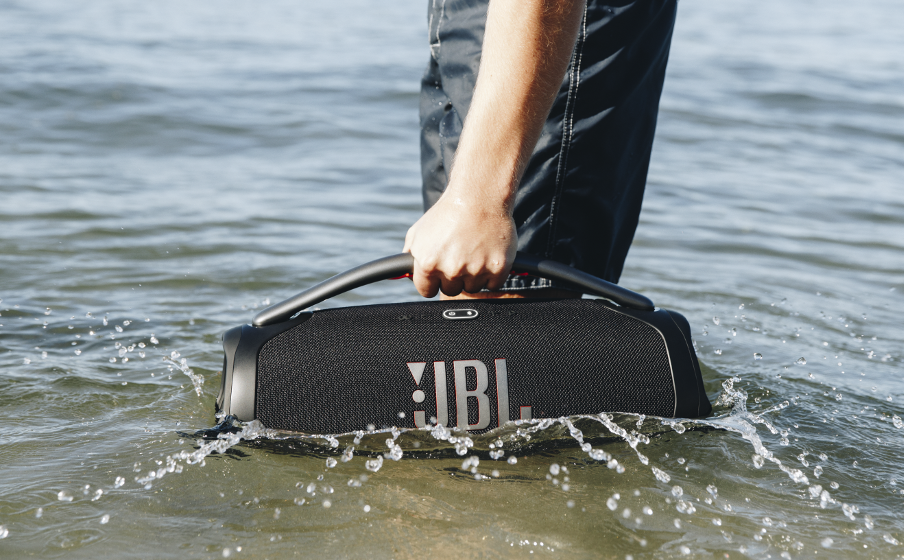 IP67 dust and water proof
To the pool. To the park. The JBL Boombox 3 is IP67 dustproof and waterproof, so you can bring your speaker anywhere, rain or shine.
Features

Strong, bold design
We've updated the sleek, iconic JBL silhouette. With twin sidecaps and a sturdy metal handle with an eye-catching orange silicone grip, you can take your music—and your style—anywhere.
Wireless Bluetooth streaming
Your playlist or mine? Wirelessly connect up to two smartphones or tablets to the speaker and take turns sharing your favorite sounds.

Crank up the fun with PartyBoost
PartyBoost allows you to pair two JBL PartyBoost-compatible speakers together for stereo sound or link multiple JBL PartyBoost-compatible speakers together for endless audio possibilities.

JBL Portable app
Download the JBL Portable app to get the most out of your Boombox 3. Customize settings, unlock features, and get real-time updates so you can always listen to your music—your way.

Eco-friendly packaging
JBL is committed to more sustainable, earth-friendly packaging. That's why the Boombox 3 comes in a recyclable paper-based box, including the inner tray, with an exterior printed with soy ink.
Product Comparison
Find the best portable bluetooth speaker for you
BOOMBOX-3-
XTREME-3-
PARTYBOX-ENCORE-
PARTYBOX-110-
PARTYBOX310-
JBL BOOMBOX 2-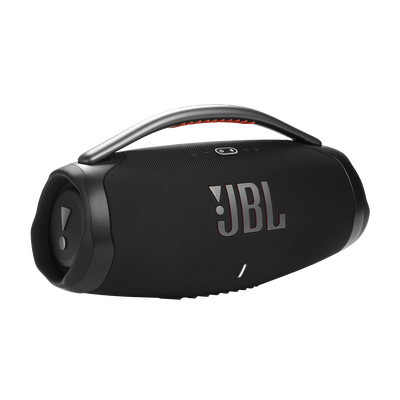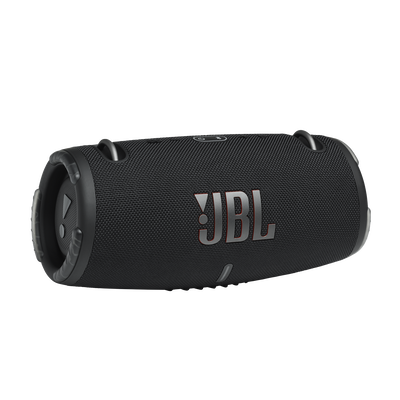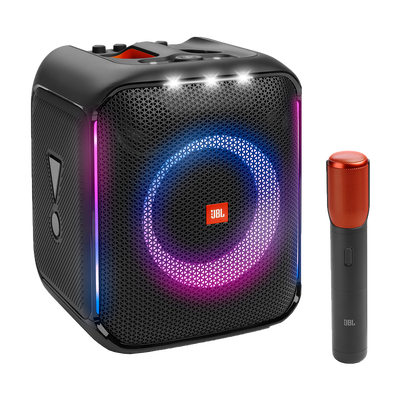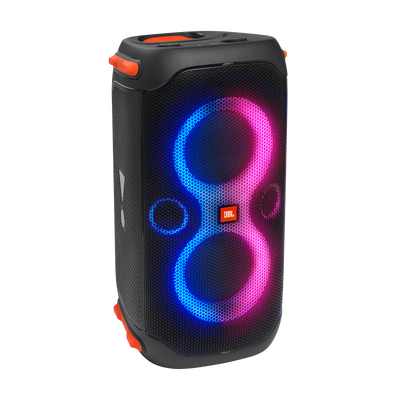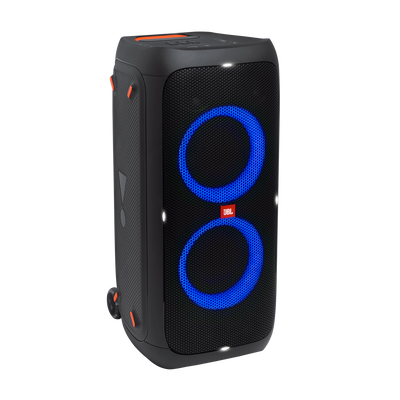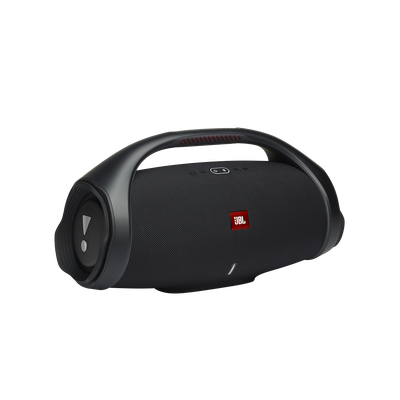 General Specifications
Output power (W)
1x80W RMS-subwoofer + 2x40W RMS-midrange + 2x10W RMS-tweeter (AC mode) 1x60W RMS-subwoofer + 2x30W RMS-midrange + 2x8W RMS-tweeter (Battery mode)
Output power (W)
2 x 25W RMS woofer + 2 x 25W RMS tweeter
Output power (W)
2 x 40 W RMS-woofer + 2 x 40 W RMS-tweeter
Dimensions
Dimensions (cm)
48.2 x 25.7 x 20.0
Dimensions (cm)
29.8 x 13.6 x 13.4
Dimensions (cm)
27.6 x 32.7 x 29.3
Dimensions (cm)
29.5 x 56.8 x 30.0
Dimensions (cm)
68.8 x 32.6 x 36.8
Dimensions (cm)
48.5 x 20.1 x 25.7
Specs & Downloads
Item# JBLBOOMBOX3BLKUK
Description
Massive sound. All day long.

We just made our most powerful portable Bluetooth speaker even better. The iconic silhouette of the JBL Boombox 3 has a bold new update featuring a sturdy metal handle with silicone grips, twin sidecaps, and waterproof and dustproof signature fabric. It's been redesigned inside too, added with a new subwoofer unleashing much deeper bass and massive JBL Original Pro Sound, all with lower distortion. And 24 hours of play time takes you all the way from your morning workout to a late-night hang with your friends. And for sound that's practically limitless, instantly connect multiple speakers with the JBL Portable app.
General Specifications
Output power (W)

1x80W RMS-subwoofer + 2x40W RMS-midrange + 2x10W RMS-tweeter (AC mode) 1x60W RMS-subwoofer + 2x30W RMS-midrange + 2x8W RMS-tweeter (Battery mode)
Audio Specifications
Dynamic frequency response range (Hz)

40 Hz - 20k Hz
Dimensions
Dimensions (in)

19.0 x 10.1 x 7.9

Dimensions (cm)

48.2 x 25.7 x 20.0

Weight (kgs)

6.7

Weight (lbs)

14.7
Control and Connection Specifications
Bluetooth profiles

A2DP 1.3, AVRCP 1.6

Bluetooth frequency

2.402GHz - 2.480GHz

Bluetooth transmitted modulation

GFSK, π/4 DQPSK, 8DPSK

Bluetooth transmitter power

≤ 9 dBm (EIRP)

Bluetooth version

5.3
Battery
Charging time (hrs)

6.5

Maximum music playing time (hrs)

24
Features
JBL PartyBoost

Yes

3.5 mm audio cable Input

Yes

IP67

Yes

IP Code

IP67

Charging cable

Yes

Powerbank

Yes

Waterproof

Yes

Wireless

Yes

Rechargable battery

Yes

Bluetooth

Yes
What's in The Box?
1 x JBL Boombox 3
AC power cord (AC plug and quantity varies by region)
1 x Quick Start Guide
1 x Safety sheet
1 x Warranty card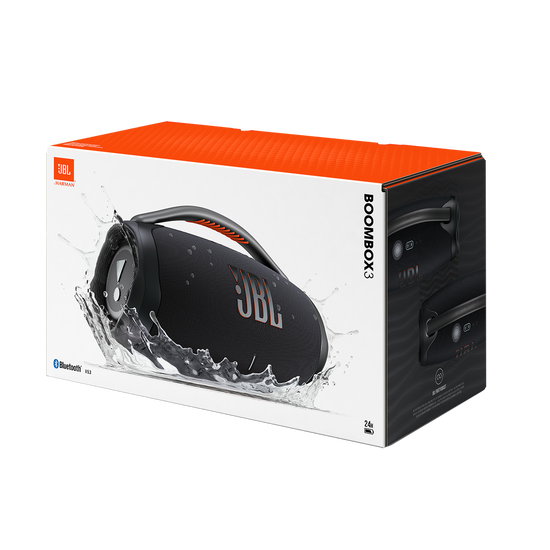 Documents & Downloads
Customer Reviews
Rated

3

out of

5
by
Nkre
from
Make Connect+ and Partyboost Compatible!
Very disappointed that this product isn't compatible with Connect+ and that JBL has decided to force users to buy newer portable speakers for software compatibility. JBL could easily allow their slightly older speakers to be compatible (i.e.,, my JBL charge 3). They clearly market compatibility for up to 100 speakers together, a great talking point, but I feel tricked. I own 5 JBL products (boombox, charge 3, 500watt sound system and 2 pairs of wireless headphones). I wont be buying another JBL until they fix this. Extremely disappointed.
Date published: 2023-04-11
Rated

5

out of

5
by
Jeleutzul
from
splendid
The sound is very clear. you can feel the difference between the Boombox 2. The bass is clearer. you can hear the mids and highs well. It is very heavy
Date published: 2022-09-03
Rated

5

out of

5
by
PapaMac
from
Amazing Speaker !
This is an amazing speaker! Powerful, well balanced and extremely versatile. Our household enjoys a wide variety of music - everything from Classics by the great composers to Country, Pop, soft Rock and Instrumentals by artists like Kenny G. No one has been disappointed ! We have had no problem using the Party Boost feature linking the Boombox 3 with a previously purchased Extreme 3 model. Currently enjoying full rich sound from both JBLs for a variety of Holiday music. Very pleased with our new Boombox 3 purchase!!
Date published: 2022-12-14
Rated

5

out of

5
by
JBL Simp
from
Amazing :D
It sounds amazing as well as looks amazing, believe it or not, I bought it because of how it looks and I was surprised by the sound quality!
Date published: 2022-09-03
Rated

5

out of

5
by
Carlci2i
from
Excellent speaker
I bought the Boombox 3 on release to the UK I have owned every Boombox so far and every model is an excellent upgrade on the one before keep up the good work. Best Bluetooth speaker in the market by far.
Date published: 2022-09-15
Rated

2

out of

5
by
Roman_P
from
One thing ruins all good impression
The speaker is good in sound - I previously owned HK Go&Play and this one sounds not a bit less beautiful. However there is one thing that Extremely Ruins the experience! When you listen via cable and your music track is in low volume, the speaker goes to what can best be described as "sleep" almost immediately - 5-10 seconds. And then it requires a higher volume than before to "wake up" and start playing again, and it also takes time. I can't even describe how irritating is that when you are listening to a classical music track - they very often have long loud and almost silent periods, so you just started to listen and then in the middle of the song - voila, your speaker just stops playing because it considered your track not loud enough - but it was loud enough for you to hear! Or one more case from my life - when you decide to practice your guitar and connect boombox 3 to a guitar pedal. One second you played a chord then spent few seconds adjusting your fingers to a new one - and the chord is simply not sounding because the speaker went to sleep during that pause, so you need to play something for next ~5-6 seconds before you start to hear what you are playing again. The described behavior is not present when you connect via bluetooth not via cable, but for cable I can describe it with only one word - AWFUL! Don't buy it if you plan to listen via cable! JBL, this _needs_ to be fixed! Few minutes of battery life or some silent noise whispering in the background are not worth the loss of continuous playback. This "sleep" interruptions are awful!
Date published: 2022-11-07
Rated

5

out of

5
by
TdotCdot
from
Just… wow!
Incredible is the word that comes to mind first. So, upon unboxing I was floored with the cool design, handle, and overall style of a modern day boom box (I grew up with tape cassette/CD player boom boxes…). It was super easy to pair with my phone and my Apple TV and I started to play some of my favorite tracks right away. Started with hip-hop, moved on to some rock, and then finished up with some R&B. The quality in sound is amazing. Clear, crisp, and the bass is so smooth and deep. I also watch television and movies with it connected and it makes the experience so much better. The sound is just SO good. Out of all of JBL products I own, this is by far my favorite. Looking forward to hosting some gatherings and being asked about it.
Date published: 2022-08-30
Rated

5

out of

5
by
Ironspider
from
Great unit all around
After I purchased the Sony XG500, I returned it due to the sound and looked at a Boombox 2 at the store, They didn't have any available so I went searching for the Boombox 3, I am so glad I did. I'm really pleased, not only with the bass (the Sony had good bass too) but the highs and mids were equally impressive and didn't get drowned out by the incredible bass of this unit. It gets quite loud but luckily doesn't lose much quality at the higher volume levels. I wish they got the app better, it needs a battery percentage rather than a bar and the graphic eq doesn't really do much. Overall, I like the design, it feels super sturdy, looks great and performs even better. Yes, it's pricey comparative to others on the market, but I'm still happy.
Date published: 2022-09-26
Rated

5

out of

5
by
DreDay
from
Boombox 3
I'm really enjoying the Boombox 3! I threw a party on the weekend. And everybody was asking about it. The sound quality is great! The ability to customize the sound with JBL app is great! I haven't used the PartyBoost feature yet. But I will in the future. The only thing is it's kinda heavy. Other than that. I love the Boombox 3!
Date published: 2022-08-30
Rated

5

out of

5
by
gman2k
from
3rd addition to the Boombox line. Worth it.
I had a Monster Sound blaster from 2016-17. I thought the sound from that boom box would never be matched. As time went on, it lost its ability to keep a charge. I needed another boombox and did some research. After reading a few reviews, I decided to look at JBL's boomboxes. The boombox 2 popped up. I read about it and thought...why not. It had good reviews. Then I heard that there was a boombox 3. I figured it was a little pricey, but, if they were charging this much, they were confident in their product. Man....was I pleasantly surprised. I never heard such solid, tight bass from a portable. They added a subwoofer to boombox 3. Add to that the nice midrange, with crisp, sparkling highs. I'm sold. While the Monster was my introduction to Bluetooth boomboxes...and an awesome one, the boombox 3 took it to another level. If you're willing to spend the extra money, the boombox 3 is well worth it.
Date published: 2022-12-21
Rated

5

out of

5
by
mrrbil
from
This Machine - SETS THE MOOD !!
mrrbil here, I'm 70, started buying extra-fine high quality musical and stereo equipment in 1972 when I spent $4000 on stereo equip.. This IS FINE EQUPMENT, the JBL Boombox 3 is a sweet Blast and a mellow friend - with fine music. IT'S FUN! P.S. Get the APP with the EQ, OH YEAH
Date published: 2023-05-25
Rated

4

out of

5
by
Meghan
from
Lots of great qualities and only a few drawbacks
Overall totally love this speaker and I look forward to using it in large groups or at the beach in the future. While I knew this speaker was large it is definitely heavier than I anticipated. The large handle on the top is nice for easy carrying but as a petite female I definitely feel like I'm lugging something around. The sound quality is so clear and the base is good; it does not disappoint! It's the high quality sound you know and love and expect from JBL. To me, a small draw back is that there is no sound coming from the back of the speaker. Since it is so large it would be great if there was sound coming from all sides so it could be the center of large gatherings. But I also acknowledge that it's common with large speakers to only have sound coming from one side. On that note, the partyboost feature where you can daisy chain is a great option to connect to other speakers. I did try it out and connect the Boombox3 to my JBL Xtreame3 and loved that I could put each speaker in a different room. However, it did seem like the quality of sound was slightly decreased when using this feature so there is some give and take there. I also love that you can use it to charge other devices like your phone and the battery life is amazing on this speaker!! In conclusion, love the speaker, sound quality, and battery life. But be warned it is a little heavy and you may lose a little sound quality when using partyboost.
Date published: 2022-09-03
Rated

5

out of

5
by
Daws
from
Fantastic new design and sound stage.
Sounds better than the previous generations with a far better design as well as a greater frequency response.
Date published: 2022-09-15
Rated

4

out of

5
by
Rainbo11
from
The Box has BOOM!
The JBL boombox 3 is a fun addition to any trip, get together, or just to use chillin' around the house. I absolutely enjoy the music spewing out of this boombox 24/7. The sound quality is exceptional! The box has BOOM! I love the handles that keep it in your hand even when it's wet. The fact that this boombox is waterproof is amazing! We sat by the pool. It got splashed on and wet. No problems. It also has an amazing battery life of 24 hrs of play! That is unheard of! I tested the theory, and it is true. There are a couple of things that keep this from being a 5 star review. I was so excited to connect my boombox 3 with my party box. It's not possible. The other thing about the JBL boombox 3 is that it is very heavy. Even though it's compact and easy to travel with, it's hefty. It is definitely quality material, but not easy to carry for someone of my small stature. Overall, the JBL Boombox 3 is impressive, loud, full of bass, and a great asset to have. I love hosting and this helps!
Date published: 2022-09-04
Rated

5

out of

5
by
Jim C
from
WOW! Unbelievable sound.
The new JBL Boombox 3 is without a second thought, Incredible! I was apprehensive at first thinking how much bass can you really get out of a boombox no matter who made it. However, JBL has done it, and they did it well. The sound on the Boombox 3 is extremely impressive and the bass is outstanding! Top notch first class, from the packaging, to the look and feel of the unit all the way to the sound. Some features I like right off, the metal handle with the slip resistant silicone under the handle. Well balanced as well so you can carry it easily without it slipping out of your hand. The look is impressive, especially the JBL logo on the front. It has a kind of 3D effect with the raised lettering and red tinting from behind. The one I have is in black, and has a non slip orange silicone under handle and black non slip silicone on the bottom which is definitely needed to keep the unit from falling over due to the incredible bass sound. Lighted control on top. On the middle towards the bottom is another lighted bar to show power usage and charging. Rugged construction with a very nice mesh screen on front. Now the sound is extremely clear due to the speakers. 2 passive radiators for bass. 2 mid range 2.27" speakers and 2-0.75" tweeters on top of them. Now the best part is the 3.18" actual sub woofer in the middle of the Boombox which delivers a powerful bass sound that truly is unbelievable. One of the best features is the ability to charge your phone or device right from the unit. The Li-ion battery gives a impressive 24 hrs of play time so you can party all night and not run out of power. If you and a friend want to D. J. The 5.3 bluetooth allow you to link two devices so each one of you can play from your device. For me I've wanted to be able to put good speakers outdoors by the deck and up and downstairs and run them with one unit. Now with the Boombox 3 app in the App Store through the party boost you can link up over A hundred speakers. Now, I have that option with great sound from JBL's nice assortment of party boost speakers. You can also find other party boost speakers a friend has brought and link them, as well as getting a better sound with the equalizer in the app. One other great idea in the app. Is that you can link two speakers up and play in stereo and choose which side you want to dedicate right or left sound. All this and also water proof & dust proof so you can go to the pool or beach and not worry about the elements destroying your unit. With that being said, I can find nothing negative about the new Boombox 3. We use it everywhere even in the truck. We put it in the back seat and crank it up and people think we have a huge sound system in the truck. You won't be disappointed with the new JBL Boombox 3 you will be impressed. I highly recommend it, especially to family and friends. Two suggestions I can make is maybe a detachable handle so if you want to put the unit on a shelf or tight area and leave it, you can have it blend into the decor easier. The second is I'm hoping they make the equalizer in the app wider and more sensitive so you can really cue in the sound to your liking. Over all, on a scale of 1-10, I give the JBL Boombox 3 a 11. Great job to the folks at JBL! You hit it out of the park
Date published: 2022-08-29
Rated

5

out of

5
by
prjio307
from
This thing ROCKS!
This is far and away the best indoor/outdoor travel speaker that I have ever used. We used it for an outdoor birthday party and it easily filled our large yard with rich, clear sound across several genres. The bass response is also excellent with its dedicated subwoofer. The build quality is also excellent. The kids accidentally sprayed the speaker a bit with the hose and it brushed it off no problem and kept on chugging. It feels awesome and the handle feels substantial and tough. The fabric exterior also feels very tough and high quality. The sound is excellent in my opinion. It gets plenty loud (we never felt the need to crank it above 60%) and retains its clarity with no noticeable distortion. Lows are punchy and not at all muddy. Mids are clear and wide. Highs are also very nice, cymbals and electric guitar squeals come through nicely without too much harshness or brightness. I'm super pleased with this speaker and look forward to making it our go-to party and outdoor activity speaker.
Date published: 2022-08-31
Rated

5

out of

5
by
jduun2
from
Rocking the block with my BoomBox 3
Oh my gosh!!! Rocking the pool parties this summer!! I am VERY pleased with this product and it arrived just before our back to school pool party with our kids' friends' families. We set it on a ledge before people arrived and it provided background ambiance all night long without a hitch. The sound quality is top notch with bass notes hitting hard in a wide open space. I still cannot believe how well the low end of the frequency range is represented with the Boombox 3. The two ends of the boombox 3 are basically passive radiators which helps disperse the sound as well as enhance the oomph of the low end. And my kids loved feeling the vibrations from the radiators while their favorite songs played. I also attempted to give a quick science lesson on how sound is made when they got close - which of course drove them immediately back into the pool - the youth of today. . . Back to the Boombox 3 - It is a nice package that is easily carried with the extra large handle on top. The whole unit charges fairly quickly and I never ran out of power when using it. I used it extensively while clearing out and installing shelving in my garage. Again, blown away by the sound!! And this is where someone with a really big brain came in and said - "Let's make this a power bank as well since cell phones will run out of power before the speaker will." Brilliant idea!! This will be a godsend on campouts and our venture to the pumpkin patch firepits that are coming up. I have only one small thing I can find fault with with regards to the BoomBox3, and this is being REALLY nitpicky. The center of gravity of the unit is kind of high and the footprint is a large oval on the bottom of the unit. So, if bumped- it does easily roll on it's front or back. So, if it is place higher up on something and bumped - it could potentially fall off whatever it is sitting on, damaging the unit or whatever it falls on. I only notice the tendency for it to tip over when I charge the unit up and try to open a cabinet behind the unit and bump it. One thing I wonder about is how hard would it have been to add a radio receiver to the BoomBox 3. I still listen to broadcast radio occasionally, but yes - most of the time, I am either listening from my personal library on my cell or streaming SIRIUS. I guess keeping the ability to streaming will allow for better sound quality all the time. Anyway, I am a VERY SATISFIED customer with this product and I will be using it a WHOLE lot around the house, while camping, while hosting parties, while enjoying the backyard, . . .
Date published: 2022-09-15
Rated

5

out of

5
by
Kul27
from
Gets your ears bleeding
So I am probably bias. But it does not change how awesome this speaker is. I have 1st and 2nd generation JBL Extreme speakers that have been flawless. This is literally the next step up with bigger everything. First off, I was like a kid on christmas getting this thing. Packaging was good. Came wrapped in a nice white bag when getting to the speaker. Was surprised at how light it was to carry. I enjoy the charging status light bar instead of dots. Came half charged, so it was ready to go literally right out of the box. This thing cranked when I put it full blast! Had to turn it down. Connecting via bluetooth was super simple. Honestly, just touching one button on the unit and having my phone pick up on it can't get anymore straight forward. The cover for charger and usb hookups is solid, but not as tight as on my extreme speakers. I don't thing this is water rated which is probably why. Minor thing really. I am really looking forward to the use of this in the future. And i love the coloring on the JBL logo. Originally thought the new huge logos was a little gawdy, but this looks good.
Date published: 2022-08-25
Rated

5

out of

5
by
efasted
from
Wow! Amazing sound and long battery life!
I have several JBL Charge Speakers which pack an awesome sound among other great features. The JBL Boombox 3 is another level. Right off the bat, I'll say it's a five-star product hands-down. Here's why: I have been putting this thing to the test and have been pretty amazed with the sound, durability, and battery life. It is relatively big and a bit heavy. However, it reminds me of the old days when carrying a boombox over your shoulder was a routine thing. This is certainly better than that experience and packs a sound that literally blows me away. It is very easy to setup and the Bluetooth stays connected with great range. Here's more detail on why I give it five stars and would give it more if I could: Sound. Amazing! I first started using it inside the house. I felt like a teenager again. Imagine a grown man, running around and chasing the kids with it, blasting my choice of 80's music. Yes, I did that! The sound is incredible and will shake the house if you crank it up. Otherwise, playing it at a low-level volume is great too with rich sound delivered by its three-way speaker system made up of a powerful subwoofer and two tweeters. Then something else happened. I took it outside. Let me tell you, this thing rocked the neighborhood. It was throwing sound all over the place and sounded like I had speakers mounted everywhere. Oddly enough it felt like it performed even better outside. We linked it up with our other JBL's via "Party Boost" and had sound in and out of the house. It is perfect for parties or just playing music for day to day living. No need to run any wires or mount speakers anywhere for immersive sound throughout the home! Durability. Rugged! Like other JBL products, the Boombox 3 is solid. Although it is somewhat heavy, the handle feels very strong and it's easy to move around. The charging port is a solid two-prong AC plug and the protective covering is thick with a good seal. Take it to the beach, get it wet, whatever, this thing feels like it is made to last. Battery life. Long! I did not run it straight until it died. However, I ran it pretty hard, charged my phone, and it lasted several days. The specs call for 24 hours of run-time depending on volume and usage and I have to say that is accurate. To buy or not to buy? Yes, I highly recommend the JBL Boombox 3. The Boombox 3 is amazing on many levels. Sure, it doesn't have the same vintage look and feel as the old school boombox. However, it is very sleek and much easier to throw over the shoulder. Realistically, I'm not planning on doing that very often but at least I know I can! I will however move it around a lot which will not be a problem. The Boombox 3 really is multipurpose sound system. It's more than just a portable speaker as it comes packed with features beyond insane sound and battery life including Party Boost, a charging bank, and the JBL Portable App integration that allows you to adjust the EQ, update the firmware, and easily link other devices through Party Boost. If you want a serious portable speaker that performs like a home theatre, you should definitely consider the JBL Boombox 3!
Date published: 2022-08-28
Rated

4

out of

5
by
Dzn18
from
Massive speaker that will rock your party!
First of all the design and the processing quality are well refined and the orange spots on the logo brand and under the handle are just impressive. The speaker is indeed very heavy and it's definitely not an item that you just move from one to another spot quickly despite of carrying it longer ways. The speaker has the latest Bluetooth 5.3 version, so you get the state of the art. But when I try to start playing a song, almost every time the first half second the song gets cut off. Even when I have the latest software update installed. The battery life is just excellent and the recharge works with no hassle. You can even charge your own device over the USB-A port with around 10 W. The app looks fine, of course you can disable those annoying sound prompts for example when you turn on/off the Boombox. The latency is great when you watching movies or series with you audio over the speaker, so no sound delay in this case. And of course it sounds good in this area. Now let's talk about the sound quality in general. I would say the speaker sounds the best when you are listening to EDM, Hip Hop, Rock and Pop music. The highs are fine, some details in comprehensive songs don't show up unfortunately, the mids are audible and present, but miss some clarity directional, the bass on the other hand is just awesome but I would put it down to -1 at the EQ settings. The mids and high +1, respectively. Then it sound the best in my opinion. Regrettably you can only select each (highs, mids, bass) between -2 and +2, so no in between option or more settings available. For that price it just too expensive at the moment in my opinion and I would only recommend it to people that are really enjoying listening to music at higher volume and have the option and location to do so. And of course people who want to have a private party. When you are also enjoy listening at lower volume levels, you absolutely can, but don't expect the best balanced sound quality.
Date published: 2022-09-27
Rated

5

out of

5
by
Achambers1978
from
The ultimate portable speaker... Period.
The JBL Boombox 3 is the successor to the Boombox 2. I had a Boombox 2 and I'll say they are very similar. That's a good thing, as the Boombox 2 is an amazing speaker. The third version takes everything good and makes it just a bit better. The waterproof rating gets an accompanying dust rating. The Bluetooth is a newer version. The battery is still amazing and the speaker still functions as a power bank. What I really noticed as different is the sound. The Boombox 2 was, in my opinion, the undisputed king of portable speakers. Everywhere I took it, it turned heads. It beat much larger speakers, including those ones you have to roll like a little cart, in both sound quality and volume. This speaker is even better. You can fill a huge room or even a large outdoor space with sound. The bass is just huge. I know some speakers perform slightly worse when unplugged from power, but I noticed no drop in performance from this beast. Battery life is advertised as 24 hours, which seems true.. I ran the speaker unplugged every day after work for 5 days and then most of the day Saturday and Sunday before I need to recharge it. Great battery, great bass, and truly amazing sound quality.. this is truly an awesome piece of tech.
Date published: 2022-08-28
Rated

5

out of

5
by
Halfman
from
Spectacular sound from such a compact source.
Concert hall sound from a small package. I really enjoy my JBL.
Date published: 2023-04-21
Rated

5

out of

5
by
Yaz1975
from
Massive sound in a portable design.
I've used quite a few JBL products in the past, and this one fills a gap that I had. I have a Partybox 310 that I use for my main sound/music for the house, and I've used Flip or Charge speakers for travel/pool party/bedroom music. I love the small portable speakers but sometimes you just need MORE. This Boombox 3 can pretty much do it all. If this was my main house speaker, it could fill the room easily. If you need it for a portable party, it's perfect. Backyard tunes, bbq time, it's good for all of it. Deep bass, clear sound and did I say crazy loud if you need it? Also insanely long lasting battery life. Only thing it can't do is travel. Because of size, this isn't practical for putting in a suitcase to take on vacations. I've included a picture of it next to my Flip 6 so that you can see a size comparison. As far as connectivity, it's as easy as it gets. I'm an Android user and it paired immediately with my phone and my Chromebook with no drops or stutter at all. The handle is comfortable to transport it around. It does way around 20 pounds but it's not anything unmanageable. Overall the sound is fantastic and for the size, this thing is pound for pound the best, loudest speaker I have in a quickly portable package. I highly recommend it.
Date published: 2022-08-27
Rated

5

out of

5
by
Hendrik94
from
Total killer sound system in an awesome package
After receiving the package, I was immediately surprised by the dimensions of the box. Before, I had the JBL Flip 6, which you could almost put in your pocket. The Boombox is really of a different calibre and seems really powerful. My first song on the box was Red River by Yannek Maunz and it blew me away. The sound is full, balanced and just fun. On the Flip I also heard the music in great quality - on the Boombox I felt it. In everyday life, I use it as a loudspeaker for the PC, in the kitchen when cooking, when showering - simply always. I've also had the pleasure of hosting parties at home; at 50% volume, it feels like you're in a club. Outdoors, I've tried them out twice so far and really turned them up. You can really have fun with it. As you would expect from JBL, the workmanship is absolutely superb, you don't have to worry about water and the speaker can really take a beating. The carrying handle is made of metal and absolutely stable, but I would have found eyelets for a carrying strap like on the Xtreme great. The battery lasts forever, 24 hours according to JBL and I can confirm that. Overall, the speaker is great for having excellent sound quality everywhere at home without a stationary system and especially for being able to party outside. Due to its dimensions and weight, it is not really suitable for the next bicycle tour, but that should be obvious to every buyer in advance.
Date published: 2022-09-27
Rated

5

out of

5
by
Nate12345
from
I bought this speaker about 3 months ago and I absolutely love it you can bring it anywhere with you and always listen to excellent quality audio and the batter life this speaker has is insane how the batter can support the speaker for such a long time at high volume.. overall I'm 18 and was scared about wasting money on a $500 speaker but jt was one of the best purchases ever. Absolutely love it
Date published: 2023-03-17
Rated

5

out of

5
by
TDTechOfficial
from
Near Perfect Speaker for Any Situation!
Outstanding sound and portability that keeps the party alive. From the packaging, to the close attention to details, the speaker is close to perfect. Very pronounced booming low frequency bass notes with crispy highs, almost any type of media played sounds great. Sound Quality: Booming bass that has enough volume to shake the surface it's set on, to crispy highs that can be heard from a good distance. The audio quality is near perfect for any use. Indoors, the speaker proves to be the center of attention with its very punchy bass where as outdoors it's drowned out at higher volumes by the mids and highs, although still sounding great. A/C Power mode takes the already great sound to now louder and punchier space providing extra power to the drivers. Build Quality: Rugged, Waterproof, and Trustworthy. The high quality materials is noticeable at first touch. The handle seems very stiff and study. The rubbery ribbed base provides a good amount of contact to any surface to keep the speaker steady. Water resistance is a key feature of the speaker. Providing ease of mind in outdoor environments. Although being waterproof, there is noticeable audio disconnections while being slightly submerged. Packaging: Keeping it simple and productive, there is very minimal amounts of items included in the box. The speaker, charging cord and provided manuals is all to expect once opening the box. Clean and strait to the point is always a good thing, allowing the music to start sooner! Overall: The JBL BoomBox 3 provides pounding low notes while keeping the music clear and understandable at all volumes. Standing out in any situation, the speaker keeps you charged up with the USB port on the rear allowing you to keep the music going, not to mention the 24 hour long battery lifespan per charge. Grab the speaker and go, it's ready for whatever you throw at it!
Date published: 2022-08-24
Rated

5

out of

5
by
Krzysztof UK
from
AMAZING speaker!!!
This is a great speaker. The music is clear even at high volume with bass being absolutely great. Highly recommend it to anyone.
Date published: 2022-09-14
Rated

5

out of

5
by
JD Ford
from
High End Bluetooth Speaker
Boombox 3 is really amazing ! First it truly has that full bodied sound that a really much larger speaker has. Second I used the JBL portable app and customized the sound through equalization and it sounds incredible, the app is a very good tool to use with this speaker. Thirdly this speaker although heavy is easy to carry around with the sturdy handle provided. We used it at the pool instead of turning on our main pool bar speaker system which is JBL also. It is very portable and very loud if you turn it up but it still sounds awesome at lower volumes and provides that full punchy sound. It is waterproof and that means were taking it to the beach baby! By far this is my new best bluetooth speaker that I will use and enjoy for a very long time. The battery is strong and has held a charge for I know at least 6 hours of play. JBL did it again and hit this one out of the park excellent quality bluetooth speaker that I highly recommend!
Date published: 2022-08-24
Rated

5

out of

5
by
momof2
from
Great sound from a boombox
This boom box is reminiscent of the boom boxes of old but with such better sound quality and volume. So easy to connect to with my phone. And did I mention how great the sound is?? The music fills the room as if I have an entire sound system set up. Size makes it easily portable - my kids keep stealing it to take with them!
Date published: 2022-08-31
Rated

4

out of

5
by
Daileyfix
from
Great Sound, Dtrong Bass, Bulky When Carrying
The sound of this boombox is out of this world! The treble is crisp, the bass is deep and punchy and there is so much sound coming from a medium sized boombox. Battery life is also amazing. The only drawback in my opinion is that it's bulky/awkward when carrying. Built in strap attachment poibts would have been amazing.
Date published: 2022-08-28
bvseo_sdk, dw_cartridge, 18.2.0, p_sdk_3.2.0
CLOUD, getReviews, 5ms
reviews, product
Product Q&A
On the boombox 3, is there a way to turn the power on remotely from my phone?
To turn on our JBL Boombox 3, you must manually press the power button on the unit itself. It can't be powered on through a phone.
Date published: 2023-05-24
Can it be paired with a flip 4?
Thanks for your inquiry. Our JBL Flip 4 can't be connected with the Boombox 3 speaker because these two speakers have different technologies that are incompatible with one another. Our JBL Flip 4 has a Connect + feature that allows you to pair the speaker with other Connect + units (Flip 4, JBL Pulse 3, Charge 3 after a firmware upgrade, and JBL Boombox). While our JBL Boombox 3 has a PartyBoost feature, it can be paired with other speakers that have the same feature, which are: Flip 5, Flip 6, Charge 5, Xtreme 3, Pulse 4, and Boombox 2.
Date published: 2022-11-21
Is the Boombox 3 compatible with the boombox 1
Our JBL Boombox 3 and JBL Xtreme 1 won't connect due to their difference in connect features. The JBL Boombox 1 has a JBL Connect +, while the JBL Boombox 3 has the PartyBoost feature and can be connected to up to 100 speakers with the same feature, such as the JBL Flip 5, JBL Pulse 4, JBL Boombox 2, JBL Xtreme 3, and another Pulse 5.
Date published: 2023-05-31
I need something louder than my Xtreme 3 to play short snippets of walkup songs for kids' sports. Running off battery. How much louder is the Boombox 3 compared to the Xtreme 3? Thank you!
Our JBL Boombox 3 consists of five drivers (1x60W RMS-subwoofer + 2x30W RMS-midrange + 2x8W RMS-tweeter), which makes it louder than our JBL Xtreme 3, which has four drivers (2 x 25W RMS woofer + 2 x 25W RMS tweeter).
Date published: 2023-04-26
What is the sound output and sound quality difference between the JBL Boombox3 and the JBL Professional Linearray speakers used at the concerts? I want to use it to fill a REAL stadium, can it handle it? Or I have to buy JBL Professional speakers instead.
We recommend using our JBL Professional Linearray speakers for big spaces such as stadiums as our Boombox 3 might not be loud enough for such an open space.
Date published: 2022-10-05
Any way this can be ordered and shipped to US?
Nope, they don't deliver to other countries unfortunately. Still waiting to get my hands on one.
Date published: 2022-10-06
Can the Boombox 3 pair with Boombox 1
Our JBL Boombox 3 and JBL Xtreme 1 won't connect due to their difference in connect features. The JBL Boombox 1 has a JBL Connect +, while the JBL Boombox 3 has the PartyBoost feature and can be connected to up to 100 speakers with the same feature, such as the JBL Flip 5, JBL Pulse 4, JBL Boombox 2, JBL Xtreme 3, and another Pulse 5.
Date published: 2023-05-14
Charging. Is there anyway to charge this with anything other than the included charge cord? Can I charge from a usb or a 12v outlet?
Thanks for your inquiry. You can't charge the JBL Boombox 3 using the USB ports; the USB Type-A port is for the power bank function and to charge other USB devices. It comes with a power adapter that is set to auto-volt and will work on 100–240V AC.
Date published: 2023-04-24
Is it possible to order one of these in a custom colour? Such as grey? As I already have this speaker in both black and Camo, I fancy getting other colours of it!
Thank you for your question. Sadly, it is not possible to order customer colour on any of our products. Should you wish to receive further support, you may contact the Harman Customer Support team by telephone, email or chat in order to receive direct assistance. Please see https://uk.harmanaudio.com/support-contact.html#ns for further details. Thank you.
Date published: 2023-01-08
Is the Boombox 3 offered in Camo color?
Hi there, as of now. our JBL Boombox 3 is only available in black. We have no news yet if there will be other colors that will be released in the future. You could sign up for the JBL Newsletter or follow our social media accounts for the latest news and updates for the Boombox 3.
Date published: 2022-10-17
When is the boombox 3 going to be available in Canada. I've waited since the start of the summer to get this speaker. Please let me know at least a time frame or the latest rhat it'll be thank you. We are all waiting
Hi there, thanks for reaching out to JBL USA. For pricing and availability of our JBL Boombox 3 in Canada, you may visit our local support website at this link: https://ca.jbl.com/support-product.html
Date published: 2023-01-27
Where can I get a power adapter? I have lost the one that came with the unit.
Our parts and accessories, including the power cord for our JBL Boombox 3, are available for purchase. You can order this part directly from us by contacting our customer support for more assistance.
Date published: 2023-04-27
Will the Boombox 3 be available for purchase in Canada again before the end of this year?
Hi there, thanks for your interest in our JBL Boombox 3. Currently, we don't have news to share when it will be available again in Canada.
Date published: 2022-12-03
When is this beauty available to buy / purchase?
Thank you for your question. The JBL Boombox 3 will be released soon, however, we do not have an exact date yet. Please keep an eye on our website or sign onto our newsletter for news on product releases. Should you wish to receive further support, you may contact the Harman Customer Support team by telephone, email or chat in order to receive direct assistance. Please see https://uk.harmanaudio.com/support-contact.html#ns for further details. Thank you.
Date published: 2022-08-12
What is the flagship model of JBL Professional?
Thank you for your question. You have reached the Home Audio Team. Please contact our JBL Professional Team at: https://jblpro.com/en/support Thank you.
Date published: 2022-09-05
Hi there I wanted to find out if I can preorder a sold out item
Thanks for your interest in our products. As of now, we do not accept pre-order for this device. Keep posted on our social media channels or sign up for our newsletter for updates and product availablility for the JBL Boombox 3.
Date published: 2022-10-17
When is the camouflage color for Boombox 3 becoming available again?
Thanks for your interest in our products. Thank you for your interest in our products. Our JBL Boombox 3 is currently in stock and available for $499.95. For pricing and availability from different locations and countries, please see our country selector here: https://www.jbl.com/countryselector
Date published: 2022-12-30
How to increase the bass.?
JBL Boombox 3 doesn't have a bass control. You can adjust the volume of the audio through the volume buttons on the speaker or the connected source device.
Date published: 2022-10-15
is this the flagship model of ALL the JBL speaker? Which means it's better than ALL the speakers like the Charge 5 and the EON one compact.
Dear Mr. Zhao, Thank you for your question. It is worth to mention that the JBL Boombox 3 is the best portable speaker we have and the most powerful one, hence is our flagship in the lifestyle division. However the JBL Eon One is part of the professional range, so it will be more orientated for Studio and professional use, more than daily or lifestyle usage. For further support, we welcome you to contact our >BRAND<Customer Support team: [SELECT RELEVANT BRAND] https://support.jbl.com/gb/en/ https://support.harmankardon.com/gb/en/ https://support.harmanaudio.com/gb/en/
Date published: 2022-08-29
Straight forward. Can I plug in one of my I-Pods and have it just play.
Thanks for your inquiry. You can connect the Boombox 3 to an iPod through an Aux cable and it should play without any worries. Please note that the 3.5mm aux cable is sold separately.
Date published: 2023-05-17
does it have a tuner?
The JBL Boombox 3 is a Bluetooth speaker that can be taken on the go, but it lacks a tuner. However, you can easily connect your source device to the Boombox 3 and use any radio application available.
Date published: 2023-04-21
What is the Return policy?
Please contact our local support in Canada for more information about the return policy with the details below: Website: http://ca.jbl.com Phone: (800) 567-3275 or (877) 457-2592 Email: info@eriksonconsumer.com
Date published: 2022-12-22
If the tweeters are placed over the midrange woofers, wouldn't that block some of the mids?
Thank you for your question. I can confirm that nothing is being blocked by the placement of the tweeters. For further support, we welcome you to contact our JBL Customer Support team: https://support.jbl.com/gb/en/ Thank you.
Date published: 2022-08-26
Can it ship to the United states? Zip code 07081
Yes, we ship to Springfield, New Jersey.
Date published: 2022-10-06
Does the speaker have a built in limiter for max volume to prevent blowout
Our JBL Boombox 3 doesn't have a built-in limiter. It's normal to hear distortion when playing audio at maximum volume, as it is an indication that you have to turn down the volume until you hear a clear sound to prevent blown speakers.
Date published: 2022-10-22
It says 24hrs play time what's the actual specks for that? is that if I play at 50% volume? how much play time would I get at 80-100% volume?
Thank you for your question. The battery times listed are going to be using an average listening experience, which would be at 50% volume, with various different genres of music to provide an average battery lifespan. Unfortunately, we do not have any testing results at higher listening volumes since there are a lot more factors than just volume in battery life calculations. Should you wish to receive further support, you may contact the Harman Customer Support team by telephone, email or chat in order to receive direct assistance. Please see https://uk.harmanaudio.com/support-contact.html#ns for further details. Thank you.
Date published: 2022-10-18
can it be shipped to the United States of America? Zip code 07081
yes, we ship to Springfield, NJ. 07081
Date published: 2022-10-07
I need to purchase a universal charger for this exact JBL bluetooth speaker. Can you tell me which one please? 
Thanks for reaching out. The power adaptor (Part#: 42200263) for our JBL Boombox 3 is in-stock and can be purchased directly from us. Please contact our Customer Support Team for further assistance.
Date published: 2022-11-03
Can the volume be controlled from the App?
You can control the volume of our JBL Boombox 3 through your phone's volume control if it's connected through Bluetooth. If you need more help, please contact our customer support.
Date published: 2023-02-12
Can I connect this Boombox 3 to playback from itself and with multiple Charge 4 speakers? If so how many Charge 4s??
Thanks for your interest. Our JBL Boombox 3 can't be connected to the Charge 4 because these two speakers have different technologies that are incompatible with one another. Our Boombox 3 has the PartyBoost feature that can only connect with PartyBoost-enabled speakers like Flip 5, Boombox 2, Charge 5, Xtreme 3, and Pulse 4. While our JBL Charge 4 has the Connect+ feature, it can only connect with other JBL speakers that have Connect+, such as the Charge 3 (upgraded), Xtreme 2, Boombox 1, and Pulse 3. Both features allow you to connect it to up to 100+ speakers.
Date published: 2023-01-16
bvseo_sdk, dw_cartridge, 18.2.0, p_sdk_3.2.0
CLOUD, getContent, 145ms
questions, product