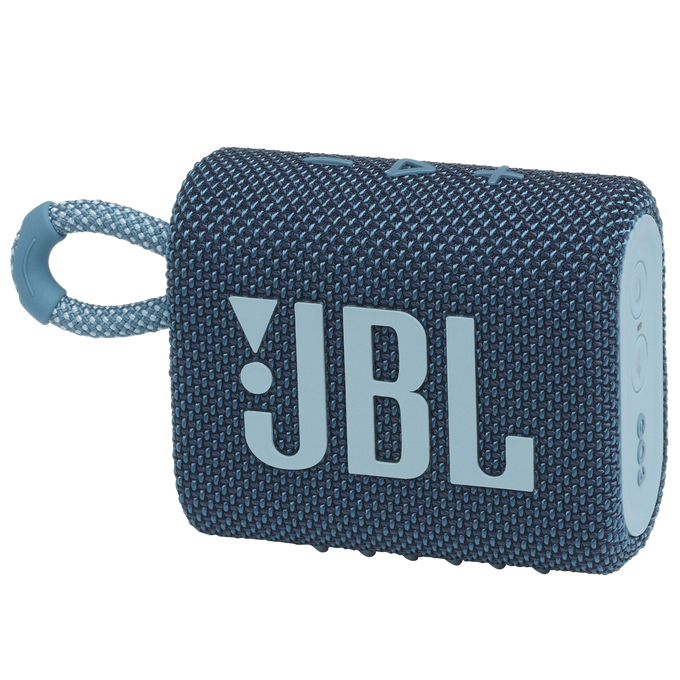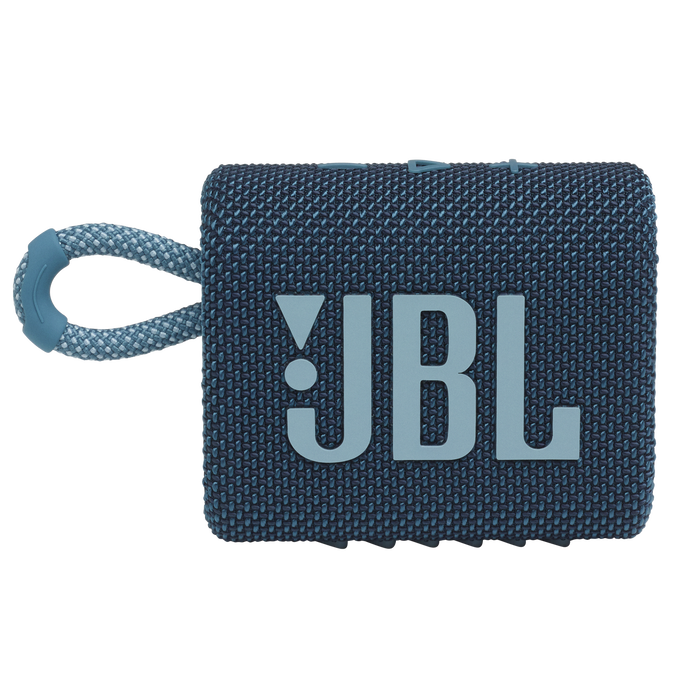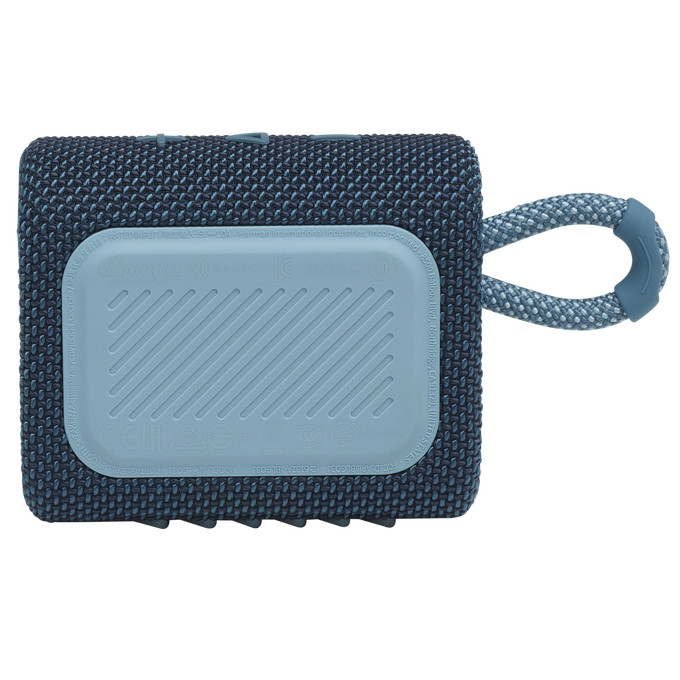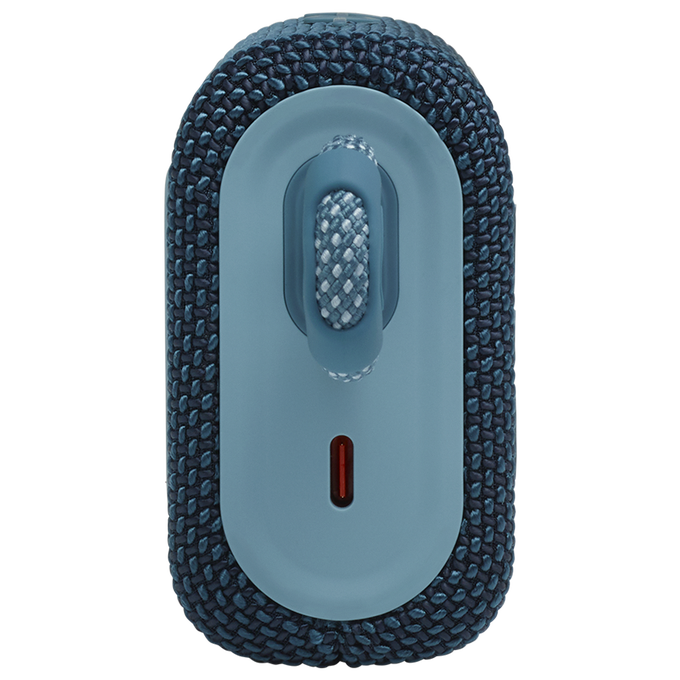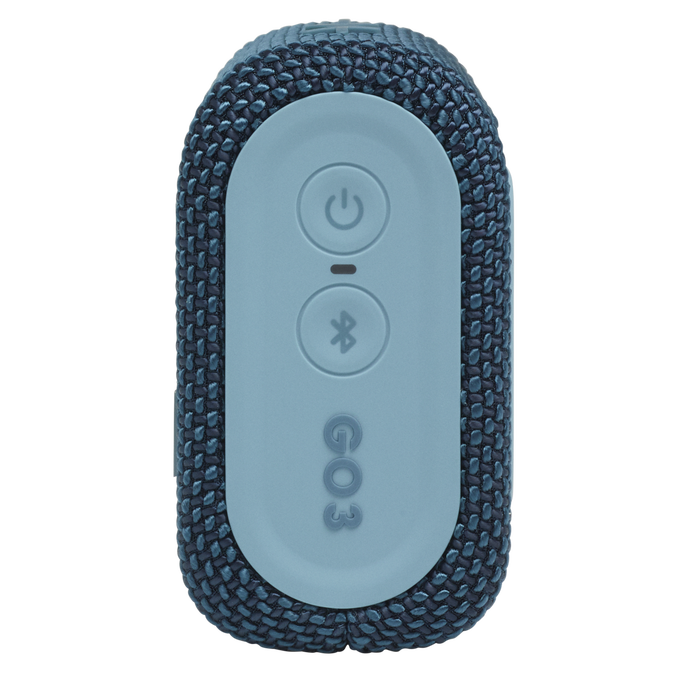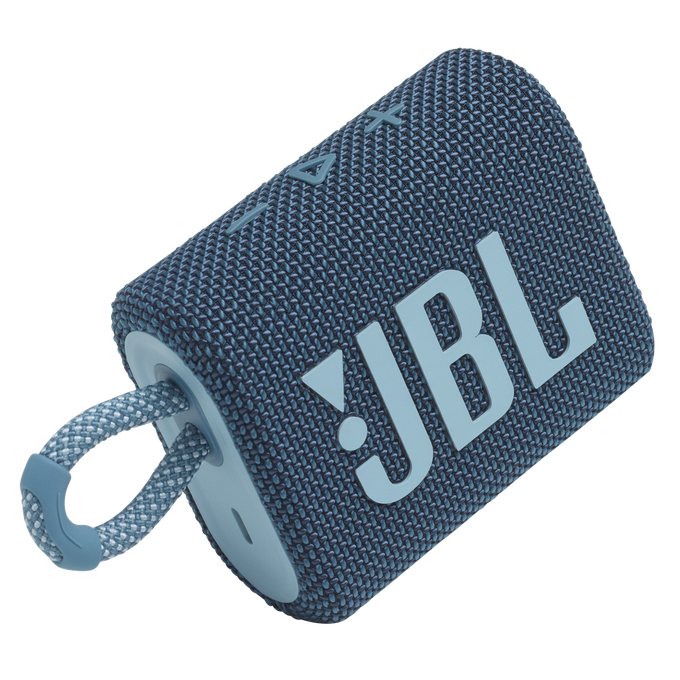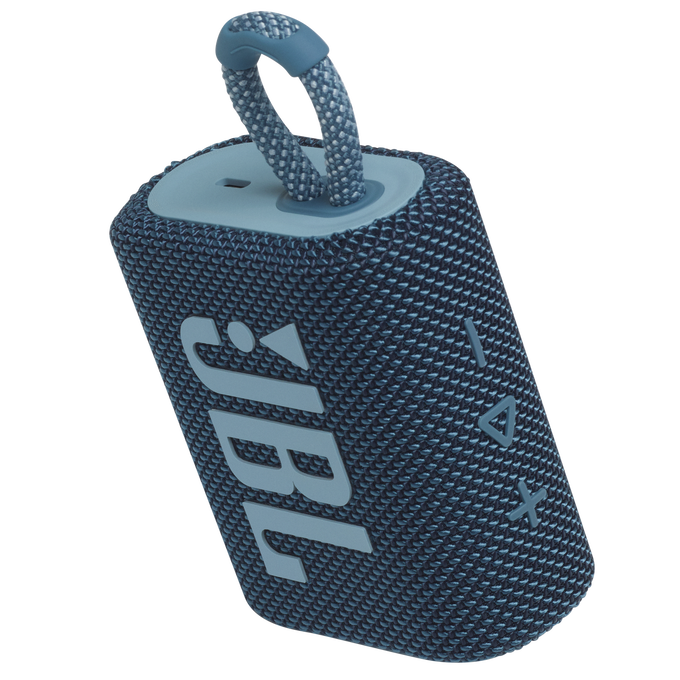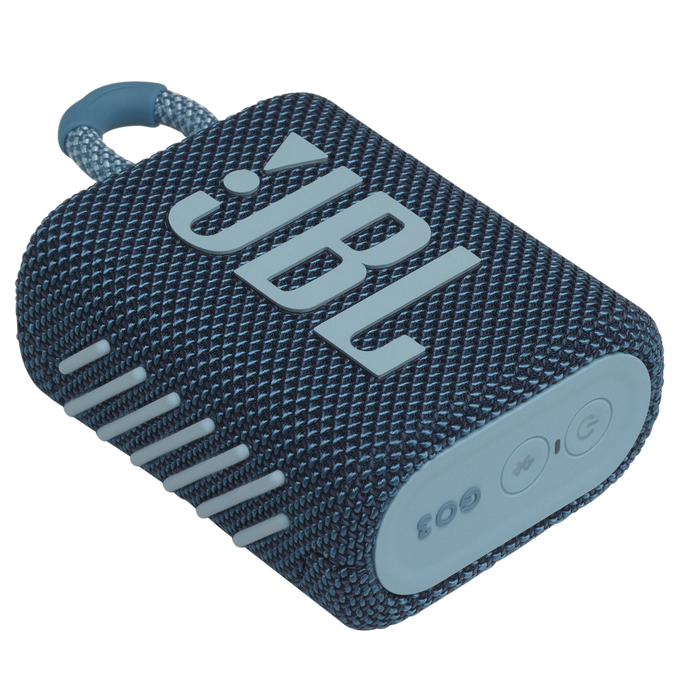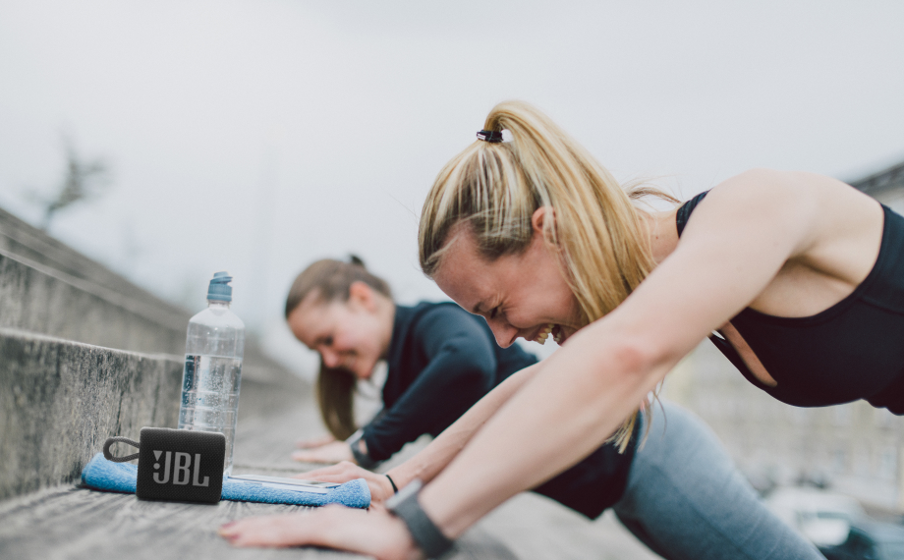 Original JBL Pro Sound
JBL Pro Sound delivers surprisingly big audio and punchy bass from Go 3's ultra-compact size.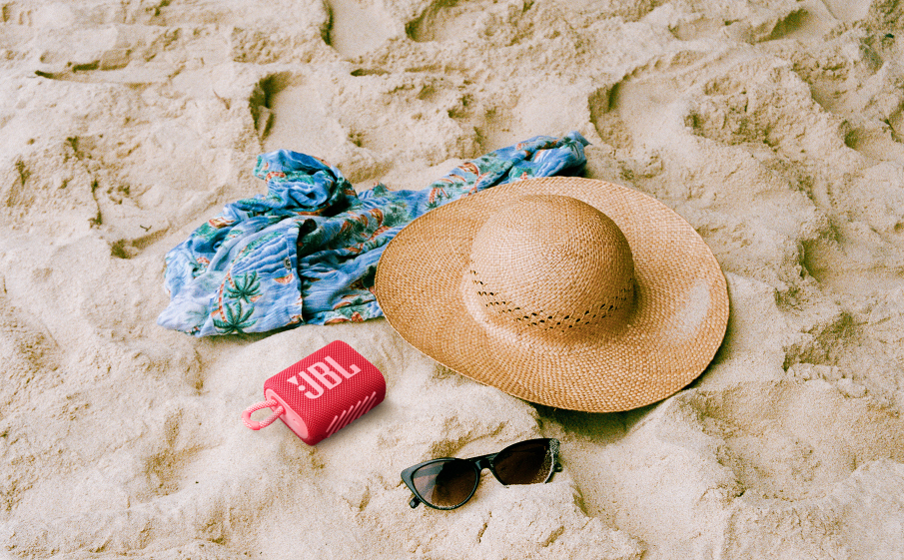 Bold style and ultra-portable design
JBL Go 3's ultra-portable design goes great with the latest styles, and its colorful fabrics and expressive details make it look as great as it sounds.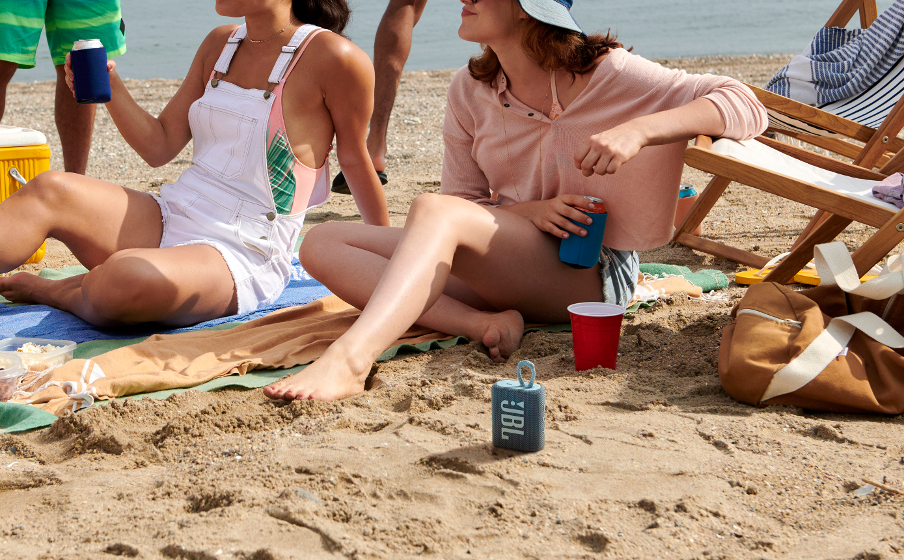 IP67 waterproof and dustproof
To the pool. To the park. JBL Go 3 is IP67 waterproof and dustproof, so you can bring your speaker anywhere.
Features

Wireless Bluetooth streaming
Wirelessly stream music from your phone, tablet, or any other Bluetooth-enabled device.

5 hours of playtime
Don't sweat the small stuff like charging your battery. Go 3 gives you up to 5 hours of playtime on a single charge.

Vibrant color options
JBL Go 3 features exclusive colorways inspired by the latest street fashion trends, introducing completely new shades and combinations.
Product Comparison
Find the best portable bluetooth speaker for you
GO 3-
CLIP 4-
FLIP-6-
CHARGE5-
JBL GO 2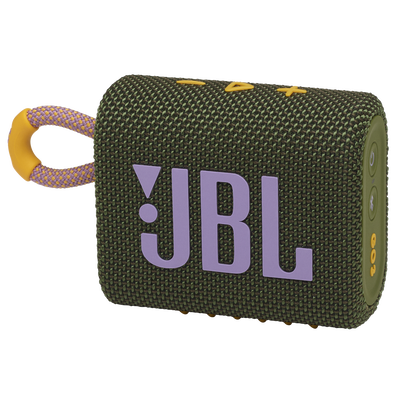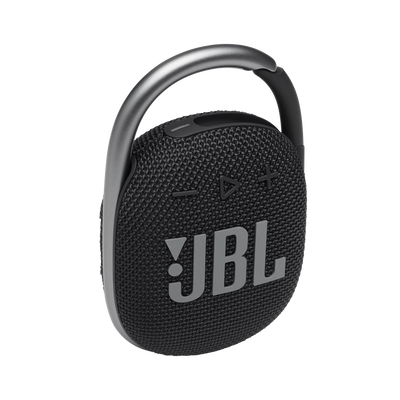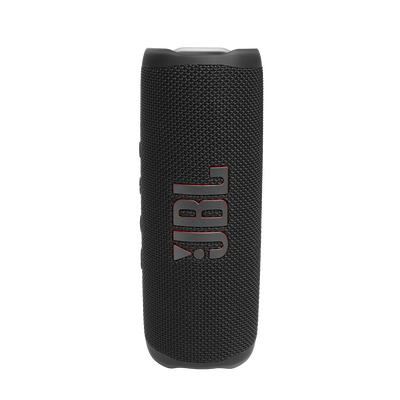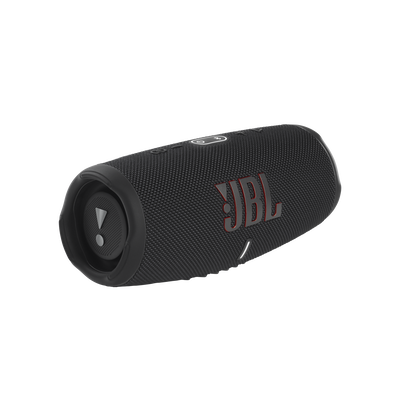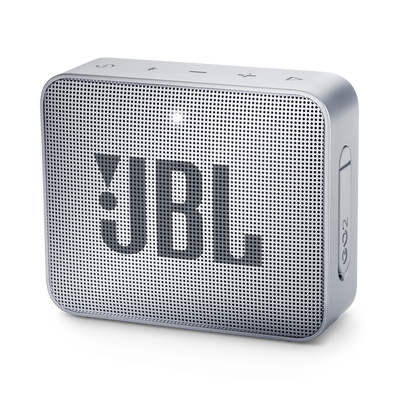 General Specifications
Maximum music playing time (hrs)
5
Maximum music playing time (hrs)
10
Maximum music playing time (hrs)
12
Maximum music playing time (hrs)
20
Maximum music playing time (hrs)
5
Dimensions
Dimensions (cm)
8.6 x 6.9 x 4.0
Dimensions (cm)
8.6 x 13.5 x 4.6
Dimensions (cm)
17.8 x 6.8 x 7.2
Dimensions (cm)
22 x 9.6 x 9.3
Dimensions (cm)
8.6 x 7.1 x 3.2
Specs & Downloads
Item# JBLGO3BLU
Description
Grab & Go

JBL Go 3 features bold styling and rich JBL Pro Sound. With its new eye-catching edgy design, colorful fabrics and expressive details this a must-have accessory for your next outing. Your tunes will lift you up with JBL Pro Sound, it's IP67 waterproof and dustproof so you can keep listening rain or shine, and with its integrated loop, you can carry it anywhere. Go 3 comes in completely new shades and color combinations inspired by current street fashion. JBL Go 3 looks as vivid as it sounds.
General Specifications
Maximum music playing time (hrs)

5

Output power (W)

4.2
Audio Specifications
Dynamic frequency response range (Hz)

110 Hz - 20 kHz
Dimensions
Dimensions (cm)

8.6 x 6.9 x 4.0

Dimensions (in)

3.4 x 2.7 x 1.6

Weight (kgs)

0.209

Weight (lbs)

0.46
Control and Connection Specifications
Bluetooth profiles

A2DP 1.3, AVRCP 1.6

Bluetooth frequency

2402 MHz − 2480 MHz

Bluetooth transmitted modulation

GFSK, π/4 DQPSK, 8DPSK

Bluetooth transmitter power

≤ 8 dBm (EIRP)

Bluetooth version

5.1
Battery
Features
Bluetooth

Yes

Charging cable

Yes

Waterproof

Yes

Wireless

Yes

Rechargable battery

Yes

IP67

Yes
Notification
The Bluetooth® word mark and logos are registered trademarks owned by Bluetooth SIG, Inc. and any use of such marks by HARMAN International Industries, Incorporated is under license. Other trademarks and trade names are those of their respective owners.

Features, specifications and appearance are subject to change without notice.
Country of Origin
Made in Vietnam

Made in China
What's in The Box?
1 x JBL Go 3
1 x Type-C cable
1 x Quick-Start Guide
1 x Safety Sheet
1 x Warranty Card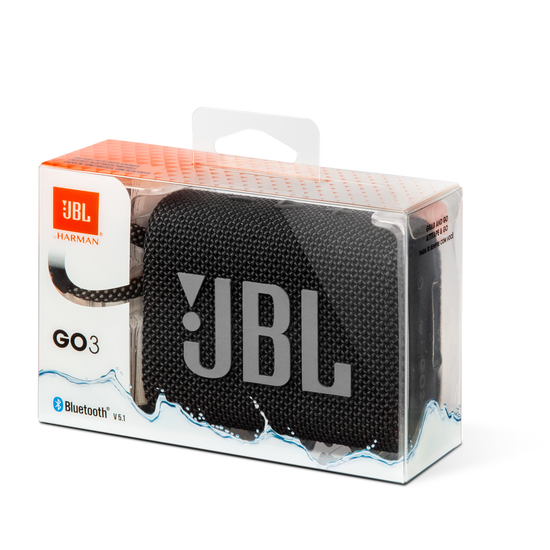 Documents & Downloads
Customer Reviews
Rated

3

out of

5
by
Anx92
from
Disappointed..
Had for a couple days. Took to work today and enjoyed the good full sound but battery died less than 2 hours of use on full charge no where near 5 at half volume as well. Needless to say I returned to store. Was really hoping this one would be good.. also note to JBL ( this speaker does not send battery Percentage over to phone!!) Big no-no for me as I like to know exactly what I have left after a few hours. For the money I was hoping these two things wouldn't be an issue.. great speaker quality just bad battery life. Don't expect to jam out at the beach more than a hour or so..
Date published: 2021-02-23
Rated

5

out of

5
by
HumbleTribe
from
THE HUGE SOUND! PACKED INTO A LITTLE SPEAKER
I got this in the mail a couple days ago and you would think that it's going to be a regular speaker that just looks good. No. This speaker packs a punch! It's size is one thing because of its portability and design but it's great if you take it on a bike ride, walks, at the gym, and a hike. I would definetly get more than one for your enjoyment!
Date published: 2020-12-12
Rated

5

out of

5
by
bbbenjaminnn
from
small but big punch!
I have had the first JBL Go for years, and it is still kicking but it's not waterproof. I was so excited to get this speaker, it is so much louder and better quality than any of the speakers in my house (even my alexa). Super easy to set up and the battery lasts so long. It charges with USB C and comes with a cord for it which I love because it matches my laptop and switch!! JBL never disappoints, I love this speaker.
Date published: 2020-11-13
Rated

5

out of

5
by
Musictomyeyes
from
Great travel speaker
I work away from home a few days a week and wanted a compact speaker to take away with me for playing in the hotel room. Is just perfect for this. I leave it stored in my luggage so it is always ready to go. It has a really well balanced sound, not bass heavy or muddy sounding. Great for listening in the shower, and small enough to not get in the way when I'm cooking in the kitchen. Very impressed with how reliably and quickly it connects to my phone. I ended up getting a second one because I like one in the kitchen and one in my Go bag for work. Well done JBL. Great little bit of kit.
Date published: 2021-05-28
Rated

3

out of

5
by
llvisconti77
from
Great size but sound quality is just ok
I think the sound quality of the GO is ok but the Flip is better. More crisp. The size is great for carrying on the golf cart or in a pool bag.
Date published: 2020-11-14
Rated

4

out of

5
by
Frank the fisherman
from
Why no JBL link to other speakers?
Great little speaker to hang on the golf bag, take fishing, job site etc.... Bought two of them. I just wish it would link to my other JBL speakers. Seems like a waste to not include that feature even it added a few bucks to the overall price. HEY JBL!! Any way to add a firmware update to make linking JBL GO 3 speakers possible or not?
Date published: 2020-12-30
Rated

4

out of

5
by
Ethankm
from
Awesome for the size! Only one problem..
Love the speaker for what it is! Price is awesome and the sound quality is there! Bass is good for the size. My one problem is that the "JBL" lettering on the front came off and the stoppers on the bottom! Disappointed in the glue used to stick to the speakers fabric body and had to put tape over the letters. Other than that, it's a perfect for travel and literally sticking in your pocket or attaching to your backpack. It's worth it for a tight budget and you still want some quality sound!
Date published: 2022-06-06
Rated

5

out of

5
by
apalmo1
from
Perfect travel size speaker
I have had version 1 and gave version 2 of this speaker away as gifts to friends and family. I'm a huge fan of the JBL Go series and this one is just as good if not better then the first two. This speaker is a perfect travel speaker or just to take with you just in case you need it. The soft textured cover seems very durable and looks really nice and high end. I personally love the big JBL on the cover in a soft plastic. The bottom and backside also have soft plastic to keep it from sliding off a table. I used it for over 5 hours listening at medium to lower level (its was background music as we played card games), the battery was not dead and still played on! This speaker can fill a room with clear sound, used in the my shower and also in the kitchen while cooking and it was loud and clear. Bass is responsive but not over powering and highs come out clear. I found at almost max volume it still sounded good. I really like taking this speaker to beach as it produces enough sound for me and a friend to listen to music but doesn't disturb others. This speaker isn't going to compete with the charge or flip lines, but honestly its a dang good speaker for the price! I will probably pick up a couple more for gifts during the holiday season. Everyone who I have given previous versions too really enjoyed them and this new version should please anyone on your list!
Date published: 2020-11-11
Rated

5

out of

5
by
udckcvj
from
Superb Ultra Portable Speaker
Bought this to replace a Kitsound Boombar and wasnt expecting much with its 5 hour battery life. I was so wrong - Pairs up straight away and after some minor fiddling with the volume controls on the speaker and my tablet I was more than happy. The battery lasts more than 5 hours and the speaker is less than half the size but somehow manages an excellent sound quality (indoors). Outside its acceptable but you may wish to buy a bigger speaker. Excellent for holiday use.
Date published: 2021-07-08
Rated

5

out of

5
by
Ashton M
from
INCREDIBLE compared to the Clip 3!!!
Bought the Clip 3 back in the day for $70, then this one just came out and bought it for only $40, and it sound 3 times better than the clip 3!!! OH MY GOSH, It sounds AWESOME! Very very happy with it! Thank you JBL!!!!!!
Date published: 2020-10-26
Rated

5

out of

5
by
KoBo
from
Amazing sound for such a small speaker
The JBL GO 3 is better than I had hoped. Who knew that such a small speaker could put out such big quality sound? It does and it's amazing how good and clear the sound is from this little device. I wondered if the quality of the bass would be good in such a small speaker but it is and I'm impressed! In the house and in my truck it sounds great. So happy I bought it; and it's priced well. I highly recommend the JBL GO 3 (I just may get me another!).
Date published: 2021-08-15
Rated

5

out of

5
by
RubenGG
from
Lots of sound packed in a small body!
This little guy is quite a gem! Small in size (roughly the size of a palm, see photo) but pretty big in sound. Ideal for taking on weekend trips, or on beach/park outings. It is perfectly suited for those as it's so small it's easy to pack in any bag, while it still has enough volume to fill a room or a backyard gathering. As is the case with other JBL products, the sound quality is very good, with clear vocals and good base. It also doesn't hurt that it's a pretty good-looking speaker! Other nice features: - I like that it's waterproof so you can use it by the pool or take it tubing without worrying about it falling in the water - It's also nice that it charges over USB-C instead of micro-USB (like most other similar devices), for faster charging - The small handle is useful for hanging it Dimensions: 9 x 7.5 x 4 cm (3.5 x 3 x 1.75 in approx) Weight: 210g
Date published: 2020-11-11
Rated

1

out of

5
by
Hank_9
from
Horrible - My 2nd one of these that won't connect
This is my second JBL Go3 that doesn't connect to Bluetooth. I've tried multiple devices, a factory reset, charging…. Nothing works. Both brand new out of the box.
Date published: 2021-09-17
Rated

5

out of

5
by
Felix Faerman
from
Sounds better than it has a right to
Gotta say from the onset that the Go3's build quality, its overall feel, the positive clicks, the logical layout, the expensive-feeling materials would be at home at a significantly higher price point. Having had my hands on a Go2, this was unexpected. I'm genuinely taken by its external design. Very impressive. Like many, I'd listened to the Go3 on Youtube. My headphone system is an Oppo105/Feliks Elise (selected NOS glass)/HD800. I have a lot of other gear, too, but that's the reference HP setup. Lossless source material. In videos, to my ears the Go3 sounded somewhat tinny, a bit overly bright, lacking foundation while projecting a one-dimensional perspective. Imagine my surprise when I turned on the speaker, fired up one of my test tracks, and heard that the Go3 sounded nothing like that. I should mention that the speakers sounds best from about 5' away on-axis with the listener's ears. Many folks in this sector of the market judge goodness by a speaker's ability to play loud and produce a crapton of distorted, undefined bass. I don't care about either of those factors. The more recorded information that reaches the listener's ear, the better the speaker. Again, I was not ready for what I heard. The Go3's resolution is way above its price, shockingly so. Its tonal balance is slightly warm, there's layering, air between the instruments, a sense of recorded space - are you frickin' kidding me? Would not have believed it if I hadn't heard it for myself. The speaker's most striking feature is the overall scope of its presentation - it sounds significantly bigger than its size would suggest, within a reasonable volume of course. I started auditioning BT speakers in hopes of finding some that can be recommended to an audiophile listener. The Go3 will be on that list, along with the Xtreme 2 and Harmon Studio 6, given some specific setup requirements and managed expectations. There's a stack of boxes in my shop ready to ship back. I listened to many other speakers.
Date published: 2021-02-23
Rated

5

out of

5
by
Szajba007
from
Great product
I bought it few weeks ago and it sounds great and the looks good. I am very happy with it.
Date published: 2020-11-23
Rated

4

out of

5
by
taro
from
Grippy
When you compare this to Go 2, the Bluetooth connection improves without drop or pop. I also appreciate the USB-C charge port. Felt in hand a improved more durable build. Base tone still could be better and I wish this speaker would have an audio out jack. Overall improvements from the last generation except the price.
Date published: 2020-11-11
Rated

5

out of

5
by
Tlynn
from
Awesome product!!
Amazing product with great sound. It's perfect for cleaning! I'm always needing a small speaker to have for when I clean or really just about anything. It's small but the sound is so big and easy to Bluetooth with your phone! Definitely recommend!!!
Date published: 2020-11-22
Rated

2

out of

5
by
Surjo
from
Average product
Sound is good but craftsmanship is poor . Rubber stripes at the bottom of the device coming off . They have the logo of JBL and some rubber stripes pasted on to the device which comes off after the adhesive gets dried up .
Date published: 2022-10-14
Rated

5

out of

5
by
DreDay
from
JBL GO 3
I received my JBL Go 3 last week. I like the design. It's compact and the material it's made with is durable. Just what I need when at work. It's great for in the shower as well. The sound quality is amazing! A must have!
Date published: 2020-11-16
Rated

3

out of

5
by
WildTurkey
from
Can't Be Played While Plugged In
Unlike my other JBL bluetooth portable speaker, this one cannot be turned on while it is plugged in, so you can't play it while it's charging. This means it's only useful for ~3 hours before it needs to be turned off and fully recharged. Sound is good, but this flaw makes it nearly worthless.
Date published: 2021-12-20
Rated

5

out of

5
by
Jblenthusiast1943
from
Another jbl masterpiece
The jbl go 3 is a fantastic piece of tech. I love the chikkuh uhhhh. 10/10 great sound and bass. The design is amazing also
Date published: 2020-11-24
Rated

5

out of

5
by
GingerBob
from
Great portable Bluetooth speaker
I bought this as a device I could use around my home. It sounds great for such a reasonable price!
Date published: 2020-12-29
Rated

5

out of

5
by
Sugar
from
Excellent good quality speaker
10/10 so small but functional great speak bought 2
Date published: 2020-12-17
Rated

5

out of

5
by
JBLboi25
from
Fantastic size & sound
I bought this on a vacation after I decided not to bring my larger JBL Charge (which is great also). This speaker has great sound for such a small size and I really like the build quality and colorway. Sound is great and lasts long enough for a beach trip and more. Having USB-C for charging makes it easy to only bring one cable when I'm traveling too.
Date published: 2021-10-17
Rated

5

out of

5
by
clsmooth
from
Great, loud sound!
Owned one for a year now, got it for a few different uses. Used for a home gym, louder then a small boom box and a fraction of the size. Hosted a few gatherings in the communal clubhouse room, fills the 2000 sq ft space with ease! Also take it snowboarding with me (waterproof) and can hear it over all other background noise. The only little bit of weirdness is I noticed the battery doesn't seem to last the 5 hours when in the cold (when snowboarding), seem to get 3-4, but get the full 5 hours out of it when indoors/warm.
Date published: 2022-11-06
Rated

5

out of

5
by
Nick Palade
from
Literally perfect
It got delivered today and I absolutely love this speaker. I've bought many JBL speakers in the past but this one is the best so far. The best sound for the size in any speaker (my personal opinion, it all depends on your tastes). Bass is able to go down to 60hz before being inaudible which is stupid (in a good way) for the size, and is quite nice and not overpowering the rest of the frequencies. And it has the JBL signature which I love. I'm a student so I got an extra 30% off the tiny price of around £35 to £25 and how much you get is just insane. It comes in quite a nice and compact box. Also the reason why this is my favourite JBL speaker so far is because of its size, it easily slips into my pockets, even sideways. But, if you want double the battery life but losing a bit of portability get the Clip 4, and it also has a caribiner integrated so if you like hiking then get that. But for everyone else, just get this incredible piece of technology
Date published: 2020-12-05
Rated

4

out of

5
by
durandal
from
Sleek little speaker
Its small so the sound isn't going to compare to a larger type bluetooth speaker. But the value is there and this thing is just really cool. They thought through very well how it would be used and it shows, between the finger loop and rubber pad, etc. And it just looks really cool, a great evolution in design from the Clip and other JBL speakers. It would be nice to have more battery life though, 5 hours just isn't quite enough, since it rarely hits that amount anyway since you play it louder due to its size.
Date published: 2020-11-12
Rated

3

out of

5
by
GmanBam
from
Nice LITTLE speaker
This speaker works well when in line of sight with listener. As soon as speaker was moved behind or away from me the sound was really difficult to hear. Nice in shower, but did not completely soak it but it was splashed. So as long as it is in front of me it's good sounding.
Date published: 2020-11-10
Rated

5

out of

5
by
Ty592
from
Very good speaker for the price
Bought last week and I am very pleased with the sound quality the price is very good definitely a big step from the go 2 in sound quality, durability, bluetooth v5.1 and a little carrying strap its very convenient to take everywhere you go.
Date published: 2021-04-05
Rated

5

out of

5
by
Ilyas
from
BEST speaker for music and gaming
I'm blown away with the quality the base and volume just astonished me I tried it for gaming and it made me win the gun shots are so clear I'm 15 years old I'm gonna be JBL fan for the rest of my life
Date published: 2021-04-17
bvseo_sdk, dw_cartridge, 18.2.0, p_sdk_3.2.0
CLOUD, getReviews, 7ms
reviews, product
Product Q&A
When the red power light starts blinking that the battery is low, how much % is left?
Most of our portable speakers have 5 diodes to indicate the battery charge level. Since our JBL Go 3 has one diode and 5 hours of music playtime when fully charged, it's safe to say that you're at 20% battery life when the led indicator starts blinking.
Date published: 2022-02-01
where can I get a replacement charger cord?
You may use any Type-C charging cable as a replacement. You may also order a JBL Type-C cable through our Customer Service for parts replacement. Here's the link. https://support.jbl.com/us/en/#contact
Date published: 2022-03-27
Can this speaker pair with another JBL speaker like a soundbar?
Our JBL Go 3 does not have a function to connect with other speakers, and our JBL soundbar is a stand-alone speaker system that doesn't require additional speakers to be connected.
Date published: 2022-11-12
Is it quieter because it is smaller?
Although smaller in size, JBL Go 3 is a bit louder compared with JBL Go 2. The rectangular transducer provides 4.2 watts RMS compared with the JBL Go 2's 3.1 watts RMS.
Date published: 2022-02-01
Can the startup and shutdown sounds be disabled or muted or the volume of them be set to the current speaker volume setting, not twice as loud. 
Unfortunately, there's no option to disable the on and off prompt of our JBL Go 3.
Date published: 2021-11-27
Are the Go 3's waterproof?
The JBL Go 3 is IP67 waterproof and dustproof, so you can bring your speaker anywhere.
Date published: 2021-07-29
Can I use my Samsung 15 fast charging brick to charge my jbl go 3 , is that fine for battery health I actually don't have 5v chager, all chagers above 12v Wht should i do?
Yes. You could use that USB charger as it will negotiate the correct voltage that the JBL GO 3 requires to charge correctly.
Date published: 2022-07-14
I'd this devise compatible with IPhone SE? I've been trying to pair this device to my phone and it cannot locate the device ?? Any help would be appreciated- thanks is 
Thanks for your inquiry. Our JBL Go 3 is compatible with both Android and iOS mobile devices. Please make sure that the Bluetooth of your source device is on, and there are no other source connected. You can try resetting the speaker and manual pairing procedure. First, power on the speaker. Press and hold the Volume + button and the Bluetooth button together for 3-5 seconds until the speaker turns off. Once turned off, the speaker has been reset to the factory default settings. Then, turn your Bluetooth back on your mobile device and power on the speaker. It should automatically go into pairing mode and pop up on your discoverable BT devices. Choose the JBL GO 3, and now the speaker should be connect to your device. If these steps do not fix the problem, please reach out to our customer support.
Date published: 2022-06-07
How many bluetooth devices can pair with this speaker? Can it handle two different phones like the Charge 3?
Our JBL Go 3 can only pair with one Bluetooth-capable device at a time. For more information about the speaker, check it out here: https://support.jbl.com/us/en/speakers/speakers-bluetooth-wireless/GO+3-.html?color=orange
Date published: 2022-07-09
Why is there a P65 warning on my JBL Go   3?
Prop 65 is included on the majority of our products to create awareness of possible Prop 65-listed chemicals being present. Please note that when used as intended, our products are absolutely safe to use and comply with all regulations. For a deeper explanation on Prop 65, please go to https://oehha.ca.gov/proposition-65/general-info/proposition-65-plain-language
Date published: 2022-05-22
When the squad colour will be available?
Thank you for your question. Unfortunately, we do not have any information about the release date of the GO 3 squad colour. I would suggest to sign up to our news letter for further updates. Should you wish to receive further support, you may contact the Harman Customer Support team by telephone, email or chat in order to receive direct assistance. Please see https://uk.harmanaudio.com/support-contact.html#ns for further details.  Thank you.
Date published: 2021-06-06
I am trying to pair JBL Go 3 with my old PS3, and it is asking for a Pass Key for the Speakers. I cannot locate a Pass Key anywhere in the manuals. Attempted 0000 and 1234. Neither worked. Where can I find the Pass Key ?
Our JBL GO 3 doesn't require a PIN code when connecting to a Bluetooth source device. If the following default PIN codes don't work 0000, 1111, or 1234, you may reach out to the manufacturer of your source device for further assistance.
Date published: 2021-12-20
When will the product "JBL Tune 750BTNC Wireless Over-Ear ANC Headphones" be in stock?
As soon as product comes in stock.
Date published: 2022-07-07
When will personalization options be available for the go 3
Thanks for your interest in our products. We have no news yet of when we'll have a personalized option for our JBL GO 3. Please subscribe to our newsletter at the bottom page of our website, to receive the latest news and updates about our products: https://www.jbl.com/
Date published: 2021-10-30
What's the difference between saying it's waterproof and IP67 waterproof? For example, the kids portable just says waterproof and appears when I filter for speakers that waterproof but this speaker that is IP67 waterproof does not result. 
Thanks for your question. IP67 rating is both waterproof and dustproof, while IPX7 is only waterproof.
Date published: 2022-06-16
Hi I don't have Charging info in the phamplets.  How would i know my jbl Go 3 is fully charged ? The red light is steady .
Our JBL Go 3's LEd light indicator will turn off as soon as the speaker is fully charged. The red steady light means that the device is charging. You may download the owner's manual of the JBL Go 3 here: https://ca.jbl.com/GO+3-.html
Date published: 2021-10-10
Can the JBL GO 3 be played while the charging cable is plugged in, so that it could play continuously for 8-10 hours?
There is no harm in leaving your JBL Go 3 connected to electricity at all times. The battery will not overcharge. You can simply pick it up, unplug it from the charger and be on your way, knowing that you have a full charge. However, if you'd like to conserve electrical energy, simply disconnect the speaker from the charger.
Date published: 2022-06-16
does it have aux input
Our JBL Go 3 has Bluetooth to connect your mobile phones, tablets, and laptops for listening to music. It doesn't have an aux input to connect your devices.
Date published: 2022-06-16
What's the difference between this and the clip is it just the price
Our JBL GO 3 has 4.2 Watts of power and waterproof while our JBL Clip 3 has 3.3 Watts of power and dust/waterproof.
Date published: 2022-02-01
Is the speaker completely waterproof? Could I bring it in the shower?
Our JBL Go 3 is IP67 waterproof and dustproof. The rubber flap covering serves as protection from dirt and even water as this part isn't waterproof unless the port is closed.
Date published: 2021-07-11
What is the wireless range of the JBL's go 3?
Like all Bluetooth speakers, the Bluetooth range when unobstructed is 10 meters. Interference such as nearby wifi networks, walls, and other devices reduce the range drastically.
Date published: 2022-06-16
What can I not do with my JBL Go 3? (Just to make sure not to harm myself)
Our JBL Go 3 is rated IPX67 protecting the product from submersion in 1 meter (3.3 feet) of water for up to 30 minutes, but it is also resistant to dust. Dust accumulation around electronics can lead to hardware failure so the IP67 rating is an extremely beneficial addition to this product. Always close the rubber flap of the speaker as the rubber flap covering serves as protection from dirt and even water as this part isn't waterproof unless the port is closed.
Date published: 2022-09-18
What about bass in jbl go 3
Its not bad, its no Charge4 but I just use it to play in my bedroom at night while I sleep or when im cleaning so I dont need a system.. I use my buds for that. But for what it is, it def has range.
Date published: 2021-06-06
Can you connect multiple devices to the JBL Go 3 at the same time?
Thank you for your question, unfortunately only one.
Date published: 2022-07-09
When will it be available on the JBL page of Colombia?
We don't have news to share when JBL Go 3 will be released in Colombia, you may sign up for the local newsletter for updates about product releases. https://co.jbl.com/
Date published: 2021-06-06
Can any of these small JBL portable speakers link if you buy more than one.
Our JBL Go 3 does not have a feature that links multiple speakers. You may want to check out the JBL FLIP 5 that has that the PartyBoost feature wgich allows you to kink multiple partyboost compatible speakers all at once.
Date published: 2022-07-31
Does the USB-C port need to be covered for adequate waterproof protection? Or is it fully waterproof despite the USB-C port being exposed? Many thanks.
Thank you for your question. The Charging-Port is completely waterproof. So you don't have to cover it. Kind regards
Date published: 2022-06-16
My jbl go3 lasts for only hours, i recently bought 2 pcs for me and my friend but both last for only 2 hrs, at what volume does this speaker give backup of 5 hrs playtime?
Please contact our customer support team for your region. See contact details below. HARMAN MIDDLE EAST P.O. Box: 17397, Jebel Ali Freezone Dubai, UAE Tel: +971 4 8873336 Fax: +971 4 8873319 Email: info@harmanme.com / sales@harmanme.com / servicecentre@harmanme.com Contact form: http://www.harmanhouse.com/index.php?route=information/contact
Date published: 2022-06-16
I have a question, will this question land on Lifestyle UAT environment?
We'd like to work with you directly to get more information enabling us to answer your query more accurately. Please contact customer service at https://bit.ly/2WocMfi
Date published: 2021-12-15
Can the JBL Go3 be used in the shower?
Our JBL Go 3 is IP67 waterproof and dustproof. The rubber flap covering serves as protection from dirt and even water as this part isn't waterproof unless the port is closed. Please make sure that the unit is dry or free from moisture before charging.
Date published: 2022-11-28
bvseo_sdk, dw_cartridge, 18.2.0, p_sdk_3.2.0
CLOUD, getContent, 5ms
questions, product