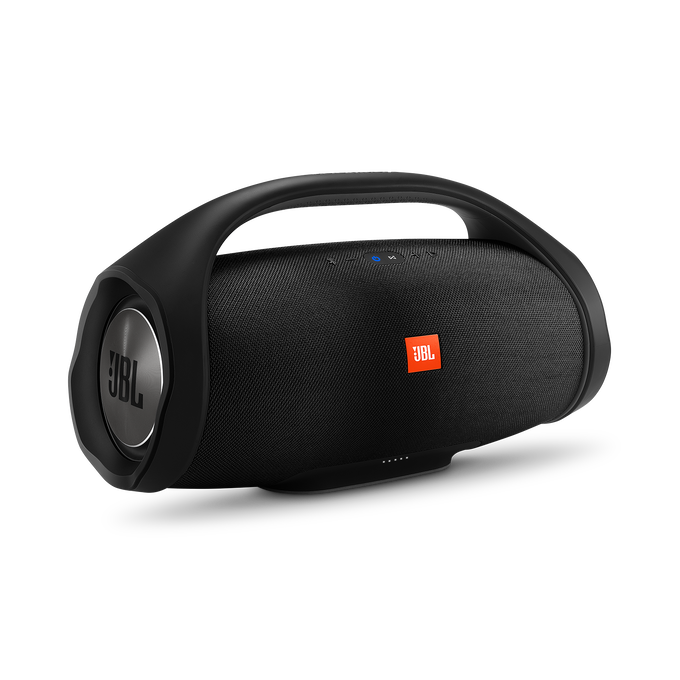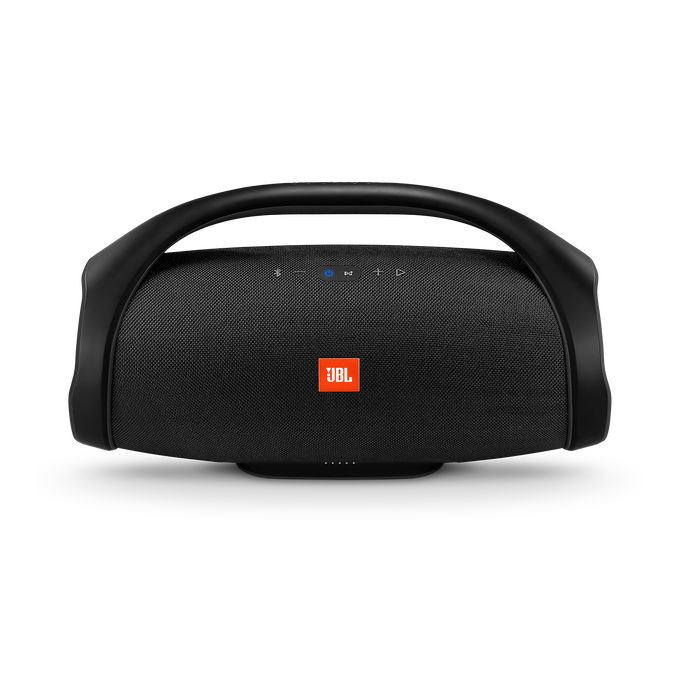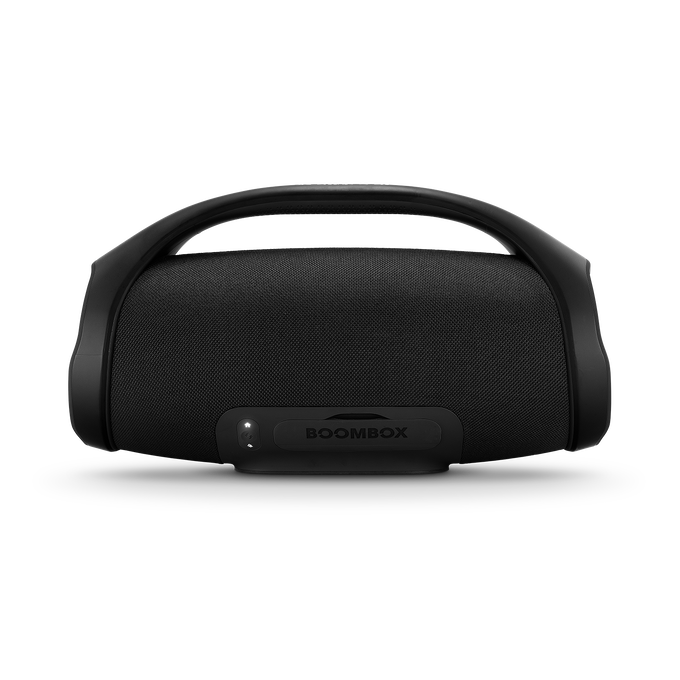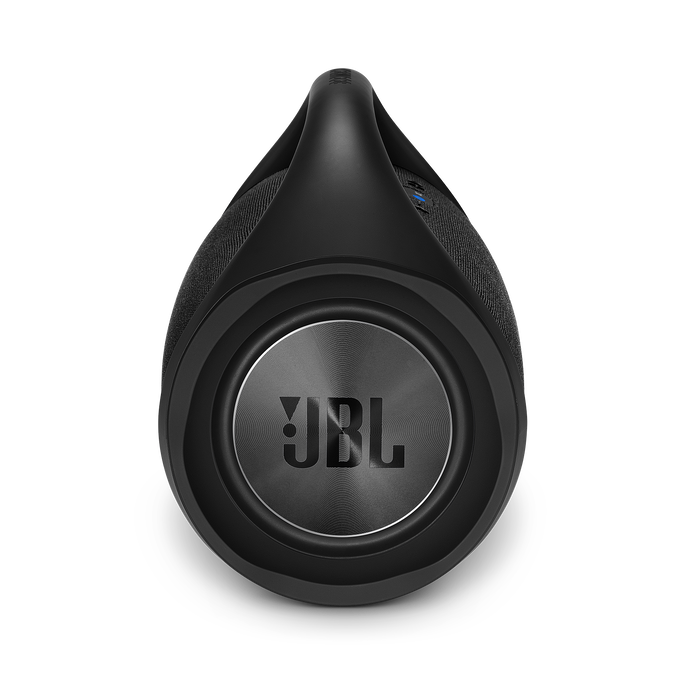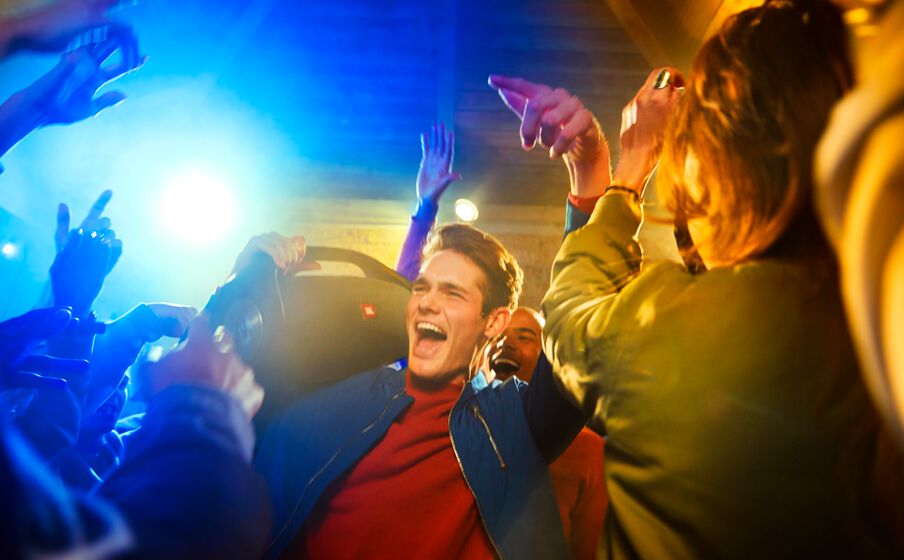 Wireless Bluetooth Streaming
Wirelessly connect up to 2 smartphones or tablets to the speaker and take turns playing impressive stereo sound.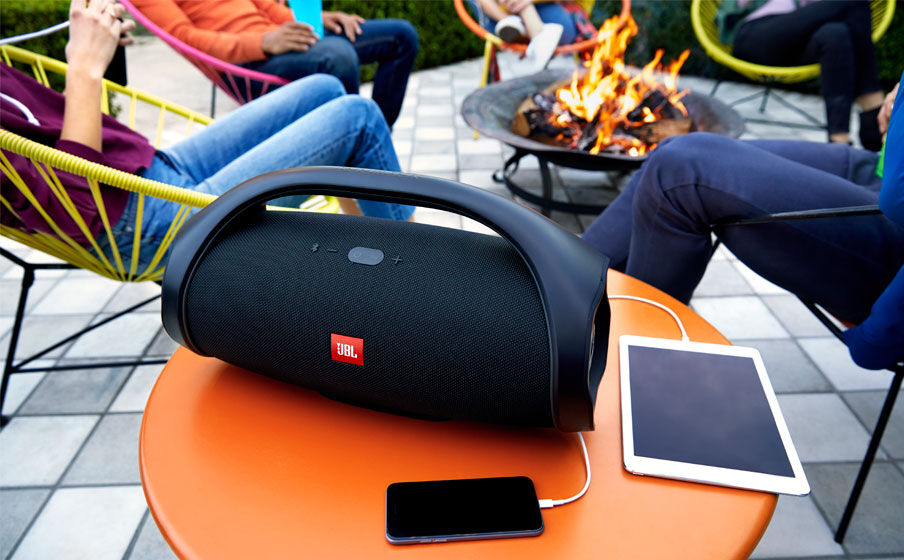 Up to 24 Hours of Playtime
Built-in rechargeable Li-ion battery supports up to 24 hours of playtime and charges devices via dual USB ports.
IPX7 waterproof
Take Boombox to the beach or pool without worrying about rain, spills or submersion in water.
Features

JBL Connect+
Amplify your listening experience and rock the party by wirelessly connecting more than 100 JBL Connect+ enabled speakers.

Sound modes
Enjoy deeper bass and richer sound in indoor mode; switch to outdoor mode for expansive sound with strong bass and longer playtime.

Monstrous sound along with the hardest hitting bass
Incorporated four active transducers and two JBL bass radiators, JBL Boombox delivers monstrous sound along with hardest hitting bass that you will not only hear but also see it.
Specs & Downloads
Item# JBLBOOMBOXBLKEU
Description
Epic sound. All day long.

Made to be the most powerful, portable Bluetooth speaker, JBL Boombox delivers monstrous sound along with the hardest hitting bass. Enjoy music for up to 24 hours without missing a beat. Imagine playing with your favorite beats from sunrise to sunrise on a single charge. Use the massive 20,000mAh battery and dual charge out to charge your external devices anytime and keep music rocking. Rugged enough to handle your wildest tailgate party, the JBL Boombox is IPX7 waterproof, which withstand any weather and even the most epic pool parties. Switch between indoor and outdoor modes to optimize sound wherever the party is. In addition, if more massive music is a must, you can connect more than 100 JBL Connect+ enabled speakers under Bluetooth range with just one press of a button.
General Specifications
Maximum music playing time (hrs)

24

Output power (W)

2 x 30
Dimensions
Dimensions (cm)

25.45 x 45.85 x 19.55

Dimensions (in)

10.01 x 19.48 x 7.69

Weight (kgs)

5.25

Weight (lbs)

11.57
Control and Connection Specifications
Battery
Battery capacity (mAh)

20,000

Charging time (hrs)

6.5
Features
3.5 mm audio cable Input

Yes

Auto-power off

Yes

Bluetooth

Yes

JBL Connect+

Yes

Powerbank

Yes

Speakerphone

Yes

Voice Assistant integration

Yes

Waterproof

Yes

Wireless

Yes
What's in The Box?
1 x Boombox
1 x Power adaptor
1 x Cable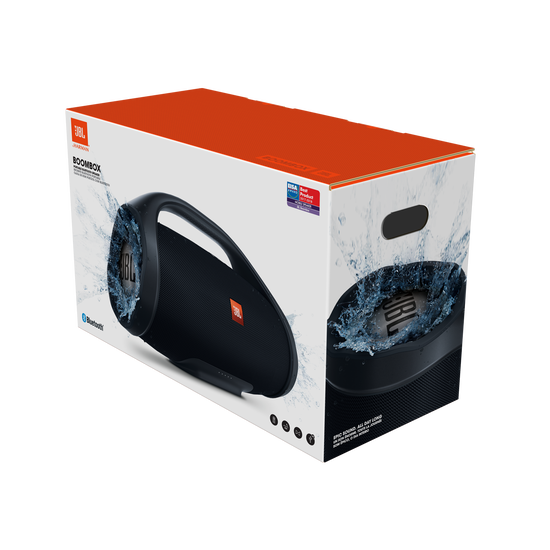 Documents & Downloads
Customer Reviews
Rated

5

out of

5
by
Chevyryder82
from
Exceptional Sound and Quality! AAA+ RATING...
Many people might say and complain that this product is too pricey. If you want quality, you pay the price and JBL delivers with this monstrous speaker! I am REALLY HAPPY with my Boombox and ever since I bought it I have gotten nothing but compliments from people. I know there are plenty of brands out there and I listened to other speakers on display, but this one took grabbed my attention big time. I highly recommend this product to anyone who wants to get the best bluetooth speaker around. Thank you JBL! Keep up the great work...
Date published: 2018-03-04
Rated

5

out of

5
by
EggyDog
from
Awesome!
I've not even had this product for a week, and all I can say is it's awesome! It's a good job I live in a detached house otherwise the neighbours would hate me! The volume, bass, and overal sound quality is amazing, it even has an outdoor mode which makes outdoor listening even better - amazing for BBQs. I've listened for around 20 hours and have not had to charge it since taking it out of the box. The only slight down side I have found is that it's potentially not waterproof as advertised, and I'd be very careful putting something of this price in water. There is a cap on the back with different ports behind it which are certainly not waterproof. When testing I found a surprising amount of water leakage in the compartment - which could easily kill the boom box.
Date published: 2017-10-28
Rated

5

out of

5
by
DCogburn86
from
best portable speaker ever made!
I bought my jbl boombox last month on a impulse my roommates thought were crazy I love the speaker it has superior sound no speaker comes close I come from ue megaboom I had 2 of them not even the megaboom can compare to crispness & clarity! yes its expensive but good things aren't cheap & cheap speakers arent good if u have the extra cash lying around this speaker will entertain you & your friends for hours to come the 20,000 milliamp battery has enough power to recharge your phone. & even other speakers. the connect plus feature does not work with older models be cautious on buying additional speakers the pulse 3 & flip 4 works with the jbl boombox
Date published: 2017-12-21
Rated

5

out of

5
by
Trayk
from
Great Product and Customer Service
I purchased a charge 3 from JBL about 2 years ago and fell in love with it. So when I saw this come out I had to get it because it is like a charge 3 on steroids. I bought it in December of 2017 and just recently tried the floating in the pool thing and it didn't go to well, unfortunately there was a breach in my speaker and it stopped working, before it had been splashed on and it was good to go but it couldn't handle the pool. I emailed customer service and told them what happened they gave me some troubleshooting options but after those didn't work they had me mail it in and sent a replacement out free of charge. I'm looking forward to having a boombox again and I highly recommend it! It has great sound and the battery seems to last forever!
Date published: 2018-08-23
Rated

5

out of

5
by
Howardson
from
Exceptional sound and life
I purchased four JBL boomboxes over the last year I've had to send two of them back for some reason they decide they don't want to shut off despite that small blip I'm still extremely impressed with their speaker and amazing customer service which has been very prompt and professional. The sound quality and longevity of battery life is off the charts!! I hiked my speaker into multiple valleys including pololu and waipio on my vacation in Hawaii used on a daily basis in the ocean on the beach every aspect of my vacation I have enjoyed wonderful sound and even the ability to charge my phone if it's dead off of my Bluetooth speaker !!
Date published: 2021-02-03
Rated

5

out of

5
by
IamAbadBoy
from
It surprised me so much
I bought this beauty two weeks ago and I can not say a lot about it. It is a good product. Well it must to be if I went for it. Thing is I can not remember I have ordered this over the weekend when I got home from a birthday party kinda drunk and receiving it from parcel delivery. So I send it back tomorrow but I am so happy I have owned it :-) Maybe next time I will keep it if my 'PERFECT' Charge-3 is not needed anymore. (thanks for support team understanding my bad) Kind regards, Most happy JBL user
Date published: 2018-04-02
Rated

5

out of

5
by
OFFICIAL_TJK
from
Overall an amazing speaker
I recently bought this speaker and I didn't really have high hopes for it but all I can say is wow. This speaker is way better than I thought it would be and the sound quality is amazing the bass is fire and the treble is too. The only problems I have with it, well they are not actually problems it's just me being me but it's that when on full volume the treble just takes over not badly, you can still hear a lot of bass as well but it's more on the treble side and the other thing is that it's not as loud as I thought it would be. Don't get me wrong the speaker is very loud but I just thought it would be a tiny bit louder. In my opinion this speaker is so worth it, I'm glad a bought it. If they knocked of about £100 I wouldn't have been so hesitant to buy it but i still think its worth the £399.99
Date published: 2017-10-06
Rated

5

out of

5
by
Basshead 2k18
from
The perfect system for all occasions
I bought one if thease from a selling page on facebook for £300 and what a bargin this is by far the best speaker i have seen its unreal sound and bass is amazing you will not need another speaker in your life and battery is out this world i use it day to day at work 10 hours a day and it only needs charging once every 2 days i would highly recommend one of these its the no1 speaker for all uses it sound is better loud clearer and more bass than my car has
Date published: 2018-08-05
Rated

4

out of

5
by
Franket
from
Tweaks for better sound experience
Some feedback from having the Boombox for a while. 1) use a music app that has an equalizer - this will allow you maximize the boombox's potential range. 2) The box definitely has a sweet spot - you have to move it around to find where you need to put it to hear the best sound - use a corner space at ear level when possible 3) When possible use the AC cord to power the boombox to maximize sound level 4) it rocks in a typical kitchen, living room, etc and we used it for my daughters graduation party at an 80x40 gathering hall and sounded great until everyone got drunk and loud. This would have been a good place for a second boombox.
Date published: 2019-09-09
Rated

2

out of

5
by
magnifique
from
Good choice if you never listen to quiet music
I bought this product 2 days ago and from the start of usage it had some weird hissing sound coming from the left and right side of product. It's very annoying to listen on low volume (2 iPhone bars). It's currently under diagnostics at service centre, but I'm not sure that they're going to fix that issue, more like a hardware defect or something. But, if you're going to use it outdoors it's pretty good honestly (very loud and deep bass). I understand people buy soundbars like that to listen music loudly, but I think that $400 product should be able to play music at low volume without any issues. It's my 4th JBL product and right now i'm very dissapointed. If a diagnostics will reveal a defect i'll change the review.
Date published: 2018-03-07
Rated

5

out of

5
by
d patel
from
great speaker
i just buy this expensive bluetooth boombox but i notice its such a great sound , expensive price is worth it, great job by jbl, i have bose bluetooth in my room but this jbl is like father of bose, also you can use indoor and outdoor..its not just loud but sound clearity is really amazing, battery life is good too, i advise to all customer who ever buy any kind of bluetooth device before you start to use please charge your devise atlist 12 hours before 1st use
Date published: 2018-07-28
Rated

5

out of

5
by
Milfred Delemani
from
Sounds
I am from Solomon Islands and I bought a JBL Boombox few weeks ago. I could not hold my excitement upon receiving it. I would definitely say that is was perfect!! the sound quality was just awesome nothing can compare to it. The richness of the sound even at higher volume was so lovely. Looking forward for its full usage during the coming Christmas festivity. Thumps Up.
Date published: 2017-11-17
Rated

5

out of

5
by
Reez_1990
from
A Tank with a Clear, Hardest Hitting base
I was wishing if I could buy this a couple of months ago and I bought it somehow (A Dream became true) And I love every bit of it. Waterproof, Hard hitting bass, Clear sound, Durability AND ITS MASSIVE.... If you buy one of these you're gonna be a VIP in every party of your friends. Wish we get a carry bag or a strap for this. Expensive yet worthy as. Loving it. Thanks JBL <3
Date published: 2018-07-13
Rated

5

out of

5
by
Samraj
from
Best loud speaker in the world.
Seriously was shocked when I heard this from 5 feet away. I thought it was a trick but it was real. This boombox sounded like a car system with an aftermarket amp. Its loud and clear bass is ridiculously sick af. My cousins bought a boombox from the 90s, well this is my boombox I can give my son when he is into music. Money doesn't matter if the product is correct with awesome sound!!!
Date published: 2018-07-19
Rated

5

out of

5
by
TONY T
from
JBL For Life
I bought this speaker because I know what JBL quality is all about. I have an old pair of stereo speakers that I have had for 30 years. They still sound fantastic as does this new boom box. I bought it without listening to it and have no regrets. I also have a Flip 4 and it's great to take anywhere. JBL Forever!!!
Date published: 2018-08-10
Rated

5

out of

5
by
HZDBoomer
from
Massive& Bass Combined = JBL BoomBox
I picked up this this Beast a few Hours ago, Knowing JBL for their fine Produced line of Bluetooth Speakers, I can honestly Say I have never Been happier. The JBL BoomBox takes it to an entirely different level of quality #Sub Bass & ground shaking Bass, Clarity is There, overall This unit is Well Worth the price tag $449.99 Once said Bob.
Date published: 2017-10-14
Rated

5

out of

5
by
JustinP
from
Best portable Bluetooth speaker.
I bought this a couple of ago and though it is a little pricey it is hands down the best portable Bluetooth speaker I have heard. I'm needed something that was powerful enough to use outside at the beach and still be able to hear it on the far side of the volleyball court (about 70 ft away) and it was perfect. I was debating between this one and the Nyne Rebel which was a third the cost and sounded fine and would have worked fine but the sound quality was far superior on the JBL. Being an audiophile I was willing to pay the premium. I also needed something that wasn't too heavy because the beach I play at is 100 steps down a steep grade so I didn't want to haul something that was a tank. The handle was comfortable and the weight was fine. Would be better it it had a strap. Not sure why they didn't think of this in the design but I will probably just rig something up. Anyone speaking negatively about the sound quality has to have an agenda because it is flawless for it's size.
Date published: 2017-12-21
Rated

5

out of

5
by
Zim79
from
I use it everywhere
I have finally been able to get rid of the receiver and cords and speakers hanging all over my outside patio, the receiver cords speakers and source in my home salon and radio and speakers in my garage now all I have to do grab the boombox. It is more than enough even for outdoors. The sound outside is incredible, great bass even in open air. I am thoroughly impressed so far. I cannot attest to the longevity yet however
Date published: 2018-08-01
Rated

5

out of

5
by
BusyDad
from
Great versatile sound quality
Since I have received the Boombox I have put it through its paces and its really proved itself time and time again. The sound quality is great with chunky bass but with fantastic clarity. I listen to a lot of podcasts and spoken word also sounds great on it. My kids love the portability of it hefting it around the house, yet I don't fret over damage as its so durable. The long battery life also means it doesn't have to slavishly sit near a plug socket all the time. Its favoured place is in the kitchen and its good to know that its waterproof and the damper air won't harm it. I also put my vinyl turntable trough it with pretty good results. I cant wait for some better weather so I can try it outside with the BBQ. Overall a fantastic and versatile speaker.
Date published: 2017-11-03
Rated

5

out of

5
by
Hoffy1970
from
JBL have done it again
I have been a fan of JBL for many years and have previously owned a Flip. I now have a Charge 2, Charge 3, Xtreme and a Cinema SB400. The BOOMBOX is an extremely good Speaker. The bass is pronounced and as good as I've heard. It's very loud and the sound is crisp. The first class build and the fact it's waterproof is another big bonus. Yes it's expensive but you get what you pay for.
Date published: 2018-05-08
Rated

5

out of

5
by
Mikie44
from
Sounds as good as it looks
Bought this for my wide for Christmas....she told me it's the best present she's had since her diamond engagement ring!.. Praise indeed. It packs a punch but also has clarity. Really impressed and would recommend to anyone looking for a portable speaker to party with.
Date published: 2018-01-02
Rated

5

out of

5
by
TheNamesSteven
from
Awesome but JBL PLEASE READ
Love the speaker but it has an issue, when you use the AUX port, if the audio playing through It is particularly low the speaker seems to think it's not getting any input so it stops playing sound and picks back up when the audio get sent loud enough again. Really would love to see this fixed
Date published: 2017-12-03
Rated

5

out of

5
by
Sherri9182
from
Wow.
I just purchased this item and I'm so glad I did, despite the steep price. The bass is very deep, yet defined. There is also a well-balanced rich sound to his unit. Syncs well with my iPhone X, and my IPad Pro. I can even control the volume and music selection with my iWatch. I love it!
Date published: 2018-03-19
Rated

5

out of

5
by
Ryan K
from
Amazing Speaker ♥️
Am a fan of the Portable speaker and all time searching for the best Speaker i have 6 different portable speaker. The BoomBoX is the besttttttt one U can hear the Bass and feel it very well indoor. amazing Quality of Sound, really am impressed!! I recommend every Music Lover to Buy the JBL BoomBox❤️
Date published: 2018-05-16
Rated

5

out of

5
by
Caydn7174
from
Amazing
This product exceeded my expectations in craftsmanship and sound quality. Haven't passed half volume and the bass is just incredible. Would recommend to anyone. Also own a JBL charge 3 and Xtreme. New favourite line of Bluetooth Speakers.
Date published: 2017-12-26
Rated

5

out of

5
by
Leader
from
Thundering bass
I purchased the JBL Boombox recently after researching the best portable Bluetooth speakers on the market; I decided on JBL due to the robust design and sleek appearance in addition to the massive power output and thundering bass - I was not disappointed when using it for the first time. The mids and vocals are very clear on a variety of genres and the bass rumbles without distortion at higher volumes. I have not yet tried it on A.C. power, only with internal battery, so there is still plenty of power in reserve should the occasion deem fit to blast at full power. At the price of £330 (factory recertified), this was just about affordable but you get what you pay for, high quality product with many useful features and 2 year warranty. If you want the best - forget about the rest and buy JBL! Highly recommended.
Date published: 2018-03-12
Rated

5

out of

5
by
lisbem
from
Boombox
our 14 years old so told me: easy ordering, quick shipment and good logistick. the best he said .....the sound ! no we grown up people have to be outside the house when he play.. :)
Date published: 2018-04-06
Rated

5

out of

5
by
Jay1983
from
Amazing
Absolutely amazing product. As soon as this arrived and was opened it worked straight out of the box. The sound quality of this product is brilliant in both indoor and outdoor mode. The only thing I would add is for outdoor parties I would have preferred that the volume could have been a bit louder but for the price you can't have everything.
Date published: 2017-11-04
Rated

5

out of

5
by
DJV89
from
This boombox is dope!
I have to say this is only my second JBL speaker but I am not disappointed at all. The sound quality is rich and smooth and the bass is crazy! I have used JBL connect with my pulse 3 and it just enhances the experience even more! Be sure to go grab one! JBL Boombox is dope period!
Date published: 2017-10-03
Rated

5

out of

5
by
LEGEND808
from
You must get two....
I bought one, then went right back for a second... incredible bass and battery life.... must have stereo feature... buy two, if you can afford it... better than my car audio with Note8 and VLC
Date published: 2018-03-13
bvseo_sdk, dw_cartridge, 18.2.0, p_sdk_3.2.0
CLOUD, getReviews, 4ms
reviews, product
Product Q&A
Is there a way of connecting a microphone and getting audio out of the speaker? - id like to use it for large gatherings and being able to speak though the speaker.
there is an app on the google play store that allows me to speak through the phone microphone and it will come out on the speakers... the only thing is it has a little bit of a little bit of a bit of bit a ....... echo ... You really can not use a BT microphone especially because of the echo... If you want I can get you the name of it... I got it for free, but now it costs something...
Date published: 2021-06-06
If i will connect 2 jbl extreme will i get power of 1 jbl boombox?
Jbl boombox on battery play 2x20w and 2x30w in wall socket. So no it will br double power but bigger size of boombox makes deeper bass than 2 xtreme's.
Date published: 2021-06-06
Does JBL Boombox support aspx codec?
The Boombox does not support aptx Low Latency bluetooth transmission. The only portable speaker product we have that supports aptX is the Soundgear and Soundgear BTA.
Date published: 2021-06-06
Has anyone actually tried to use this as a PA system? I'm wondering if the Bluetooth transmission time might cause too much of an echo effect. Specifically, I was thinking of using two (2) JBL Boombox with a Bluetooth microphone.
I have the exact setup you are using... the only real issue is the echo...It gets way worse with a BT micropohone
Date published: 2021-06-06
If and when the battery goes bad, will the unit function properly when plugged into the a/c charger until replacement battery is installed?
JBL Boombox can be used even when the battery is discharged by plugging it using the included adapter.
Date published: 2021-12-12
HELP!!! Our JBL Boombox just stopped working out of the blue and won't charge. I took it back to Bestbuy but they said to contact JBL. Please advise how I can get this fixed? I paid $499 for this and now it's just a paperweight.
Thank you for taking the time to provide us with your feedback. Please try to use a different charging set and plug it for 6 hours or overnight and check the red steady LED light, to make sure that if it works. Our products come with a one-year limited warranty. Please contact our Customer Support if you require any additional assistance with our JBL Boombox. We're here to assist you.
Date published: 2022-05-10
Will the Boombox be sold in other countries such as the Uk and Australia
There are still no news about the release of the JBL Boombox through UK and Australia but please expect it to be soon.
Date published: 2021-06-06
What is the original full sound of JBL in Decibels. As i know the S/N ratio is 80db, but the final db should be let's say 95db or more?
Our JBL Boombox has a signal to noise ratio of 80 dB. The volume of our units is being measured by watts. This speaker has an output power of 2 x 20 watts (battery mode) 2 x 30 watts (AC mode).
Date published: 2021-06-06
Will the sound be loud and clear if I take it on a speed boat?
Our JBL Boombox has an output power of 2 x 30 watts. The volume may vary depending on the surroundings and music content.
Date published: 2021-06-06
What is the lowest temperature the speaker can be in before being damaged?
We recommend to use the product between 5 and 35 degrees Celsius. (41 to 95 fahrenheit)
Date published: 2021-06-06
can I wirelessly transfer the sound connected by cable to other jbl speakers with Connect+?
The JBL Connect + feature only works when you're using Bluetooth.
Date published: 2021-06-06
Is the battery replaceable?
We would like to work with you directly to help you with your issue. Please submit a case request at https://www.jbl.com/support-contact.html and the Customer Service Team will be more than happy to assist you.
Date published: 2021-06-06
Can i use it in the television?
You can connect your JBL Boombox to the television using the 3.5mm aux cable. If you need more help, please contact us here. https://bit.ly/35U4FJU
Date published: 2021-06-06
im told not to touch the sides when they are vibrating why is that
Hi, As long as you don't press the passive radiators into the Boombox ( or any other product with passive radiators ) with force, you can "touch" them. The feeling however will be unpleasant when music is playing, and there is no good reason on why you would want to touch these :)
Date published: 2021-06-06
Can a mp3/mp4 player input into it by a headphone jack?
Yes you can.
Date published: 2021-06-06
Is the Boombox supported with 3.5 mm (Audio Jack)?
Yes the JBL Boombox actually has a 3.5mm auxiliary jack located at the back of the speaker which you can use to play music from your sources.
Date published: 2021-06-06
When are you guys going to make a remote control for the Boombox?
Currently, there are no plans to make remote controls for our portable speakers. We'll make sure to submit your feedback to the right department.
Date published: 2021-06-06
Can i use the speaker with a microphone plus will it work through connected speakers through the JBL+ Connect?
Hi We don't support the use of microphones on our portable audio. That said, it would be possible to connect a microphone to the AUX input on the JBL Boombox. Do keep in mind though that most microphones have a very high impedance, so you may not get the volume from the Boombox that you would expect, and you may need a pre-amplifier between the microphone and Boombox. You won't be able to use Connect+ though, when your "source" is a microphone connected to the AUX input. Connect+ only works from devices paired by Bluetooth, with the correct Bluetooth Profiles ( A2DP and AVRCP ) If you need more information, please contact our Customer Support
Date published: 2021-06-06
What is the refurbished warranty and should I be concerned about the appearance and quality?
Thanks for reaching out. These products have been thoroughly checked and tested to meet the high standards that are set by HARMAN. A refurbished product includes the same features and functionalities as the new models. We provide the same warranty with these products as with similar new ones. You may see some minor cosmetic imperfections, and perhaps the product has been repackaged, but you can be guaranteed that these products will perform perfectly.
Date published: 2021-06-06
Can I hook up a ipod to the boombox - no blue tooth.
The Boombox can be connected via Bluetooth or Aux cable so you should have no problems with connecting it to your Ipod via aux cable.
Date published: 2021-06-06
How do I know the Boom Box is fully charged
Once the LED indicators show that there are 5 full dots flashing, it is fully charged. Also, the charging time for the Boombox is <6.5 hours.
Date published: 2021-06-06
Does it include EU charging plug if I order it from Amazon? Sometimes they include American and sometimes EU and Great Britain/Australian? How do I know if I will get EU cause I live there
Hi You would need to contact the seller on Amazon, before you order from them to be sure. In any case, the power adapter is the same for the models, it is only the power-lead ( cable with 2 pin connector / shaver cable ) which is different. In worst case scenario, you should be able to get one of those for a few euro's in any electronics store.
Date published: 2021-06-06
Can I bring this through TSA without it being taken away?
We would like to work with you directly to help you with your issue. Please submit a case request at https://www.jbl.com/support-contact.html and the Customer Service Team will be more than happy to assist you.
Date published: 2021-06-06
I have a brand new boom box. The 5th light of the bottom led center charging lights keeps flashing when plugged in for charging.  It's been charging for a few days. Should this light not be solid like the other four lights?  
If you're using the speaker while charging and it's plugged in, the speaker will continuously charge. Our portable products have Protective Circuit Modules or PCM that manages the charge and discharge rate of the speaker. This allows the speaker to not be overcharged when left plugged in.
Date published: 2021-06-06
Looking to use in a fitness class like boot camp and Zumba, both indoor and out. Anyone else use this model? 
JBL Boombox offers powerful bass and sound that you can use with any activity. Its waterproof IPX7 rating makes it an all-weather companion, it also has a built-in power bank that allows you to charge your devices. If you have questions about this product, please reach out to our Customer Support.
Date published: 2021-06-06
Will the JBL boombox connect with JBL Xtreme?
The JBL Boombox and Xtreme speakers have two different software for connecting with other speakers, JBL Connect for the Xtreme and JBL Connect+ for the Boombox. These two software are not compatible so pairing the Xtreme speakers with the Boombox unfortunately is not possible
Date published: 2021-06-06
Is there a car charging option available?  
You can safely use a car charger as long as its rated output is 20V/4A.
Date published: 2021-06-06
How do i know when the boombox is fully charged?
Hi there, our JBL Boombox has LED indicators at the front of the unit. You'll notice that it's fully charged if all 5 lights are lit up.
Date published: 2021-06-06
How can i tell the device is charging properly? (Most battery powered devices have LED indicators) but nothing happens when I plug it in
There should be an LED indicator on the bottom part of the Boombox where it shows how much it's charging. If there is no lights while plugged in.Please contact us so we can get you assisted.
Date published: 2021-06-06
Other than Bluetooth what other input options are there ? XLR , 1/4 , RCA , 1/8 ? Is there monitor out for daisy chaining ? 
Hi! The JBL Boombox has an auxiliary input if you wish to play something using a wired connection.
Date published: 2021-06-06
bvseo_sdk, dw_cartridge, 18.2.0, p_sdk_3.2.0
CLOUD, getContent, 119ms
questions, product