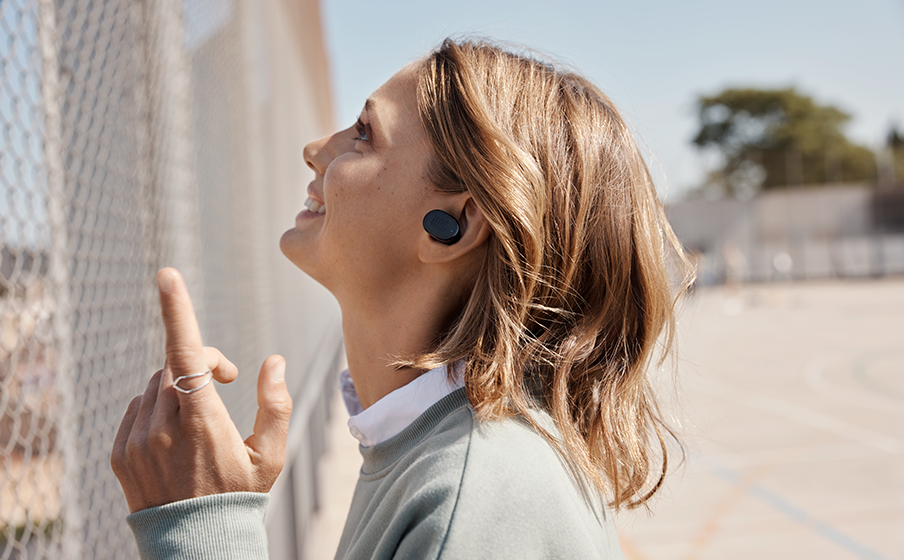 JBL Pure Bass Sound
Smartly designed 10mm drivers enhanced by the Dot form factor deliver JBL's Pure Bass Sound so you'll feel every pulsing beat.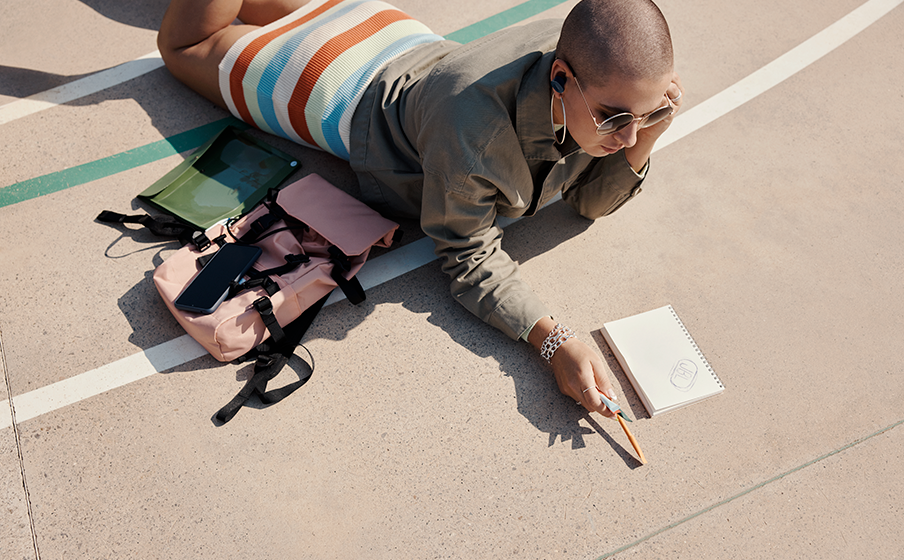 Active Noise Cancelling with Smart Ambient
Hear more of what you want, less of what you don't. Active Noise Cancelling technology with 2 mics lets you minimize audio distractions. With Ambient Aware, you can tune into your surroundings at any time so that you feel safer when you're out in the world, while TalkThru lets you stop for a quick chat without having to remove your headphones.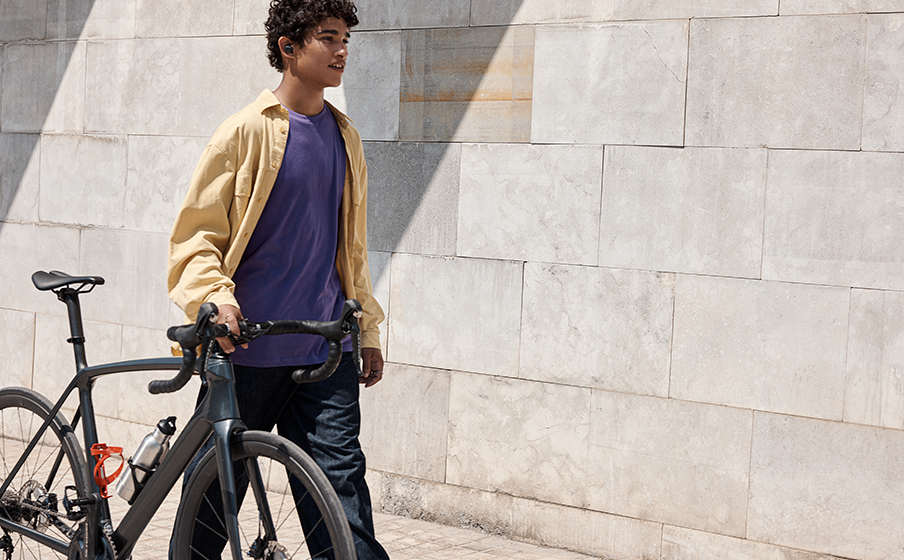 4 mics for perfect calls
Enjoy hassle-free, hands-free calls in stereo. The Tune 130NC TWS are equipped with 4 microphones, so you'll always be heard with perfect clarity. Never hesitate to take or make a call again.With VoiceAware you can control the amount of mic input routed back into your earbuds and choose how much to hear of your own voice.
Features

Up to 40 hours of battery life
Never miss a beat with 40 (10+30) hours of battery life or 8 hours, plus 24 hours in the case when noise cancelling is engaged. Need a boost? Speed Charge for just ten minutes to get 2 hours of playtime.

Water resistant & sweatproof
Don't be deterred by bad weather. Thanks to IPX4 water resistance and sweatproofing, there isn't a workout or downpour the Tune 130NC TWS can't handle.

All-day fit & comfort
The Dot design seals snugly and securely your ear canal, providing deeper bass performance, isolation from ambient noise, and comfort so you can listen all day in bliss. All you'll feel is the music.

JBL Headphones App
The JBL Headphones App lets you enjoy your music your way. You can customize your listening experience, figure out your best fit, find your earbuds, and even create a silence bubble for ultimate calm.
Product Comparison
TUNE130NCTWS-
TUNE230NCTWS-
LIVE-PRO-2-TWS-
LIVE-PRO-PLUS-TWS-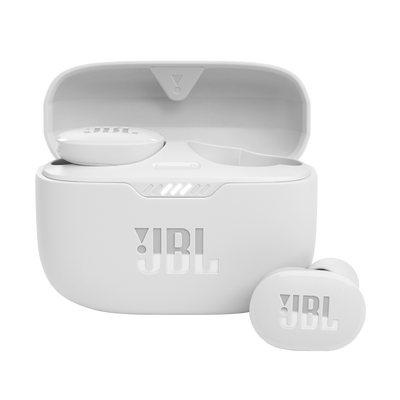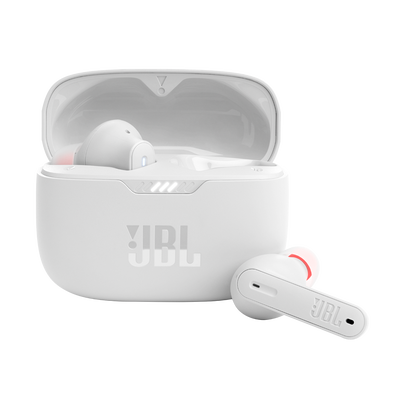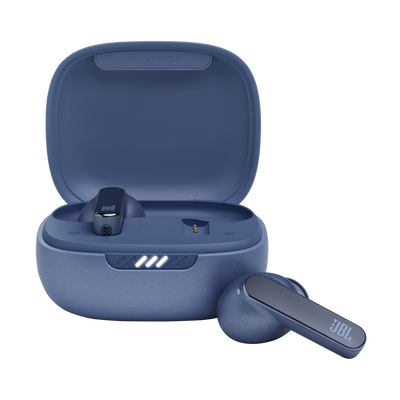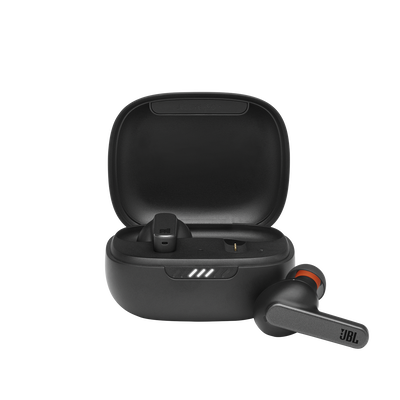 Battery
Maximum music play time with ANC off (hours)
10
Maximum music play time with ANC off (hours)
10
Maximum music play time with ANC off (hours)
10
Maximum music play time with ANC off (hours)
7
Features
Adaptive Noise Cancelling
Adaptive Noise Cancelling
Adaptive Noise Cancelling
Adaptive Noise Cancelling
Voice Assistant integration
Voice Assistant integration
Voice Assistant integration
Voice Assistant integration
Specs & Downloads
Item# JBLT130NCTWSWHT
Description
Pure Bass. Zero noise

Tackle your day one song at a time with the JBL Tune 130NC TWS. True wireless earbuds give you 40 hours of exceptional JBL Pure Bass Sound, while the ergonomic and water-resistant design gives you all-day comfort in any weather. Connect calls simply and seamlessly with 4 mics that cancel out ambient noises offering perfect calls anywhere. And with Active Noise Cancelling and Smart Ambient technology, you choose whether you want to tune out the world or engage with your surroundings. Best of all, the JBL Headphones App lets you personalize your entire listening experience. Stay connected to your world, your way.
General Specifications
Audio Specifications
Driver sensitivity at 1kHz/1mW (dB)

103

Dynamic frequency response range (Hz)

20 Hz – 20 kHz

Impedance (ohms)

32

Number of drivers per ear

1
Dimensions
Charging Case Weight (oz)

1.4

Earpiece Weight (oz)

0.4

Charging Case Weight (g)

40.4

Earpiece Weight (g)

11.4
Control and Connection Specifications
Bluetooth profiles

A2DP V1.3, AVRCP V1.6, HFP V1.7

Bluetooth frequency

2.4 GHz – 2.4835 GHz

Bluetooth transmitted modulation

GFSK, π/4-DQPSK, 8-DPSK

Bluetooth transmitter power

0 - 12dbm

Bluetooth version

5.2
Battery
Maximum music play time with ANC off (hours)

10

Maximum music play time with ANC on (hours)

8

Maximum play time (hours)

40
Features
Bluetooth

Yes

Charging cable

Yes

Voice Assistant integration

Yes

Active Noise Cancelling

Yes

Ambient Aware

Yes

Built-in Microphone

Yes

Charging case

Yes

Hands Free Call

Yes

JBL Pure Bass Sound

Yes

Rechargable battery

Yes

Speed charge

Yes

Sweat Proof

Yes

True Wireless

Yes

Wireless

Yes
What's in The Box?
1 x JBL Tune 130NC TWS headphones
1 x USB Type-C charging cable
1 x 3 Sizes of eartips
1 x Charging case
1 x Quick Start Guide / Safety Sheet (S / i)
1 x Warranty / Warning (W / !)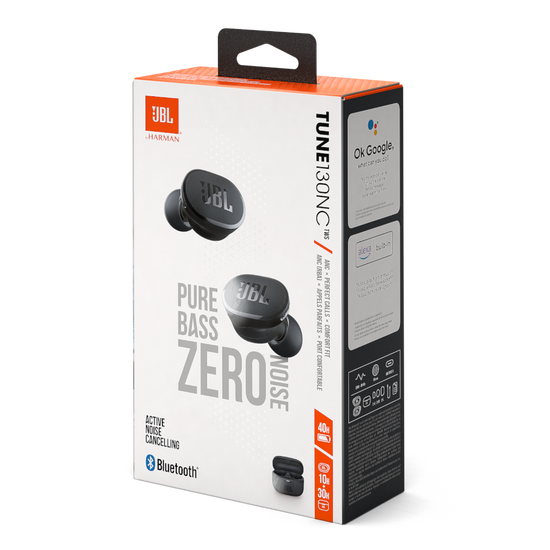 Documents & Downloads
Customer Reviews
Rated

5

out of

5
by
Prinju
from
Great sound
Great sound. Good bass. Typical JBL performance. Love it.
Date published: 2021-11-30
Rated

1

out of

5
by
Alex270
from
Disappointing
This product has been awful ever since I recieved it. The earphones charge around 30% of the time. I will often take them out of the fully charged pod after hours for them to have not charged at all. This is disappointing because I have used JBL products before and had a good experience however I cannot recommend this product.
Date published: 2022-07-29
Rated

5

out of

5
by
muizemiepje
from
Great earbuds!
I got this product a week ago and I love it so far. The case feels kinda plastic but it opens and closes nicely. The buds are very easy to pair with my phone and the app from JBL made it also easy to see what kind of setting I was using. They have an amplified surround sound for when you use it in traffic and it works great. The only downside with it was when I had that on while riding my bicycle and it was a very windy day. Then it really amplified the wind and that was not great. When I turned it off though it was fine. The anc works really well when your on the bus or train and the music quality is amazing. It has deep bass sound and I really don't have to play my music as loud as I have to with my previous buds to have some decent music going. It uses usb c to charge and that is great. It charges up quickly and since the first charge I haven't had to charge it again, so the battery's life is great! The buds came with buds which were too big for my ears, they made them fall off. I switched to a smaller size that came with the buds and they stay nice and snug in my ear now. I haven't gotten phonecalls when I have them in so I can't judge over the microphone quality yet. So far, these are great earbuds!
Date published: 2022-04-12
Rated

1

out of

5
by
Sadandpoor
from
Terrible.Save your money.
Don't waste your money. I bought these after trying a pair of $20 wireless headphones from Coles and deciding that if they didn't fall out of my ears, expensive ones certainly wouldn't. My issue with those were cutting out while wlaking. My JBL wireless speakers have always been good, so I took the leap. No cutting out but here's a fun fact - No matter what size earplugs you use, these will not stay in while you talk, eat, breathe or exist. They are massively overweighed. Absolutely useless. Reached out to JBL and they were no help either. Incredibly disappointed and won't be buying JBL in future.
Date published: 2022-10-12
Rated

2

out of

5
by
Ydoj82
from
Doesn't charge in case
I bought these through T Mobile and they work great but definitely don't charge in the case for 10 mins and give 2 hours. It takes about 2 hours just for them to fully charge.
Date published: 2021-12-24
Rated

1

out of

5
by
Jb415
from
Not for activity!
Falls out of your ears way to easily! One month in and my right one fell out and broke on the ground...
Date published: 2022-08-16
Rated

4

out of

5
by
Sammy Boo
from
Great Sound Quality
These are my first proper pair of Bluetooth ear buds, I've had a couple of unbranded pairs but these were on another level! The sound quality and bass blew me away, they were great for work and meetings too. I have found them a little bulky and weighty in the ear but I'm sure that's something I will adjust to in time. Overall very happy with these
Date published: 2021-12-20
Rated

2

out of

5
by
Lewis420
from
Good sound terrible fit
I've had these for a couple of months now and can't complain about sound or features but they do not staying my my ears at all I've tried all the different sizes but they all fall out of after like 3 minutes even when sitting down and not moving so quite disappointed as that's the most basic thing an ear bud should do
Date published: 2022-12-09
Rated

4

out of

5
by
Jacob
from
Overall, pretty stellar headphones!
These headphones are quite impressive! I have used AirPods Pro quite a bit, and I was surprised by how well the Tune 130NC stacks up. I was absolutely blown away by the bass these little guys pack. Even with the bass up and ANC on, the batteries seem to last forever. My biggest complaint is that they only just barely fit in my ears. I have the smallest tips on, and they still fall out if I'm moving too much. That also affects how well the noise cancellation works.
Date published: 2021-12-03
Rated

1

out of

5
by
Deps
from
Fail from a good company
I tried a cheap pair of wireless headphones from the supermarket to see if it was worth using wireless headphones. I figured if a $20 pair were ok, it was worth investing. I like JBL because their Bluetooth speakers are great so I bought these. Useless. It doesn't matter what size earphone you use, the counterweight in the headphone tech is so heavy they WILL FALL OUT at the slightest movement. The sound is fine. I didn't notice a huge difference between this and the supermarket pair I bought. The one advantage these have is not cutting out randomly on walks. But considering they fall out constantly with movement, and the supermarket pair don't. Massive fail. Absolutely disgusted. I didn't have money to waste, and I have.
Date published: 2022-09-05
Rated

5

out of

5
by
RogerH
from
Just what you expect from JBL.
Just what you expect from JBL high quality crisp sound with the perfect amount of bass. Noise cancelling earbuds. Crystal clear phonecalls and I'm always amazed how beautiful the sound is. If you purchase these you will not be dissapointed.
Date published: 2021-11-26
Rated

5

out of

5
by
ZR90
from
Very Comfortable
I bought these a month ago and I'm glad I did. They have incredible battery life and are comfortable. The best features of these are on the app, they have a locating feature in case you drop one or both on the ground and lose them.
Date published: 2022-02-16
Rated

1

out of

5
by
Delc
from
Better off buying wired apple headphones
I bought these as a cheaper alternative to AirPods. I must say these are the worse headphones I've ever had, and they were still $90. They do not fit well in your ear, and the tap commands are absurd and too hard to understand
Date published: 2022-06-27
Rated

5

out of

5
by
juelz86
from
Not enough great things to say!
Honestly...I've been using old style around the neck BT headphones. But these were a gift, one that I was skeptical about using even much less liking them. Well let me tell you, I LOVE THESE THINGS!! From great music and call quality to ease of use and features - a solid win!! These actually stay IN my ear EASILY and my ear lobes are smaller than average so that's a plus! The only con I can think of may be the noise cancelation could be better possibly? Idk I hardly ever use both at the same time so it's irrelevant for my use. Im extremely pleased!
Date published: 2022-09-20
Rated

5

out of

5
by
ThatGuyYouKnow
from
You get a lot for such a small price.
I was very impressed when I got these, how well they actually sound. I have used many different earbuds including other JBL and these are great. Not only do they sound great but they have a great fit and are very comfortable. I used them for 8 hours at work when I first got them and they didn't hurt my ears at all. I have used other earbuds at work and most of them start hurting my ears after a couple of hours. These never did. The sound quality is what I expect from JBL products, they are excellent. These earbuds also use the JBL app on your phone, which I am a big fan of. The app lets you change gestures, setup a voice assistant, change the EQ or use an EQ by a professional. For the price these are some of the best earbuds you can buy.
Date published: 2021-11-30
Rated

1

out of

5
by
TBoyy
from
The product and support stink
First and last JBL product. Cannot get it to connect. Only shows a TWS-LE option. Wasted hours. In the bin. Should have stuck to Sony.
Date published: 2022-04-28
Rated

4

out of

5
by
Prettygetty5
from
Awesome product
I received this wireless earpiece to test and i was amazed how it performed. First i love the packaging it looks very cute and i love the fact that the colour of charger cable is different so make it easier to differentiate it from my other chargers. It charges very quickly and is easy to connect with Bluetooth. The jbl app also make it very easy to use. I love the sound, is very clear.
Date published: 2022-04-16
Rated

1

out of

5
by
Leo55
from
Very short product lifetime.
I bought this product just over 2 months ago and already, the left earbud has stopped playing noise. the tap functions still work, so this is not a charging issue. I live in Ireland, so I was advised by the store from which I purchased this product to contact Harman for a repair/replacement but I am not even able to register the product for warranty as they do not have a website for my country and even when attempting to enter the serial number on a different country's website, it claims that the serial number i entered is incorrect.
Date published: 2023-01-19
Rated

5

out of

5
by
Venkataram
from
I am loving these bud earphones from JBL
I've received this product recently and I really loved it. They look stylish and fit comfortably in ears, works great during workouts, attending calls and listening to music. The 4-mic technology makes phone calls and business meetings very effective with clear audio and voice. Using touch controls you can skip to next track just with a tap, this feature is really handy when you are away from phone. The sound quality is great as always from JBL. Charging lasts for almost 6 plus hours as promised with the ANC on and 8 plus hours with ANC off, and you can always get additional charge with charging case which is awesome . Quality of the product is premium, Silicon ear tip material gives amazing comfort! Overall another great product from JBL - Just Buy and you'll Love it.
Date published: 2021-11-26
Rated

5

out of

5
by
AC99
from
Light and work great!
These wireless buds have decent sound and bass that can be easily tweaked with the JBL headphones app. They are pretty light and stay secure in your ear. Also, they connect to my iPhone as soon as I remove an earbud from the case. Overall a great option that isn't crazy expensive.
Date published: 2021-11-27
Rated

5

out of

5
by
Bobby33
from
Amazing Waterproof resistance!
I bought my earbuds about a few months ago and they worked perfectly. Yesterday i thought u lost them but they ended up being in my washing machine, freshly washed on a low temperature. I took them out and they worked like brand new!! i recommend them to everyone :)
Date published: 2022-03-04
Rated

4

out of

5
by
Meghan Camp
from
Overall a great product with a few drawbacks
Overall these Bluetooth ear buds are great! I love their sound quality and the features. They are comfortable and fit in my ear nicely. I also love the talk through option they have. There are only a few things I don't love about them. One- overall the case feels cheap and lower quality than the ear buds themselves. That being said I love the way the ear buds "snap" into the case because of the magnets. The other thing I don't love about them is the tapping to pause/play/skip/etc has a small delay that is a little frustrating to get use to. For example on my first use I tapped to pause and the music hadn't stopped to I tapped again and then it stopped and started back up because of the delay. In the grand scheme of things the delay is very minor but did take a little getting use to.
Date published: 2021-12-01
Rated

3

out of

5
by
MikeyD
from
Good sound, but do not stay in ear.
Bought a pair from Target approximately 1 month ago. Have great sound, when they stay in your ear. Have tried all three sizes of the silicone insert. I wish an ear hook were available to assist in holding them in. I'm tired of picking them up off the floor.
Date published: 2022-09-21
Rated

4

out of

5
by
Marjan1991
from
Great quality but doenst fit my ears
I'm a little bit doubtful about the earbuds from JBL. At first I think they are great because of the quality. The music sounds great! The noise canceling works well. When I was using those earbuds at the train station the noise canceling give me some peace instead of screaming children. The buds are easy to control. Through the app of JBL you can easily create your own user settings. I did decide to use the left bud for the volume and the right one for the control of going back and forward. The only thing that is debatable is the fit of the buds. Even when I'm sitting and listening to music they fall out of my ear. So I didn't try to run with these buds, because I'm scared to lose them. Even the smaller or bigger ones doesn't fit, so it means the quality is good, but they don't fit in my ears. That's a pitty.
Date published: 2022-04-13
Rated

1

out of

5
by
jbl_user34t
from
Teams issue
Don't buy if you are using MS Teams.it will disconnects every 1-minute interval. Total waste of money.
Date published: 2022-10-19
Rated

2

out of

5
by
ICantVibeLikeThis
from
Where's the sound
I have had these headphones for about a month now and while they they work I'm disappointed. The sound quality for whatever reason no matter what I do it's so quiet it's so infuriating. My grandmothers earbuds that came with her iphone 5 has better sound and I'm not saying that to over exaggerate. I've been going back and forth between the 2 for 30 minutes. Idk if I'm at fault or what but I've tweaked every setting I can, returned it to basic settings and tried again.
Date published: 2022-11-03
Rated

5

out of

5
by
Lizzyk
from
Nice product
I have these earbuds for a few weeks now and i have to say i`m really happy with them The noise cancelling is excellent even when the kids are screaming in the background i`m still hearing my music without any issue (or in the time i can continue my phonecall) The tab functions on the earbuds are also perfect, you can skip your song put it on pause or start/end a phonecall without any issues Connecting the earbuds is also very easy even if you decide that you only want one of them in use in stead of both. It`s also comfortable wearing, it fits great and you also get different sizes to make sure that it fits regardless. The sound en especially the bass is also just perfect. All together i`m really happy with my new JBL earbuds and i would recommend them to everyone, the price is great for the quality you get.
Date published: 2022-05-13
Rated

5

out of

5
by
Kelly
from
Amazing product
I am in love with my new JBL tune130NC. The sound is incredible! Crystal clear sound, when listening to music I am able to hear every instrument, the bass is amazing and I learned that words were different in songs because I have never heard music so clear before, while listening to sports radio I felt like I was in the room sitting next to the broadcasters! In my opinion nothing compares to the sound quality of JBL products. The ear buds are so comfortable and light weight it doesn't even feel like you have anything in your ears! I wore mine while doing housework moving around going up and downstairs and they never fall out and they are secure. I wore them while vacuuming and I still can hear crystal clear and the vacuum noise didn't effect the sound, the noise canceling is beyond fantastic. I wore mine at a packed basketball game and I was in my own world, It's a good escape where you are connected to your music or talk radio and not hear anything around you. I have listened to mine everyday and they charge quick and the battery life is amazing I have only had to charge mine once in the last week. Also connecting them to devices are so easy, I just put them in my ears and turn on music and they are paired it is so great. I recommend these earbuds they are truly outstanding in every way!
Date published: 2021-12-01
Rated

5

out of

5
by
ClemR
from
Washing Machine
I loved them when I got them, took a bit to get the controls right. I use them for work and was tired and forgot to remove them from my pocket. They went through a whole wash cycle in the washing machine with soap and everything. Found them the next morning when I removed my clothes, put them and the case in rice for a day and they freaking worked! Three days now and no issues. I don't recommend washing them but hot dam these things are awesome!
Date published: 2022-12-15
Rated

5

out of

5
by
C Etheridge
from
Great earbuds package at a price that is reasonabl
There is a lot to like here with these ear buds. They have great sound, lots of bass if you are a fan of that. The fast pairing function is nearly worth the cost alone. Having noise cancelling with the ambient function is crucial if you want to wear these outside of the house. The battery life is pretty incredible as well. As far as these earbuds go, they give the "big companies" a run for their money... and they are cheaper too!
Date published: 2021-11-24
bvseo_sdk, dw_cartridge, 18.2.0, p_sdk_3.2.0
CLOUD, getReviews, 6ms
reviews, product
Product Q&A
Are calls clearly heard in both ear buds?
Our JBL Tune 130NC TWS has four microphones, so you'll always be heard clearly in both earbuds during phone calls. To learn more about this product, here's the link: https://bit.ly/3GTWOiW
Date published: 2022-03-09
Which earbud is the primary? 
Thanks for reaching out. the right earbud is the primary earbud while the left earbud is the secondary earbud and won't work without the right earbud turned on, paired, and connected to the source device.
Date published: 2022-12-29
Can the case be charged wirelessly?
Our JBL Tune 130NC TWS doesn't have QI Coils for wireless charging. To charge the earbuds, make sure that the case is charged by using the included USB cable.
Date published: 2022-06-29
Do the Tune 130NC TWS's have Google assistant?
Yes. Our JBL Tune 130NC TWS has a Voice Assistant Integration feature that enables you to set up and access voice assistants such as Alexa, Bixby, Siri, and Google Assistant. It can be enabled through the JBL Headphones app (available to download on the Appstore and Playstore) and assigned to your preferred earbud.
Date published: 2023-01-20
How do I turn the headset back on after a period of no use and it turns off. It's not dead it's just I took a few minutes before I was able to reach my phone and select a new song. Turn the headset back on without the case ?
Thank you for reaching out. You may try charging the device overnight to make sure that the device is fully charged if the issue still persists, we would like to discuss directly with you, the connectivity issues you're experiencing with your JBL Tune 130NC TWS and find a solution for you. Please reach out to JBL Customer Service for technical support and assistance.
Date published: 2022-07-02
The small tips are still too big for my ear canals especially my left. Can you order extra small or memory foam so they hold better?
This earbud comes with a choice of 3 sizes of ear tips (S, M, L). You may choose the right size for your ears so that they may stay in your ears and not fall out. If you need more help, please contact our Customer Support, so we can assist you.
Date published: 2023-01-04
Are these able to be wirelessly charged
Our JBL Tune 130NC TWS isn't compatible with wireless charging. It can only be charged using the charging case.
Date published: 2022-05-03
can these be worn in the shower?
Our JBL Tune130NC TWS can't be used in the shower. It is rated IPX4, which means that it can withstand water splashes from any direction but can't be submerged in water. Also, exposing it to sand may harm the speaker if it reaches its internal parts.
Date published: 2023-01-03
I can't seem to reset these even after following the instructions… I've had these earbuds for 1 day and the left ear has gone really quiet to the point I have to take the right one out to make sure it's working. Is there any way I can fix this?
Thank you for your question. We are sorry to hear that you are having audio issues with your JBL T130NCTWS. Could you please contact our Customer Support Team on https://uk.harmanaudio.com/support-contact.html#ns for further assistance. Should you wish to receive further support, you may contact the Harman Customer Support team by telephone or chat in order to receive direct assistance. Thank you.
Date published: 2022-04-06
They don't stay in my ears. If I try to push them in it disconnected my calls or music
Our Tune 130NC TWS earbuds come with a choice of 3 sizes of eartips (S, M, or L). You may choose the right size for your ears so that they will stay in your ears for the best fit. Please consult the manual on how to properly wear the earbuds to avoid pressing the touch control buttons.
Date published: 2022-12-12
How exactly are you supposed to wear these? Do your insert at an angle and rotate until they sit leveled horizontal? The manual pictures are actually quite confusing.
To properly wear the earbuds of our Tune 130NC TWS, simply insert the earbuds into your ear at a horizontal level then rotate the earbuds upwards at an angle until it sits snuggly in your ear.
Date published: 2022-09-05
My device is only registering my earbuds for Audio, and not Calls. I've even gone to my bluetooth settings and tried manually setting it to receive Call audio, but it automatically turns that setting back off. What can I do to fix this?
Thank you for bringing this to our attention. You may try to switch to another device or check the audio settings of your mobile device to see if there is a separate volume control for calls. If the issue persists, contact JBL Customer Service for technical support and assistance.
Date published: 2022-04-10
I need these earbuds to work with my laptop for zoom calls, among other things. I pair them and my laptop says they are connected however I cannot get sound through them. The
Thanks for reaching out. Please ensure to set your headphones as the 'communication device' on the app, and always get the latest Bluetooth driver version available for your computer/PC/laptop. If you need more help with your device, please contact our Customer Support. 
Date published: 2022-10-20
Lost my charging case
Thanks for reaching out. Our products comes with one-year warranty excludes damage resulting from abuse, accidents, modifications, or other causes that are not defects in materials and workmanship (loss or theft).​ For parts and availability of the charging case for our JBL Tune 130NC TWS, please contact our customer support.
Date published: 2023-01-23
why is one ears volume very quiet? how do I clean it so it isn't?
We're here to help with your JBL Tune 130NC TWS. We recommend cleaning the earbuds by removing any dust or dirt using a pointed toothpick and rubbing alcohol applied to a cotton swab for final degreasing as earwax, dirt or debris may cause the audio output to lessen. If you need more help, we'd like to work with you directly. Please contact our customer support for assistance.
Date published: 2023-01-23
Can this ear bud be pair / work with apple Iphone 11 pro max
Thanks for reaching out. Our JBL Tune 130NC TWS Headphone is compatible with iOs and Android devices.
Date published: 2021-12-17
What is the noise cancellation range i.e upto what decibel it can block noise. Also is this suitable for air travel?
Can I connect two devices at same time?
Does it support dual device? Can I connect mobile and laptop at a time to this? If 'yes' then how to configure it on both? It is actually connecting with only one.
Can we replace the battery inside the earbuds
I have lost my left earbud (forgot it in a train). Can I buy a single earbud, since I still have the right one and the case?
What is the warranty period for this product? apart from the extended warranty
How many devices(mobiles) will connect with this product ?
bvseo_sdk, dw_cartridge, 18.2.0, p_sdk_3.2.0
CLOUD, getContent, 5ms
questions, product