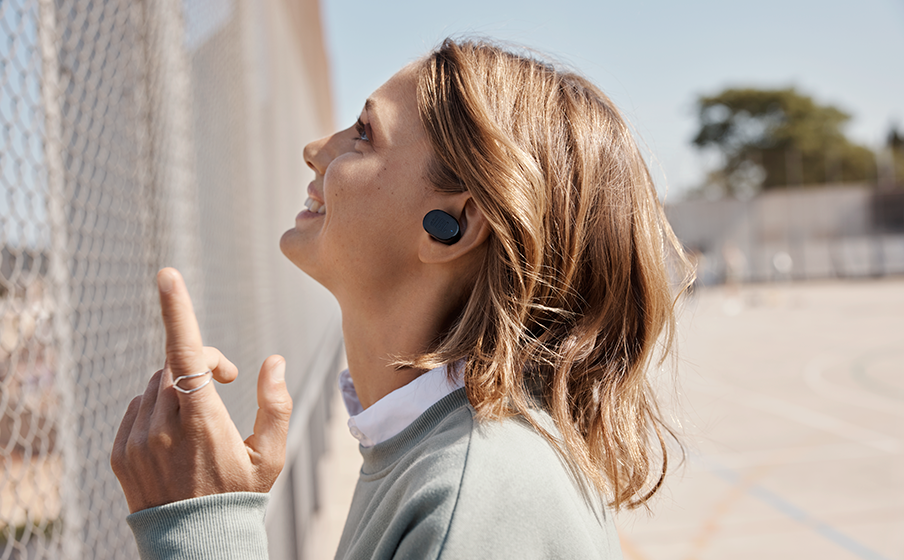 JBL Pure Bass Sound
Smartly designed 10mm drivers enhanced by the Dot form factor deliver JBL's Pure Bass Sound so you'll feel every pulsing beat.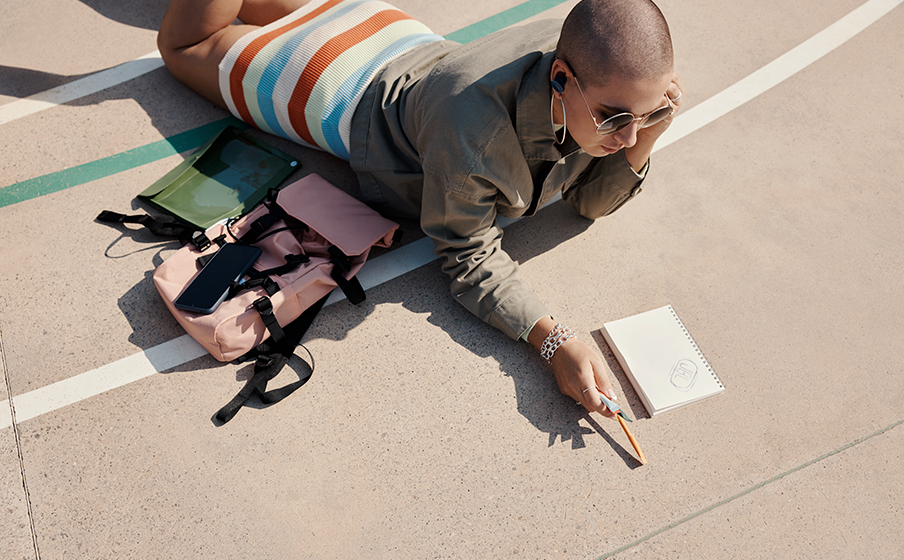 Active Noise Cancelling with Smart Ambient
Hear more of what you want, less of what you don't. Active Noise Cancelling technology with 2 mics lets you minimize audio distractions. With Ambient Aware, you can tune into your surroundings at any time so that you feel safer when you're out in the world, while TalkThru lets you stop for a quick chat without having to remove your headphones.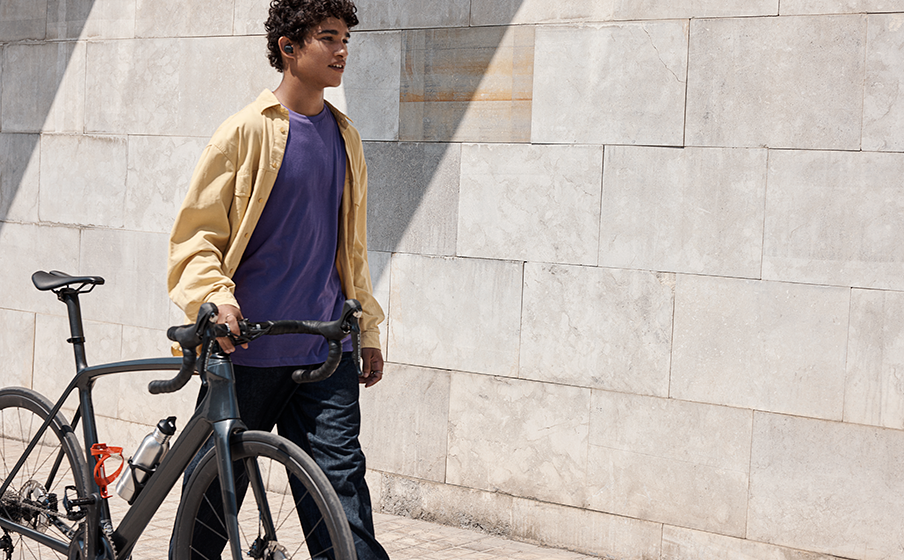 4 mics for perfect calls
Enjoy hassle-free, hands-free calls in stereo. The Tune 130NC TWS are equipped with 4 microphones, so you'll always be heard with perfect clarity. Never hesitate to take or make a call again. With VoiceAware you can control the amount of mic input routed back into your earbuds and choose how much to hear of your own voice.
Features

Up to 40 hours of battery life
Never miss a beat with 40 (10+30) hours of battery life or 8 hours, plus 24 hours in the case when noise cancelling is engaged. Need a boost? Speed Charge for just ten minutes to get 2 hours of playtime.

Water resistant & sweatproof
Don't be deterred by bad weather. Thanks to IPX4 water resistance and sweatproofing, there isn't a workout or downpour the Tune 130NC TWS can't handle.

All-day fit & comfort
The Dot design seals snugly and securely your ear canal, providing deeper bass performance, isolation from ambient noise, and comfort so you can listen all day in bliss. All you'll feel is the music.

JBL Headphones App
The JBL Headphones App lets you enjoy your music your way. You can customize your listening experience, figure out your best fit, find your earbuds, and even create a silence bubble for ultimate calm.
Product Comparison
TUNE130NCTWS-
TUNE230NCTWS-
LIVE-PRO-2-TWS-
TUNE-FLEX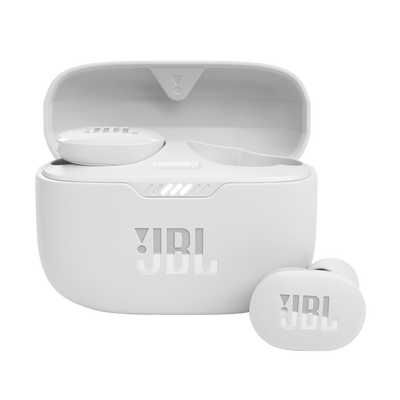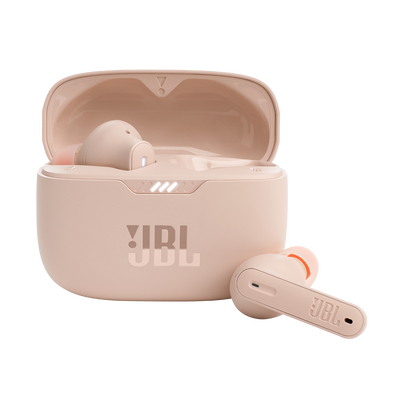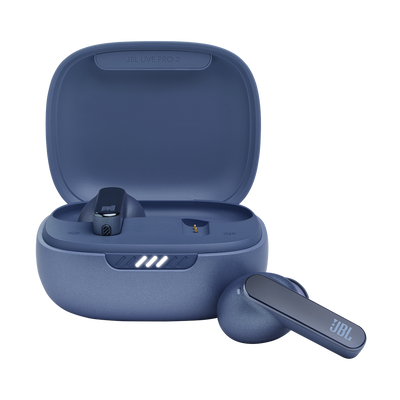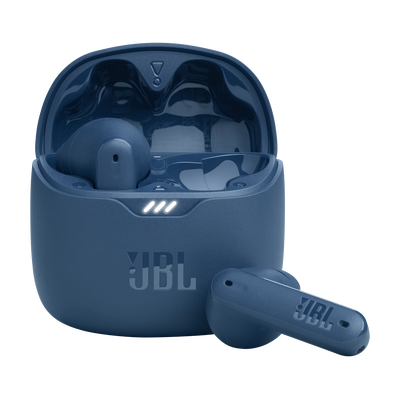 Battery
Maximum play time (hours)
40
Maximum play time (hours)
40
Maximum play time (hours)
40
Maximum play time (hours)
32
Features
Adaptive Noise Cancelling
Adaptive Noise Cancelling
Adaptive Noise Cancelling
Adaptive Noise Cancelling
Voice Assistant integration
Voice Assistant integration
Voice Assistant integration
Voice Assistant integration
Specs & Downloads
Item# JBLT130NCTWSWHT
Description
Pure Bass. Zero noise

Tackle your day one song at a time with the JBL Tune 130NC TWS. True wireless earbuds give you 40 hours of exceptional JBL Pure Bass Sound, while the ergonomic and water-resistant design gives you all-day comfort in any weather. Connect calls simply and seamlessly with 4 mics that cancel out ambient noises offering perfect calls anywhere. And with Active Noise Cancelling and Smart Ambient technology, you choose whether you want to tune out the world or engage with your surroundings. Best of all, the JBL Headphones App lets you personalize your entire listening experience. Stay connected to your world, your way.
General Specifications
Audio Specifications
Driver sensitivity at 1kHz/1mW (dB)

103

Dynamic frequency response range (Hz)

20 Hz – 20 kHz

Impedance (ohms)

32

Number of drivers per ear

1
Dimensions
Charging Case Weight (oz)

1.4

Earpiece Weight (oz)

0.4

Charging Case Weight (g)

40.4

Earpiece Weight (g)

11.4
Control and Connection Specifications
Bluetooth profiles

A2DP V1.3, AVRCP V1.6, HFP V1.7

Bluetooth frequency

2.4 GHz – 2.4835 GHz

Bluetooth transmitted modulation

GFSK, π/4-DQPSK, 8-DPSK

Bluetooth transmitter power

0 - 12dbm

Bluetooth version

5.2
Battery
Maximum music play time with ANC off (hours)

10

Maximum music play time with ANC on (hours)

8

Maximum play time (hours)

40
Features
Charging cable

Yes

Voice Assistant integration

Yes

Ambient Aware

Yes

Built-in Microphone

Yes

Hands Free Call

Yes

JBL Pure Bass Sound

Yes

Sweat Proof

Yes

True Wireless

Yes

Wireless

Yes

Active Noise Cancelling

Yes

Charging case

Yes

Speed charge

Yes

Rechargable battery

Yes

Bluetooth

Yes
What's in The Box?
1 x JBL Tune 130NC TWS headphones
1 x USB Type-C charging cable
1 x 3 Sizes of eartips
1 x Charging case
1 x Quick Start Guide / Safety Sheet (S / i)
1 x Warranty / Warning (W / !)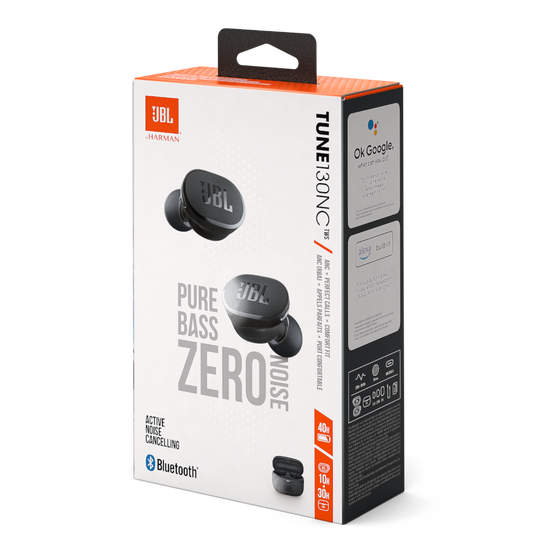 Documents & Downloads
Customer Reviews
Rated

1

out of

5
by
jbl_user34t
from
Teams issue
Don't buy if you are using MS Teams.it will disconnects every 1-minute interval. Total waste of money.
Date published: 2022-10-19
Rated

2

out of

5
by
ICantVibeLikeThis
from
Where's the sound
I have had these headphones for about a month now and while they they work I'm disappointed. The sound quality for whatever reason no matter what I do it's so quiet it's so infuriating. My grandmothers earbuds that came with her iphone 5 has better sound and I'm not saying that to over exaggerate. I've been going back and forth between the 2 for 30 minutes. Idk if I'm at fault or what but I've tweaked every setting I can, returned it to basic settings and tried again.
Date published: 2022-11-03
Rated

5

out of

5
by
Lizzyk
from
Nice product
I have these earbuds for a few weeks now and i have to say i`m really happy with them The noise cancelling is excellent even when the kids are screaming in the background i`m still hearing my music without any issue (or in the time i can continue my phonecall) The tab functions on the earbuds are also perfect, you can skip your song put it on pause or start/end a phonecall without any issues Connecting the earbuds is also very easy even if you decide that you only want one of them in use in stead of both. It`s also comfortable wearing, it fits great and you also get different sizes to make sure that it fits regardless. The sound en especially the bass is also just perfect. All together i`m really happy with my new JBL earbuds and i would recommend them to everyone, the price is great for the quality you get.
Date published: 2022-05-13
Rated

5

out of

5
by
Kelly
from
Amazing product
I am in love with my new JBL tune130NC. The sound is incredible! Crystal clear sound, when listening to music I am able to hear every instrument, the bass is amazing and I learned that words were different in songs because I have never heard music so clear before, while listening to sports radio I felt like I was in the room sitting next to the broadcasters! In my opinion nothing compares to the sound quality of JBL products. The ear buds are so comfortable and light weight it doesn't even feel like you have anything in your ears! I wore mine while doing housework moving around going up and downstairs and they never fall out and they are secure. I wore them while vacuuming and I still can hear crystal clear and the vacuum noise didn't effect the sound, the noise canceling is beyond fantastic. I wore mine at a packed basketball game and I was in my own world, It's a good escape where you are connected to your music or talk radio and not hear anything around you. I have listened to mine everyday and they charge quick and the battery life is amazing I have only had to charge mine once in the last week. Also connecting them to devices are so easy, I just put them in my ears and turn on music and they are paired it is so great. I recommend these earbuds they are truly outstanding in every way!
Date published: 2021-12-01
Rated

4

out of

5
by
Remo2708
from
Perfect, almost
I have had these earphones for a few months now. They sound great, an upgrade from my last JBL earphones. Only problem I have is when listening to music on a bus, when the bus goes over a bump or a pothole, the signal crackles when using the noise cancelling setting. Other than that, they're gold!
Date published: 2023-03-21
Rated

5

out of

5
by
C Etheridge
from
Great earbuds package at a price that is reasonabl
There is a lot to like here with these ear buds. They have great sound, lots of bass if you are a fan of that. The fast pairing function is nearly worth the cost alone. Having noise cancelling with the ambient function is crucial if you want to wear these outside of the house. The battery life is pretty incredible as well. As far as these earbuds go, they give the "big companies" a run for their money... and they are cheaper too!
Date published: 2021-11-24
Rated

4

out of

5
by
nnienkeeee
from
Nice product
I have tried the JBL Tune 130NC TWS. First I had some problems with connecting the JBL's to my smartphone but after it worked all fine. I think it's a very nice product because it is very small and you can take it easy everywhere. I like the black color and the sound is amazing! I would definitely recommend this product to others. I had never used these product before but I will definitely buy some new ones when I lose this ones.
Date published: 2022-05-16
Rated

4

out of

5
by
Brandon Abbey
from
Reliability vs. Cost
I have used pretty much all of my audio needs thru JBL and I have to say that every time I use the products vs competitors I am also stopped in thought because of how much detail and time is invested into the wireless headphones. I will continue to come back to JBL just because of how reliable the products are for what the price is. The bass is always on point and delivers a powerful punch while drowning out the environment.
Date published: 2021-11-27
Rated

3

out of

5
by
Alicia
from
Uncomfortable
The Audio quality is great. They earbuds are uncomfortable. Even with the different size ear pieces available. Picking them up it's near impossible to avoid hitting the command button. The case is nicely shaped and just the right size. They charge well with a solid lasting battery.
Date published: 2021-11-26
Rated

1

out of

5
by
Vijay ky
from
Useless product
Not as expected. Not fitting properly in the ears. it's sound like normal earphones of Rs. 200/- I have boAt BassHeads 100 wired earphone of Rs. 349/- which has better sound quality than JBL Tune130NC of Rs 4490/- I have lost arround Rs. 4k It seems JBL charging 4k only for BT connectivity not for sound quality. Suggestions: remove BT connectivity and use wire and sell it for Rs. 300/- You will get more orders
Date published: 2023-01-22
Rated

5

out of

5
by
Vicky
from
Packs a lot of features!
Been wearing these earbuds everyday for about a week now and I think I'm in love! First of all, they're light and extremely comfortable right out of the box. The sound quality is what you'd expect from JBL with a little extra bass kick. I often shy away from headphones that are bass heavy, but these give just the right amount of kick without being being noticeable. It's hard to explain, but I only noticed that it was bass heavy when I switched headphones, and realized how much I preferred the sound coming out of these buds. The touch controls are customizable and very responsive, I love being able to have playback and volume control on the earbuds. Bluetooth connection is seamless and very fast, even faster than my previous JBL wireless buds. The noise canceling is as good as you can expect from in-ear headphones. It drowns out my noisy roommate and coworkers, so I'm happy!
Date published: 2021-11-28
Rated

4

out of

5
by
Cleo_db
from
Good for sports
I got to test these airbuds I mostly used them at the gym and when dancing. They're great for that! The quality is good (not amazing, I've used other earbuds that had better sound quality), but for the price it's a good deal. I also used them while sleeping, they fall out of my ears when I sleep, so they're not the best for that. That's why I give them a 4 instead of a 5 They are
Date published: 2022-06-25
Rated

5

out of

5
by
J3Jitu
from
Nice product and great design
I bought these last week and used continuously since. These are wonderful wireless headphones.. incredibly fast charging, long battery backup as it is mentioned on it..good sound quality and useful features which are easy to use..one feature I like the most is Ambient Aware and it work well. However, these are just overall user requirements..These headphones are so well designed that they satisfy precisely the details needs of end user. I must congratulate the engineering team... They have managed the discharging and charging sequence very well, which will discharge slower or faster, left earbud Or right earbud Or the case.... which will charge faster, left or right bud or the case, this all works at its best. When case gets discharged below 50%, charging of earbuds in the case gets slower, which is obvious and important to retain long battary life. This ensures better use of battary for more number of charging cycles.
Date published: 2023-01-12
Rated

5

out of

5
by
Kevin Little
from
Great in noisy situations
These headphones are great! I have had them for almost two weeks, and I love them. They are very comfortable. They easily paired with several of my devices. I have had the unique ability to use them in a busy hospital setting, do to a surgery. Watching movies on my phone, the background noises seem to disappear. I would highly recommend this product.
Date published: 2021-12-04
Rated

5

out of

5
by
EdMC
from
Great sound, comfortable, and hold a good charge!
I have several pairs of JBL headsets as I have been extremely happy this this brand over many others I have tried. At this point, I have the whole family using various models of JBL wireless earphones consisting of over-the-ear, on-hear, and in-ear models. My wife and I prefer the in-ear for the low-profile and lightweight feel. I have a nice set of the JBL Tour Plus Pros which were by far the best set of wireless headphones I owned. Well at least until my wife decided to confiscate them. In any case, I came across the JBL Tune 130NC TWS in-ear set. Right up front I give them five-star rating on several aspects including audio playback, voice calls, battery life, compact size, quality, and comfort. They may not have quite as many features as my Tour Plus Pro's but they sound great and certainly do the job. The audio quality is great. The noise cancelling feature is awesome considering these are much smaller than my other pair. I use them for conference calls at work, especially when I'm working from home. The voice calls are crystal clear and I've had no complaints from conference participants in terms of hearing my voice. In fact, I would say they are a little better than my other pair. I'm guessing the 4-mic technology (2-microphones on each bud) are doing the trick. For the noise-cancelling setting, they drown out the usual house noises very well when I'm working from home. They also work great for working out and doing chores around the house. I also use them at night when I'm watching TV in bed on my phone while my wife blasts her shows on the TV. The battery life is really good for such a small set. According to the specs, JBL claims the 40 hours of play time (10 + 30 hours with case with BT; 8 + 24 with ANC on) which on average is fairly accurate. I was able to get about six hours of playback on a single charge with the noise-canceling feature on along with several phone conferences. I have only had them for a few weeks. However, based on the performance and battery lifespan of our other JBL headphones, I'm confident they'll hold over the test of time. In terms of compact size and construct, they are comparable to other high-end brands. However, this set is really compact. The case is also compact and well made. Overall, they are pretty lightweight but feel very durable. The controls are pretty basic but the touch controls are very simple and responsive. Comfort is a huge factor for me as earbuds I have used in the past tend to hurt after prolonged use. I'm guessing the lightweight of these, matched with the design, make for a good fit at least for my ears. The only complaint I have is they are a little cumbersome to get on my ears just right but I got more used to getting them on over time. Considering all of the other aspects of performance and sound, matched with their comfort, these are now my "go to" pair (and that's not just because my wife confiscated my other set). This set is pretty awesome and the price point is just right. They sound great, are comfortable, battery life is good, and they are built well. Given the price point is lower on average than other brands/models I have purchased, you can't go wrong with this set without breaking the bank. I'm a huge fan of JBL as this brand never fails to deliver and I highly recommend the JBL Tune 130NC TWS - true wireless earphones. I highly doubt you will be disappointed!
Date published: 2021-12-02
Rated

5

out of

5
by
Nik D
from
Great noise canceling earbuds!
I recently got these earbuds and decided I wanted to give an honest review so I took my AirPods out of my pocket and replaced them with these JBL earbuds. To say I was impressed would be an understatement. The noise canceling is great, sound quality even better, and the all around feel and fit of them was really good. The addition of the app and extra features such as talk through and active aware mode were amazing. The app was easy to understand and use and everything just made sense. The battery life was very good as even after 2 hours of using the buds, I had only dropped between 10/20% on either side and this was with noise canceling on. My two complaints I have are as follows: - You can't change the microphone to be only use one side. - They seem to back out of my ears a little bit over time and I have to keep pushing them back in, but it's not the same for everyone. All in all, these are a great stocking stuffer/small gift for a loved one in your family.
Date published: 2021-11-28
Rated

5

out of

5
by
BlondeAzn
from
Super Bass
I was super excited to have received these to use. They come in 3 colors and I have the white ones. The packaging is not bulky and easy to use. They come with 3 different sized ear tips and I use the smallest ones. The small ear tips fit perfectly in my ear where it won't fall off or cause discomfort. They connect to my phone easily and I haven't had an issue with it getting disconnected. The sound quality of these are AMAZING! I love being able to hear the bass of my music. I use these when traveling to work on the train and they are super noise cancelling. I use them pretty frequently and one charge would last me about 2-3 days depending on how long I use them in a day. Charging is also pretty quick which is a major factor for me since I'm always on the run. There is also a battery indicator on the case which is convenient. Another perk is I don't have to take my phone out to pause my music, i can just tap on the earbud and it'll pause. These will definitely be my go to headphones.
Date published: 2021-11-24
Rated

2

out of

5
by
GeoffW
from
General engineering is terrible.
I bought these 7weeks ago and they already don't charge from the case. Only when the case is plugged in do they charge. Waist of money.garbage. I also purchased a cheaper JBL earbuds before these and after about 2 months one earbud no longer paired with the other even after multiple hard resets etc.
Date published: 2022-10-10
Rated

1

out of

5
by
Piraji Salgat
from
Very Bad
i bought this product 2 months ago i got faulty product i try to change but team is not supported i try many tims.
Date published: 2023-03-21
Rated

5

out of

5
by
Walter
from
Best earbuds I have tried!!
The JBL Tune 130NC TWS are awesome earbuds. They have a beautiful and comfortable design so that they can be used anywhere for long periods of time. They fit great in your ears due to the material they use, so there's no risk of losing them. They give amazing comfort, and the color (I got the blue) is really lovely. The presentation in the case is beautiful and the battery life is great (about 8 + hours with a single charge). I've been using them during my working hours, and it was really easy to wear them with my phone calls while enjoying my music. The active noise cancellation feature works amazingly eliminating ambient noises. The sound quality is great as is usual in all JBL products, with the perfect balance of frequencies. The JBL Headphones app allowed me to equalize and preset the earbuds easily for different sound sets. It allowed me to setup a voice assistant, change the equalizer., etc. The touch controls are easy to learn and work perfectly fine. In summary I love these earbuds and highly recommend them!
Date published: 2021-12-08
Rated

5

out of

5
by
Khuth
from
Great earbuds!
These are really great earbuds. The sound quality is super and they are great with cancelling out extraneous noise. Easy to operate and I love the charging case. Makes their longevity really great. Super price for the quality. I would definitely recommend!
Date published: 2021-12-15
Rated

5

out of

5
by
Maxparsons908
from
Amazing, simply awsome
Amazing sound quality and the app has so many useful features the noise cancelling and other NC features are very good they feel weird in the ears at first but if you get use to it they are pretty comfortable no complaints from me would recommend
Date published: 2022-06-13
Rated

4

out of

5
by
MrZee
from
ANC does not work during calls.
Great sound quality for the price range. ANC work's satisfactory. If you are using these TWS for listning to music, playing videos or even playing games, you won't be disappointed. The only deal breaker is that ANC does not work during calls.
Date published: 2022-10-17
Rated

2

out of

5
by
Jack2448
from
Not charging anymore
I was very happy with these for a while, i bought them about two months ago. In the past week they've just stopped charging. I'll leave them overnight but when I connect them to my phone in the morning the battery will only last 5 minutes.
Date published: 2022-02-20
Rated

5

out of

5
by
Red I Jedi
from
Brilliant
Having been after earbuds for a while i decided on these after much extensive research...i'm glad i did...fantastic sound quality and an app to accompany is an awesome idea...lets u tweak the sound depending on what ur listening to.
Date published: 2022-02-08
Rated

3

out of

5
by
yogi20
from
Great but...
I bought my JBL Tune 130NC TWS 2 weeks ago. I'm happy with how long the battery last but the performance is not quite I'm expecting compared to previous jbl earphones I had. It's not that loud and the bass not that good.
Date published: 2022-06-16
Rated

4

out of

5
by
Aaron G
from
Great sound customizable
These headphones are awesome. They are fairly light in your ears. My favorite thing about them is that you can use them with JBL Headphone app To tune your eq to your taste! That's a plus compared to other headphones.
Date published: 2021-12-08
Rated

3

out of

5
by
Jacmart
from
Looks great
Got these about a month ago for husband but he couldn't get on with them said they took too much messing with other than that they fit in the ear ok and would be comfortable to wear
Date published: 2022-01-12
Rated

5

out of

5
by
nasty
from
Big Value
Great value. Rich sound and slick interface. Works well for calls as well. Not idea for working out since the fit isn't very secure but for casual settings these are tremendous.
Date published: 2023-02-16
Rated

1

out of

5
by
Jeff 1064
from
Bad Buds
Got these as a Christmas present. Bad Buds. Uncomfortable in ears. Won't stay in ears with simple activity. Tap control won't work after 4 uses. Don't waste your money.
Date published: 2023-01-22
bvseo_sdk, dw_cartridge, 18.2.0, p_sdk_3.2.0
CLOUD, getReviews, 6ms
reviews, product
Product Q&A
bvseo_sdk, dw_cartridge, 18.2.0, p_sdk_3.2.0
CLOUD, getContent, 143ms
questions, product
bvseo-msg: Unsuccessful GET. status = 'ERROR', msg = 'Not Found.';