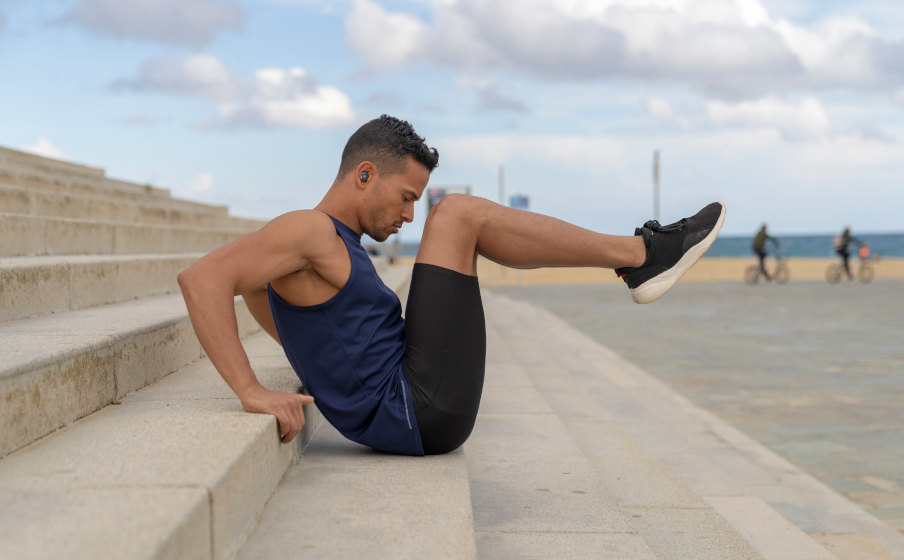 Adaptive Noise Cancelling with Smart Ambient
Hear more of what you want and less of what you don't. Adaptive Noise Cancelling adjusts automatically or via the JBL Headphones App to control distractions and stimulate motivation. Smart Ambient helps you feel safe on walks and runs or allows you to chat with a friend while listening to music.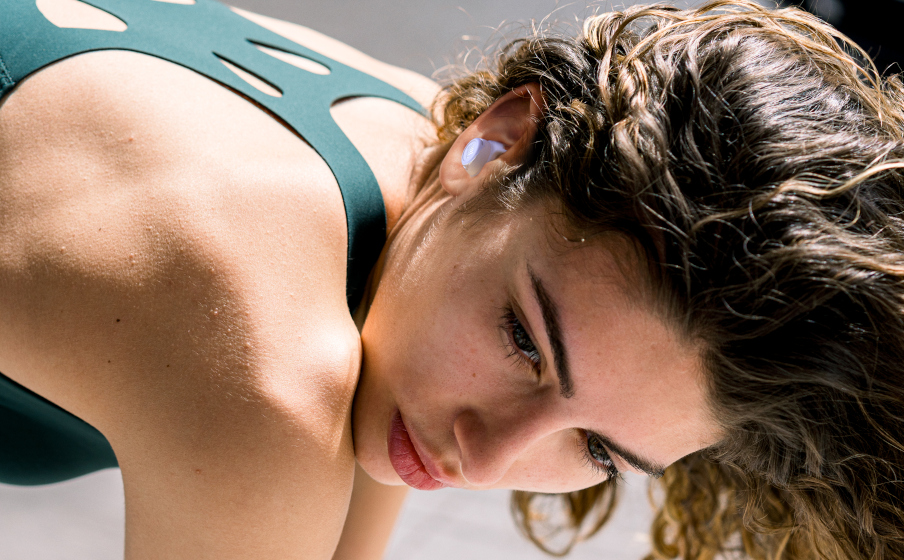 JBL Signature Sound
Reflect Flow Pro earbuds sound as good as they look, utilizing 6.8mm dynamic drivers to deliver incredible JBL Signature Sound whether you're in your office or crushing your workout in the great outdoors.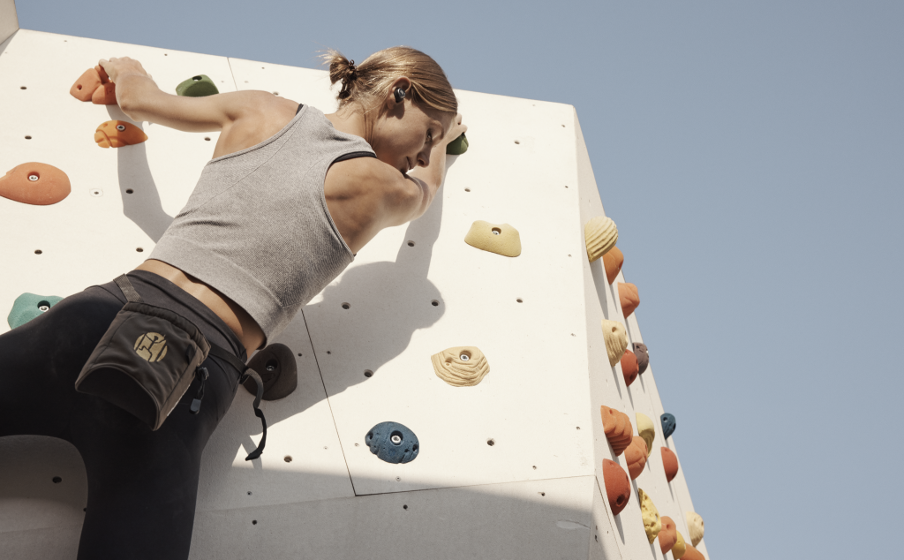 6 mics for perfect calls and zero noise
Never worry about your voice dropping out when you're outside, in a crowd, or running on a breezy day. Two beamforming mics plus a third for wind suppression ensure you'll stay connected wherever you are with crystal clear sound and no audio failure on either side during calls.With VoiceAware you can control the amount of mic input routed back into your earbuds and choose how much to hear of your own voice.
Features

IP68 protection and secure fit
Extreme IP68 water and dustproofing means workouts on land are no sweat in any weather or conditions -- but so is surfing with your JBL Reflect Pro earbuds, or rinsing them after a workout, all without missing a beat. Designed to enhance your performance, the earbuds POWERFINS in 4 sizes keep them safely and comfortably in your ears.

30 hours of playtime with Qi-compatible wireless charging
Work or work out on the go with the convenience of Qi-compatible wireless charging. Nothing can stop you with 10 hours of power in the earbuds and 20 in the case for seamless connection all day.

Get help just by using your voice
Get help from Hey Google(*) or Alexa(**) using your voice or with a tap on the earbud. Activate ANC or Ambient Aware, check the battery life or power off your JBL Reflect Flow Pro simply with your voice with Hey Google(*). Use the all-new My JBL Headphones App to easily set your preferred voice assistants.(*) Only supported on Android (**) Android 6.0 or higher is required for full access to Alexa features when using this device.

Customizable all-access touch control
Should a call come in during your run or yoga session, answer or reject it with a simple touch of the earbud. Engage your voice assistant, start or stop your music, or adjust the volume in either earbud with a quick tap or by downloading the free JBL Headphones App to personalize your Reflect Flow Pro sound and functionality.

Maximize the comfort to improve the performance
The last thing you need is for your earbuds to hurt or fall out while working out. Use the JBL Headphones App and the Check My Best Fit feature to get the best sound performance and maximum comfort. By testing for sound leakage during headphone usage, the app quickly determines when you're getting the best fit from the ear tips.

Dual Connect + Sync
From the moment you open the case, Dual Connect + Sync starts the Bluetooth sync process for an ultra-stable connection. Plus, you can customize the functionality of each earbud through the app and use either or both to manage calls, music and Voice Assistant, saving battery. While you enjoy music from one bud, the other one stays in the case charging up for endless fun!
Product Comparison
REFLECT-FLOW-PRO-
ENDURANCE-PEAK-3
REFLECT-AERO
LIVE-PRO-2-TWS-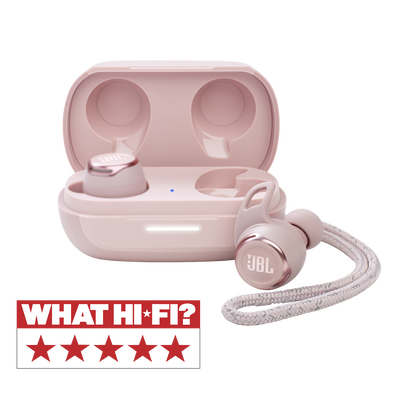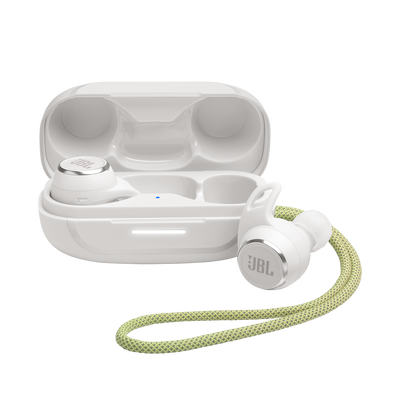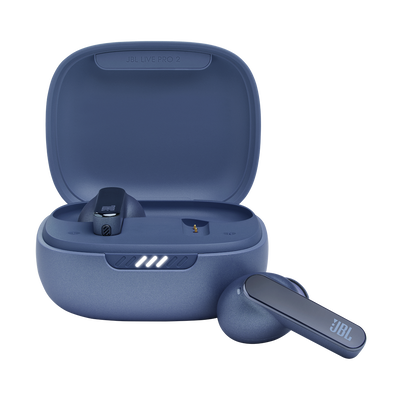 Battery
Maximum play time (hours)
30
Maximum play time (hours)
50
Maximum play time (hours)
24
Maximum play time (hours)
40
Features
True Adaptive Noise Cancelling
True Adaptive Noise Cancelling
True Adaptive Noise Cancelling
True Adaptive Noise Cancelling
Adaptive Noise Cancelling
Adaptive Noise Cancelling
Adaptive Noise Cancelling
Adaptive Noise Cancelling
Voice Assistant integration
Voice Assistant integration
Voice Assistant integration
Voice Assistant integration
Specs & Downloads
Item# JBLREFFLPROPWHT
Description
Work out to the extreme. In style.

JBL Reflect Flow Pro earbuds are designed to enhance your performance, with POWERFINS to make them fit safely in your ears. Get your motivation up with amazing JBL Signature sound for up to 30 hours of playtime. Adaptive Noise Cancelling protects you from unwanted noises, whether you're working or working out. Smart Ambient keeps you comfortable when running in the street, or allows you to have quick chats. The 6 mics ensure perfect voice clarity in any calls or meetings, even in the wind. Work or work out anywhere with IP68 protection against sweat, rain or dust. Need help? Talk to Hey Google (*) or Alexa (**) just using your voice! (*) Only supported on Android (**) Android 6.0 or higher is required for full access to Alexa features when using this device.
General Specifications
Driver size (mm)

6.8

Number of Microphones

6
Audio Specifications
Driver sensitivity at 1kHz/1mW (dB)

100

Dynamic frequency response range (Hz)

20 Hz – 20 kHz

Impedance (ohms)

16
Dimensions
Weight (g)

14.4

Weight (oz)

.5
Control and Connection Specifications
Bluetooth version

5.0

Bluetooth profiles

A2DP V1.3 AVRCP V1.6 HFP V1.7

Bluetooth frequency

2.4 GHz - 2.4835 GHz

Bluetooth transmitted modulation

GFSK, π/4 QPSK, 8DPSK

Bluetooth transmitter power

10 dBm
Battery
Charging time (hours from empty)

2

Maximum music play time with ANC off (hours)

10

Maximum music play time with ANC on (hours)

8

Maximum play time (hours)

30
Features
Hands Free Call

Yes

JBL Signature Sound

Yes

Touch Control

Yes

True Wireless

Yes

Waterproof

Yes

Charging case

Yes

IP Code

IP68

Charging cable

Yes

Voice Assistant integration

Yes

Ambient Aware

Yes

Built-in Microphone

Yes

TalkThru

Yes

Wireless

Yes

Adaptive Noise Cancelling

Yes

Rechargable battery

Yes

Bluetooth

Yes
What's in The Box?
1 x JBL Reflect Flow Pro TWS headphones
1 x Type-C USB charging cable
1 x 3 sizes of ear tips
1 x 4 sizes of POWERFINS stabilizers
1 x Charging case
1 x Quick start guide
1 x Google Assistant set up guide
1 x Amazon Alexa set up guide
1 x Warranty / Warning (W / !)
1 x Safety Sheet (S / i)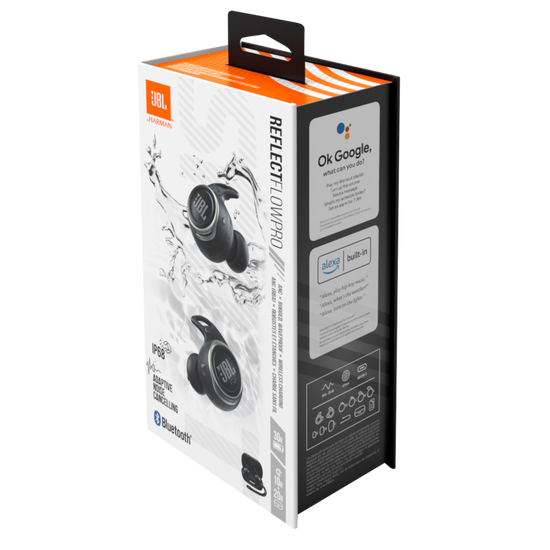 Documents & Downloads
Customer Reviews
Rated

5

out of

5
by
Bishop1
from
Awesome
I just received my earbuds. The sound and the fit is great. I love the fact that I can fine tune the sound to my taste. So far, so good.
Date published: 2021-10-28
Rated

4

out of

5
by
tester1234
from
A very great product
I have tested this product and it is amazing. The in ear grip that it has is just wonderfull. I had to get used to it first. And played a bit with the different ear fit rubbers that came with them, but when i had the correct fit in my ear it was a very good product. It is practically not able to fall out of my ear while doing excercises. I would definetly recommend this product if you are working out and in need of some music (without a cable)
Date published: 2022-01-10
Rated

3

out of

5
by
archduketea
from
controversial earbuds
I bought this earbuds a month ago. First few days I was completely satisfied: good sound quality, great case for earbuds, amazing battery life. But the size of earbuds is too big for my ears even with the smallest grips. I used before this earbuds JBL Reflect Flow. They have serious problems with factory defects. But they were a little bit smaller. So I could run, cycle etc without fear to lost it. With JBL Reflect Flow Pro I lost one earbud at the first cycle workout. I found it then. But I do not want this situation to happen again. I had to sell these headphones
Date published: 2022-05-23
Rated

3

out of

5
by
Anonymous
from
Great audio. Tad uncomfy. Bad battery on left bud
I've had these for mulltiple months now and they are wonderful audio sounding headphones . They are mildly uncomfortable but I have rather large ears or I hear others have way more issues then I. The main issue that drags these down is the batter. They do last a decent time but the left side constantly dies before the right no matter if I don't use noise cancelling or not . And I don't just mean a slight difference I mean dead left earbud and right earbud still at 30 to 40 percent and even recharging left bud to full and re using with a partially used right bud the left bud will still die first.
Date published: 2023-03-25
Rated

5

out of

5
by
Brandon
from
JBL has a real winner!
In the competitive world of workout focus earbuds, the JBL Reflect Flow Pros are a big winner! It starts with an attractive box. Similar to the packaging in past JBL products, there box has a magnetic closing front hardcover with a window to show off the buds and charging case inside. Once open, everything is very well packed. On top I found the left and right ear buds and charging case. Above and below, I found the accessories. JBL includes a USB-A to USB-C charging cable. Yes, the case charges via USB-C thankfully! JBL also includes different sizes ear tips and "wings" to help you attain the best fit possible for the buds. They refer to the wings as "power fins" and the really do lock the buds into the shape of your ear for more rigorous activity. They range in sizes XS, S, M, L so I am sure most people would find a combination that works. The standards worked well for me. Last thing included is documentation and QuickStart guide. I was pleased to spot a QR code right away that took me to the App Store to download the JBL Headphones app (more on that later). Once out of the box, the buds and case both had a level of charge on them. I placed them into their case just to see how it felt. They're magnetic when held close to their respective slots, so there is zero difficultly placing them into the charging case. The case has 2 indicator lights, one inside and one outside to alert you they have placed correctly and also reveal a charge level for the case. Also it is nice that the case includes a built in lanyard to help grab it from a backpack and help from losing it. When I pulled the buds back out of the case, they immediately went into pairing mode. I went into my phone settings and added the Bluetooth to pair. JBL is using the Bluetooth 5.0 standard on these which isn't the latest, but close enough for very good battery life. JBL claims the battery lasts 10 hours with active noise cancelling off and 8 hours with it on. The case will extend you out an additional 20 hours (ANC off) and 16 hours (ANC on). If you're in a pinch, a 10 min charge can add 1 hour of music listening. Lastly, these are IP86 certified for sweat, water and dust proofing. I will say that if you haven't used a workout style bud with "fins" on them before, they can be tricky to put into your ear. I start with the bud tip back just a bit and rotate them forward as I place them into my ear. This locks the front of the powerfin into the crevice of my ear. It also helps the in-ear tip seat into the ear canal for better sound. Feels odd for a minute or two, but then becomes quite comfortable. On to the app! JBL has done an excellent job with this app! The app quickly identified the product and I was able to select it. It then has a base menu displaying the power levels of both buds individually (yes in case your use just one at a time), and also the case power level. There are also toggles for Active Noise Cancelling, Ambient Sound Control, and Smart Audio & Video. They have also included a very friendly EQ with saveable custom presets. The EQ allows an infinite amount of tuning with at least 20 EQ points able to be added (very impressive). You can then name your custom saved EQ. The app also allows more customization from there, by allowing you to adjust how gestures work on each side of the ear buds, auto-off features, standby functions, play/pause, Voice Assistant setup, a check-my-fit feature, and a find-my-buds feature. Voice assistance supported are Siri, Alexa, and Google (I only tried Siri, which worked beautifully). How do they sound? If you're familiar with JBL signature sound, then you know what you're getting. These sound amazing! The sounds is slightly warm, just a hair above flat neutral. There's a slight edge towards bass, but I appreciate that in a workout focused audio product. I wouldn't call them bass heavy at all tho, but you are able to push that via the EQ if you prefer. And really, that is what I love so much about the sound from these. A ton of customization if you want it, but it sounds amazing if you're not into making changes. The volume was more than adequate for me and I found max volume remained very clear, although too loud for my ears more than a few seconds. I found for pure listening, the best sound was with ANC turned on, ambient sounds off, and smart audio to normal. I wouldn't recommend this setup for running as you cannot hear much due to the ANC. Ambient mode solves this problem beautifully to keep you aware of outdoor sounds. This can easily be toggles with a tap on the left ear bud (or programmed to another function entirely). JBL left a lot of personalization on these with the gesture functions. You can set them for voice assistant controls, volume, ANC toggle, play/pause and more. They also can take phone calls. With 3 mic setup, they calls were clear and the person on the other end of my call was easily able to hear me without issues. Overall, JBL has really nailed these. I think they compete with the best of the best in the workout earbud space, and I would highly recommend them! I'd even recommend them for general use as well!
Date published: 2021-11-25
Rated

3

out of

5
by
Troy C
from
Good, Not Great
First, let's start with the great things about this product. I LOVE the packaging. I'm really big on the way products are packaged as, for me, the packaging is like smelling a delicious meal before I eat it. The sound quality is just what I expect from JBL products—clarity, crisp and quality. The podcasts I listen to were clear, the music I listen to comes through beautifully... I couldn't ask for more. Well, I could... and I am. What made these headphones difficult for me to fully enjoy was the fact that they did not and could not stay in my ears. I tried every combination of fins and ear plugs and they just would not stay in! They would for a moment and I would think everything is great until I bent over or turned my head or just waited long enough for them to ease their way out of my ears. It was frustrating and I found myself going back to my JBL TUNE225TWS, which I have zero complaints with. If you can get these bad boys to stay in your ears, you'll love them. If you're like me, you'll find yourself going back to something a little more reliable. Overall, a pretty decent pair of ear buds.
Date published: 2021-11-29
Rated

2

out of

5
by
LRRR
from
Sound was sub-par in comparison to others
Bought the JBL Reflect Flo Pro at the same time as Bose Sound Sport and the Beats Fit Pro True Wireless. The JBL was the 2nd most expensive and the sound was the poorest in quality (bass, etc.) I kept the Bose and have been using them for a few weeks and love them. I was very surprised at the JBL as I absolutely love the Flip 6 speaker (we have a Flip 5 too, which is awesome.)
Date published: 2022-03-30
Rated

2

out of

5
by
slightlyhuman
from
Not Sure If Loving These
Keep falling out no matter which size is fitted. The earbuds keep disconnecting and sometimes I have only one playing which is super annoying at the gym when smashing a workout. Happens all the time. For this kind of money paid I'd expect something better.
Date published: 2022-08-04
Rated

4

out of

5
by
CoenB
from
Good quality sound and NC
I have been using the JBL Reflect Flow Pro for about two weeks now. Previously, I had the JBL Reflect Mini NC. The price of the Flow Pro's is around 70 euros higher. The case is slightly bigger and also the headphones are a bit bigger. This is not annoying, they still fit nicely in my ears, and they don't fall out when I'm running. Furthermore, the noise-cancelling of the Flow Pro's is slightly better compared to the Mini's. Overall they have a more premium feel and when I wear them for a longer time, they do not hurt my ears, which the mini NCs do after a couple of hours of usage. In the JBL application, you can tune the sound for a better sound profile matching your music style, which I think is a real nice feature (featured for both). Moreover, the sound quality of the Flow Pro is slightly better, but not necessarily worth the 70 euros extra investment. Overall, I am very happy with them but if you don't care about that slight difference in quality and a more premium feel, and do not have the extra money to spend, I would go for the JBL reflect mini NC.
Date published: 2021-12-22
Rated

2

out of

5
by
Daz909
from
Disappointing.
Sound quality is good. But the reason I bought them was for the ANC and for use when working out; unfortunately they fail at both and hence the low score. They say they're a secure and won't fall out… but they do. As soon as you start to sweat they get loose and the ANC becomes pointless. It's also annoying and you find yourself constantly pushing them back in. I had a Bose pair before and they stayed in no matter what. The ANC in general isn't great. Stick to headphones if you want ANC and security.
Date published: 2022-06-01
Rated

2

out of

5
by
Sam McC
from
Lacks function to use independent of case
I brought these a few weeks ago to replace my true wireless Flash-X. At first they seemed good, easy to connect and setup and good quality sound. The earphones don't sit as tightly into the ear as the flash and flash-x earphones. After trying all the different attachments and finding the best fit I was able to keep them in, but they loosen up quickly when running and once they a wet from sweat or rain. Biggest problem is that the buttons are very sensitive, and causes the the earbuds to pause or skip frequently. Walking in the rain the drops would cause the earbuds to stop/start. I also found it frustrating that the earbuds cannot be turned off or re-synced without the case. One earbud disconnected while out on a run and I had no way of reconnecting until I got home to the case. While the features are nice, they don't feel as practical as the older flash-x, so I'm returning and buying a new set of flash-x once back in stock.
Date published: 2022-06-22
Rated

5

out of

5
by
Donovan1092
from
Crystal clear sound
I have had these for a few weeks and i am very suprised about the sound. It is crystal clear and the bass is perfect inside and outside. The noise cancelling works very well. It does fit perfectly and they won't fall out. I've tried several ones in the past but this one is the best. You also can customize the sound via the JBL headphones app. The battery life is suprisingly good. You can listen to music for more than 3 days without charging them. The case can give you 20hours on top so you are never left without some music. I can reccomend these without a doubt
Date published: 2022-01-10
Rated

2

out of

5
by
IzzyCS
from
Uncomfortable!!
I have had these for a month now. These earbuds are the most uncomfortable and annoying pair of earbuds I have ever worn. The hurt my ears so bad, even with the smallest size. I wear them with my hair down, so when my hair touches them it turns the ambient sound control on and off. Every time it does that, the voice tells you so. So I'm just sitting there listening to "ambient sound control on" "ambient sound control off" the whole time. I tried them for a month thinking I just needed to get used to them, but I just can't. So, back to my Amazon off-brand, 18 bucks, pair.
Date published: 2023-01-22
Rated

4

out of

5
by
Elise
from
Nice ear buds, nothing special
I like the fact that the ear buds are compact in size and come with multiple sized ear fittings for you to obtain the right fit. The charging case is also compact and lightweight compared to some of the other JBL ear buds. The case also comes with a wrist loop so that you can keep them at your fingertips. The sound quality is standard JBl quality however, I will say the noise canceling technology is one of the best on the market. I like the multiple tap features and that you can use one or both of the buds at anytime and it pauses your music when you remove the buds from your ear. I do wish it had the feature to increase and decrease the volume on the buds themselves rather than having to have the phone next to you. Otherwise, standard JBL quality and no real disappointment.
Date published: 2021-11-26
Rated

4

out of

5
by
JC920
from
Packs a Punch (Great Sound!)
So I am an Airpod Pro owner. Before the Pros came out, I used over the ear headphones. Airpod Pros quickly became my go to. Now that I have these JBL's, I swap between the two. These are great in many many areas and have alot to offer, but there are just a few things that, at least, bothered me. It could be because I've only had these for less than a month. So i made a list of Pros and Cons to help you. Pros: - the sound is amazing, beats Airpod Pros Hands down - I can not say enough about the sound, so i had to say it twice - app is intuitive and adjusting the EQ can really put these up above the rest - they fit in your ear nicely (no stem) and compact - great for working out, does not fall out - long battery life - they look expensive, nice and sleek - no issues with phone calls, very clear - connects to my iPhone quicker than my airpods do - touch gestures for the L can be different from the R, by changing in the app...I keep it the same - its JBL, you know you're getting a quality product and support Cons - the size of case is the biggest issue for me. Which is still the reason why i will reach for my airpod pros instead of these. It is better for working out, connecting to a gym bag, than carrying around when on the run. With that being said, if I am around the house and just need to listen to music, i will grab the JBL's - touch gestures can get confusing, which is why i keep the L / R the same. (I've only owned for a month and it may take time for me to play around more) in Conclusion, these are the best sounding earbuds I have owned. I hope they last a very very long time. JBL puts out great products
Date published: 2021-12-15
Rated

4

out of

5
by
Magicman
from
Almost perfection
After losing one of my UA flash buds I decided to try these out. I must say functionality and sound these are absolutely amazing. Only difference I would suggest is a better wing option. The ua flash tips were much better fit and held all day. Still having trouble finding just the right fit with these ones
Date published: 2022-07-02
Rated

4

out of

5
by
Drifter
from
Excellent Sound and Fit
Sound quality is excellent as well as EQ function of the app. Great fit, style and build quality too. My only gripes are ANC always defaults on and wont stay off. It changes sound profile. The tap functions are too sensitive so randomly changes when i put them on or adjust fit so I diabled them in app ( nice app feature) Last but not least, BT pairing can be flakey and require reset with charging case. Overall I really like these for the great sound, build and fit. Almost five stars if not for the gripes.
Date published: 2023-01-30
Rated

5

out of

5
by
TIannie
from
Fantastic
I have now got the perfect fit dont budge when at the gym brilliant. The sound quality with ANC is amazing and cant fault it. 2 wee issues the instruction booklet is to small print for my eyes. I also have had to disable auto shutdown which is irksome. This is only workaround when I go to Gym and dont want to take the Case. I have Buds paired with Smart Watch and Phone and cannot connect by time I drive 10.mins for either Watch or Phone. Great purchase and delighted with value for money.
Date published: 2022-09-12
Rated

1

out of

5
by
Honcho
from
I bought the JBL Endurance Peak II - Waterproof True Wireless in-Ear Sport. Don't waste your money. As honest as can be. I had these for about a month and out of no where the left ear bud no longer wanted to connect. Trash. Never buying another JBL product.
Date published: 2022-06-20
Rated

5

out of

5
by
Eline1989
from
Geweldig product, echt een musthave!!
Ik heb JBL Reflect Flow Pro+ (zwarte kleur) nu een maand in gebruik. Ik vind het echt geweldige oortjes. De oortjes zijn volledig draadloos, waardoor de pasvorm van groot belang is. Dit zijn de eerste oortjes die bij mij blijven zitten, waardoor ik de pasvorm geweldig vind. Je kan de oortjes ook voor jezelf afstellen. Er zitten drie verschillende vormen bij zodat het lekker in je oor kan zitten en drie formaten dopjes voor in het oor. Daarnaast is het geluid van groot belang voor mij. Het geluid klinkt zuiver en is gelijk apple oortjes. Echter de prijs van deze oortjes is veel aantrekkelijker en je hebt veel meer waar voor je geld. Je kan ook geluiden van buitenaf wegfilteren. Al met al dus een geweldig product om aan te raden. Ook super leuk om je sportieve vriend of vriendin cadeau te geven.
Date published: 2022-01-01
Rated

5

out of

5
by
Pao1a
from
Best earphones
It's all I would expect from the brand. Always had their speakers and first time trying earphones. Good prise for the greatest quality. I'm very happy with them. Really recommend it!
Date published: 2021-11-30
Rated

5

out of

5
by
Flo2196
from
Perfect fit and terrific sound!
I have had these headphones for almost a month now and I am very pleased to have bought them. In the past, I always had headphones which did not fit in my ear properly, which caused them to fall out, especially whilst exercising/running. These headphones come with a variety of different buds/rings, so you can customise them to fit into your ear. In the beginning I had a little trouble connecting them to both my phone/laptop and switching between these. However, after using them for a while this becomes a little easier. The touch features are great, enabling me to pause/play/call etc. at any time. The noise cancelling also works very well, I have gotten multiple comments on the (lack of) the background noise whilst phoning. Overall; super happy with the fit of the headphones and the quality of the sound!
Date published: 2022-01-03
Rated

4

out of

5
by
MrFox
from
Great while sporting
These ear buds are great to wear while sporting. If it is in the gym or doing outside sports. Because of the different sizes of powerfins and eartips it could fit every type of ear. It makes me happy not having to hear the awful music at the gym. The noise cancelling could be a bit better, it works great while listening to music at a high volume, with lower volumes it could do better. You can manually adjust it in the JBL app, which helps, but having it adapt by itself would be more value for money. In comparisson the sound is great! As you may expect from JBL. You can use the equalizer in the app, but is it not nescessary. Even with maling calls,sound is crystal clear and the microphones pick up the entire conversation and not too much background noise (this is what friends told me when I called them and asked). The battery life is great, When the buds are emtpy, recharging them is the case is real easy and a quick charge.The case on the other hand is a bit bulky, in my opinition, it does not need to be that big. There is one thing a really don't like that much with the JBL Reflect Flow Pro buds. Connecting it to a device is quite difficult. I never had any problems with that in the past with JBL headphones. But once connected, it won't lose that connection. Which is great, unless you want to connect them to an other device. All in all, you get great value for your money when you compare them to other and most often more expensive earbuds.
Date published: 2021-12-28
Rated

5

out of

5
by
Vineet
from
The best earbuds I have ever owned.
These are definitely the best overall earbuds I have ever owned. They have great bass, amazing clarity and best of all a perfect fit for my ears. I have used them for a few activities now, the review for each one of them is as followed. - Audio quality: 5 out of 5 for a wireless earbuds. - Fit: 5 out of 5. - Noise cancellation / Ambient Aware: 3.5 out of 5. - Comfort (How long can you wear comfortably): 4 out of 5 .
Date published: 2021-11-29
Rated

5

out of

5
by
Justin C
from
Good enough ANC
Good ANC as its headline feature. Wind noise resistance could be better if you compared it to the Bose Quite Comfort but as a sport earphone it compares well with Jabra Elite. The sound is clean and balanced with emphasis on the bass. JBL positioned this with a decent battery life if nothing spectacular. The wing stabilizes the earbud well, on ear controls are more app setting dependent.
Date published: 2021-12-01
Rated

5

out of

5
by
Ron B
from
These are the one!
Best Pair of Buds Ever! I've used a lot wireless buds before. These are the best I've had in my ears. The sound is fantastic, the fit is great, and the battery life is almost unbelievable. I don't do a lot of working out, but I do use these while detailing cars, and I haven't had one fall out, let alone even move. If you want good ear buds for activities, these are the ones for you!
Date published: 2021-11-29
Rated

1

out of

5
by
Healey Willan
from
Can not connect 2 phones
I spent an amount of money to have good audio and replace my old PLT E500 earbud only to find out my brand new JBL Reflect Flow PRO can only connect to 1 phone at a time. Now I must look for another manufacture.
Date published: 2021-12-02
Rated

3

out of

5
by
Robert02
from
Pods in
These are very well made with secue fit and good strong base. However the ambulance sound setting is no good for cycling as the microphone placement means all you get is wind noise. The app that is compatible with the ear pods lack the ability to fully adapt the touch press action individually. All that said still very good for what I purchased them for (running)
Date published: 2022-08-11
Rated

2

out of

5
by
Dom8317
from
Connection issues
They worked fine for about 15 days, but now are having issues, every time I put them in my ears, they work as intended for about 5 seconds,.then repeatedly make the disconnect sound and connect sound so much that it is unenjoyable, and when it does this, you lose all features accept for the music playing, which is not even audible.
Date published: 2023-03-11
Rated

5

out of

5
by
Petamin
from
Very good earbuds, would highly recommend
Bought these a couple of weeks ago at a heavily discounted price and very happy with them, the noise cancelling is fantastic as are the talk through and ambient aware features, they connect seamlessly and sound awesome. Only gripe is after a few hours they begin to hurt my ears, they are however comfy for the first hour or two
Date published: 2022-07-18
bvseo_sdk, dw_cartridge, 18.2.0, p_sdk_3.2.0
CLOUD, getReviews, 7ms
reviews, product
Product Q&A
Are these headphones tuneable, I have worn Jaybird Vistas and I can program the sound to my liking whether it is more bass or treble, etc. are these headphones cable of this through the app?
Our JBL Reflect Flow Pro is compatible to use with our JBL Headphones app, where you can use the equalizer presets to adjust the sounds to your preference. You can download the JBL Headphones at Google Play Store for Android devices or App Store for iOS devices.
Date published: 2023-01-05
My earbud are in Mono mode and I cannot get them back into stero mode. No sound from the left earbud.
Thanks for reaching out. If the two buds lose connection to each other, you can choose to force-pair the main/right bud to the secondary/left bud or the other way around. For both buds, triple-click the button on one earbud to pair with the other ear bud. If you need further assistance, Please reach out to our Customer Support in Canada as they could best assist you. Phone: 800 567-3275 Email: info@eriksonconsumer.com
Date published: 2022-05-02
Do they work with Apple I Phone 12 or highter
Yes. Our JBL Reflect Flow Pro is compatible with iOs and Android devices. It has Bluetooth version 5.0 and can connect with even past or later models of Bluetooth connectivity.
Date published: 2023-01-25
Are these earbuds able to connect and work to play games on an Xbox?
Our JBL Reflect Flow Pro can be used with Bluetooth-enabled devices such as phones, tablets, and laptops. It isn't recommended for use with gaming consoles because audio-video delays may occur. Instead, we recommend the JBL Quantum series of headphones.
Date published: 2023-01-20
If I am connected to a phone, can I connect to a previously connected tablet by selecting it from the Bluetooth settings on the tablet? Do you have to disconnect from the phone first? I'm not talking about multipoint, but quick switching between devices.
Thanks for your question. Our JBL Reflect Flow Pro can connect to one source device at a time. Yes, you paired it to a previously connected tablet by selecting it from your Bluetooth settings. And you need to disconnect it first from the previously paired device. For more details about the unit, you may click the link here: https://bit.ly/3ssoDKj
Date published: 2023-01-05
Would I be able to use these in the shower without damaging them?
Our JBL Reflect Flow Pro has an IPX rating of IP68 that can withstand continuous immersion in water (up to 1.5 meters / 4.9ft for 30 minutes). Although it's waterproof, the flow of water from the shower may trigger unintended controls on the touch controls of the earbuds as they're sensitive. If the earbuds have been exposed to water, ensure to dry them off before charging them to prevent possible damage.
Date published: 2023-01-23
How do you select the right earfins to stop the buds falling out?
In selecting the right ear fins of JBL Reflect Flow Pro, you may have some trial and error as it comes with four sizes of ear fin stabilizers (XS, S, M, L). Selecting the fitting ear tips is also important before choosing the ear fins. Attach the ear fins and insert the earbud into your ear. Gently rotate them and push them into your ear to lock them in place. You may try the "Check My Best Fit" test in the JBL Headphones App, which will help you get the best sound quality depending on the size of the ear tip and fins.
Date published: 2023-04-15
How do you switch the earphones off and on when you don't have the case with you?
Thank you for your question. The JBL Reflect Flow Pro only turn on when taken out of the charging box and then turn off when placed back in the charging box. Should you wish to receive further support, you may contact the Harman Customer Support team by telephone, email or chat in order to receive direct assistance. Please see https://uk.harmanaudio.com/support-contact.html#ns for further details. Thank you.
Date published: 2023-01-26
When will this be available in Australia 
Thanks for your interest in our products. We have no news yet of when we'll have stocks of our JBL Reflect Flow Pro. Please subscribe to our newsletter at the bottom page of our website, to receive the latest news and updates about our products: https://www.jbl.com.au/
Date published: 2022-01-14
do they block snoring of a partner?
Our JBL Reflect Flow Pro has an adaptive noise cancellation feature that does not completely eliminate noise but does reduce unwanted background noise. This varies on the loudness of the sound and your distance away from it.
Date published: 2023-01-21
Can the case use wireless or inductive chargers?
Our JBL Reflect Flow Pro case doesn't support wireless charging. We recommend the JBL Live Free NC+ TWS and JBL Live PRO+ TWS, which feature Speed Charge and Qi-compatible wireless charging.
Date published: 2023-01-23
Does the waterproof feature mean you can swim with these? 
Our JBL Reflect Flow has IPX7 waterproof rating. It protects the product from submersion in 1 meter (3.3 feet) of water for up to 30 minutes. However, moisture and change in temperature can affect the internal of the unit over time. Also, please note that Bluetooth signals can't travel in water/ fluids you may experience connectivity issues if using these while showering as water can affect the transfer of audio signals.
Date published: 2023-01-22
Do they support Apple products? Siri?
Yes. Our JBL Reflect Flow Pro is compatible with iOs and Android. It is Google Assistant and Siri compatible.
Date published: 2023-02-20
Is it possible to use left earbud only? I have a previous model JBL reflect flow and they have predefined active passive roles. So I couldn't use left earbud without right one. Only the right one (active).
Thanks for reaching out. The Dual Connect + Sync and Fast Pair feature of our JBL Reflect Flow Pro will instantly pair with your device as soon as you open the case, to listen to music, make mono/stereo calls, or engage your Voice Assistant in one or both ears. Please visit our website to get more information about this product. https://bit.ly/39ZkkMi
Date published: 2023-01-22
Can you swim with these?
Our JBL Reflect Flow Pro has a rating of IP68 for waterproof and dustproof. Although the earbuds can withstand continuous immersion in water for 30 minutes up to 1.5 meters, it is not suitable for swimming as Bluetooth signals do not pass through water. We recommend our JBL Endurance Dive, which features an IPX7 rating and a built-in MP3 player designed for swimming activities.
Date published: 2023-04-11
Hi, your website says that these have Bluetooth 5.0; whereas, another website says that these are Bluetooth 5.2. Could you please clarify?
Thank you for your question. The JBL Reflect Flow Pro have a 5.0 Bluetooth version. Should you wish to receive further support, you may contact the Harman Customer Support team by telephone, email or chat in order to receive direct assistance. Please see https://uk.harmanaudio.com/support-contact.html#ns for further details. Thank you.
Date published: 2023-01-08
Can these be used without the ear fins?
The powerfin stabilizers of our JBL Reflect Flow Pro are part of the design of the earbuds. Without the use of the powerfin stabilizers, the earbuds have a chance to fall out of your ears.
Date published: 2023-01-22
Can you put playback (volume and track back and forwards) on each earbud e.g right earbud does volume up and next track
What happens if I buy this and try it and realize it dorsnt fit well or I dont like how it sounds. Will I still be able to return it?
is this product sweatproof? It says ikts waterproof but not sweatproof?
bvseo_sdk, dw_cartridge, 18.2.0, p_sdk_3.2.0
CLOUD, getContent, 5ms
questions, product