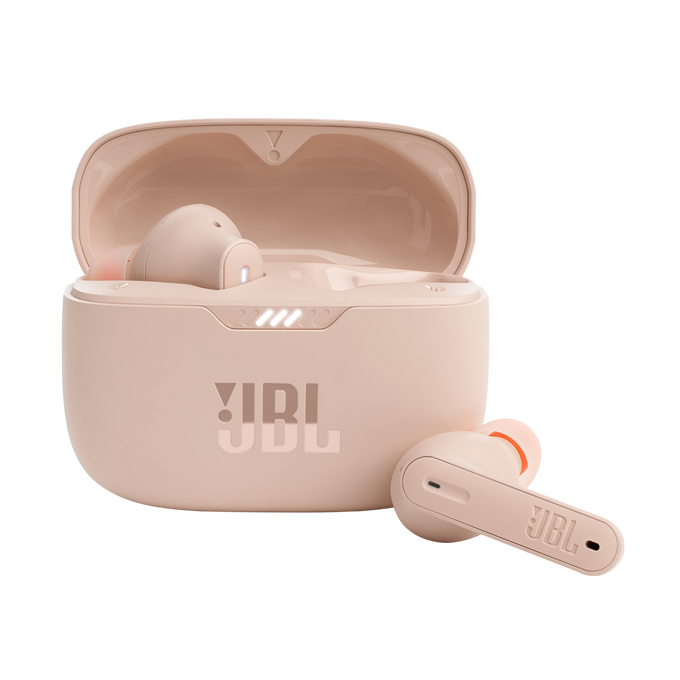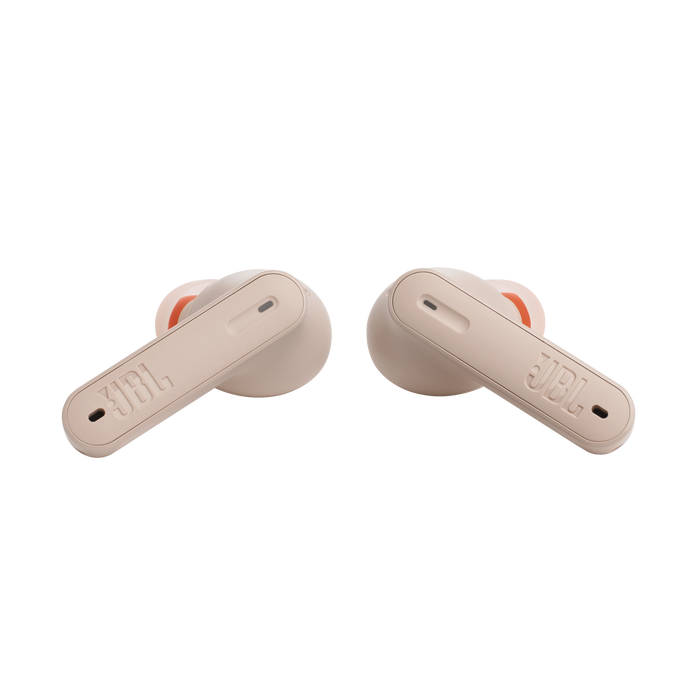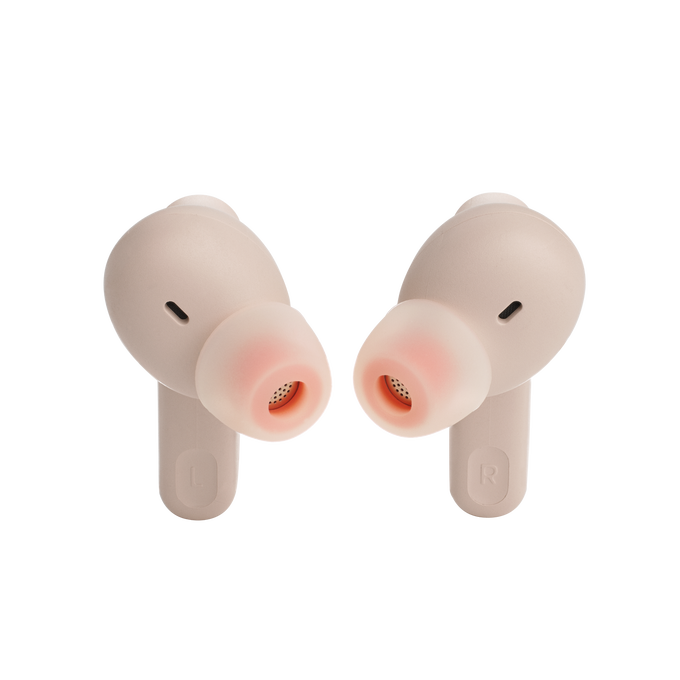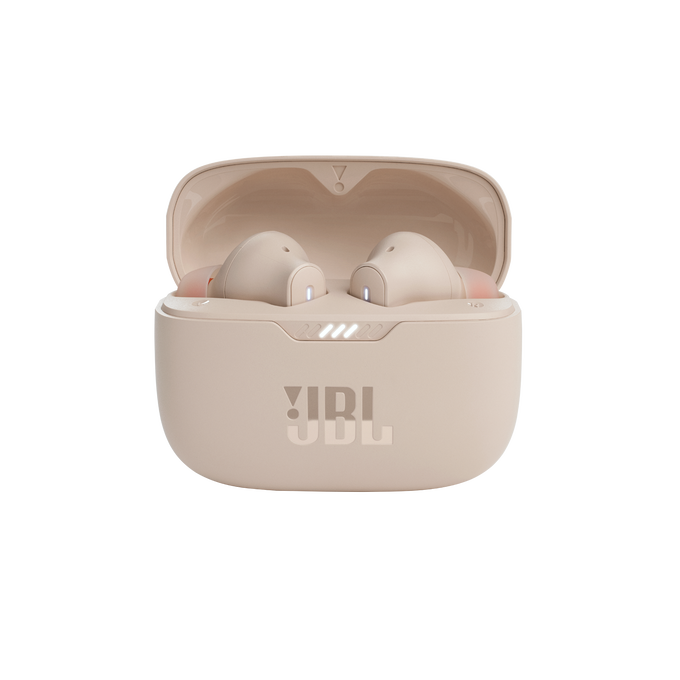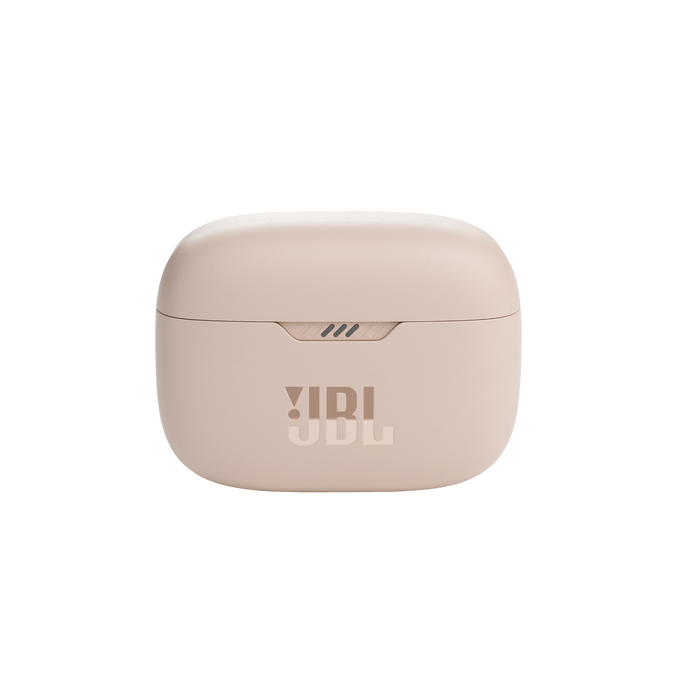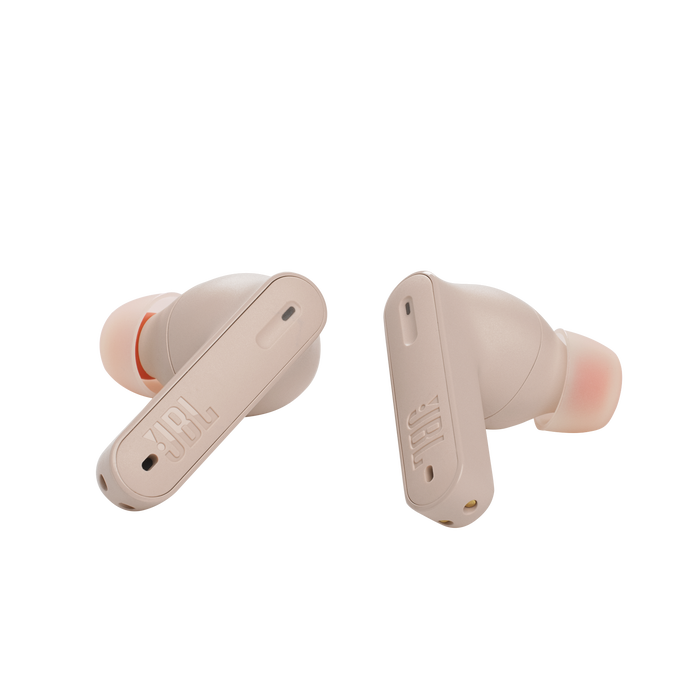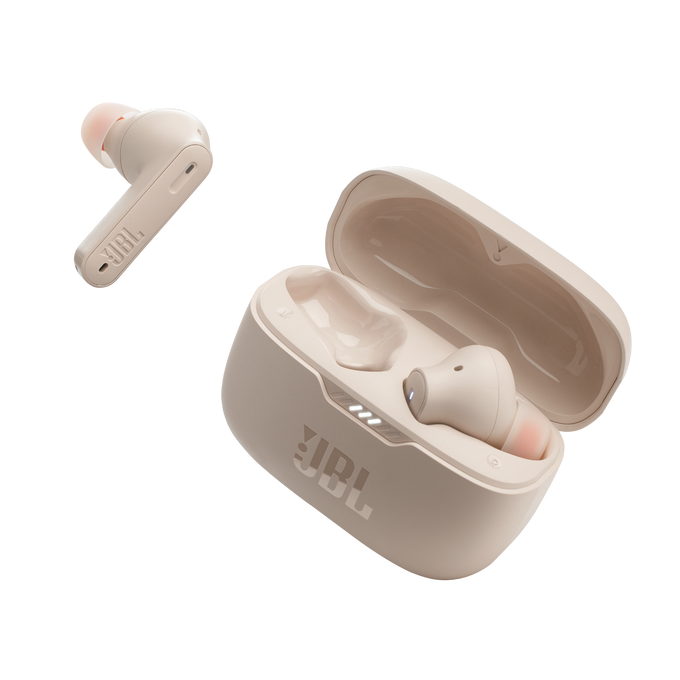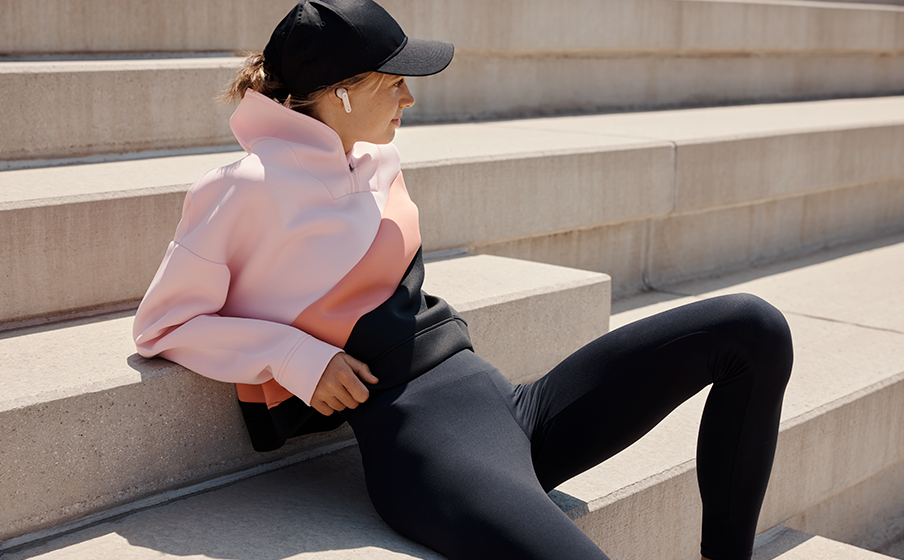 JBL Pure Bass Sound
Smartly designed 6.0mm drivers enhanced by the stick form factor deliver JBL's Pure Bass Sound so you'll feel every pulsing beat.
Active Noise Cancelling with Smart Ambient
Hear more of what you want, less of what you don't. Active Noise Cancelling technology with 2 microphones lets you minimize audio distractions. With Ambient Aware, you can tune into your surroundings at any time so that you feel safer when you're out in the world, while TalkThru lets you stop for a quick chat without having to remove your headphones.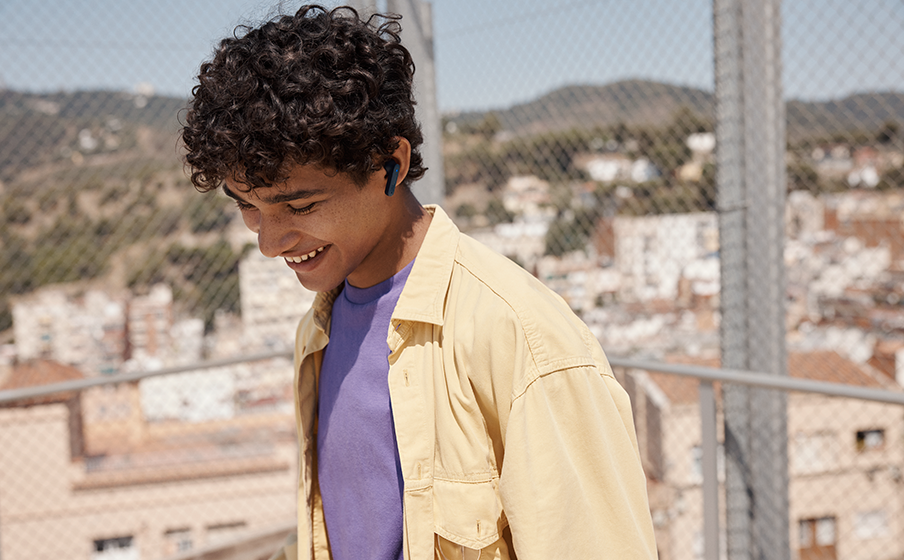 4 mics for perfect voice calls
Enjoy hassle-free, hands-free calls in stereo. The Tune 230NC TWS are equipped with 4 microphones, so you'll always be heard with perfect clarity. Never hesitate to take or make a call again.With VoiceAware you can control the amount of mic input routed back into your earbuds and choose how much to hear of your own voice.
Features

Up to 40 hours of battery life
Never miss a beat with 40 (10+30) hours of battery life or 8 hours, plus 24 hours in the case when noise cancelling is engaged. Need a boost? Speed Charge for just ten minutes to get 2 hours of playtime.

Water resistant & sweatproof
Don't be deterred by bad weather. Thanks to IPX4 water resistance and sweatproofing, there isn't a workout or downpour the Tune 230NC TWS can't handle.

All-day fit & comfort
Never be without your music. The Stick Closed design ensures comfort without pressure, eliminating ambient distractions with a design so light, you may forget you're wearing them.

JBL Headphones App
The JBL Headphones App lets you enjoy your music your way. You can customize your listening experience, figure out your best fit, find your earbuds, and even create a silence bubble for ultimate calm.
Product Comparison
TUNE230NCTWS-
LIVE-PRO-2-TWS-
WAVE200TWS-
TUNE-FLEX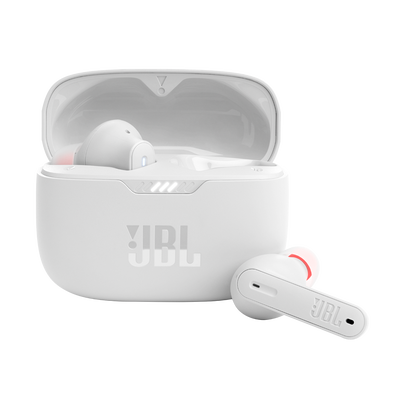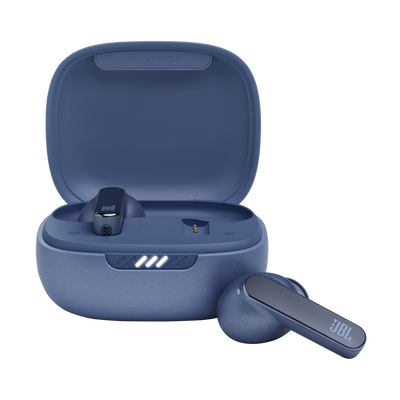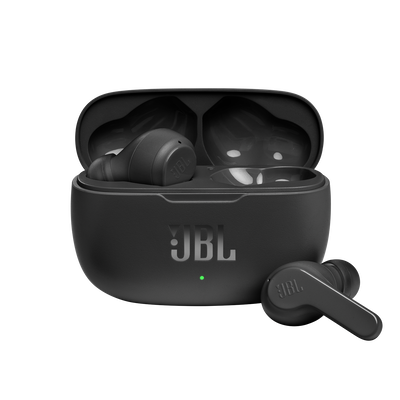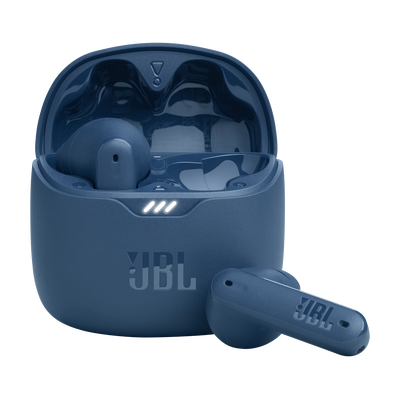 Battery
Maximum play time (hours)
40
Maximum play time (hours)
40
Maximum play time (hours)
20h (5h + 15h)
Maximum play time (hours)
32
Features
Adaptive Noise Cancelling
Adaptive Noise Cancelling
Adaptive Noise Cancelling
Adaptive Noise Cancelling
Voice Assistant integration
Voice Assistant integration
Voice Assistant integration
Voice Assistant integration
Specs & Downloads
Item# JBLT230NCTWSSAN
Description
Pure Bass. Zero noise.

Tackle your day one song at a time with the JBL Tune 230NC TWS. True wireless earbuds give you 40 hours of exceptional JBL Pure Bass Sound, while the ergonomic and water-resistant design gives you all-day comfort in any weather. Connect calls simply and seamlessly with 4 mics that cancel out ambient noises offering perfect calls anywhere. And with Active Noise Cancelling and Smart Ambient technology, you choose whether you want to tune out the world or engage with your surroundings. The light stick-closed design ensures comfort all-day long. Best of all, the JBL Headphones App lets you personalize your entire listening experience. Stay connected to your world, your way.
General Specifications
Audio Specifications
Driver sensitivity at 1kHz/1mW (dB)

105

Dynamic frequency response range (Hz)

20 Hz – 20 kHz

Impedance (ohms)

16
Dimensions
Charging Case Weight (oz)

1.7

Earpiece Weight (oz)

0.4

Charging Case Weight (g)

47.3

Earpiece Weight (g)

10.2
Control and Connection Specifications
Bluetooth profiles

A2DP 1.3 , AVRCP 1.6 HFP 1.7

Bluetooth frequency

2.4 GHz - 2.4835 GHz

Bluetooth transmitted modulation

GFSK, π/4-DQPSK, 8-DPSK

Bluetooth transmitter power

<12 dBm

Bluetooth version

5.2
Battery
Charging time (hours from empty)

2

Maximum music play time with ANC off (hours)

10

Maximum music play time with ANC on (hours)

8

Maximum play time (hours)

40
Features
Bluetooth

Yes

Charging cable

Yes

Active Noise Cancelling

Yes

Ambient Aware

Yes

Built-in Microphone

Yes

Charging case

Yes

Hands Free Call

Yes

JBL Pure Bass Sound

Yes

Rechargable battery

Yes

Speed charge

Yes

Sweat Proof

Yes

TalkThru

Yes

True Wireless

Yes

Wireless

Yes
What's in The Box?
1 x JBL Tune 230NC TWS headphones
1 x USB Type-C charging cable
1 x 3 sizes of eartips
1 x Charging case
1 x Quick Start Guide / Safety Sheet (S / i)
1 x Warranty / Warning (W / !)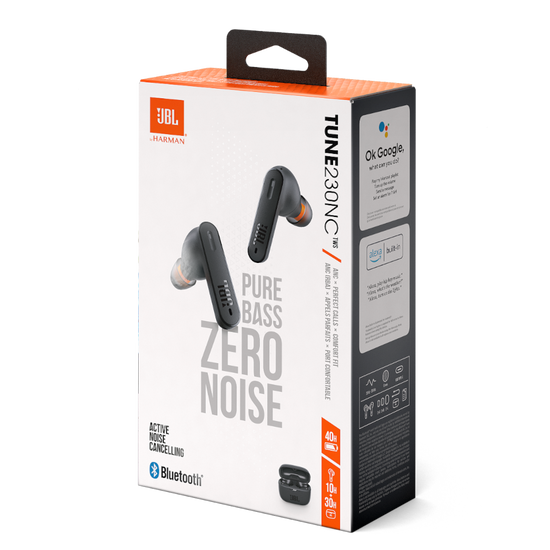 Documents & Downloads
Customer Reviews
Rated

4

out of

5
by
dot488
from
Great earbuds!
These are great. Might want to change the size to the biggest one included to get the best insolation and quality, depending on your ears. To get the sound signature I want - lively, punchy and smooth non ear piercing yet detailed sound, I used the EQ settings in JBL app attached below. This made them shine, big difference.
Date published: 2023-01-06
Rated

3

out of

5
by
AstroScrewUps
from
Pros and Cons
Pros: They were comfortable in the ear. I drive big trucks and am climbing up and down on big heavy equipment, never lost or dropped an ear bud. Battery power last almost all day when listening to music Cons: If you are driving down the highway and your windows are open, the ear buds don't handle the wind very well, they try to counter act the wind. Also phone calls don't work while driving down the highway either, people can't hear me speak. If you loose the case, your ear buds are dead in the water, like I did.
Date published: 2022-08-02
Rated

1

out of

5
by
Slaico
from
Not Durable
I've bought JBL headphones probably a half dozen times over the years, and they always break. I keep coming back to this brand because the customer service is excellent and I am always able to get a new pair free of charge. I'm tired of this constant cycle, though. I had a pair of JBL headphones break a few months ago, and customer service replaced them with this style -- an upgrade! However, they stopped working after only a month. Then it took me several weeks to get a replacement pair (which once again, customer service was great about replacing free of charge), and THAT pair stopped working even sooner. I am sick of these always breaking and the lag time it takes to get a new pair. I use headphones heavily, every day, and I can't have them constantly breaking down. I need a product that is better quality and feel the need to switch brands.
Date published: 2022-08-10
Rated

4

out of

5
by
Tafsir
from
Excellent ear buds with great JBL sound signature
I have purchased this JBL 230NC and this is my first TWS buds. I am previously using JBL T210, I am big Fan of JBL sound. As per my experience of JBL 230NC was great and everything about this ear buds are perfect the sound, build quality and ANC everything works fine but one complain with JBL 230NC is when during Call its incoming sound lag and glitch afer 2- 3 minutes after reconnecting agin it fix, and it happens always with me. So this only complain with JBL 230NC, Please fix this issue. I am from India.
Date published: 2022-09-23
Rated

2

out of

5
by
Martina87
from
Good at first, developed problems & broke quickly
While the sound, noise cancelling and battery life on these earbuds is good, I have to leave a negative review as I pretty quickly started having problems with the two earbuds going out of sync with each other while listening to music or podcasts, and also an annoying drop out of sound of about a second that happened quite frequently. About 5 months after purchasing the earbuds, one side would stop connecting and charging. At first this could be resolved by "forgetting" them from my phone and reconnecting, but after a while even that did not work anymore. I ended up getting a refund from the store where I purchased them. A disappointing experience, as I have owned several JBL speakers which have never had problems, so I was expecting the same level of quality from the earbuds.
Date published: 2022-11-11
Rated

4

out of

5
by
chrisbatts
from
Excellent value
My 3rd gen AirPods had been faulty for some time (the microphone hasn't worked properly for as long as I can remember) and I needed to be able to use them for TEAMS meetings at work. So it was time to invest in new headphones but I couldn't warrant the cost again for an Apple product that quite frankly didn't last the test of time. Now now having bought a JBL product before I wasn't quite sure what to expect. But spec wise, aesthetically and cost wise this really ticks the boxes. The noise cancelling is ok. I don't have a point of reference but I suspect noise cancelling for in ear headphones isn't that good in general. The sound quality again is only ok. The AirPods certainly sound punchier but for £89.99 I think you're getting incredibly good value. There's no wireless charging on the case but USB-C is nice to have. Can you get better headphones? Yes definitely. Can you get better value headphones? I'm not so sure.
Date published: 2021-12-13
Rated

4

out of

5
by
Garveyals
from
Great price competitive ear buds!
Good pair of noise cancellation headphones, for the price and sound quality, it rivals the likes of Apple and Samsung ear pods, along with noise cancellation. Would be awesome if these featured the LIVE setting which other JBL headsets have that really makes your music pop in your headset. (Huge Industrial Music fan) The battery indicator would probably be more ideal if it was a litle lower on the the charging case. Love the fact that it's strictly USB type C. Very good quality taking phone calls since it has 4 built in mics, zoom meeting, teams, and other settings are well. The battery on these ear buds lasted me almost 40 hours! Pretty impressive! The ambient setting is cool, you can tune into your surroundings at any time. You can keep these ear buds firmware up to date using the JBL app, along with making your own equalizers either through Android or IOS. Normally I prefer over the ear headphones due to their comfort, but I was surprised how comfortable these ear buds fit in my ear. The ear buds have sweat protection so you don't have to worry about damaging these ear buds. Overally I would highly recommend these ear buds due to the serious bass sound they can crank out and long lasting battery, very impressive!.
Date published: 2021-12-09
Rated

1

out of

5
by
Mohemos
from
Bad connectivity between multiple devices
Don't buy this if you want to use it with Multiple devices. I was using Samsung bud that got missing before I bought this JBL. With samsung and apple you don't need to disconnect manually from one device to switch to another paired device but this JBL forces you to manually disconnect one to connect another. The mobile app on android is a total mess... it keeps flicking around, I expected a stable app from JBL than this MVP app. It's a total waste of my money.
Date published: 2022-11-26
Rated

5

out of

5
by
aniket11
from
Classy ear buds, with great sound quality
I have been using these headphones for a month now, and I have enjoyed them a lot. They are easy to pair, and get picked up immediately by my iPhone and laptop, and thus I need not go to bluetooth settings again and again to connect them. The build quality is good, and they work well during your workout session as well. They don't get slippery and fall from ears due to sweat. The sound quality is excellent and noise cancellation is top class as well.
Date published: 2021-12-15
Rated

5

out of

5
by
Maurice K
from
Great bass...fit well
Have used many ear buds and these are by far the best. Sound is clear with really strong un muddled bass. They fit I. My ears very well and don't fall out during b gym workouts. This has always been an issue with other ear buds. I like that you can skip songs by tapping the headset. Some ear buds don't support that. Battery life is good and they appear well built. Would definitely buy another set of I lost these. Better than Apple ear buds hands down.
Date published: 2021-11-24
Rated

3

out of

5
by
Rickyrick
from
Mixed
Product is fine, but don't expect to get ur item even remotely close to the date it says you'll get it. The tracking number didn't work till the day it said I'd receive the item, then didn't get it till 10 days after that. Took 2.5 weeks all in all. So if you getting it as an Xmas gift buy it from somewhere else cuz u ain't getting it by Xmas. Don't believe whatever date they give u. Add 2 weeks to that n that's when you'll actually get it
Date published: 2022-12-08
Rated

4

out of

5
by
Milo San
from
Great earbuds at a great price.
Love these earbuds, really comfortable and battery life is very good. The sound is really clean and clear. Bass is just right and the EQ on the app makes it better. My one complain is that I feel like it's not loud enough. But that's my personal preference. Other than that it's a very good pair of earbuds with many features. Sound quality is great but just not loud enough but the long life batteries make it a 4/5 a good solid buy.
Date published: 2022-03-08
Rated

5

out of

5
by
rizzmaster69420
from
great product
I got this for Christmas and it has complete changes the way I listen to music and the noise cancelling is on point I had these on and dropped my phone I didn't even realise till the music disconnected
Date published: 2023-01-24
Rated

5

out of

5
by
Rosalie95
from
Great earphones!
I was allowed to test these headphones for a few weeks. I was pleasantly surprised by the fit of the earphones. The ears stay put. In addition, as expected from JBL, the sound is very good. The earphones last a fairly long time before you have to charge them again. This is a definite plus. The price-quality ratio is also perfect! Overall, I was very happy with these earphones and will be using them a lot in the future!
Date published: 2022-04-14
Rated

2

out of

5
by
Kinus
from
Go for quality over brand name.
I bought this one after alot of contemplation as my previous Jbl endurance run worked brilliantly for 5+ years. But i am quite sad to share my bad experience with JBL. I specifically bought this series for its Active Noise Cancellation feature which is really not upto par. Even the earbuds are not comfortable to wear for long use. It hurts your ear after a point of time. The earphones don't connect easily if the phone is paired with another speaker. Also, not sure how to control the features of using the earphones on laptop. Downloading an app on each device is not going to happen. Overall quite disappointed with JBL and this product. Was a happy customer for many years but not it's time to move out of the mindset that brand equals to quality. My purchase is not even 2 months old. I would appreciate if JBL could replace this and give me an endurance run.
Date published: 2022-09-28
Rated

2

out of

5
by
Ponto
from
Buy something else!
These were good... until they needed to be charged. The left earbud simply won't charge. The case is full charge, my left earbud is staying 0%. I've already followed all instructions to ensure proper connectivity. Full disclosure, this is actually the 2nd set. First set I returned to the store withing 15 days for this same issue. And here we are. 2nd set doing the same thing. For the price, this is theft.
Date published: 2023-01-16
Rated

1

out of

5
by
Anonymous
from
Poor quality
I purchased JBL 230NC TWS recently and to tell the truth I am really disappointed with its function. Noice canceling is not at all good because whenever I make a voice call the other person could hear all the external voices and less of my voice. And when the earphones are placed back to the charging case it won't get disconnected,it would still play on. Im really disappointed and regret on buying this.
Date published: 2022-07-19
Rated

3

out of

5
by
Esbabes1
from
Great sound quality
Bought these earbuds around a month ago because my other pair of earbuds went missing. I do a lot of sports and was in need for a good pair of noice cancelling earbuds which would not fall out of my ears and could handle my heat. The quality of the sound of these earbuds is very good. I get completely closed off from the world when turning on the noise cancelling (easiest through the app) feature. This is perfect for not getting distracted. The only thing that bothers me is the size of the earbud that sticks out of the ear. I have small ears and it just feels like there are huge units sticking out of my ears. But this of course is a personal preference matter. In addition, I wear the smallest caps and these are fine but I cant have them in too long (+- 2 hours) before my ears start hurting. Overall I am happy with these airbuds but cosmetically they are not the nicest.
Date published: 2022-05-11
Rated

2

out of

5
by
Azaazil
from
Good but not best
I am using these earbuds for 6months. Sound quality and noise cancellation is pretty good but it has some bugs such as, it doesn't charge sometimes inside case. It gets pretty hectic to place earbuds in case as it doesn't start charging at all. Product is good though but less controls are available as you have to choose volume control or noise cancellation control, can't have both at same time.
Date published: 2022-10-21
Rated

1

out of

5
by
ViniciusGil
from
This is my third Tune 230NC TWS, I have an issue with the previews 2 and I just give up now. The quality of the sound is ok but doesn't have high volume as other earbuds, the ZERO NOISE is a joke, if you are on public transport and have a call is not the best experience I can guarantee. Overall, the price and the famous JBL for your excellent products aren't worth it to buy, to be honest.
Date published: 2022-09-29
Rated

4

out of

5
by
Kadavis15
from
Great headphones for the price
I was in the market for noice cancelling true wireless earbuds. These checked all my boxes and at a reasonable price compared to other brands. They have excellent sound quality and good noice cancelling. My only complaint is that they sometimes make a random scratching noise for a brief moment. It never lasts and it's not a huge issue, but it can be startling or too loud at times.
Date published: 2022-03-02
Rated

4

out of

5
by
David K
from
Superb Sound Quality, Plus Noise Cancellation
If sound quality is your primary concern when shopping for portable audio, then look no further than these JBL Tune 230NC TWS earbuds. As expected with JBL, the sound quality is superb — full, clear and well balanced with crisp highs, natural mids and proportional bass at all volume levels. There's also no artificial "hyper" bass like some brands use to fake a big sound at the expense of true sound quality. Even better, use the companion JBL app to create a custom EQ profile that totally suits your listening preference! Added noise canceling really makes a difference in creating a pristine listening experience. When activated, my surroundings virtually disappear allowing me to more deeply experience my favorite music in minute detail. I find noise canceling is most effective at canceling steady droning sounds, like fans and engine noises. For times when sound isolation is not desired or would compromise safety, I can change modes to "Ambient Aware" and the earbuds will actively blend the environmental sound with my audio allowing me to stay connected with my surroundings. I find this useful for outdoor exercise or public shopping where ambient awareness is necessary for safety and courtesy. I found the pre-installed medium sized tips to be just right for my comfort and I have worn them for many hours at a time with no fatigue. They are surprisingly comfortable and stay in my ears better than other stem-type earbuds I have tried. Additional tip sizes are included for adaptation to different ear anatomy. Incoming phone call audio quality is excellent, but as with many similar type earbuds, the experience for the caller is somewhat compromised by the marginal quality of the microphone technology. People I call tell me that the outgoing audio is clear, but they can also tell I am calling through earbuds and the sound is a bit "off". One minor downside I have found is the controls are a bit difficult to navigate (-1 star) as there is a single active "tap" point on each bud that accepts single-tap, double-tap, triple-tap and long-tap gestures, each invoking a different command, and the other bud accepting the same gestures invoking yet another set of commands. I find I am very often missing the right number of taps or getting confused and tapping the wrong bud. This can be alleviated to some degree by the companion app which allows some customization of the gestures to suit your preferences. The printed "Getting Started" guide that documents the tap gestures is painfully small and difficult to decipher. I would rather see the command interface simplified with additional tap or squeeze points, such as on the stems, to not overload so many commands onto a single tap spot per bud. As stated, sound quality is where these earbuds shine, and overall, I'm thrilled with my new JBL Tune 230NC noise cancelling earbuds and find my music enjoyment has been taken to a new level. Highly recommended!
Date published: 2021-12-07
Rated

5

out of

5
by
Hugh
from
Freedom of movement alongside superb JBL quality
I love my JBL Tune. It has a fantastic JBL audio quality and the interchangeable earlobes make sure the EarPods are a perfect fit. The most amazing thing about these are the freedom they give you. It has made watching a movie on my laptop in my room, video calls and listening to music in the gym much more comfortable and enjoyable.
Date published: 2021-11-30
Rated

3

out of

5
by
Auntchz
from
Wouldn't recommend
The quality of these headphones are great! But, I couldn't get over the skipping of the music, the constant bluetooth disconnection and speeding up the music. I thought my first pair was maybe a dud so I exchanged them for a new pair. The second pair did the exact same thing, so unfortunately I had to return them altogether.
Date published: 2022-12-14
Rated

5

out of

5
by
baynes74
from
Not to be outdone
Outstanding Audio with Pure Bass and ANC. Took these out of the box and into my ears and WOW! The fit is better then other buds on the market. Easy to setup with Fast Pair. The music sound quality is the best. Calls also are clear to hear and be heard. Love the quick 10 minute charge will get you 2 hours of audio listening.
Date published: 2021-12-01
Rated

5

out of

5
by
parkem03
from
Excellent sound, worth every penny!
Fast delivery, very easy set-up of the product and am very pleased with the sound! Only issue was charging the case, as it was difficult at first to get the cable to go in but was quickly sorted out. Would recommend to anyone looking for a decent pair of ear-buds that are convenient and cheaper than your typical airpods!
Date published: 2022-05-19
Rated

2

out of

5
by
Harold_75
from
When it works, sounds good
MANY PROBLEMS I bought these headphones 4 months ago. This is actually my second one. The first one, after a week of use, gave me a problem with the left earphone, and it wouldn't turn on again at all. I thought it was bad luck and decided to exchange it. It took a month for the same problem to happen again. Only this time I found out that if I put oil in the connectors it gets better. Even so... I can't leave it connected to any device, laptop or cell phone. Even when I put the headphones in the box, it only disconnects the right one, the left one is still connected and it discharges. And even when disconnected from any device, I haven't found a pattern for the headset to charge properly. It is pure luck... Millions of times I have gone for a run, and in the middle of the run the left earphone disconnects. The sound quality is amazing when the headset works. I know that after this experience, I will never buy a JBL headset again. It is a very frustrating experience.
Date published: 2022-10-13
Rated

2

out of

5
by
Rick65
from
Good sound but don't plan on watching any videos
Good: Pairs easy, Decent sound quality, OK Noise Cancelling. Bad: BT Driver is not Low Latency causing Video to not be in sync with Audio on any platform, Notification sounds too loud. My wife got me these earbuds for Christmas this year. When I first paired them up I was pleased with the sound and the fit. I mix audio and video as a hobby. Then I watched some video to see how they worked. That's when the wheels fell off the wagon. The sound was always 1/2 to a full second off from the lips. At first I thought it might be my computer, so I tried another computer(same results) Phone(same results). Then I started researching to see if I could do anything about it and found that the BT driver is not designed for low latency and there is no way to get your sound to sync with the video properly. To sum up: If you want these only to LISTEN to podcasts or music. They're good and will work, BUT if you want to watch any video podcasts or on youtube, Vimeo, FB. You'll be very disappointed
Date published: 2023-01-10
Rated

1

out of

5
by
DaverH
from
Failed to meet basic expectations
Within 3 months the right earpiece started having trouble connecting to the charging port. Now it rarely holds a charge. Will connect to my phone while I'm driving and force the disconnect from my car. I imagine this all comes down to a faulty charging port. Losing faith in the brand.
Date published: 2022-11-06
Rated

5

out of

5
by
Chris D
from
Low cost alternative to airpods
Low cost alternative to AirPods. They have a similar look and size to apple AirPods, even charging case. Added bonus is that they come in colors- got mine in a matte blue! Can be used one at a time. Sound quality is good. Easy to use and link to phone. Highly recommend
Date published: 2021-12-01
bvseo_sdk, dw_cartridge, 18.2.0, p_sdk_3.2.0
CLOUD, getReviews, 6ms
reviews, product
Product Q&A
Does it come as a pair?
Yes. Our JBL Tune 230NCTWS are sold as a pair.
Date published: 2022-05-09
are you able to use these in the bath and shower without worry or is it only partial?
Thank you for your question. The JBL T230TWS are water resistant and sweatproof, this means that it is safe to use under the rain or in a gym, however, they are not IPX7 for which we would not recommend their use in the bath or shower. Should you wish to receive further support, you may contact the Harman Customer Support team by telephone, email or chat in order to receive direct assistance. Please see https://uk.harmanaudio.com/support-contact.html#ns for further details. Thank you.
Date published: 2022-06-06
What touch controls do these ear buds offer?
Thanks for reaching out. The left earbud gives you access to ANC, Ambient Aware, and TalkThru. The right earbud gives you control over Play, Pause, Skip Forward, and Rewind to the previous track. Both earbuds activate SIRI/BIXBI/ALEXA and Google Assistant.
Date published: 2022-05-10
Just received these and wondering if I should fully charge them before very first use? And is it good practice to let them drain completely and fully charge several times or always to keep batteries in good health? Cheers.
Hi there, You do not need to charge them staright away and I would highly suggest once needing charged, To charge them for 2 hours untill they are fully charged then take them off of charge.
Date published: 2022-06-22
Is JBL Tune 230NC supports with iphone 12 & 13
Hello I use my 230NC paired with my Samsung Galaxy S8, and if I have the JBL app opened, when I try to watch a youtube video in full screen, the video always swap place with the JBL app. Is that ok? How can I solve that? Thanks
does JBL Tune 230NC work with iPhone 13?if yes is there any feature compromise to that of android?
Hello JBL, I have purchased JBL Tune 230NC TWS by 22.09.2022, really impressive output from the device. Is it possible to connect TWS in any of 2 devices (my android, my iPhone & my PC) at a time ? Regards Kunal
Can this be used to connect with BT on Desktop? What versions of BT are supported?
My earbuds are 3weeks old and I'm facing lot of noticeable audio delay while watching videos etc. The issue is not device specific as I tried it on both mobiles and laptops. I even tried Factory Resetting them, but the problem continues.
Can I connect this Jbl tune 230nc which has bluetooth version 5.2 to a phone which has bt version 5.0.
JBL TUNE230NCTWS has a dual device connectivity feature? quite disappointed just received my order today, after purchase only I came to know it doesn't have features, like multi device connectivity.
I have to move to Canada , so if I purchase this product here in India ,so if a manufacturing fault happens will I be getting technical support there that is covered in the warranty .
What's the noise cancellation range/level in dB? Upto what decibel it can block noise totally
Does Wave 200 has Noise Cancellation
Can I get just an earbud case charger burnt the case out ??
How I can fully disable voice assistant. I disable gesture control on both headphones, but on long tap google assistant still run. It very annoying on а run with wet hat.
What is the noise cancellation range i.e upto what decibel it can block noise. Also is this suitable for air travel
Does JBL 230 NC support connectivity to Bluetooth 5.0 as my phone supports only 5.0 ?
hi may i be able to connect with laptop for music
bvseo_sdk, dw_cartridge, 18.2.0, p_sdk_3.2.0
CLOUD, getContent, 5ms
questions, product