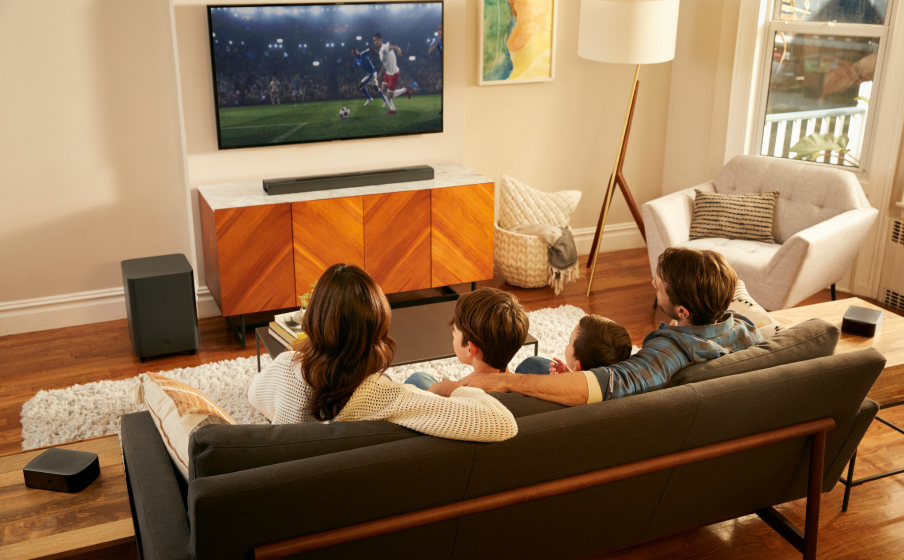 The Ultimate 3D sound experience
Upgrade your viewing or gaming experience from ordinary to extraordinary. Built-in Dolby Atmos®, DTS:X™ and four upfiring speakers bounce sound up to the ceiling back down to you for an awesome, true 3D sound experience.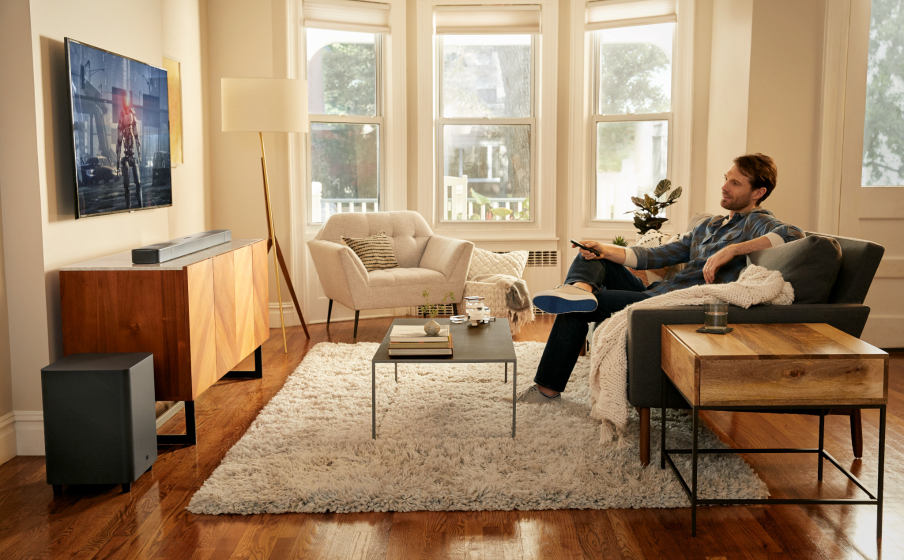 Real surround sound in a second
Instantly enjoy a true, cinematic 9.1 surround experience. Simply place the two detachable surround speakers behind you. No extra wires, no extra power connections so no extra hassle.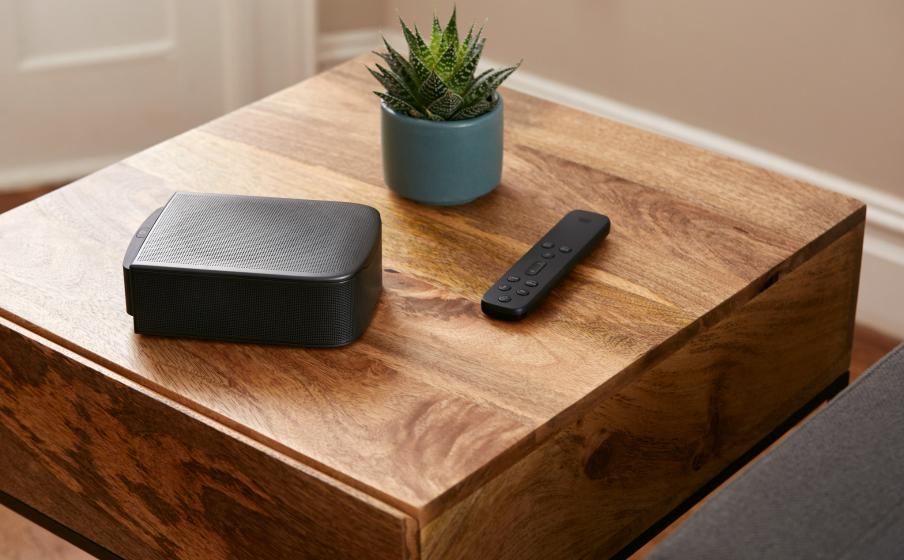 Detachable speakers that go anywhere
Built-in batteries mean audio freedom. Place the two detachable surround speakers anywhere in your room to enjoy an incredible audio experience. After up to 10 hours of playback, simply dock them to the soundbar to recharge.
Features

820W Output Power
With 820 Watts of system output power, you'll hear your movies, games and music like never before. Let the immersive, powerful sound take your viewing or gaming experience to the next level.

Thrilling bass
Punchy, precise bass from a mighty 10'' wireless subwoofer brings the action to your action movies and the emotion to your music.

Ultra HD 4K Pass-through with Dolby Vision™
Incredible 4K video resolution deserves incredible sound. The JBL Bar 9.1 soundbar makes the ultimate dynamic duo when paired with your TV.

Chromecast and AirPlay 2 built-in
Built-in Wi-Fi and compatibility with Chromecast and Airplay 2 means you can stream all your favorite online music in high clarity with a simple finger tap.

Stream it all
Not in the mood for a film or game? No problem. With the JBL Bar 9.1 soundbar you can also enjoy wireless music streaming via Bluetooth from your mobile or tablet.
Specs & Downloads
Item# JBLBAR913DBLKUK
Description
Feel like you're right in the scene with 3D surround sound

The JBL Bar 9.1 soundbar brings audio experience of a movie theater into your home with two detachable surround speakers and the added punch of Dolby Atmos® and DTS:X™ 3D sound. With 820 watts of total system power, you can enjoy every Oscar-worthy performance through powerful, crystal-clear audio. Turn up the 10'' subwoofer for pulse-pounding bass or turn it down and relax with Chromecast and AirPlay music streaming. Immerse yourself in the latest blockbuster or re-live your favorite movie or sport scenes. The most incredible home cinema sound experience is here.
General Specifications
5.1.4 channel

Power supply

100 - 240VAC, ~ 50/60Hz

Battery charge time

3 hours

Total speaker power output (Max. @THD 1%)

820 W

Main Soundbar output power (Max. @THD 1%)

400

Surround speakers output power (Max. @THD 1%); 2 x 60W

Subwoofer output power (Max. @THD 1%); 300

Soundbar transducer

4×racetrack drivers + 2 × up-firing full-range drivers+3 × 0.75" (20mm) tweeter

Surround transducer (per piece)

up-firing full-range driver + 0.75" (20mm) tweeter

Subwoofer transducer

10"

Operating temperature

0°C - 45°C

Standby for Soundbar (when all wireless connections are deactivated)

< 0.5 W

Networked standby (Soundbar)

< 6.0 W

Networked standby (Subwoofer)

< 2.0 W

Time to standby

<10 minutes

This equipment complies with European Commission Regulation (EC) No 1275/2008 and (EU) No 801/2013. The Soundbar unit is considered as networked equipment with high network availability (HiNA equipment and equipment with HiNA functionality) as it provides wireless network access point for two wireless Surround speakers and one wireless Subwoofer.
Audio Specifications
HDMI In

1

HDMI eARC

1

HDMI HDCP version

2.3

103dB

34Hz~20KHz

1 Optical, Bluetooth, Chromecast, AirPlay2, USB
Dimensions
Soundbar dimensions (WxHxD); 884 x 62 x 120 (mm)/ 34.8" x 2.4" x 4.7"

Detachable surround speaker, per piece

173 x 60 x 120 (mm) / 6.8" x 2.4" x 4.7"

Subwoofer dimensions (WxHxD); 305 x 440 x 305(mm) / 12.0" x 17.3" x 12.0"

Soundbar weight

3.64 kg/ 8.0 lb

Detachable surround speaker

0.72 kg x 2/ 1.6 lb x2

Subwoofer weight

11.10 kg / 24.5 lb
Control and Connection Specifications
USB port

Type A

USB rating

5 V/ 500 mA

Supported file format

MP3

MP3 codec

MPEG 1 Layer 2/3, MPEG 2 Layer 3, MPEG 2.5 Layer 3

MP3 sampling rate; 16 KHz - 48 KHz

MP3 bitrate

80 kbps - 320 kbps

USB Port; (USB playback is available in US version. For other versions, USB is for Service only.)

Bluetooth version

4.2

Bluetooth profile

A2DP V1.2/ AVRCP V1.5

Bluetooth frequency range; 2402MHz-2480MHz

Bluetooth Max. transmitting power

13dbm (EIRP)

Modulation Type

GFSK, π/4 DQPSK, 8DPSK

Wi-Fi network

IEEE 802.11 a/b/g/n/ac (2.4GHz/5GHz)

2.4G Wi-Fi frequency range

2412 – 2472 MHz (2.4GHz ISM Band, USA 11 Channels, Europe and others 13 Channels)

2.4G Wi-Fi Max. transmitting power

20 dBm (EIRP)

Modulation Type

DBPSK, DQPSK, CCK, QPSK, BPSK, 16QAM, 64QAM

5G Wi-Fi frequency range

5.15 - 5.35 GHz, 5.470-5.725 GHz, 5.725 - 5.825 GHz

5G Wi-Fi Max. transmitting power

22 dBm (EIRP)

Modulation Type

QPSK, BPSK, 16QAM, 64QAM, 256QAM

5G Wireless frequency range

5180.0 - 5240.0MHz (Except Europe), 5725.0 - 5825.0MHz

5G Max. transmitting power

13 dBm (EIRP)

Modulation Type

QPSK
What's in The Box?
1x Main Soundbar
2x Detachable wireless surround speakers
1x Wireless subwoofer
Remote control with 2 x batteries
Power cords (up to 8pcs depending on region SKUs)
HDMI cable x1
2 x L-shape Wall-mount bracket (Main Bar) + 2 x U-shape Wall-mount bracket (for Surround Speakers) kit with screws
Quick start guide
Warranty card
Safety sheet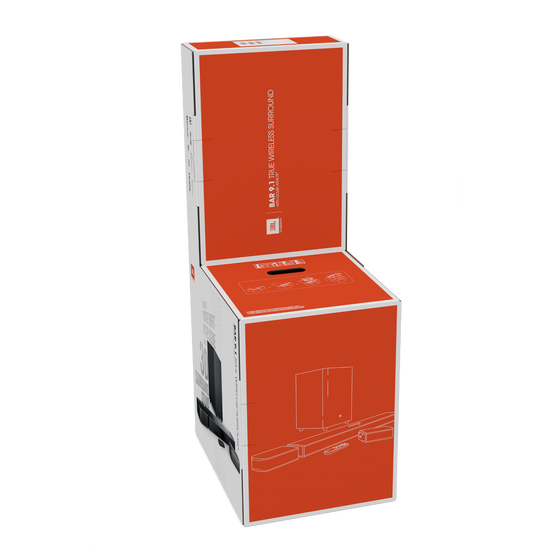 Documents & Downloads
Customer Reviews
Product Q&A
Something terribly wrong after the latest firmware upgrade. My soundbar volume and bass level went pretty low. Previously it was much louder and better audio but after the upgrade something went wrong 
I agree, I notice the same thing after the software update. I had raise the volume higher to get the sound louder.
Date published: 2021-06-06
I'm having the same problem calibrating my JBL. I'm on 1 calibration, it said retry. Sound bar makes it noise, both rear speakers work then calibration then the retry pop up. I've did WiFi and Ethernet direct connect. Can never get a hold of Customer serv
Just try they way of calibration! reset soundbar with surround speaker attached, restart soundbar remove surround speakers and place to listening position. Do not setup wifi/chrome/airplay/bluetooth etc. (Important)., Unplugged HDMI / ARC if any, keep subwoofer in line of sight. Calibrate for possition1. After success move surround speakers to back/final position. calibrate for postion2. In my case it worked finally.
Date published: 2021-06-06
Can you get stands for the detachable speakers?
L-shaped wall brackets are provided
Date published: 2021-06-06
For my JBL 9.1 calibration-1 always leads to "calibration retry" without finalizing the calibration. How can this be solved?
I had the same problem for hours on 1st set-up. I finally played an atmos source just to hear it uncalibrated & every time since it's calibrated correctly. Don't know if this helps?
Date published: 2021-06-06
My TV supports ARC but not eARC. If I connect my Fire TV 4k to the HDMI in on the soundbar can I still get uncompressed Dolby Atmos sound?
I connected my Apple 4K TV to the HDMI-in on the Bar. Then HDMI out to my ARC on my Sony. And I get ATMOS.
Date published: 2021-06-06
I have installed it but the status is not changing from load to ready. Any idea what needs to be done
Please connect the detachable speakers to the main soundbar first. Then plug in the power cord. If the display still shows load for a long time please do a reset: On the soundbar, press and hold power and source button for more than 10 seconds. "RESET" is displayed. The soundbar shows "LOAD" and "READY" and then, goes to standby mode.
Date published: 2021-06-06
Will it passthrough HDR10 or HDR10+ ? (My TV only supports HDR10, so i need to know if i connect my Xbox to the JBL and than the JBL to my TV i will still be able to view HDR10 content).
HDR10 and Dolby Vision, yes. HDR10+, no.
Date published: 2021-06-06
Does my TV have to be eARC Compatible for me to hear Dolby Atmos Sound from this unit?
You can get Atmos via ARC too, it is just compressed compared to Atmos via EARC (if it's Atmos via blu ray, Atmos via Netflix and such is compressed anyway). This all depends on your TV though as some TVs support less features via ARC, so your mileage may vary.
Date published: 2021-06-06
What is the expected life of the batteries? I don't mean between recharges. I mean how many years should they be expected to last. What do I do when the batteries no longer hold a charge? I know they're not replaceable by the user.
The battery lifetime of the surround speaker would depend on your usage. The batteries of our speakers have charging cycles that get consumed when you charge your unit and completely discharge it. Temperature also affects the battery life.If you're having issues with the battery of your Soundbar, please contact us so that we can assess the unit and check on your options: https://support.jbl.com/us/en/
Date published: 2021-06-06
Let me ask the question differently. I'm considering spending $1000 on a soundbar that relies on batteries to work properly. I don't want a generic "it depends" answer. What should I expect the battery life to be. When it dies, what are my options?
You can plug them in usb if the batteries die. 
Date published: 2021-06-06
Why does the display say 'not supported' when volume is changed on the 'surround' button on remote when rear speakers are detached from soundbar. The rear speakers were checked, they were on and paired. The product was Mar-2021 make.Tested at 2 retailers.
Answering my own question after i digged deeper. Unfortunately it is due to a defective peice. The charging case of the detachable speaker is malfunctioning which is causing the 'Not Supported' error, the case needs to be replaced. This is been noted in the March 2021 manufactured models mostly. JBL knows this.
Date published: 2022-03-07
It's 2020, JBL - inexcusable to put out a brand new premium soundbar without an app and the fine-grained controls it needs and deserves. Please fix the oversight immediately and do right by your customers and early adopters of this fine product.
I agree with your statement.  There 5.1 with wireless speakers has all the controls and can change to voice, sport mode, movie, music,  you can actually turn down the surround with the 5.1 as the 9.1 low is just still to loud.  It's crazy they have even less features with the 9.1 minus the atmos speakers.
Date published: 2021-06-06
Calibrating fail for the 1-calibration. Read and followed page 14, 6.3 Sound calibration. Rear speaker attached to soundbar and updated the firmware successfully. Still seeing the Calibrating fail error. How should I fix it?
Thank you for your question, as there could be different causes for your problem, as well as solutions, we would like you to contact us directly at the following address: https://support.jbl.com/de/de/customer-service/contact.html
Date published: 2021-06-06
To have a Dolby ATMOS Experience the Movie also has to be encoded in Atmos Sound right ? So what if the Movie is not encoded in Dolby Atmos Sound ? Then what kind of sound will this speakers give ?
That's right the source or movie should be encoded in Dolby Atmos in order for the JBL Bar 9.1 to play it. If it's not encoded in Atmos, then it will only play the number of channels that it's encoded with.
Date published: 2021-06-06
What is total width of soundbar, both with, and without speakers attached?
Your answer (and much more) is right on their website.
Date published: 2021-06-06
Does the pass through support 120hz refresh rate?
Our JBL Bar 9.1 has an HDMI eARC port which is HDMI 2.1 and is capable of passing through 120hz refresh rate. If you need more help ,please fill out the self help service link so we can assist you:https://bit.ly/3hH8oBR
Date published: 2023-01-08
Can you buy satellite caps separately an d when the satellite battery's die what do you do.
When the satellite batteries die I plan to plug them in behind the couch with micro usb. 
Date published: 2021-12-31
Can you control misc using a google assistant or hub with voice on JBL Bar 9.1?
As long as you're playing music through Google Cast, you should be able to control it through a Google Home. It should work like any other Chromecast speaker.
Date published: 2021-06-06
Can I turn this soundbar on without turning the TV on when I have CEC enabled?
The TV will always turn on when the CEC is enabled.
Date published: 2021-06-06
Anyone else notice a small hiss / distortion coming from the rear speakers when using Apple TV 4K? Tried unplugging all cables and play music with Airplay. Bad / distorted sound from the rear speakers. They are charged and recalibrated - unit reset twice
Thank you for your question. On the basis of the information provided, I recommend you contact the Harman Customer Support team by telephone, email or chat in order to receive direct assistance. Please see https://uk.harmanaudio.com/support-contact.html#ns for further details. Thank you.
Date published: 2021-06-06
Can I hook up wireless headphones to the soundbar?
Unfortunately, you can not connect wireless headphones to the JBL Bar 9.1.
Date published: 2022-03-09
The sound was fine until I connected the sundbar to the chromecast and the soundbar itself was updated. After the update, the dialogues became silent. Anyone had a problem with that?
We'd like to work with you directly about your JBL Bar 9.1 TWS. Please reach out to our Customer Support so we could try some troubleshooting steps. We're here to help.
Date published: 2021-06-06
When playing dolby atmos content does it shows dolby atmos ? for me it always show dolby surround. can anyone confirm this ? not sure weather i'm getting dolby atmos sound or not
Yes, it will show dolby atmos when playing dolby atmos content. I use nvidia shield tv streaming device as input to the bar and output to tv using hdmi. I played netflix content and was able get atmos.
Date published: 2021-06-06
Hello, i just bought JBL 9.1 soundbar some days ago. Soundbar is connected to a LG OLED 65C1 TV through eARC HDMI . But actually, the satellite speaker last only two/three hours of listening TV, far from 10 declared. Could they be already degraded?thanks
Thanks for your inquiry. The Detachable speakers of our Bar 9.1's playtime may vary depending on volume and music content. If the speaker doesn't meet the advertised playtime hours even at low to mid-volume levels, there could be a problem with the battery of the unit. Please contact our Customer Support via our website or toll-free number, so we can assist you.
Date published: 2023-09-16
Then I use hdmi in with my pc or console, left side was being to hot, I can't even touch it with my hand, is it ok?
I have the same exact issue. I have my Apple 4K TV directly connected to the HDMI in. The left side of the bar becomes extremely hot!
Date published: 2021-07-02
2 Questions 1) How can I check the current version of firmware on my JBL 9.1 soundbar 2) How can force update the firmware to the latest version on my JBL 9.1 soundbar
Hold down the Input and Minus button on the sound bar itself for 10 seconds to view the firmware version on the sound bar display 
Date published: 2023-05-06
Why no Voice Enhancement or Voice Assistance? These seem pretty standard in today's modern soundbars. Even low end soundbars have this option.
Please pass this on and ask them to work on it.  This is high priority. Thank you
Date published: 2022-05-23
My calibration keeps coming up as retry. All wireless devices removed from the room and followed the steps in owners manual (pg 14), still get the same failure ("retry"). The room size is 12ft x 12ft with 8ft ceiling height. Can this be the problem?
Known issue: 1) unplug hdmi cable and try again  2) reduce volume to 4 and try again 3) Factory reset and try again 
Date published: 2021-09-06
Is there any way to mute atmos speakers? It reduce effect of higher frequency/treble effect as every time on? JBL 5.1 TWS sports mode sounds much better, Sound mode selection supporting framework is required. Hope it will be release soon.
There is no Off setting on Atmos. There are hidden Sound Modes tho: hold Bass for 5 seconds then press + to cycle through them
Date published: 2021-09-06
Is there a way to turn on the detachable speakers when I turn on the bar? Because when they are disconnected, after some time they turn off and do not turn on again when I turn on the bar. I have to turn on the two speacker pushing the two power button?
Thanks for your question. Once the satellite speakers turn off, you need to press each button to power it on. There are no settings that could change this feature.
Date published: 2021-06-06
bvseo_sdk, dw_cartridge, 18.2.0, p_sdk_3.2.0
CLOUD, getContent, 16ms
questions, product