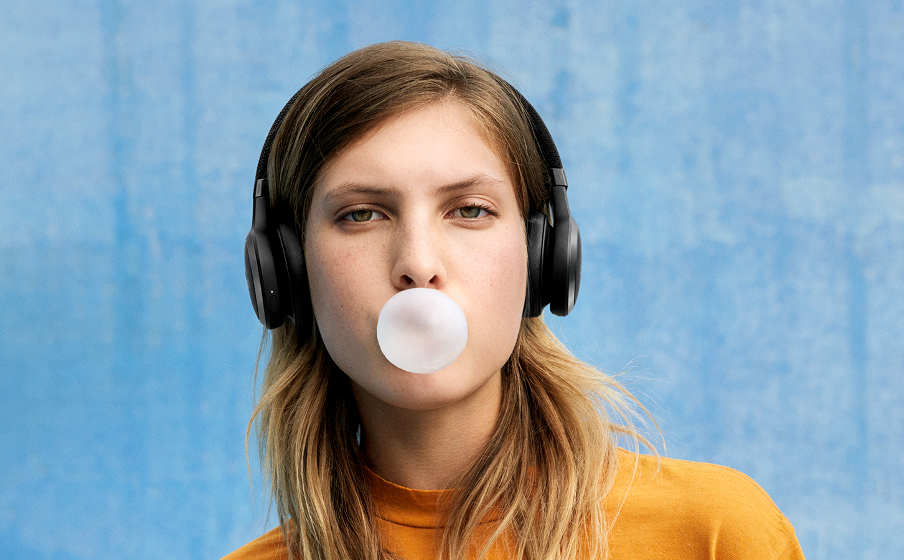 JBL Signature Sound
40mm drivers and a sound signature that can be found in the most famous venues all around the world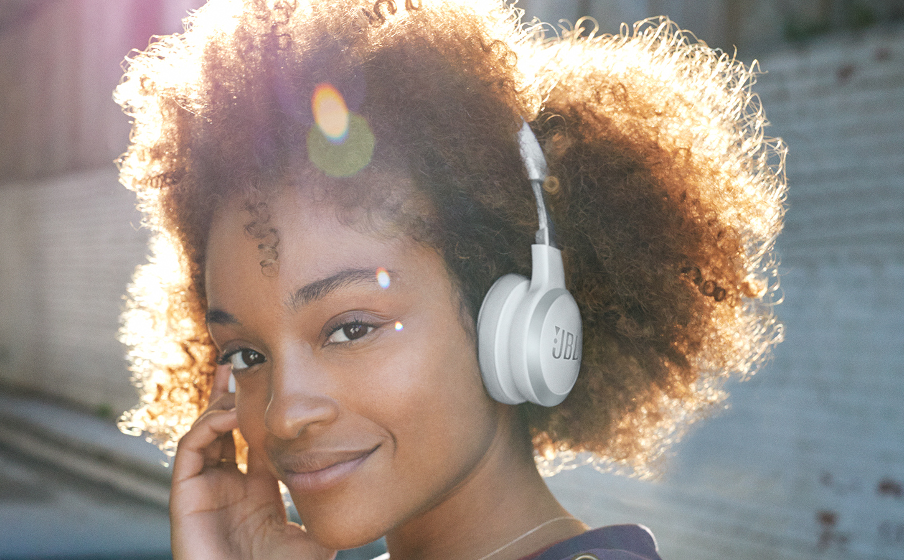 Keep the noise out, or in. You choose
Keep the noise away and stay focused on the music with Adaptive Noise Cancelling. The Ambient Aware technology allows you to safely walk busy streets by increasing ambient sounds, while with TalkThru music is lowered and speech is amplified so you can easily chat keeping your headphones on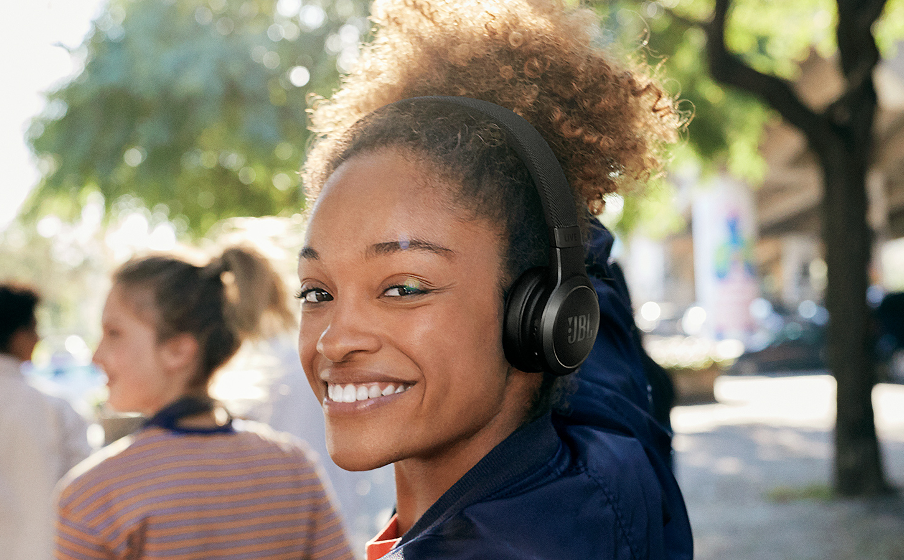 Get help just by using your voice.
Get help from Hey Google(*) or Alexa(**) using your voice or with a tap on the earcup. Activate ANC or Ambient Aware, check the battery life or power off your JBL Live 460NC simply with your voice with Hey Google(*). Use the all-new JBL App to easily set your preferred voice assistants. (*) Only supported on Android (**) Android 6.0 or higher is required for full access to Alexa features when using this device.
Features

Up to 50 hours of Battery Life with ANC off
Rock on for two full days and enjoy fast recharging if that's not enough. The Live 460NC get you up to 50 hours of playtime with ANC off, up to 40 hours with ANC on and 4 hours of charge in only 10 minutes! The detachable audio cable allows you to keep rocking even when the battery is flat

Hands-free, perfect stereo calls
Stay in touch with your world by managing calls with the buttons on the ear-cup. The mic technology allows for perfect stereo calls.With VoiceAware you can control the amount of mic input routed back into your earbuds and choose how much to hear of your own voice.

Multi-Point Connection
Allows you to effortlessly switch from one Bluetooth® device to another. You can simply switch from a video on your tablet to a call on your mobile phone, so that you'll never miss a call

Comfort-fit fabric headband
Shaped around your head with a fitting fabric headband and soft ear cushions, the Live 460NC are super comfy

Auto Play and Pause
Your music automatically goes on hold when you remove your headphones and start playing again when you put them back. You don't even need to think about it

Google Fast Pair
Thanks to Fast Pair enabled by Google, the JBL Live 460NC are immediately connected to your Android device. You can also pair multiple devices just by tapping on the devices' screen

My JBL Headphones App
Your headphones should adjust to you, not the other way around. JBL Live 460NC headphones sound and features can be easily personalized with the My JBL Headphones free App: change the EQ sets, select your preferred Voice Assistant, set your Smart Ambient settings and much more, downloading the free App
Product Comparison
LIVE460NC-
TOUR-ONE-M2
TUNE660NC-
TUNE510BT-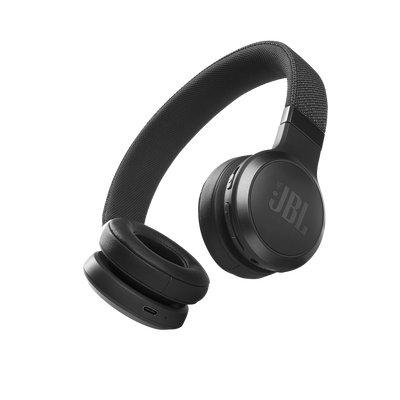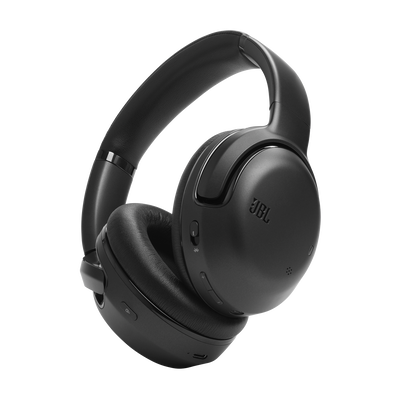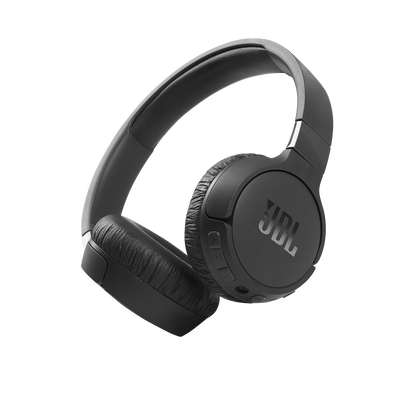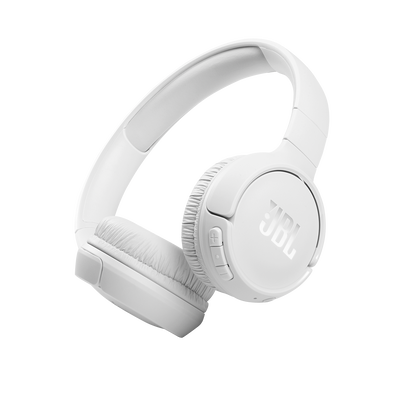 Battery
Maximum play time (hours)
50
Maximum play time (hours)
50
Maximum play time (hours)
44
Maximum play time (hours)
40
Features
True Adaptive Noise Cancelling
True Adaptive Noise Cancelling
True Adaptive Noise Cancelling
True Adaptive Noise Cancelling
Adaptive Noise Cancelling
Adaptive Noise Cancelling
Adaptive Noise Cancelling
Adaptive Noise Cancelling
JBL Legendary Pro Audio Sound
JBL Legendary Pro Audio Sound
JBL Legendary Pro Audio Sound
JBL Legendary Pro Audio Sound
Voice Assistant integration
Voice Assistant integration
Voice Assistant integration
Voice Assistant integration
Specs & Downloads
Item# JBLLIVE460NCBLK
Description
Press play, mute distractions.

In your world, superior sound is essential, as it's being in the zone. So slip on a pair of JBL Live 460NC headphones and get both. Equipped with massive 40mm drivers, JBL Live 460NC headphones deliver JBL Signature Sound, punctuated with enhanced bass so every track on every playlist pops. Activate the Adaptive Noise Cancelling if focusing is what you need and Smart Ambient if you want to keep in touch with your environment. Need some help getting through the day? Get help from Hey Google (*) or Alexa (**) using your voice or with a tap on the earcup. Activate ANC or Ambient Aware, check the battery life or power off your JBL Live 460NC simply with your voice with Hey Google (*). Magic! Lightweight and comfortable thanks to the pillow-soft padded headband, you'll enjoy up to 50 hours of music streaming with ANC off, perfect stereo calls and a convenient detachable audio cable, that lets you rock on even when the battery goes off. When not in use, your Live 460NC automatically pause and resume playing when picked up again. Rock out while staying tuned in with the JBL Live 460NC headphones. (*) Only supported on Android. (**) Android 6.0 or higher is required for full access to Alexa features when using this device.
General Specifications
Driver size (mm)

40

Number of Microphones

2
Audio Specifications
Driver sensitivity at 1kHz/1mW (dB)

96

Dynamic frequency response range (Hz)

20Hz – 20kHz

Impedance (ohms)

32
Dimensions
Weight (g)

210

Weight (oz)

7.4

Charging Cable Length (m)

0.2

Charging Cable Length (ft)

0.7

Ear Cup External Height (in)

2.6

Ear Cup External Width (in)

2.6

Ear Cup Internal Height (in)

1.4

Ear Cup Internal Width (in)

1.4

Ear Cup Depth (in)

0.6

Ear Cup External Height (cm)

6.7

Ear Cup External Width (cm)

6.7

Ear Cup Internal Height (cm)

3.5

Ear Cup Internal Width (cm)

3.5

Ear Cup Depth (cm)

1.5

Audio Cable Length (ft)

3.9

Audio Cable Length (m)

1.2
Control and Connection Specifications
Bluetooth version

5.0

Bluetooth profiles

HFP V1.7, A2DP V1.3, AVRCP V1.6

Bluetooth frequency

2.402GHz – 2.48GHz

Bluetooth transmitted modulation

GFSK, π/4 DQPSK, 8DPSK

Bluetooth transmitter power

<13dBm
Battery
Charging time (hours from empty)

2

Maximum music play time with ANC off (hours)

50

Maximum music play time with ANC on (hours)

40

Maximum play time (hours)

50
Features
On-ear

Yes

Charging cable

Yes

Audio cable

Yes

Voice Assistant integration

Yes

Ambient Aware

Yes

Built-in Microphone

Yes

Detachable Cable

Yes

Fabric headband

Yes

Hands Free Call

Yes

JBL Signature Sound

Yes

Multi-Point Connection

Yes

TalkThru

Yes

Wireless

Yes

Adaptive Noise Cancelling

Yes

Speed charge

Yes

Over-ear

Yes

Rechargable battery

Yes

Bluetooth

Yes
What's in The Box?
1 x JBL Live 460NC
1 x Type-C Charging Cable
1 x Audio cable
1 x Quick Start Guide/Safety Sheet
1 x Warranty/Warning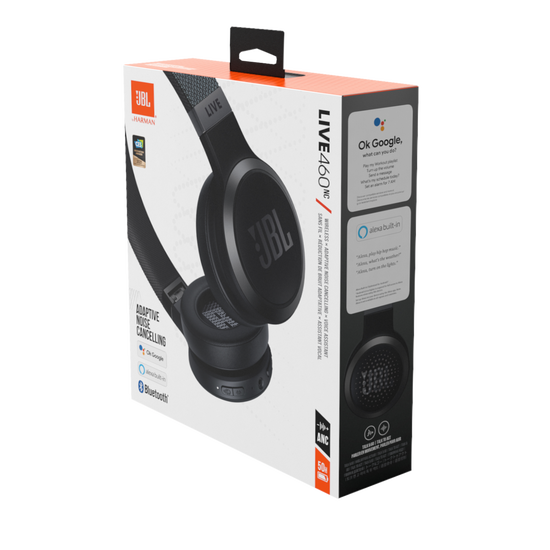 Documents & Downloads
Customer Reviews
Rated

4

out of

5
by
lizard0702
from
Great headphones, for the offered price.
I bought the headphones a month ago. The sound quality is great and the noice cancelling is really nice. The fit stays snug on my head, but I do get ear fatigue very quickly. The only cons of this product is that randomly the music will cut out for like half a second, and this happens frequently. Also the feature that turns off the music when you take off the headphones is very sensitive. It is so sensitive to the point where I will have them on and flip my head upsidedown with them not moving from my head and it will turn off the music. It can get annoying when I have to bend over or look down. But again, for what I paid for, these are excellent headphones.
Date published: 2022-10-24
Rated

1

out of

5
by
Dan1111111
from
No way to completely disable voice assistance.
I was impressed by the sound quality and noise reduction, but JBL must have signed some contracts with amazon, google, and apple - you can not disable the voice assistant completely. You are forced to choose one. Support's answer was that this is the main feature of the headphones (seriously?) and that I can either turn siri off on my phone or tell alexa to "stop" after it starts talking to me any time it's mistakenly activated (laying in bed, etc) Check some of the online forums, I'm not the only one with this problem. I specifically requested a FW or app update to allow it to be disabled completely and was refused and even asked to search their store for headphones without this function. Would rather return these and look for a competitors product if they're unwilling to address customer complaints.
Date published: 2022-12-21
Rated

1

out of

5
by
Davis007
from
Love JBL, but can't recommend these.
Horribly tight on the hear, earcups uncomfortable, when talking in my truck with the wind the noise canceling made a bad crackling noise from time to time. Great idea, the buttons, Google command, price, style,,,, bad execution
Date published: 2021-12-18
Rated

3

out of

5
by
Hammer00
from
Tilstrekkelig
Har fått brukt disse en del nå. Planen var å ha noen små og lette headsett jeg kunne bruke til å høre på musikk ved trening og andre daglige gjøremål. Vil ikke si de egner ser noe særlig bra til noen av delene. Ved vekt trening forekom det problemer med at musikken stoppet eller koblet ut ved større bevegelser. Dette er fordi headsettet automaktisk går på pause når man tar det av. Så vil egentlig si at sansoren er overfølsom eller dårlig. De satt heller ikke så godt på i lengden da jeg ble veldig øm og sår på ørene siden de trykker så hardt på. De kjennes gode på ved kortere intervaller med når man bruker dem lenge kan det trengs en pause. Lyden i headsettet var heller ikke mer enn det matte være. Men vil si det er relativt gode headsett til den prisen.
Date published: 2021-05-19
Rated

5

out of

5
by
zakk
from
Three month review
These headphones are absolutely amazing for the price point. I have owned these for three months now and have no complaints. Pros: -Connectivity/bluetooth is amazing. I can walk to the other side of my house and the sound stays clear without skips. -ANC works great. It won't net you complete silence in loud situations, but does an amazing job cutting down 90% of the sound, which is all you can ask for without paying $300+. -Great sound quality, mids are crystal clear. -Amazing for the gym. I work out almost daily and these headphones stay on throughout my lifts and cardio. -Battery life is insane. I use these 1-2 hours a day minimum and have only charged them twice in three months. -Auto on/off feature works amazing. I didn't even think I would care about it when buying, but it is super useful. Cons: -May be a little tight for some people. I enjoy a more snug fit for exercise, but they can feel a bit stiff on the head after a 4 hour flight. -Struggles just a bit to hit the higher treble. Not extremely noticeable, but someone bigger on sound quality may notice the sound feeling stretched up high. -Same issue with the lowest lows for bass. These headphones aren't going to bop your head off, but they still provide excellent sound for the price. Overall, there is no better quality in this price range than these headphones. 10/10 recommend!
Date published: 2021-08-15
Rated

4

out of

5
by
Miso Jjigae
from
Fantastic! BUT...
…there ARE some things to beware of. Let's start with the positives. +JBL always delivers when it comes to features, and this is no different. The button for Google Assistant/Alexa is genius, their noise cancelling/ambient noise/normal setting are brilliant as always, and it is very easy to pair to these headphones. +Beautiful design, with a woven body that is so nice to feel. +Nothing to complain about when it comes to sound quality. Negatives: -I have a big head compared to others, and these headphones really made me feel that. For those with a normal sized/small head this would be fine, but I would only advice these headphones for large-head people like myself if they did a size large. I wish there was a work-around but I haven't found one. Unfortunately, it is just too uncomfortable for me to use for longer than 5 minutes at a time :( -I don't know if it is just the headphones I received, but when I use the cable I can only hear out of the left ear, regardless of if the headphones are on or off. This is not a major turn-off for me though. Overall: beautiful headphones, unfortunate about the size issue.
Date published: 2021-05-03
Rated

5

out of

5
by
Mollyrhiannon
from
Fantastic headphones!
I have had these headphones for a couple of weeks now and can honestly say they're by far the best I've owned so far. I have always been a JBL fan (I own a bluetooth speaker and bluetooth earphones too) and this product reminded me why I have chosen them over other brands in the past. The sound quality is amazing, and the noise cancelling feature is exceptional. Would recommend the Live 460's to anyone. I use mine mainly whilst in the gym or doing housework, equally as good doing either!
Date published: 2021-04-30
Rated

4

out of

5
by
Jehl
from
Strong battery life with good value
I will review it in three category's - Build quality -Practical use -Sound quality Build quality: So out of the box i really enjoy the design. Matt Black with Its aluminium black «mesh» band overhead, reminds me of a high quality stereo/speaker. Its design is minimal, but has all your needs for buttons and features accessible with your hands! Practical use: Firstly the setup with the incl. Step-by-step guide is impeccable. Doing this with my Iphone 12 with the App is seamless and easy to understand. Secondly, the Bluetooth connection is fast, really fast. Similar to AirPods connection with is «perfected», so the JBL 460NC is strong in this regard! It even has jack connecting which makes it more of a multitool of a headset where you can plug it to your PC if you have an older version. Use when commuting and regular work/study is as expected with its noise cancellation working beautifully. It gets somewhat stiff on my earflips after extended use 7+ hours. If you have this issue i would rather get JBL's larger version around the ears. When it comes to its battery life you really never think about it as an issue, its superb! Sound quality: Ive used the headset for everything from Classic, Rock, RnB and every type of podcast you can find. What i enjoy is the EQ adjustability in the app which lets me customize my own settings for each type of listening. Its deep bass combined with great noise cancellation id give it a 4/5 bolt beaten by far more expensive headsets. If i would add any improvements, it would be to make more distinctive diffrences on the volume up/down button and the middle start/stop button. Maybe lowering or raising the start button! Regardless the noise cancellation, Great batterylife and price is excellent!
Date published: 2021-05-21
Rated

1

out of

5
by
Buggymusic
from
Super buggy - pauses music at random
These are the worst headphones I've ever owned. They are constantly disconnecting from my phones Bluetooth - if I so much as move them a centimeter my music pauses. I bought these to be my workout headphones and they cannot handle it AT ALL. I can't get through a 30min workout with out them pausing/unpausing my music 10x in 10 seconds. Never mind trying to run with them :(. At first I thought maybe the pair I got was defective so I contacted customer support (they were very nice and helpful) and got a new pair with in a week or two, but the new pair was just a bad the originals! Really bummed bc the sound is great but they're so so so frustrating to use because I can barely get through a song with out it pausing a bunch of times unprinted.
Date published: 2022-06-28
Rated

4

out of

5
by
APatt
from
Love the sounds
I love how these earphones sound. Everything is crisp and clear. The anc is great as well, its the only one that hasn't given me a headache when I use it. The only 2 issues I have with them is how easily the pause/ play is triggered in the left ear cup and how uncomfortable they can feel if I don't set them on my ears just right and my ears on on the average/small side.
Date published: 2021-11-07
Rated

1

out of

5
by
fester1
from
Good sound, utter failure of a product overall
They sound great. The problem is, they have annoying and unnecessary features that not only get in the way but actively detract from the listening experience. A feature that pauses your audio when you take the headphones off is great in theory, but it's somehow oversensitive ALL of the time except for when you need it. Did you yawn? Oops, JBL thought you took your headphones off so now it's paused until you manually press play again. Did you adjust your eyeglasses? Paused again, bucko. But if you remove the headphones entirely and expect your audio to pause, think again. You'll put them back on and it will have been playing the whole time. What's more, there doesn't seem to be a way to turn this feature off without opening the JBL app every single time you put the headphones on. I guess the noise canceling is nice, except JBL decided that just in case you need it, there's also a feature that amplifies noise from the outside world so that it's deafeningly loud. And somehow this is the default mode of "noise cancelling" which defaults to ON every time you connect and is a pain to turn off because the layout of buttons on the headphones is not intuitive whatsoever. Honestly it's so bad that anytime I go to listen to anything I give up because all I can think about is how I miss my old Jabra headphones.
Date published: 2022-02-22
Rated

4

out of

5
by
FuzzyOtter
from
Superb sound!
I've been looking for a spare pair of headphones, just in case my go to's decide to die on me and these are a worthy candidate. The sound quality is really superb and the bass quality is on par with other big name retailers. However, I am only giving this 4/5 stars because the cups are a little too small for my ears, so they are a bit uncomfortable and hurt after a while. Otherwise, I cannot fault this product.
Date published: 2021-04-26
Rated

5

out of

5
by
MLE2
from
Great JBL Sound wit Great Features
The 460's are very light and comfortable and produce typically great JBL sound. I've used them indoors and out....btw, turn off the ANC feature if there's wind....and the performance has been first rate. They pair with the JBL app which makes setting the controls very easy and in fact include a useful feature of automatically stopping music programming when you take them off...without use of the controls....very convenient if you're wearing gloves or are otherwise occupied. All in, a really fine device!
Date published: 2021-05-11
Rated

5

out of

5
by
Btotheryan64
from
Really impressed
At first I thought these wouldn't match up to my 650BTNC because of the size but I wanted something smaller to carry with me. These definitely didn't disappoint. Even though they're smaller the sound quality in my opinion is superb. And aside from that they have all of jbl's new features like auto play/pause, the ambient aware feature which is awesome, and usb type-c. I'm super happy with how they sound I definitely recommend these if you're looking for some on the go over ear headphones.
Date published: 2021-05-12
Rated

4

out of

5
by
Jwolford
from
Who would have thought
I knew that the 460NC's would be something new for me as I typically only use earbuds, so when I realized I had been wearing them for an hour and jamming... I knew they were onto something. Again, not an expert on anything other than earbuds, but this had some quirks. 1st, they didn't go over my ears and instead sat on them. not as comfortable as some other versions, they did seal out other sounds. 2nd, typical over-ear headphones make my ears sweat and I quickly switch to something else. These didn't seem to have that effect. Sound... WOW they sound amazing. I could get into the highs were high and lows low, but you get what I am saying. Crisp in every sense of the term even at the highest volume. Overall, EXCELLENT Headphones.
Date published: 2021-05-12
Rated

5

out of

5
by
MrRoverud
from
The best sound quality ever!
As a member of ReviewClub I had the pleasure to test this product for a few weeks and I must say I'm deeply impressed by this sound! Really great! I have never used headphones before with greater sound. Crystal clear and keeps other sounds/ noise outside. Really easy to connect to other devices and superb with the voice-commands. Really comfortable to have on ear and with no cables attached, it's really great. I think the stand by- time when they are not in use are great and they are really quick to charge. I have never before used on ear headphones, but this time I will buy my first set of on ear headphones. I really enjoy them and strongly recommend this to my friends and relatives if they want to buy new headphones. Fantastic!
Date published: 2021-05-20
Rated

5

out of

5
by
Eder08
from
Awesome
I bought this about 2 months ago and ever since I am very happy with it. The app lets you have full control, and it works very well too. I would choose these over apple, Sony, Bose, and beats.
Date published: 2021-08-07
Rated

4

out of

5
by
SG 28sshtijFFol
from
Excellent headphones, rubbish android App
Everything that was needed to say I told in the title. I installed the JBL Live NC460 App from Google store to upgrade the firmware. Immediately after that the Bluetooth connection was lost. Without this APP the connection was perfect. So, was needed to reset the headphones to factory default settings to repair the things. Is that normal? Or someone didn't do his job properly? Anyway, these headphones are pretty good.
Date published: 2022-02-15
Rated

1

out of

5
by
Jools8
from
Uncomfortable
I have returned these headphones as they were unbearably uncomfortable on my ears.
Date published: 2022-02-04
Rated

5

out of

5
by
rhdad42
from
Great Headphones at at Great Price
Here's the summary: the JBL Live 460NC are mixed-use, comfortable on-ear headphones that sound really good and sit in a nice price sweet spot. Other positives are fantastic battery life, great wireless range, multi-device pairing, built-in voice assistant support, and Bluetooth V5.0. On the downside, the on-ear design doesn't isolate much ambient noise but that's no different than other comparable sets. The Live 460NC have a compact on-ear look that I really like, and I especially like the cloth around the headband. They're a bit less bulky than over-ear headphones and are more breathable, which makes them more comfortable for longer periods of time. They felt nice and stable on my head, though not too tight. I didn't do any running or crazy activities with them, so I can't say how they'll work if your workouts are particularly intense. The construction and feel seem slightly more high-end than others in this price range. The controls on the 460NC are intuitive and easy-to-use. The buttons are easy to locate and provide good tactical feedback. I'm really glad JBL has stuck with the dedicated Bluetooth button, which makes pairing a whole lot easier. After enabling your phone's voice assistant, you access it by holding the left earcup for 2 seconds. I'm not a huge user of that feature (I've since disabled it on the app) so it doesn't really impact me but I did accidentally launch my Google Assistant a few times during testing. ANC is handled by a single button with the options accessed by cycling through: On, Off, or Ambient Aware. JBL also provides for TalkThru, which is accessible only through the app – it would have been nice to have the option to tap on the right earcup or something like that. Using the app, you also get access to a pretty decent equalizer to customize the sound to your tastes, and also JBL's Smart Audio Modes: Normal, for a stable connection; Audio Mode, for best audio quality; and Video Mode, for improving lip-sync performance. To be honest, I didn't notice much difference between the three modes. I didn't find the latency performance to be that bad with the two non-video settings, though I probably won't be watching a ton of video content with these. One thing I do really like is JBL's feature that automatically pauses the music when you remove the headphones. I picked Steven Wilson's latest, The Future Bites, for my first music review. He's a great producer and this disc is top-notch. The 460NCs delivered clear sound, though in my opinion it sounded a little compressed/not as dynamic when compared with more expensive sets like JBL's excellent Club One over-ear headphones. Stereo separation is fantastic, there was little distortion even at uncomfortable listening levels. Bass is deep, thumpy, and punchy. I did find bass quality varied quite a bit depending on how the headphones were sitting on my ears and whether I was wearing my glasses or not. Some might consider the mids and highs a little under-emphasized at the expense of the bass, but I prefer a bit more bottom end so I enjoyed the sound overall. It was only when I was comparing the 460NC with headphones three times as expensive did I really notice a difference. I went back to some familiar 80s tracks to get a sense of the overall sound across genres. I started with Dire Straits' Money for Nothing, a track I used to use to test speakers back in the day. The bass and drums pounded just like I expected, though I could have used a little bit more elevation in the mids and highs. I was able to adjust the EQ using the app and it made a difference but after a while I went back to flat and found that I enjoyed it more. Next was The Beautiful Ones from Prince's Purple Rain. The keyboards jumped out and the bass and drums were tight. I went through a bunch of 80s music, from electronic to rock, and never got fatigued listening through the 460NCs. Noise canceling was good, though not as good as the top performers, due primarily to the fact that these are on-ear and not over-ear. However, for the price I think performance was excellent, especially if you're planning on listening to music and are looking to eliminate external noise. I was power washing my deck and the ANC made listening to music enjoyable. For me, that's perfect. I'm not looking for something to just block out noise and provide me silence. Bottom line: I love these headphones for what they are. If I want high-def audio reproduction or critical music listening, I have wired headphones that do the job. If I want a pair of comfortable, noise-canceling headphones that I can use while doing yardwork or exercising, these are the pair I'm reaching for. I highly recommend them (and I actually did recommend them to my son, another JBL fan in the market for a set of headphones for the gym).
Date published: 2021-05-16
Rated

5

out of

5
by
customer205
from
Amazing for price
I bought these over a week ago and have used them for hours everyday and am still yet to charge them! The sound quality is amazing and all the features make them seem very high end. Super comfortable and feel relatively sturdy. Only thing to note is they don't come with a case but I've been using a case from another set of headphones and they fit in nicely. If you're also keen to wear them on public transport I found there is a small crackling sounds due to the movement but when still eg studying there is no crackling at all.
Date published: 2022-09-17
Rated

5

out of

5
by
Cassiegoose
from
Simply amazing
So I recently got these and even the packaging screams quality they are really comfy and look amazing they are easy to use too you can plug them in or use the wirelessly via blue tooth . The sound quality is fantastic especially with the noise cancelling function it really brings a whole new experience into wearing headphone
Date published: 2021-04-27
Rated

1

out of

5
by
Dispointed buyer
from
DON'T BUY Left side stopped working after a month
I am a professional who bought these headphones for videoconferencing. I take care of my electronics. The left speaker stopped working after 45 days of ownership. Don't spend your money on these headphones. Quality is not reflective of the cost.
Date published: 2021-12-16
Rated

5

out of

5
by
JR1124
from
Great Headphones!
So many great features. The Adaptive Noise Cancelling and the Ambient Aware/Talkthru Technology are very cool features. The Auto Play/Pause is very handy feature as well. These headphones could use a bit louder volume capability. But overall great headphones and I am really enjoying them.
Date published: 2021-05-11
Rated

3

out of

5
by
Kenners
from
Great for the price
I have bought these guys awhile back and been using they them daily. What I can say is that the comfort level is decently good and the battery life is amazing, I think I went 2 months without a charge. Sound quality is good and really cancels out background noise. My only and biggest issue is the connectivity with the headphones, like sometimes I will lay my head back and it will pause my music and would have to manually press play and it would do that every time, especially on a flat bench at the gym
Date published: 2022-11-03
Rated

4

out of

5
by
HCA2016
from
Great sound quality
I acquired this headphones lately and I am pleased with the sound quality of this product. It is accompanied with the JBL headphones app where you can fiddle different setting of EQ and create your own. The price is affordable and the overall design and quality is JBL standard. The depth of the sound when using noise cancelling is amazing depending on your sorrounding and the level of noise.While watching video the lip sync is almost perfect. The audio quality is great. Wearing this headphones for too long around 2 hours makes my ears red and uncomfortable due to the fact it has a small earpad diameter. While running the clamp force of the headphones is strong it will not fall, depending the size of the head. Headphones itself is adjustable. There is no carrying pouch included. Bluetooth easy to connect. I like best the voice command especially with Alexa. You just need to tap the left side of the headphone say your command then release your hand. That is fascinating. During call there is a key to press called talk thru. It has a long battery life.
Date published: 2021-04-28
Rated

1

out of

5
by
Skip1994
from
If I could give you a negative number, I would.......... It really sucks when you are listening to them and they keep shutting off. You can't cough, chew, turn your head, etc. without them shutting off. Never again!!!!!!!!!
Date published: 2022-08-26
Rated

4

out of

5
by
Kekec123
from
Very good headphones, 4 stars just because while connected to phone and pc at the same tame music starts to lag.
Date published: 2021-10-22
Rated

3

out of

5
by
Miljebs
from
Gode til innebruk!
Jeg har testet disse i samarbeid med Reviewclub, og gledet meg veldig til å bytte ut Airpodsa en periode. Jeg testet de med ulike sounds og sjangre, noe du lett gjør gjennom appen til JBL. Dessverre kunne jeg ikke bruke disse ved løping og sykling, fordi vinden forvrenges helt og skaper en ulyd i headsettet. Jeg prøvde engang med hette, slik at jeg fikk dekket for, og da fungerte det bedre. Men et stort minus, og grunnen til at jeg ikke ville betalt så mye for det
Date published: 2021-05-29
Rated

4

out of

5
by
Paige97
from
Great sound!!
They work great and love the features! They have good sound too!
Date published: 2022-01-06
bvseo_sdk, dw_cartridge, 18.2.0, p_sdk_3.2.0
CLOUD, getReviews, 5ms
reviews, product
Product Q&A
It says in the description that it only supports Android, am I reading it wrong or does that mean only Android users can use it?
Thanks for your inquiry. Our JBL Live 460NC is compatible with both iOS and Android devices via Bluetooth connection.
Date published: 2023-05-01
Does the audio cable have 3.5mm on one end and 2.5mm on the other end?
Thanks for reaching out. JBL cables are 2.5mm for the headphone jack into the headphone and the other end is a 3.5mm that will connect to a smartphone, tablet, or laptop/PC.
Date published: 2023-01-09
Can this be used with a MacBook Pro?
Our JBL Live 460NC works with the MacBook Pro. Please make sure that the default audio device is the JBL Live 460NC once it's paired and connecte. 
Date published: 2022-12-19
Is there a known issue for JBL Live 460NC with Yamaha RX-V585 receiver via bluetooth? The bluetooth connection is established but there is no sound in JBL headphone. Have reset both JBL Live 460NC and Yamaha RX-V585 to factory reset and no luck.
Thanks for reaching out. We haven't encountered any issues with our JBL Live 460NC if used via Bluetooth with an RX-V585 receiver by Yamaha. If you have questions or concerns about this product, you may reach out to JBL Customer Service for technical support and assistance. https://bit.ly/37qdr5T
Date published: 2021-11-18
Does the Live 460NC connect to the JBL headphone app? it doesn't show it as an option
Our JBL Live 460NC should be able to connect with the JBL Headphones App. Please try to reinstall the App and try to connect again. If the problem still persists, please contact our customer support for assistance.
Date published: 2023-01-07
are these waterproof?
Our JBL Live 460NC is not waterproof, as this product doesn't have an IPX rating and should not be exposed to water or moisture.
Date published: 2023-01-04
Is the head band adjustable? 
Thank you for your question. Yes, the headband on the JBL LIVE460NC it is adjustable. Should you wish to receive further support, you may contact the Harman Customer Support team by telephone, email or chat in order to receive direct assistance. Please see https://uk.harmanaudio.com/support-contact.html#ns for further details. Thank you.
Date published: 2022-06-07
Does this headphone support AAC codec or it just uses SBC.
Our JBL Live 460NC supports AAC and SBC Bluetooth codecs.
Date published: 2022-08-21
Can it work without any battery left if it's plugged in using the 3.5 mm audio cable?
Our JBL Live 460NC doesn't run on battery while on a wired connection. You can use it with an audio cable even if it's not charged.
Date published: 2022-12-31
How much damage can they take (can you put them in a book bag and expect them not to break)
Our JBL Live 460 NC is made out of lightweight materials made for a comfortable fit in your head. We suggest placing the Live 460 NC in a protective case or a bag when placing it in a book bag.
Date published: 2022-11-22
What is the difference between the Tune series, the Live series, and the BR ending series?
Our JBL Tune Series is our Entry-level headphones while our Live Series is our Mid-range headphones.
Date published: 2022-04-12
What are the loudest workout headphones made by jbl? Currently looking for a new pair. Any help would be great thank you.
Thanks for your interest in our products. If you're looking for loud headphones, you may check out our JBL Tune 700BT.
Date published: 2021-10-21
- Does this pair of headphones have a bass boost feature? If not, is there other types of headphones that have this feature?
Thanks for our inquiry. Our JBL Live 460NC doesn't have bass boost. We have our JBL CLUB 950NC it has a dedicated bass boost button right on the earcup to augment the bass in an instant. Also, it has an Adaptive Noise Cancelling that can be controlled through our JBL Headphones App.
Date published: 2022-07-18
I will be taking my headphone on a trans Atlantic flight and would like to use them while watching in flight movies. How can I connect?
Thanks for your question. You have to use the 3.5mm audio cable of our JBL Live 460NC and get an airplane flight headphones adapter.
Date published: 2022-07-08
I want to know if JBL products do have SD card space. I mistakenly posted this at the customers review section.
Thanks for your inquiry. Our JBL Live 460NC does not play music from SD cards as it does not have an SD card slot.
Date published: 2023-02-24
Will these work with Xbox and pc for gaming? Need for both audio and mic
Our JBL Live 460NC can be connected to your Xbox and PC via the 3.5mm audio cable but it is not recommended for gaming use. Our Quantum series of headphones would work better for the Xbox and PC.
Date published: 2022-03-04
My on/ off button won't go to on position. Do the headphones have to be charged first (just received them) red light is on?
Thanks for reaching out. Our JBL Live 460NC needs to be charged for at least 2 hours before using it.
Date published: 2022-07-24
Does this headphone support Apt-X codec?
Our JBL Live 460NC does not support aptX, aptX HD, aptX Low Latency audio codecs.
Date published: 2021-07-12
can you turn off the auto play/pause?
Thank you for your question. Yes, it is possible to turn off and on the auto play/pause function via the JBL Headphones app. Should you wish to receive further support, you may contact the Harman Customer Support team by telephone, email or chat in order to receive direct assistance. Please see https://uk.harmanaudio.com/support-contact.html#ns for further details. Thank you.
Date published: 2023-02-09
Are they any thicker ear pads I can get for my 460nc? The pads that come with it are to thin and hurt my ears
Thanks for reaching out. Our JBL Live 460NC is designed as over-the-ear headphones and its earpads are removable and can be replaced. Currently, we don't sell bigger earpads for this unit.
Date published: 2023-05-14
"when i tilted my head a bit, the volume adjusted down, it is very sensitive with head movement. Do you know is there any way I can change this?"
Thank you for your question. THe JBL Live 460NC does not have any fetures asociated with head movement. You should experiance no change form the device by moving your head. To ensure you are not experianceing any interferance in the Bluetooth signal pelase review the following; Always have a clear line of sight between your Bluetooth device (speaker, headphones, etc.) and source device (Smartphone/tablet/PC, etc). Be aware of obstacles in front of your devices. Try to shutdown products that have Bluetooth, but not are not being used. They are often the reason for interference even though they are not being used. Do not stand too close to your Wi-Fi router since a Wi-Fi signal is stronger and in many cases will "overlap" the connection. Be aware of walls around you. Concrete and brick walls will often interrupt the signal, as it cannot pass through such thick walls. Bluetooth signals cannot travel through water, which includes the human body. Make sure with Wireless Headphones to keep your Source device and the receiver on the same side of your body. Should you wish to receive further support, you may contact the Harman Customer Support team by telephone, email or chat in order to receive direct assistance. Please see https://uk.harmanaudio.com/support-contact.html for further details.  Thank you.
Date published: 2022-02-03
Do these headphones work well with Apple tv? 
Can I workout with the 460nc without damage from sweating?
bvseo_sdk, dw_cartridge, 18.2.0, p_sdk_3.2.0
CLOUD, getContent, 139ms
questions, product