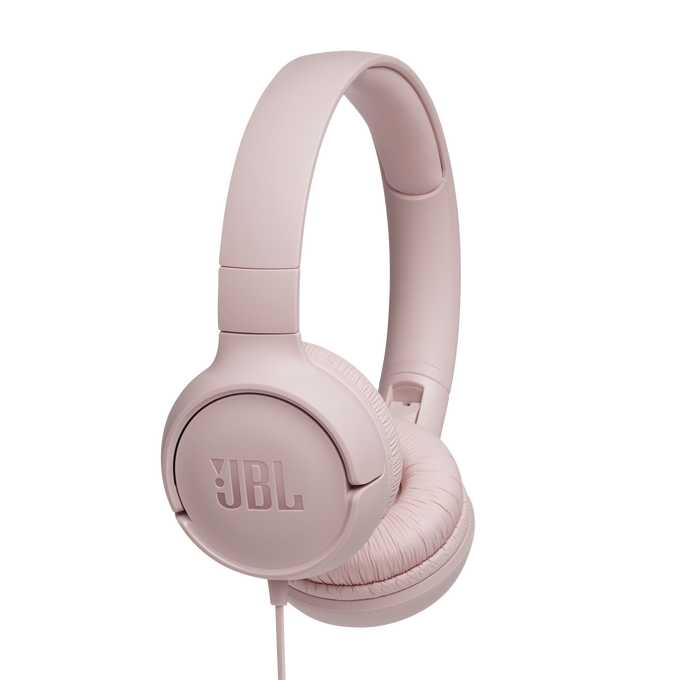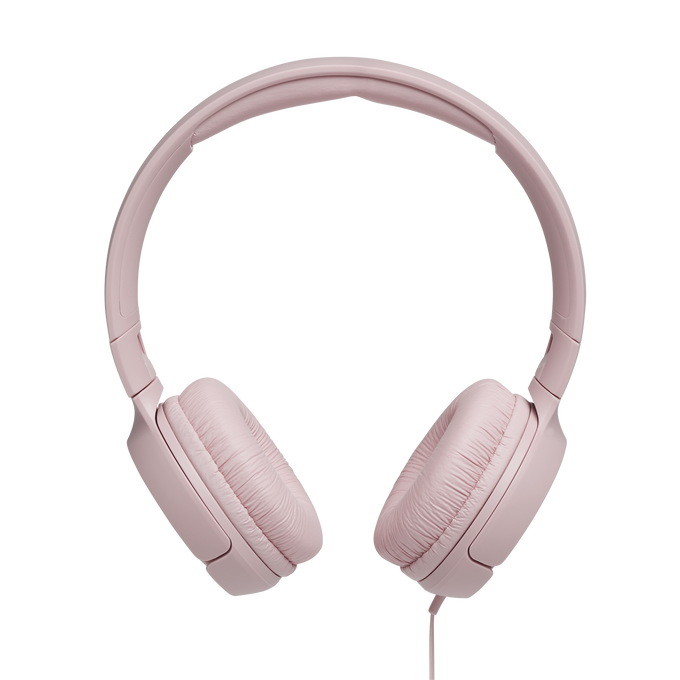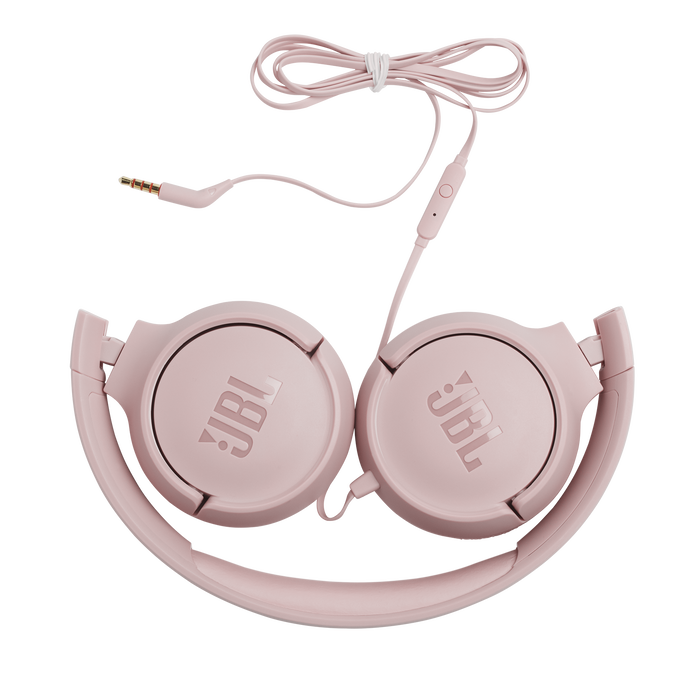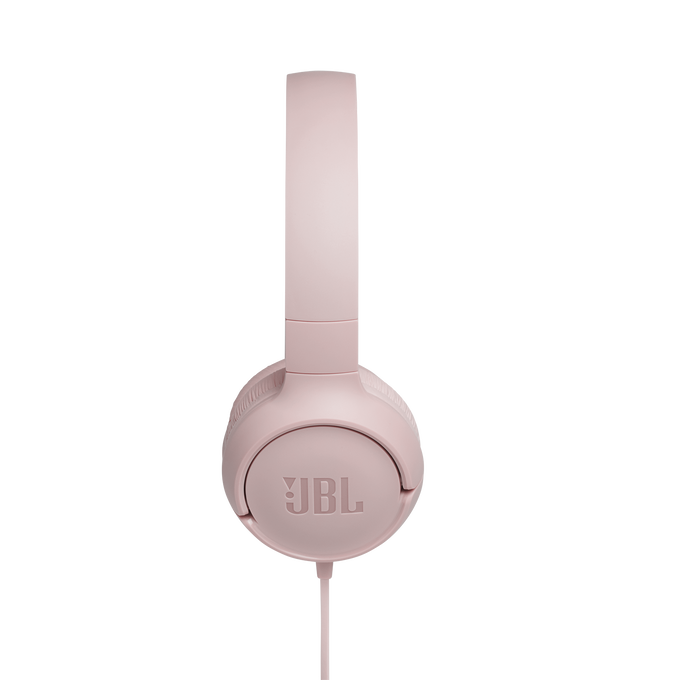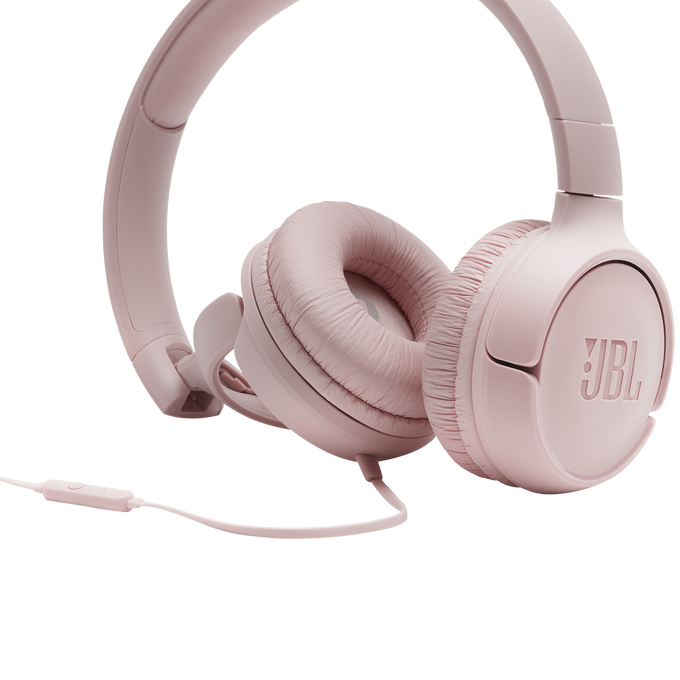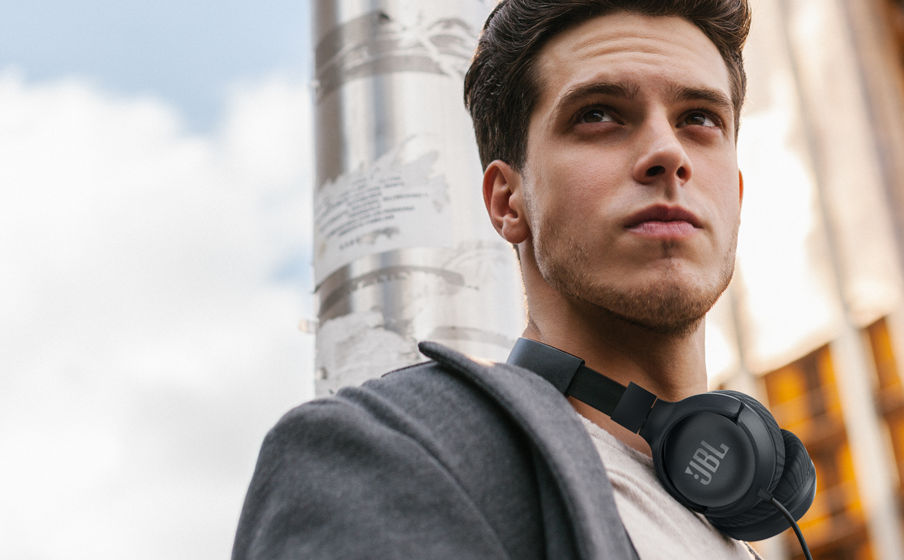 JBL Pure Bass Sound
It features the renowned JBL Pure Bass sound, which can be found in the most famous venues all around the world.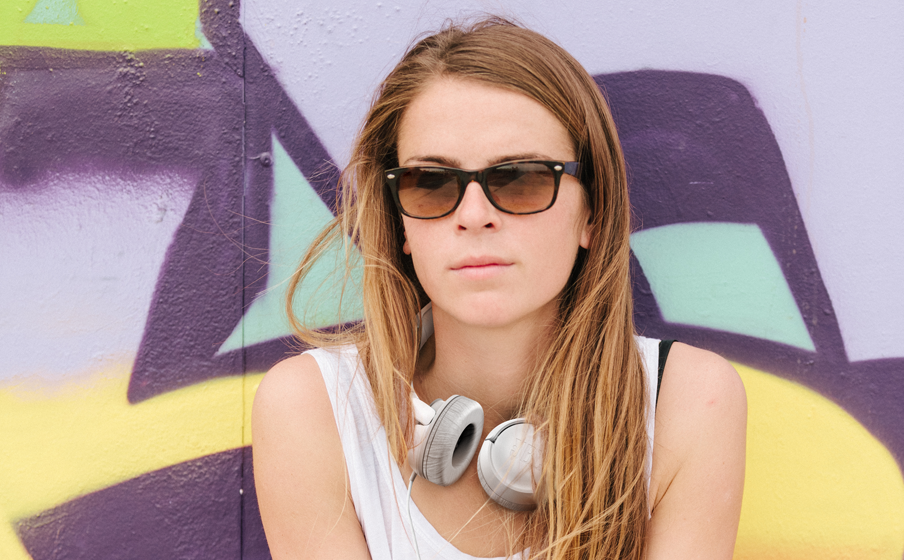 1-button remote/mic
Easily control your music, calls access to Siri/Google Now at the touch of a single button.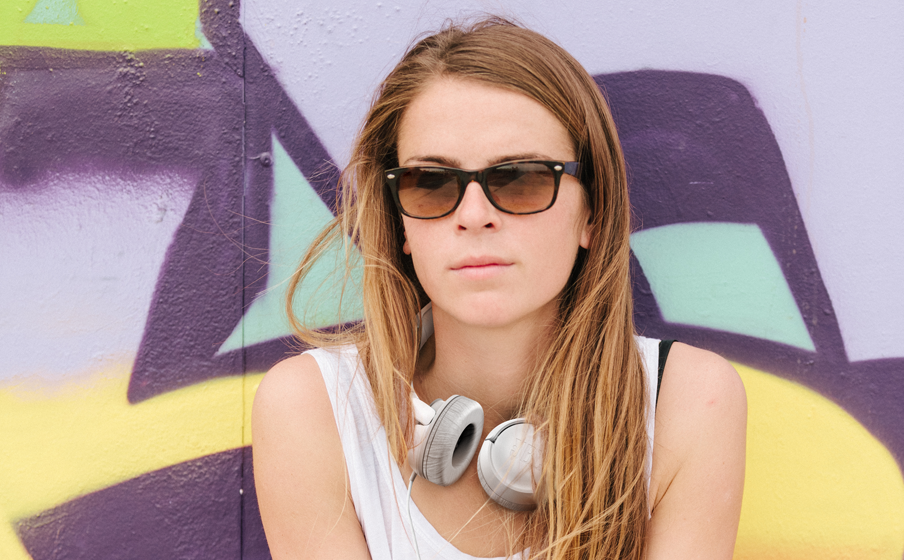 Lightweight and foldable design
The lightweight materials and foldable design make it convenient for you to carry your headphones anywhere and anytime you want music.
Features

Tangle-free flat cable
The durable and flat cable keeps the cable hassle and tangle free while on the go.

Ask Siri or Google Now
Siri or Google Now are just a button away: activate the voice assistant by pushing the remote button.
Specs & Downloads
Item# JBLT500PIK
Description
Pick up. Plug in. Play.

The JBL TUNE500 delivers quality, powerful sound to spark up your day. Equipped with JBL Pure Bass sound, 32mm JBL drivers, and a one-button universal remote that is compatible with most smartphones, these headphones provide quick access to great sound every time. Lightweight and comfortable thanks to the soft ear cushions and padded headband, the JBL TUNE500 headphones also allow you to connect to Siri or Google Now without using your mobile device. Available in 4 fresh colors that feature a tangle-free flat cable and foldable for easy portability, the JBL TUNE500 headphones are a plug 'n go solution that enable you to inject music into every aspect of your busy life.
General Specifications
Audio Specifications
Driver sensitivity at 1kHz/1mW (dB)

1kHz - 24dBV/Pa

Dynamic frequency response range (Hz)

20 Hz - 20 kHz

Impedance (ohms)

32.0

Number of drivers per ear

1.0
Dimensions
Headphone cable length (cm)

118.7

Headphone cable length (ft)

3.89

Weight (g)

148.0

Weight (oz)

5.44
Features
Built-in Microphone

Yes

Flat-fold design

Yes

Hands Free Call

Yes

JBL Pure Bass Sound

Yes

On-ear

Yes

Speed charge

No
What's in The Box?
1 x JBL Tune 500
1 x Warranty / Warning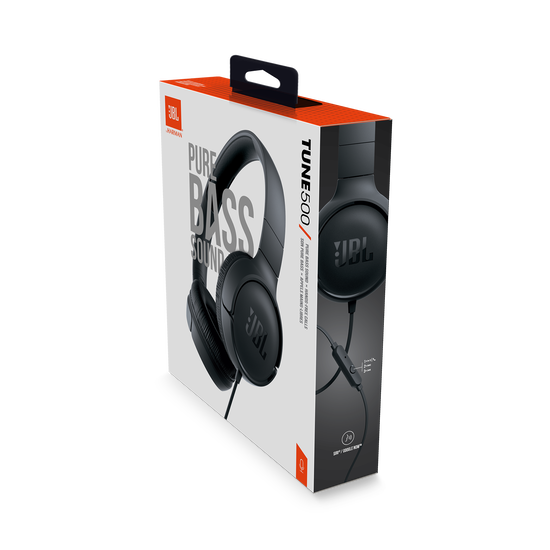 Documents & Downloads
Customer Reviews
Rated

3

out of

5
by
MilenkoMiki
from
Wire length
Good sound for price but unbelieveably short connection wire!!! Why? Did you guys on JBL think that everybody in the world uses notebooks?! My office computer is on the floor, so I have to buy additional cable. Very strange business decision. 1.5 m will be quite good, but you decide to save some money. I think you will not, because many people with classic computer cases will return headphones back to store after opening the case.
Date published: 2020-07-30
Rated

5

out of

5
by
Lejoni
from
Greatest sound
Im happy this headphones they great sound quality is very good the pure bass they talking about is there no lies there. JBL know what they were doing when creating this headphones .thing is they painkful on the hear during long time use . If you want to hear that pure bass use laptop or computer etc they require power smartphones are not that strong push their full capabilities
Date published: 2020-11-26
Rated

1

out of

5
by
Applesauce
from
Snapped
Headphones snapped in half by the top part when I dropped it two times on accident! Headphones do sound great and the bass is amazing!
Date published: 2019-11-08
Rated

5

out of

5
by
MarcLusc
from
Great headphones
Bought the white ones around a month ago for my eldest daughter (10yrs) as a replacement for some below standard ones. Definately worth the upgrade. The sound alone is brilliant, on line controls work well, they are very comfortable (according to the daughter) and look brilliant. Very happy with them and have a happy daughter so all good :)
Date published: 2022-02-04
Rated

4

out of

5
by
kenkei
from
Awesome headset mic for the price
I would love to have given this product a 5 star rating across the board, except that it has the same problem that almost all headsets with a mic have: When you are on the phone, you can't hear your own voice through the headset. You can only hear your voice in your head and you end up speaking a lot more loudly than you need to. For instance, if you are using this headset in the car (hands-free), it would be most advantageous to be able to hear more than just your phone conversation, wouldn't you agree? This is annoying to me and I wish that an innovative company like yours would find an innovative way to fix it. Overall sound quality is superb and the bass response is excellent, just as one would expect from a JBL product. I would like to have an inline volume control and a longer connecting cable. There is also a button inline that I can't find any instructions for its use. The durability question is kind of irrelevant, considering that this would be determined over a significant period of time and I have only had it for a few weeks and I haven't used it anywhere but in my home, so I can't rate its durability yet.
Date published: 2019-02-27
Rated

3

out of

5
by
Chris6
from
pretty good...
These are really nice on-ear phones. On the plus side they have good sound, light weight, durability. What was that about the flat cord not tangling? Ha. No. Its like the cord wants to tie itself in knots. After months of use it still does not lay flat.
Date published: 2023-01-23
Rated

4

out of

5
by
Swanny
from
Great acoustics
I bought these headphones to use with my cell phone to do virtual medical visits. I was concerned that the sound/microphone wouldn't be okay, but it is working great! The only complaints would be they are a bit tight on my head. If I had to wear them for a long period of time, it would make my ears hurt.
Date published: 2020-05-23
Rated

5

out of

5
by
mafcarvalho
from
Unbeatable price/quality ratio!
I bought my pair 4 or 5 months ago and I still get surprised by the sound quality and comfort they provide. Every time I use them I can feel the JBL quality and signature bass, without having paid a fortune. Excellent for use with my smartphone and also as a PC headphone.
Date published: 2019-12-26
Rated

3

out of

5
by
Alexander 18
from
The mic is not working
I bought this at the store (Marshalls) and after 3 months the microphone is not working.. and now my son can't use them on the zoom classes. He can use to listen music but they are not working to talk by the microphone. Any advice or I can returned them to JBL. Thanks
Date published: 2020-10-25
Rated

5

out of

5
by
Gibson
from
Has that Great JBL sound
I bought these headphones to use with my guitar processor and in home recording. Works great and I can't believe the price. Great value Great product. Another great addition to my JBL lineup. I have been using JBL products for 4 decades and have never been disappointed.
Date published: 2020-09-22
Rated

2

out of

5
by
Josh73
from
Good sound but can't be repaired
Cable is very thin so it easy breaks inside! Tried to fix it which could not be done if the inside wires were not so insane thin. Cable replacement can' be done. (No JBL cable replacements) SAD! The headphone could be used for many more years otherwise :(
Date published: 2021-11-16
Rated

2

out of

5
by
Klepes
from
Not Worth Buying
I Bought them a lot of months ago and already they started problems 1# : i need to have the cable in a weird way so i can listen with both sides 2# : they have distortion now in any browser so i cant watch or listen to anything would never recommend
Date published: 2021-03-13
Rated

1

out of

5
by
Hsbi
from
Bad sound no return accepted
I bought this almost based on brand name from Staples,test at home sound was horrible,return it to store for refund cashier said they dont accept return for headphones,disapointed ,best buy accept. Anyway do not advise to buy this. Waste money.
Date published: 2020-12-16
Rated

3

out of

5
by
lesyeuxdenini
from
First glance at the brand new product
Greetings, i purchased this via Trendyol from Aztek Teknoloji only two days before. I gotta say that, the product did not seem to be faulty by means of the product itself.(physically). Neither the cable nor the other pieces appeared broken. Stuff feels pretty solid when i put it on. Though, i feel quite disappointed sound quality wise whether i can't ensure the fact that the exact product i purchased is troublesome or it truly produces such sound. By my first time experience, i could easily tell that the bass does neither feel lively nor strong. It is kind of croaky. The clarity of the sound also does not seem that much satisfying. even though the bass felt somewhat alright, trebles and mid range sounded much worse. The loudness of the sound is not sufficient either. I seriously do not know whether the exact product i bought is "sound-wise" problematic/defective or this is how these headphones sound. On the other hand, i could not spot the way the volume is being increased through the remote control. Is it possible? If then, how?
Date published: 2020-11-11
Rated

2

out of

5
by
yourworstnightmare
from
ARGH THIS IS HORRIBLE
I bought this from amazon 2 days ago, and THE MIC IS NOT WORKING. WHAT IS THE MEANING OF THIS. AND THE THE RIGHT EAR'S VOICE IS FEEBLE. IT'S BRAND NEW. PLEASE EXPLAIN THIS ASAP BECAUSE IT IS DISRUPTING MY ONLINE CLASSES.
Date published: 2020-04-13
Rated

4

out of

5
by
Homienando
from
Great headphones
Great sound, great price. The only downfall is the foam that easily falls off in my son's backpack. They constantly have to re-fit them onto the headset. I'm going to have to purchase a case in order to avoid that.
Date published: 2021-12-16
Rated

5

out of

5
by
ToniF
from
Cured my tinnitus
Received mine today as a Christmas gift. Used it immediately and was blown away by the bass! The best news however is that it cured my tinnitus!! Well done JBL...At 60 years of age I finally have found true love!
Date published: 2020-12-25
Rated

5

out of

5
by
Teacher SC
from
Perfect!
I bought these headphones after seeing a segment on the TODAY show. They arrived relatively quickly and were just what I was looking for. Great bass, noise cancelling and all at a discounted price. Love them!
Date published: 2022-01-13
Rated

3

out of

5
by
Martim Pinto
from
for the price good quality sound
for the price it have a amazing quality sound, but after a hour using it it hurts a lot at the point that i need to take them off for like 30 minutes to be good, its squizzy and it hurts in long period times
Date published: 2020-08-09
Rated

4

out of

5
by
JohnIL
from
Good sound, short cord
For an inexpensive headphone these sound pretty balanced. Less impressed with the inline remote which does little since it cannot adjust volume. Personally, I could have used a bit more cable length too.
Date published: 2022-01-30
Rated

5

out of

5
by
Nithi
from
Great comfort ness
JBL TUNE 500 I bought for my office calls attend purposes which may also need for long time usage in a day.with weight less and comfort,good quality of sound happy for the JBL which I purchased.
Date published: 2021-07-06
Rated

3

out of

5
by
Tlee
from
Ok for price
These are perfectly fine for on the go, especially for the price. The sound quality isn't great but I'm not super into music, i just use them for walking and commuting but they do the job.
Date published: 2020-10-16
Rated

1

out of

5
by
hyperpista
from
great sound...
garbage... great sound, i love, when working... but power off after few second,without power off sound..., when i not start music, on phone or notebook enough quickly...
Date published: 2022-09-11
Rated

2

out of

5
by
Wood2cs
from
It was 8Euro used
I bought it as refurbished and the connector was a problem, thats not an issue but the right side of the headphone is weaker coz the cable resistance is not got higher.
Date published: 2021-05-17
Rated

4

out of

5
by
Christhebeast
from
Good quality headphones for the price
I got these for 20 quid with a student discount and i have to say i am happy. They sound is what you would expect. Not very good but it is decent for this price range.
Date published: 2020-09-27
Rated

1

out of

5
by
bobby32
from
too small
I am 16 and I dont consider to have a big head, the headset is too small even when fully extended. the plastic has started to crack as i wear it.
Date published: 2020-08-31
Rated

5

out of

5
by
TempleDog
from
Nice for the price
Good solid corded cans with solid JBL performance. Considering the price and the free shipping, can't be beat for a pair of compact back ups.
Date published: 2022-09-07
Rated

5

out of

5
by
kids
from
We are zooming more, and grandma needed a headphone that went over her head. The iPhone one was not working with her hearing aid.
Date published: 2020-04-27
Rated

1

out of

5
by
jaysaydk
from
not working at all
bought them and right after first use, NOTHING... complete silence and money out the window never again jbl, thats for sure
Date published: 2020-08-13
Rated

1

out of

5
by
Superdave71
from
Great bass
Bought these a month ago and using them on my PC with Dolby Atmos and soundblaster eq. Good bass could be clearer
Date published: 2019-09-19
bvseo_sdk, dw_cartridge, 18.2.0, p_sdk_3.2.0
CLOUD, getReviews, 12ms
reviews, product
Product Q&A
Hello! I wonder if it fits on the head of a 10 year old kid?
Our JBL Tune 500BT has a headband that can be extended and adjusted to your preference.
Date published: 2022-08-08
How do I mute the mic on my JBL Tune 500 wired headphones? This might be a solution for my problem. When the headphones are plugged into my phone, I can only hear the vocals (while listening to music) when I press and hold down the button on my mic.
Your phone may be using a different standard of TRRS (Mic, Ground, Left, Right). To isolate this, try to connect the headphones with a different phone brand. If your phone has a thick case, you could try to remove it and plug the jack all the way in and observe if the sound will work as normal without pressing the button. If you need more help, please reach out to our Customer Support.
Date published: 2022-07-07
Hi, Does it fit for 7 ~ 10 year old kid? Thanks,
Yes it can.
Date published: 2021-06-06
Can you record music with these headphones? And can you record podcasts with them?
We would like to get more information to help you out, please contact us so we can assist you:https://bit.ly/2zwFkYM
Date published: 2021-06-06
WHEN WILL THIS BE BACK IN STOCK? I WANNA PURCHASE THE SAME PRODUCT JBL TUNE 500
what is the total hearing/playing time for these headphones?
why is there a usb option for jbl tune 500. (not the bluetooth version, normal one)
My headphones stopped charging altogether so please explain why it just chapped out. There just over a year old JBLTUNE500BT
is Bluetooth and I buy headphones blue is not Bluetooth and the shop in Greece buy ok
can you mute the mic permantly
Two questions: 1. Is this compatible with the Xbox One? 2: Where is the microphone located in the headset?
Is JBL Tune 500 Powerful Bass On-Ear Headphones with Mic (Black) noise cancellation
Does it have any volume controls?
Does this headset work on Xbox One with audio capabilities?
what is the average life span of the product
kulaklıkta stereo özelliği yokmu benim kulaklığımda böyle bi özellik yok :(
merhaba JBL tune 500 pembe renk bir kulaklığım var yere düşürdüm sağ kısmındaki hopörlerini tutan parçası kırıldı. Bununla alakalı kulaklık kafa tutacağı vs gibi yedek parçası bulunabilir mi ? JBL den yedek parça temini sağlayabiliyor muyuz ?
bvseo_sdk, dw_cartridge, 18.2.0, p_sdk_3.2.0
CLOUD, getContent, 122ms
questions, product