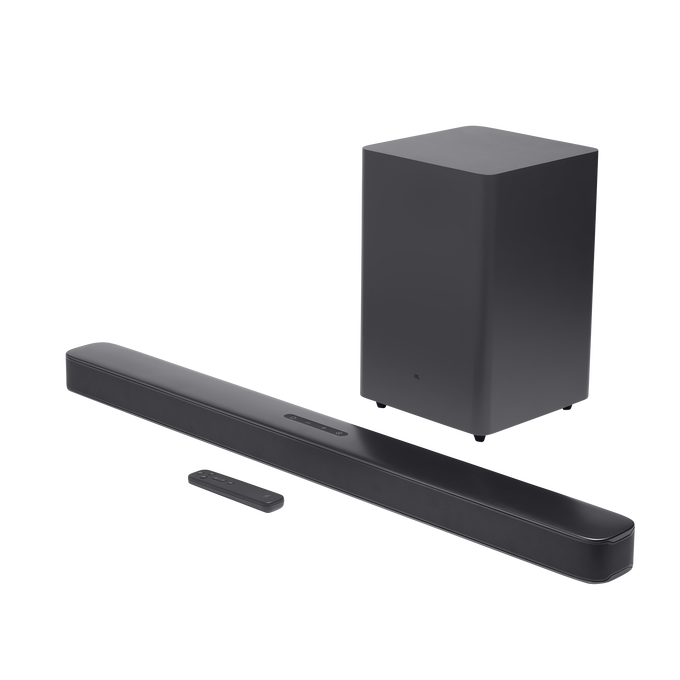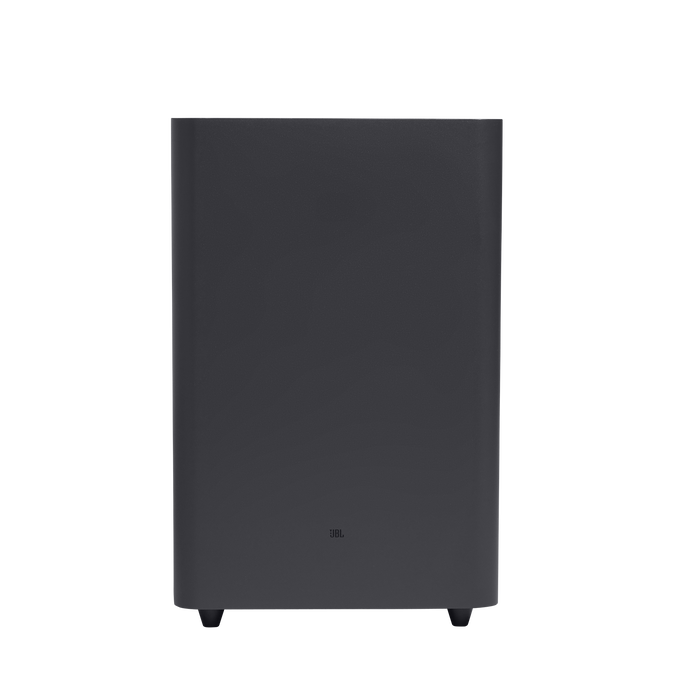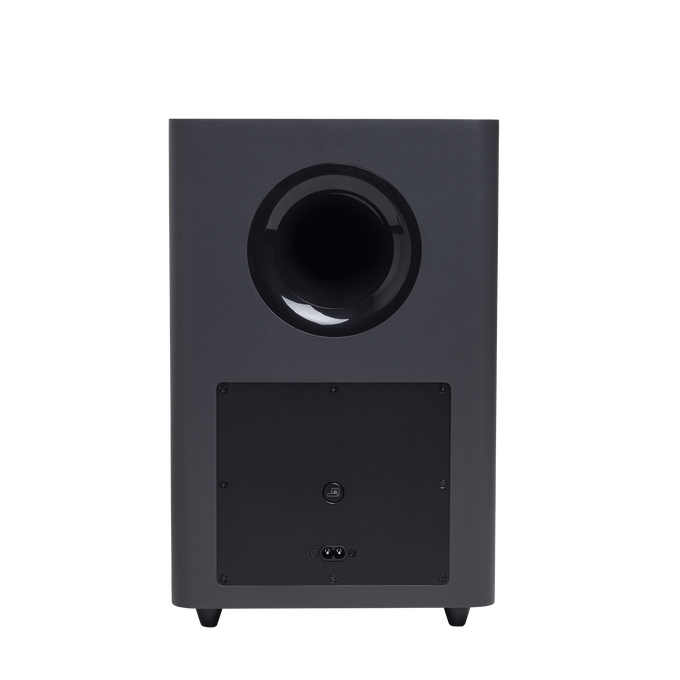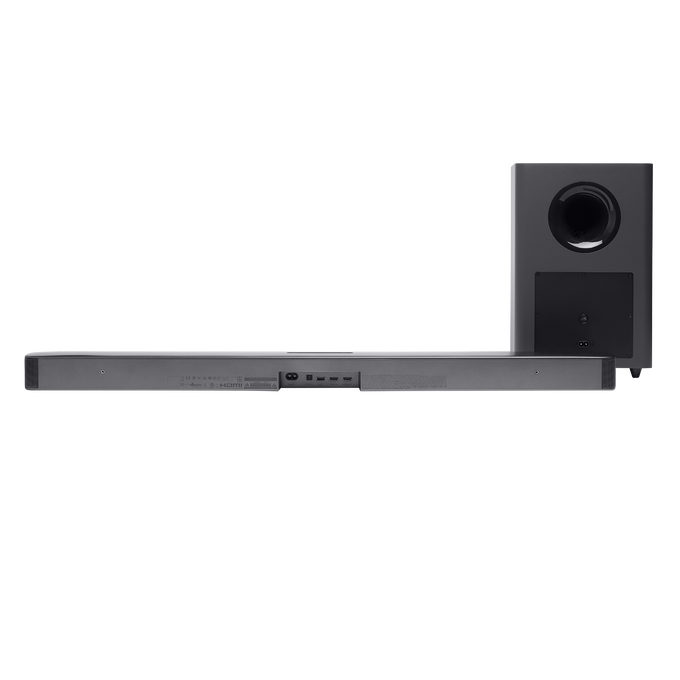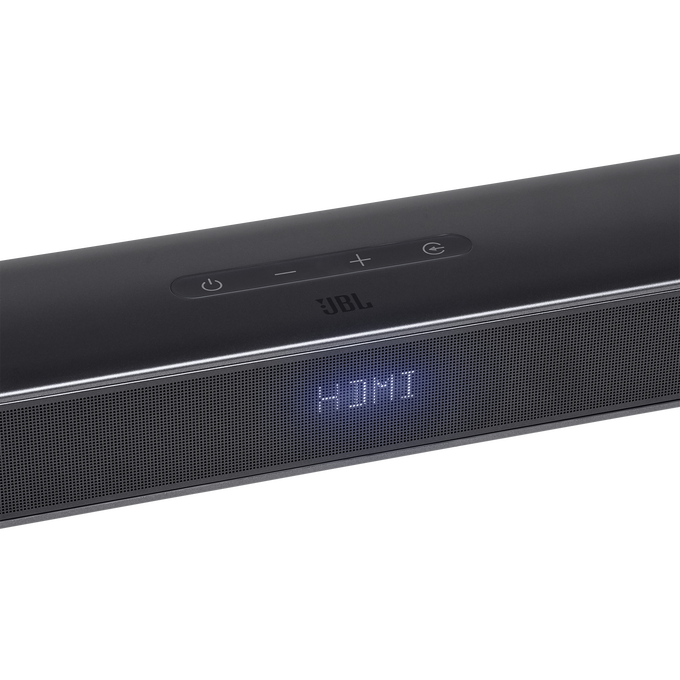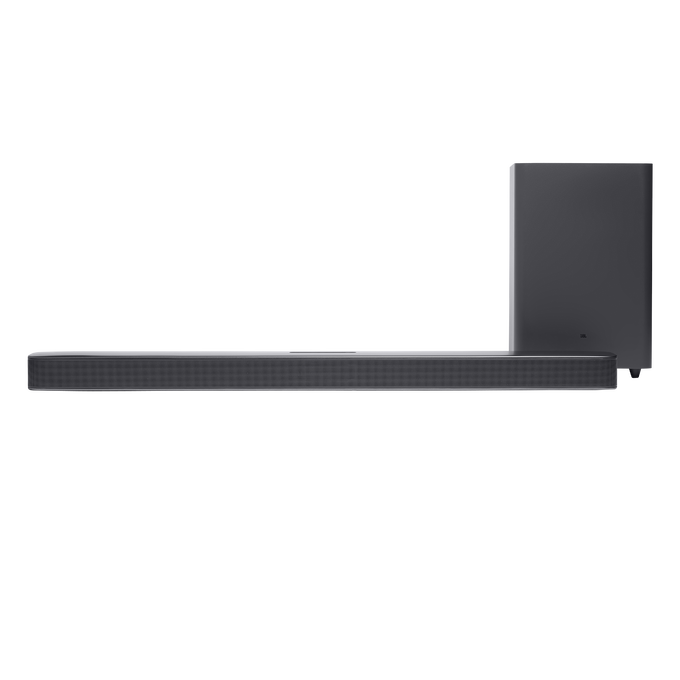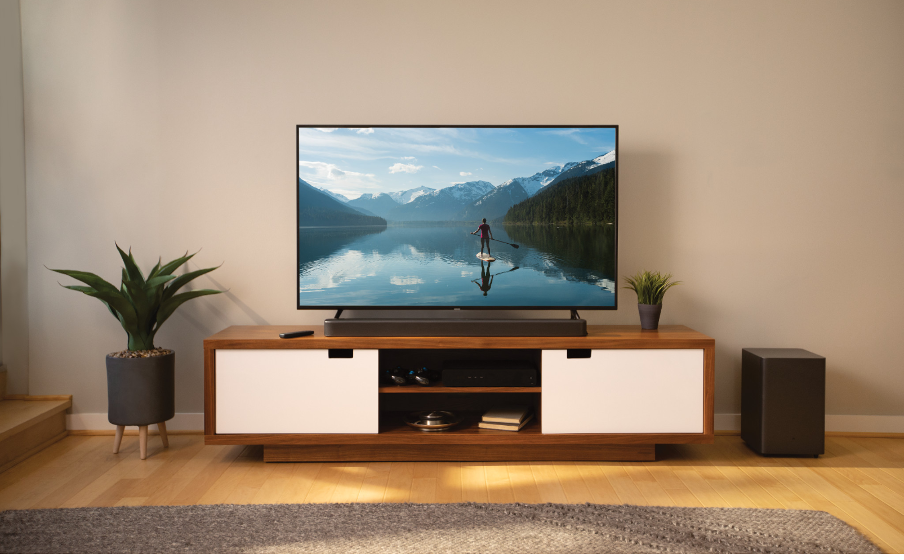 Bring the power
An impressive 300W of total system power puts you in control. Your movies and music have never sounded so good.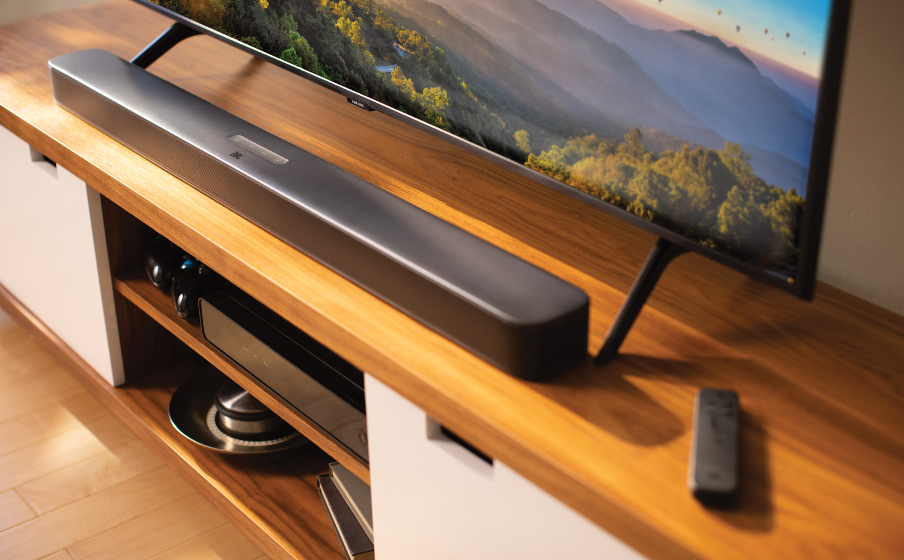 Surround yourself with sound
JBL Surround Sound instantly brings movies, games, sports and music to life. Upgrade to an immersive sound experience for your TV without any extra wires or speakers.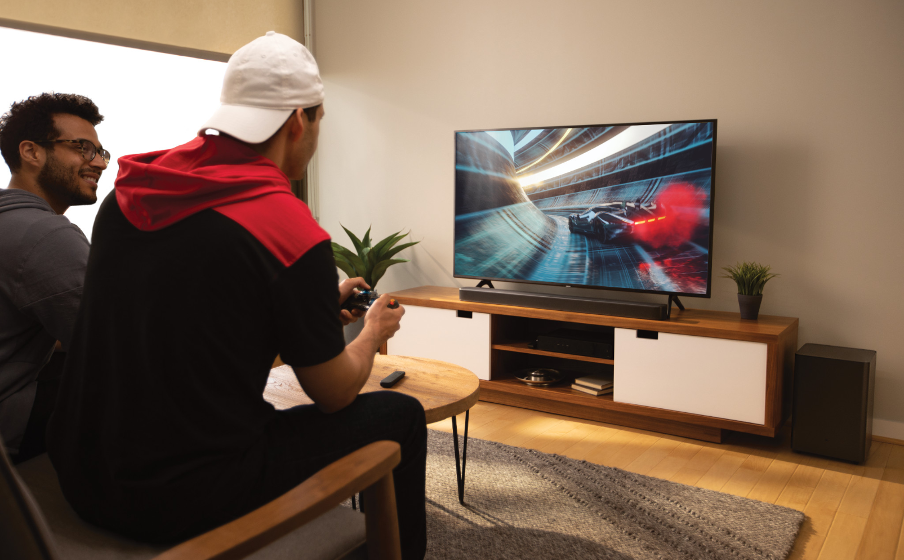 All about the bass
Why just listen to the bass when you can experience it? The 6.5'' wireless subwoofer delivers deep, thrilling sound.
Features

Visit the movies, from your sofa
Get the popcorn ready. Built-in Dolby Digital gives you an authentic cinematic experience in your home.
Stream it all
Not in the mood for a film? No problem. With the JBL Bar 2.1 Deep Bass, you can also enjoy wireless music streaming via Bluetooth from your mobile or tablet.

Make a connection
Connecting JBL Surround Sound could not be easier. The HDMI or Optical cable connection is super simple to set up and use.
Specs & Downloads
Item# JBLBAR21DBBLKEP
Description
Big Thrilling Bass

The elegant JBL BAR 2.1 Deep Bass Soundbar features Bluetooth, Optical, HDMI in and ARC connectivity with both Dolby Digital and JBL Surround Sound modes. Its room filling 300 Watts of total system power delivers an immersive experience by way of its four powerful full range drivers, two 1" tweeters, and JBL engineered 6.5" subwoofer. On-board Bluetooth allows you to use the Bar 2.1 for streaming music from your favorite device in addition to its ability to deliver a real JBL theater experience when coupled with your flat panel TV. Its elegant and low profile design will look amazing below your TV.
General Specifications
Model

Bar 2.1 Deep Bass CNTR (Soundbar Unit), Bar 2.1 Deep Bass SUB (Subwoofer Unit)

Power supply

100 - 240V AC, ~ 50/60Hz

Total speaker power output (Max. @THD 1%)

300W

Output power (Max. @THD 1%):

2 x 50W (Soundbar); 200W (Subwoofer)

Transducer

4 x race track drivers + 2 x 1" tweeter (Soundbar); 6.5" (Subwoofer)

Soundbar and Subwoofer standby power

<0.5W

Operating temperature

0°C - 45°C

HDMI Video output (With Audio return channel)

1

HDMI version

1.4
Audio Specifications
HDMI Video input

1

Frequency response

40Hz - 20KHz

Audio inputs

1 Optical, Bluetooth, USB (USB playback is available in US version. For other versions, USB is for Service only.)
Dimensions
Dimensions (W x H x D):

965 x 58 x 85 (mm) / 38" x 2.28" x 3.35" (Soundbar);

240 x 240 x 379 (mm) / 8.9" x 8.9" x 14.6" (Subwoofer)

Weight

2.16 kg (Soundbar);

5.67 kg (Subwoofer)

Packaging dimensions (W x H x D)

1045 x 310 x 405mm

Packaging weight (Gross weight)

10.4kg
Control and Connection Specifications
USB port

Type A

USB rating

5V DC/ 0.5A

Supporting file format

mp3, wav

MP3 Codec

MPEG 1 Layer 2/3, MPEG 2 Layer 3, MPEG 2.5 Layer 3

MP3 sampling rate

16KHz - 48 KHz

MP3 bitrate

80kbps - 320kbps

WAV sample rate

16KHz - 48 KHz

WAV bitrate

Up to 3000kbps

Bluetooth version

4.2

Bluetooth profile

A2DP V1.3, AVRCP V1.5

Bluetooth frequency range

2402MHz-2480MHz

Bluetooth Max. transmitting power

<10dBm (EIRP)

Modulation Type

GFSK, π/4 DQPSK, 8DPSK

5G Wireless frequency range

5736.35 - 5820.35MHz

5G Max. transmitting power

<9dBm (EIRP)

Modulation Type

π/4 DQPSK
What's in The Box?
Soundbar
Wireless subwoofer
Remote control with batteries
Power cords (up to 8pcs depending on region SKUs)
HDMI cable
Wall-mount bracket kit with screws
Quick start guide
Warranty card
Safety sheet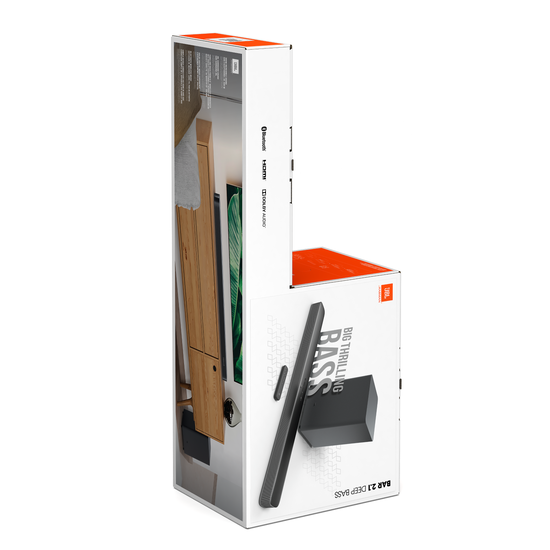 Documents & Downloads
Customer Reviews
Rated

5

out of

5
by
John moser
from
Amazing system
I got this one month ago and I have to say it is my best soundbar system yet it's got nice deep bass with crisp highs and mellow mids would buy again and would recommend
Date published: 2020-04-22
Rated

5

out of

5
by
TonyMoli82
from
CRISP SOUND with GOOD BASS!
Bar 2.1 Deep Bass is a WONDERFUL PRODUCT! Packaging: JBL continues to excel on creating a good first impression with their packaging. Setup: The setup process is very easy and fast. Sound Quality: This products sound is really clear and crisp and with the sub the bass really adds some theater like sound. I would recommend this product to anyone who is looking for a good sounding sound bar!
Date published: 2019-11-09
Rated

2

out of

5
by
TomInVT
from
Overpriced, under-designed
I'm returning this product because it is poorly designed. Specifically, the buttons on the dark-colored remote are printed with dark-colored ink making them virtually unreadable. The bass control gives you only three options: low, medium, and high. I found "high" to be too much and "medium" to be too little. Why there isn't more flexible bass control is beyond me. I found the sound to be a bit muddy and, given that there is no eq control save the ill-designed bass choices, there is no way to match the setup to your room. Stereo imaging is poor. If this were a $99 sound bar, I wouldn't be leaving this negative review. It's just not worth the money.
Date published: 2020-12-29
Rated

5

out of

5
by
gravity2
from
small package - BIG SOUND
From my own experience, no matter how nice your TV is, the TV speakers are never good enough because they just cannot pack enough bass into a flat screen TV. This is why you need at least a soundbar and a sub. The JBL 2.1 soundbar offers a wireless subwoofer so you can place it anywhere in the room which gives you a clean setup without too many hanging cables. Setup was a breeze. Since the TV was already wall mounted, I've decided to mount the soundbar as well. The package comes with a wall-mounting kit. To mount the soundbar you'll need to drill 2 small holes that are 27.5 inches apart and use the included kit to complete the setup. The soundbar came with an HDMI cable but since my TV does not have an HDMI out I ended up using my own Optical cable. Plugged in the power cord and Optical cable and change the input to PCM to use the Optical connection, hit the pair button on the back of the sub and it was good to go. I particularly like the remote. It has some weight to it and just feels right in your hand. The JBL 2.1 soundbar gives you clean sound and deep bass you dont get from your TV speakers.
Date published: 2019-10-29
Rated

4

out of

5
by
Deric138
from
Nice Sound, good bass
I like that the sound bar has hdmi and optical. I can crank the volume and the sound will not distort, unlike other soundbars I've had. I would like to see present equalizers or a way to set bass, mids, and highs. The Bluetooth is a great feature. I would have given the soundbar 5 stars but it lacked the adjustment capability. But the sound that comes from this product is 5 stars. I would recommend the JBL 2.1 deep bass sound bar for your home theater
Date published: 2019-11-03
Rated

5

out of

5
by
Librow
from
Better than the theatre!
I really love this sound bar with the sub. The bluetooth connection for playing music on my phone is really nice. Wireless sub is nice because I can place it where its most convenient and it sounds awesome. It is well balanced with a good kick but not muddy or distorted. The bar sound is pretty solid. It might be a little lacking in the mid section. The whole system makes normal TV shows sound so much better. (if your bluetooth source i.e. phone is paired to more than one thing at a time like a watch, It might decrease the sound quality)
Date published: 2019-11-04
Rated

4

out of

5
by
gspfunk
from
Really good sound bar at this price point!
We had the JBL SB250 in our bedroom before we got the Bar 2.1 Deep Bass. They are very similar in a lot of ways, but the Bar 2.1 Deep Bass has the edge in overall clarity. It's slightly longer than the SB250 and the sub enclosure is a little larger. Pro's: Display on the front (vol +/-, mode) More than 1 HDMI input Good overall sound & range Con's: Lacking some midrange (normal for soundbars I've experienced) Sound bar size may be too large for some set ups Lacks Harman Sound & Surround (SB250 has both) Overall, it's a great sound bar and fits well in its price range. I'd definitely recommend it as it has great sound, and like the SB250, actually sounds better at higher volumes (music/movies).
Date published: 2019-10-31
Rated

5

out of

5
by
apalmo1
from
Deep Bass is not a gimick!
I hated the sound from just the TV speakers and really wanted better sound and bass. Getting a receiver and speakers was not an option as I just wanted something simple and clean for my living room. A sound bar fixed that issue and this thing sounds AMAZING! Setup was a breeze two plugs and a connection to the TV and it was setup and running. I did try using HDMI arc but did not have success and the picture was cutting out. I think this was more my TV's setting needing to be adjusted but not sure as I just went to using an optical cable instead. The sound bar is great in that once you turn on the TV it automatically turns on so need to separately power it on. The soundbar does have a display that is easy to read, nicer than others that only display dots and you have to guess what input or setting you are at. The sound produced by this sound bar is very robust and loud. I turned it almost to max and the sound was clear and not distorted at all. This sound bar will fill a very large room with sound (might even be to loud for smaller rooms). I tested the sound bar in three different settings TV, Movie, and Music. Watching TV voices sounded clear and easy to hear. Using for Movies is amazing and I really like that the surround sound doesn't sound gimmicky like other sound bars. If you mostly listen to music this sound bar is perfect and one of the best I have heard. You can really crank up the sound and have it come in clear with deep bass. Perfect for parties, or turn on some easy listening and have it fill the house but not be over powering. The Sub is downward firing which I like better than rear firing. This sub hits hard, clear, and no distortion with lots of bass. With Music and Movies on a louder volume the SUB will shake the house. The Deep Bass is not a gimmick, I was honestly blown away at how great it sounds and feels (like being at the theater). The SUB does have three settings on the remote low, medium, and high. I usually leave it on high (I like bass) but even the low setting still produces great sound without being to much. The box for the sub is larger than other 6.5 inch ones. This wasn't an issue for me but it does take up more space than other ones. Overall I'm very happy with this sound bar and felt it was worth every penny. It looks great and is super easy to use. This soundbar made my 4k tv even better!
Date published: 2019-10-31
Rated

5

out of

5
by
Licks
from
Yes Yes Yes!!
First things first. BASS . That warm deep feeling i have been searching for quite some time now, my series and movies have a whole new meaning!! I have my tv bolted in the wall and got the bar underneath it, looks super slick with no wires, the bass box next to the couch!! Works just perfect for streaming music too. I have a vacation home and i actually use it like a portable speaker too, grab it and take it simple. Love this set!!!
Date published: 2019-11-07
Rated

1

out of

5
by
Alex45e
from
Terrible Soundbar - Avoid
This Soundbar initially sounded fantastic. After 5 months it started to crackle & buzz from TV source through HDMI. Issue reported to JBL along with videos of crackling & buzzing. 6 weeks on and lots of emails I am still waiting for this to be resolved. Not what I'd expect from JBL.
Date published: 2020-11-24
Rated

1

out of

5
by
kleinv
from
JBL 2.1 JBLBAR21BLKAM
In BESTBUY I got the JBL 2.1 around 2 years ago, those were my best two years because I had incredible sound at home, my friends loved to go to my house and listen my soundbar but unexpectedly now I have like 3 weeks trying to connect the subwoofer with the soundbar and can't pair it. The re-pairing steps don't work, so I was having to unplug the electric supply and reset the entire system every time and nothing, I used to love this brand but now I'm disappointed.
Date published: 2021-12-07
Rated

5

out of

5
by
Meghan
from
Great sound quality and easy to use
This sound bar and subwoofer have great sound quaility at any volume. The system is easy to set up and use, the remote is clear and easy to oporate. I love the levels of bass options, they are appropriatly spaced in diffrence of bass. I also LOVE the bluetooth to connect my cell phone to!
Date published: 2019-11-05
Rated

1

out of

5
by
Texas Joe 568965289
from
Doesn't connect
Just purchased the sound system today 11/15/20. HORRIBLE !!!!! System doesn't connect, even after I followed the poor instruction completely unhelpful instruction manuel !!!!! I hooked up the HDMI cable EXACTLY as the crap instruction show. On my brand new OLED TV. And NO SOUND !!! It will not connect even using the HDMI cable THEY provided.
Date published: 2020-11-16
Rated

5

out of

5
by
Gmueller
from
Huge Sound - Small Footprint - Amazing Value!
This speaker system is impressive! JBL seems to have perfected the science of big sound from small speakers in the past decade and this system is no exception. The packaging is excellent as usual and it arrived in perfect condition a lot faster than I thought. Super easy to set up. It's like "plugging in a toaster" easy! Within a couple minutes of arriving I had these babies fired up and booming. TV shows immediately took on new dynamics and presence, but the real test was just listening to my favorite music. Every measure including those with deeper bass were exceptionally vivid and played with ease even at higher volumes. I love how nicely this speaker system looks in this set up and love how the sources and volume is displayed through the grill. Very cool. I've listened to other speakers like these at Best Buy in much higher price ranges and for the money these need to be on the top of your list. I don't anticipate any trouble with these speakers. I've used them every day for the last week and they've been flawless. My past purchases from JBL have always been outstanding but I did experience a problem with a small Bluetooth speaker a few years ago. Customer service was "Nordstrom's" good so buy with confidence. My only complaint is That the instruction manuals could use a little more detailed information and should be printed large enough for most people to be able to read. That frustration slowly melted away as the music began to play.
Date published: 2019-11-05
Rated

4

out of

5
by
Alex Georgiou
from
Good overall
I bought it in Greece Nov21 in a very reasonable price. Easy to plug in and connect through Optical and ready to go in a sec with a smart Samsung tv. All good but there is always a but. The sound, with any application, (Netflix, my tuner, Youtube,) is far better than when you watch TV. That is when you want more volume and that is poor. 32 is the max!! It should be 40 at least to watch a for example a film or a sports event and get a full experience. Bass, high or middle are not a problem in the room, so that is my problem, the max volume. Will there be an update for this?
Date published: 2021-11-21
Rated

5

out of

5
by
Marwecose
from
Good for the money
Very impressed with the sound bar. The Bluetooth option is a big plus
Date published: 2020-05-11
Rated

5

out of

5
by
Sandra P
from
Excellent sound quality!!
I'm so happy with my purchase. It sounds amazing!! Highly recommend!
Date published: 2020-05-18
Rated

1

out of

5
by
amit28
from
poor very poor
i cant give rating in minus otherwise i would love to give it in (-) i purchased it n december 2019 and in feb. 2020 bass of the product stopeed working and today its september 2020 and tll now the problem is not solved i m suffering for a good service jbl care service is too too bad they came and said we not have part in our stock we orderd an we will change the part in bass which is not working but in last 7 months they not recived there order part from there head office. how fast they are i m really surprised.
Date published: 2020-09-20
Rated

5

out of

5
by
POT1
from
Glad I bought it! The sound quality exceeds the price.
Date published: 2020-07-06
Rated

1

out of

5
by
Kyeq
from
Sub stopped working in 6 months
It's was nice when it was working, but the sub stopped working within six months. I kept contacting support and they would take almost a week to respond and just kept giving me the run around. Make sure it's paired, do this. After months of trying and not getting fat with support, I gave up and my warranty ended. Thanks jbl
Date published: 2020-07-23
Rated

5

out of

5
by
Chris91
from
Worth Every Dollar
I bought this a while ago and it sounded great right out of the box. It is a great quality soundbar, I like that it has a screen so you can see what it is on and also the subwoofer is great quality as well, it sounds just right and it has three settings of low, mid and high. It is default at mid and sounds well balanced at mid but it is nice to set it at low when you want to fall asleep to music or set it to high if you want to pump up the bass to really thump. This soundbar doesn't have adjustments for bass or treble like the Samsung soundbars do but it honestly doesn't need that because jbl made this sound amazing already and I am finally happy and don't need to look at soundbars anymore, I am so glad that I purchased the jbl bar 2.1 deep bass, it is a truly amazing sounding soundbar and I never want to stop listening to my music through this wonderful system.
Date published: 2021-02-02
Rated

5

out of

5
by
Ariel123
from
In my opinion, the best for the money
I bought this about three weeks ago and I love it. Clean, crisp sound with plenty of bass and volume. Certainly would recommend giving it a try.
Date published: 2020-05-22
Rated

5

out of

5
by
efasted
from
Awesome sound works seemlessly
I have been looking for a sound bar and wireless subwoofer to add on to our gaming room entertainment system for some time. I figured this would be a good option that was relatively simple and would meet that need. However, as I have come to find with JBL, all of their products continuously exceed my expectations. It packs a far better sound than I could have imagined considering its price range. Although it is not the smallest sound bar on the market, it has a really nice clean look that blends well under any TV. It also came with wall mounting brackets should I decide to hang it up down the road. The wireless subwoofer throws really rich deep bass throughout our living room but it does not take up a lot of space. I tried placing the subwoofer in the furthest points in the room and it did not have any issues connecting. The best thing about this system aside from its impressive sound is that it just works without any problems. Other sound bars I have had in the past would intermittently lose connection with the wireless sub-woofer and this one works every time. The wireless Bluetooth works great too. I was also surprised how clear the voice is. Other systems I had in the past required adjusting the voice volume and bass levels continuously while watching a TV show or movie. This one really has a nice balance at all times and I can focus more on relaxing versus adjusting volume levels. This was a huge pain for me in the past! If you want a simple sound bar and wireless subwoofer that delivers great sound at a lower cost, this one is for you! It is simple to setup, easy to navigate the controls, throws great sound, and just works without any problems. I made the switch to JBL a few years ago after having considerable trouble and continual disappointment with other big brand names. Of all the JBL products I have owned, I've had zero problems to date and I'm glad I made the switch! Of note, I did receive this as a free product to review. However, it was perfect timing as I was in the market for one anyway.
Date published: 2019-11-05
Rated

2

out of

5
by
Kmac23
from
Expected better
Not great, was expecting better to be honest. Have an LG I got 5 years ago and it's not a patch on that!
Date published: 2021-12-11
Rated

5

out of

5
by
Josey395
from
full spectrum sound
I was pleased with the Sound Bar 2.1 Deep Bass right out of the box. The diagrams made it easy to connect to the TV and the gaming system. I could have used a diagram for connection with the cable box. The sound was crisp and clean, and the Deep Bass made sporting events feel like being in the stadium!! the blue tooth made it easy to move the sub to different locations in the room. I highly reccomend it!
Date published: 2019-10-31
Rated

5

out of

5
by
Todd63
from
Mega bass sound bar
I'm extremely happy with my mega bass sound bar.its the sound I was looking for
Date published: 2020-05-14
Rated

5

out of

5
by
Chango714
from
Outstanding sound and deep bass
I set this up with optical and connected to the soundbar with my Samsung phone via Bluetooth. Cranked up Rob Zombie and rattled the windows. Amazing product. Next, watched an episode of American Horror and was amazed by the clarity of the dialog and quality of the soundtrack. Tossed my 5 year old LG soundbar in the trash and never looked back!
Date published: 2021-10-13
Rated

2

out of

5
by
Florinchio
from
Heeeelp!
I have more problems with this system ... The volume buttons will shut down the system, the bass adjustment button will switch the system to Mute mode ... And occasionally, any button that is pressed will shut down the system ... It is frustrating. Does anyone give me a qualified answer? Thank you!
Date published: 2020-12-17
Rated

5

out of

5
by
Johnnyboyplay
from
Great product
I would recommend to anyone the subwoofer delivers deep bass and the soundbar has great sound and if you want clear voices the tweeters really help with that is a must buy
Date published: 2020-05-03
Rated

5

out of

5
by
Wayloud
from
Looks Good Simple Set-up Sounds Great!
I am an audio guy. Through the years I have owned everything from audiophile home stereo to massive PA gear and everything in-between. Most of it JBL. As a commissioning agent, my job is to make sure equipment performs for the customer the way the manufacturer says it will perform. (Full disclosure, I do not currently commission audio systems) When JBL sent me the Bar 2.1 Deep Bass to evaluate I decided to conduct my evaluation as I would at a commissioning. The Bar 2.1 arrived at my lab in a shipping box. The product is packed in a relatively small chair shaped box. It all unpacks easily with a minimum of packing material. Once out of the box the two units, the sound bar and the subwoofer, were actually heavier than I expected. The sound bar is well constructed, aesthetically pleasing and elegantly understated. The bar is made of plastic with a matte dark gray metal grill that completely covers the front. They did not put a logo on the front of the bar furthering its ability to disappear into ones décor. The subwoofer is actually quite pretty. I cannot verify the construction material, but it feels solid with a downward firing woofer and a gloss black rear facing port...quite stunning. Connections on the sub are as simple as it gets...power. Plug the supplied AC power cord in and it is ready to go. The sound bar connections are almost as simple, Power in, USB, HDMI In and Out and Optical Digital out. Being anxious to listen to this new wonder I temporarily set it up in my rehearsal room with the sound bar sitting atop a row of 18" subs in the midst of a sizeable PA. I attached the power cords, plugged them in and the system was ready for input. I set my tablet and with a touch of the provided remotes' Bluetooth button, I was connected! SUPER SIMPLE! For years JBL has touted its "100 hour torture test" running each driver at rated output for 100 hours. I ran program music, at 75% volume for 8 hours. The volume was really quite impressive. Clear, articulate, loud yet expressive with deep rich bass capable of subtle nuance and chest thumping thunder. At a couple of points throughout the day visitors stopped, looked inquisitively and asked, "is that the PA playing?". Of course this is a small unit that cannot match the output of a concert PA but the fact that the sound of the 2.1 Deep Bass with 300 watts of total power is powerful enough to elicit the question from audio veterans in a large room speaks highly to the power and clarity of this unit. After eight hours the unit showed no signs of wear or audible audio degradation. The next day I set it up in a living room environment. I set the sub in the corner 3' from the sound bar 4" from the wall as directed in the provided quick start guide. The sound bar was placed on a table in front of the TV. Running a variety of programs, it was obviously better sounding than the TVs' speakers. Amazingly articulate with plenty of bass for musical interludes and of course, explosions. I was a little put off because there was a noticeable spike in the mid frequencies. Understandable, since its primary duty is to reproduce spoken content. After a day of listening I decided to mount the sound bar to the wall. Using the supplied mounting hardware, it was very easy. The supplied blocks mount the sound bar about an inch away from the wall. In my situation mounting the sound bar above the TV worked out best. THE SOUND WAS AMAZING! No doubt in my mind, for this application mounting the sound bar turned TV into a truly exciting audio event. I watched everything from game shows to action movies and the sound was superb. Using the HDMI ARC cable offers some features depending on your TV. I went out and purchased a Digital audio cable. On my TV it gave me some listening options but to my ears, the sound was the same as with HDMI. With a newer model TV I think one could connect without wire at all. I am still a bit of an audio snob so this unit will not replace anything in my audio arsenal rather, a pleasant addition. It is simple to use, looks good and sounds great. Exactly what one would expect from JBL.
Date published: 2019-11-01
bvseo_sdk, dw_cartridge, 18.2.0, p_sdk_3.2.0
CLOUD, getReviews, 6ms
reviews, product
Product Q&A
Subwoofer randomly connects/disconnects from sound bar. Can't get it to connect anymore. How can I fix it?
Hi There. We'd like to work with you directly to get more information and to do some troubleshooting with your JBL JBL BAR 2.1 Deep Bass. Please contact our Customer support so we can assist you. http://bit.ly/2WocMfi
Date published: 2021-06-06
Will this product play in PartyBoost or sync if connected with bluetooth to the same Iphone 11 as both of my Pulse 3 speakers? Or is it possible to add my Pulse 3 speakers to this system with an optical to 3.5mm headphone jack or a USB to 3.5mm jack?
JBL Bar 2.1 Deep Bass doesn't have PartyBoost. The aux input on the soundbar is for connecting your devices like mobile phones, tablets, and PC.
Date published: 2021-06-06
Love the soundbar but I find it too loud even at 1 volume level. Any way to adjust the level?
Please try to change/adjust the volume from the source or your TV. If you need more help, please reach out to us here: https://ca.jbl.com/support-contact.html
Date published: 2021-06-06
why connect the sound bar to the cable box ?
By connecting our Bar 2.1 to the cable box, it utilizes the ARC Connection but you can always opt to connect the cable box to the TV directly. For set-up assistance, please contact us here: https://bit.ly/3gFb42y.
Date published: 2021-06-06
How do I change audio sources when I have an hdmi out to the tv. I have a PlayStation plugged in with an optical cable but I can't get any sound unless I physically disconnect the hdmi cable. Can it only have one input?
We'd like to work with you directly to address the issues you're experiencing with your JBL JBL Bar 2.1 Deep Bass. If needed, we'd also like to get more information so we can check your options. Please contact our local support in Canada for more information about the return policy with the details below: Website: http://ca.jbl.com Phone: (800) 567-3275 or (877) 457-2592 Email: info@eriksonconsumer.com
Date published: 2023-01-02
Hi, Does the HDMI in 'JBL Bar 2.1 Deep Bass' is 4K Pass-through, 3D Pass-through, ARC, CEC,
We would like to get more information to help you out, please contact us so we can assist you: https://bit.ly/2zwFkYM
Date published: 2021-06-06
Is there a port option on the back of the subwoofer to connect directly to the soundbar?
The subwoofer of our JBL Bar 2.1 Deep Bass can only connect to the soundbar wirelessly.
Date published: 2021-06-06
i dont have the JBL 2.1 bar deep bass. i just have a question based on the photos that were put on this site. how would you be able to lower the bass? just like the orignal JBL 2.1 bar having that + and - button for lowering and increasing bass.
Thanks for asking. You can change the bass level using the remote control included when you purchase our JBL Bar 2.1 Deep bass. Press the bass button on the remote to change the subwoofer level to low, middle, or high. Check out page 10, section 7, of the quick start guide thorough this link: https://bit.ly/32GngrV
Date published: 2021-06-06
How do I fix the lag time. The audio delay is quite annoying. In the TV industry they refer to it as lip flap.
Thank you for bringing this to our attention. To get rid of the lag in video and audio, make sure to connect the TV to your Soundbar using the supplied HDMI cable or an Optical Cable (Sold Separately). On your TV, check that HDMI-CEC and HDMI ARC have been enabled. Refer to the owner's manual of your TV for more information. Full compatibility with all HDMI-CEC devices is not guaranteed. − Contact your TV manufacturer if you have problems with the HDMI-CEC compatibility of your TV. If the issue persists, contact our customer support at https://bit.ly/3x3KAzl
Date published: 2021-06-06
Can I purchase a new remote control? My remote control for this soundbar has always been an issue. You have to press the buttons extremely hard and sometimes the functions do other things. I'd like to buy a new one.
The part number for our JBL Bar 2.1 Deep Bass remote control is 405001047. For pricing and availability, please contact our customer support at 877-871-6755.
Date published: 2023-01-24
what does a proper setup look like. can the woofer be close to sound bar
Thanks for reaching out. Place the soundbar and subwoofer on a flat and stable surface. Make sure that the subwoofer is at least 3 ft (1 m) away from the soundbar, and 4" (10 cm) away from a wall.
Date published: 2022-01-10
It's a great product I just wish you could turn off smart mode permanently. 
Thank you for taking the time to provide us with your feedback. We're always looking for ways to improve. We'll make sure to share your feedback with the appropriate team. If you have any questions or concerns about our products please contact our customer support service via our official website or toll-free hotline.
Date published: 2022-10-24
How would I know that there's an update for my 2.1 soundbar? If so how would I update it? Sometimes it turns back on by it self or constantly pops up Dolby and interupts the sound.
Thanks for your inquiry. We're sorry to hear about what happened to your JBL Bar 2.1. Please reach out to our customer support to further assist you.
Date published: 2022-08-22
Hiow many Bluetooth devices can you connect ?
Thank you for your question. You can connect three Bluetooth devices. Kind regards
Date published: 2021-06-06
Can you pair extra speakers to this sound bar for surround sound?
Our JBL Bar 2.1 Deep Bass can't have any speakers add-ons. If you need more help, please contact us here. https://bit.ly/2zwFkYM
Date published: 2021-06-06
With the original JBL Bar 2.1 you had a remote that controlled Sound Modes, Surround and Night mode. Why were these options removed from the Deep Bass version?
Our newer JBL Bar 2.1 Deep Bass has a "Smart mode" enabled by default that lets you enjoy TV programs with rich sound effects. For TV programs such as news and weather forecasts, you can reduce sound effects by disabling the smart mode and switching to the "Standard mode". Please check out our Owner's Manual for more Audio Settings.
Date published: 2021-06-06
Does it have sound leveling?
Our JBL Bar 2.1 has a volume control on the remote. If you need more help, please contact us here:https://bit.ly/3hH8oBR
Date published: 2021-06-06
Is there any way to adjust the bass on the subwoofer? 
You can adjust the Bass volume level of our JBL Bar 2.1 Deep Bass through the remote control.
Date published: 2021-06-06
Can this product be connected to another JBL speaker, in this case the Xtreme 2? I know the bar needs the JBL Connect feature found in other bluetooth speakers, so if the bar doesn't have that feature, is there another way to use my Xtreme 2 w/ the bar?
Our JBL Bar 2.1 Deep bass doesn't have the Connect + feature and unfortunately doesn't have any way to connect other speakers. If you have more questions, please contact us here. https://bit.ly/2zwFkYM
Date published: 2021-06-06
Hi, Does this 'JBL Bar 2.1 Deep Bass' supports the below Audio Formats Dolby Digital Dolby Pro Logic II DTS Digital Surround
Our JBL Bar 2.1 supports Dolby and PCM. If you have more questions, please contact us here. https://bit.ly/2zwFkYM
Date published: 2021-06-06
Where is this product made?
Our products are designed in the United States and are made in China. If you have other questions, contact our customer support. https://bit.ly/2WocMfi
Date published: 2023-01-13
Hello! I just bought one this week and it is very good quality, but I'm missing how can I control the mp3 playback from USB? Like moving to the next or prev...
We would like to get more information to help you out, please contact us so we can assist you: https://bit.ly/2zwFkYM
Date published: 2021-06-06
What setting to listen to music? I got the 2.1 deep bass 
Music settings can be subjective, you can check out each settings and see what sounds best to you.
Date published: 2021-06-06
Is this system compatible with an older tv and stereo receiver without Bluetooth
Our JBL Bar 2.1 Deep Bass will be compatible as long as the TV has an HDMI input.
Date published: 2021-08-11
I like this product, do you ship to Tanzania?
We only ship locally here in the USA. We recommend reaching out to our EMEA Support to inquire for local retailers in your area. Here's their contact page. https://eu.jbl.com/contactus
Date published: 2021-06-06
Are there any extra steps to connect the sound bar when using a cable box? Is it still direct to the TV?
We recommend connecting the cable box to the TV and have our JBL Bar 2.1 Deep Bass connect through HDMI ARC. If you need more help, please contact us here. https://bit.ly/2zwFkYM
Date published: 2021-06-06
I purchased a JBL sounder 2.1 deep bass recently and it was working fine till now. all of a sudden it stopped working. When I turn on the device, it appears "HELLO" and it get stuck. I have tried updating firmware, reseting but no luck. any suggestions?
Thank you for bringing this to our attention. Please contact our Customer Support for your region. See contact details below. Connoisseur Electronics Pty Ltd. Main Support Desk for Contact in South Africa: 0860 100 551 Johannesburg Office: +27114501122 Support by e-mail: info@connoisseur.co.za For other centers: http://www.connoisseur.co.za/contact
Date published: 2021-09-01
What connection should I use a premium optical cable or an hdmi cable what one should I use
Your connections would depend on what your current setup is. You can use the HDMI cable that came with our JBL Bar 2.1 deep bass as a default connection or use an optical cable if your TV doesn't have an HDMI output to send signals to your soundbar. If you need more help, please contact us here: https://bit.ly/2zwFkYM
Date published: 2021-06-06
I have set up with optic and powered on but no sound what am I doing wrong its on a new Sony 4k TV. I thought this would be plug and play.
We'd like to work with your directly to fix this issue. Kindly contact our customer support at: https://www.jbl.com/support-contact.html
Date published: 2021-06-06
I know i should be able to have multiple devices connected at the same time and can switch between inputs but one device will not output anything while the other is plugged in
We would like to get more information to help you out, please contact us so we can assist you: https://bit.ly/2zwFkYM
Date published: 2021-06-06
bvseo_sdk, dw_cartridge, 18.2.0, p_sdk_3.2.0
CLOUD, getContent, 5ms
questions, product