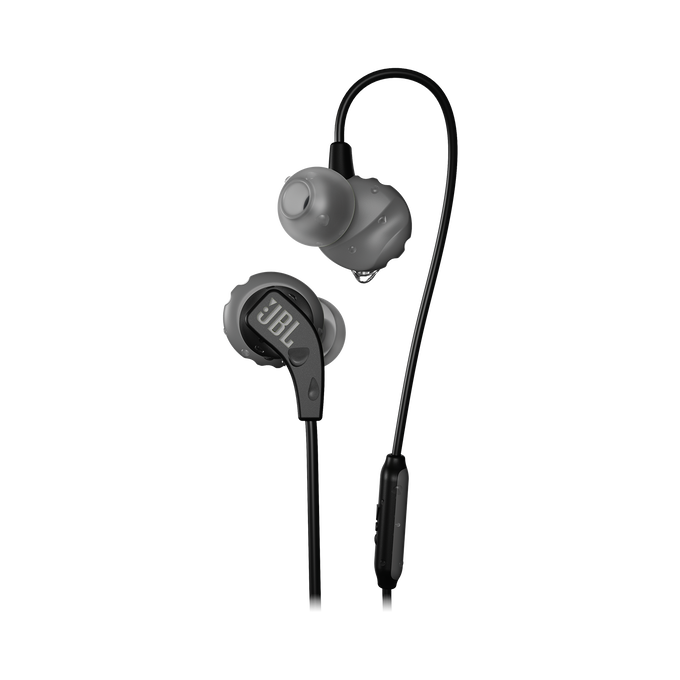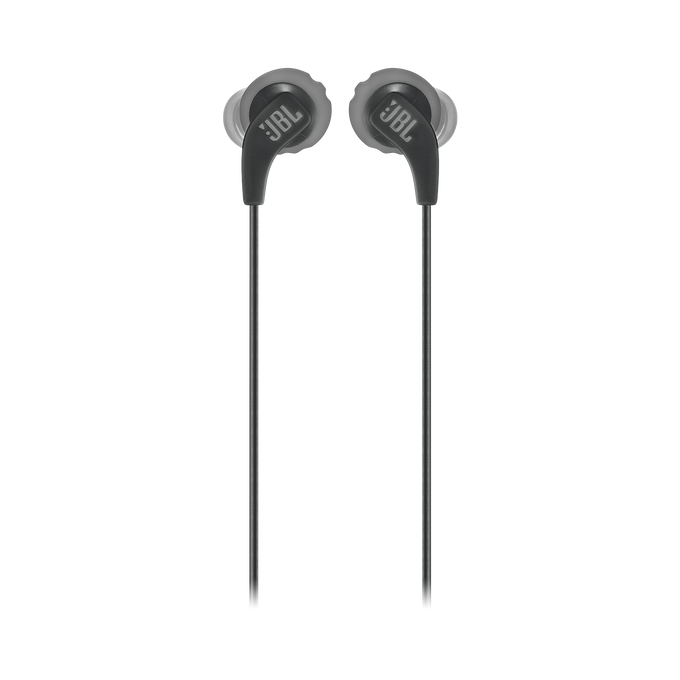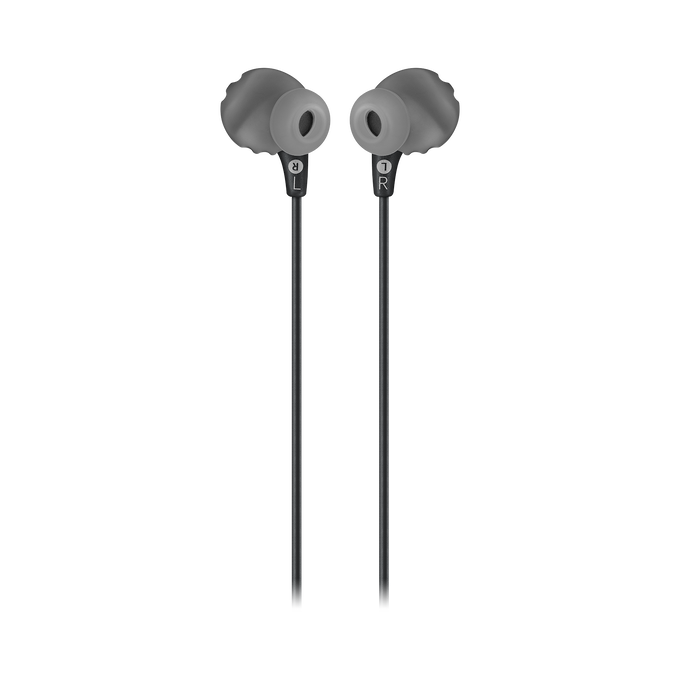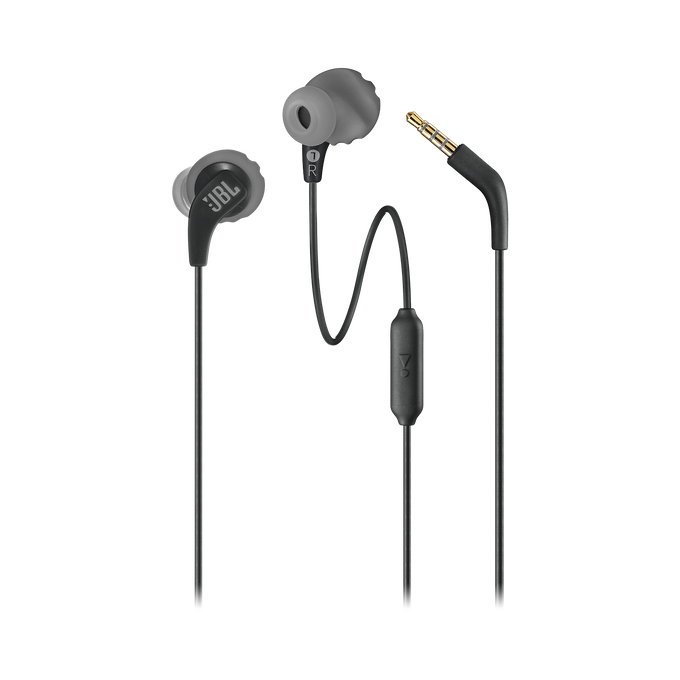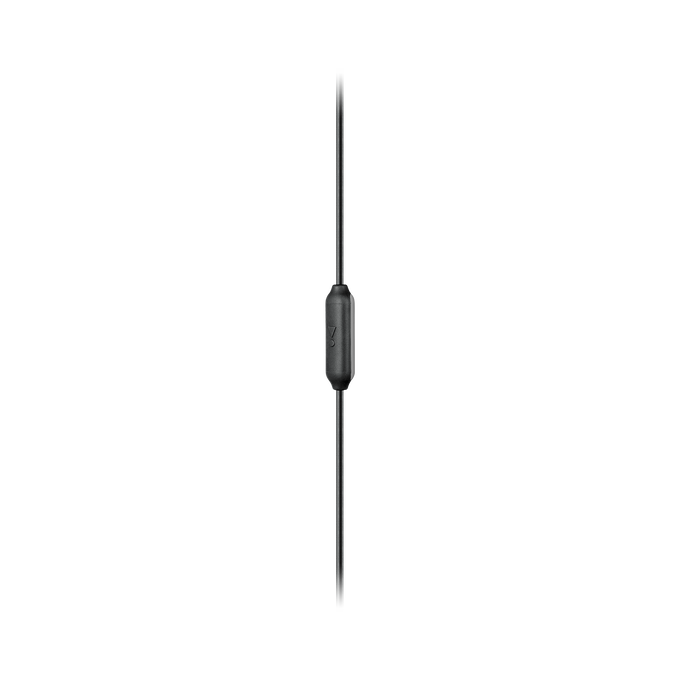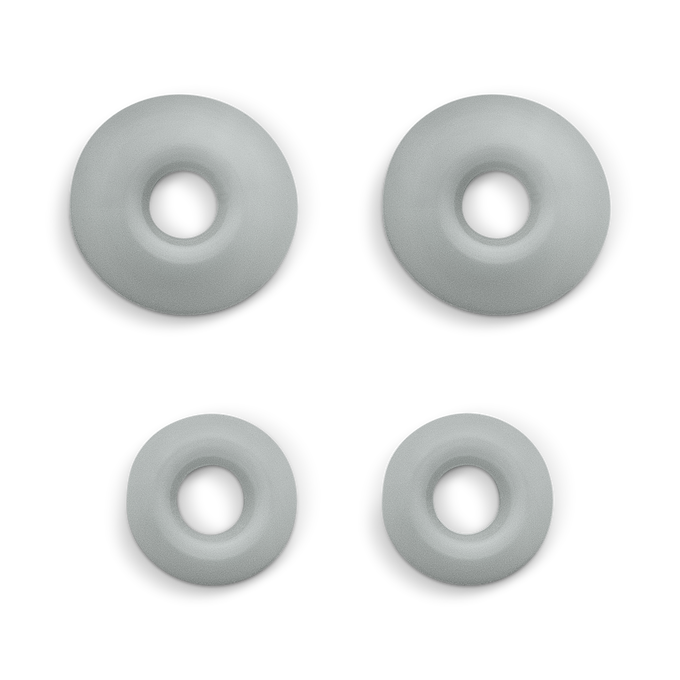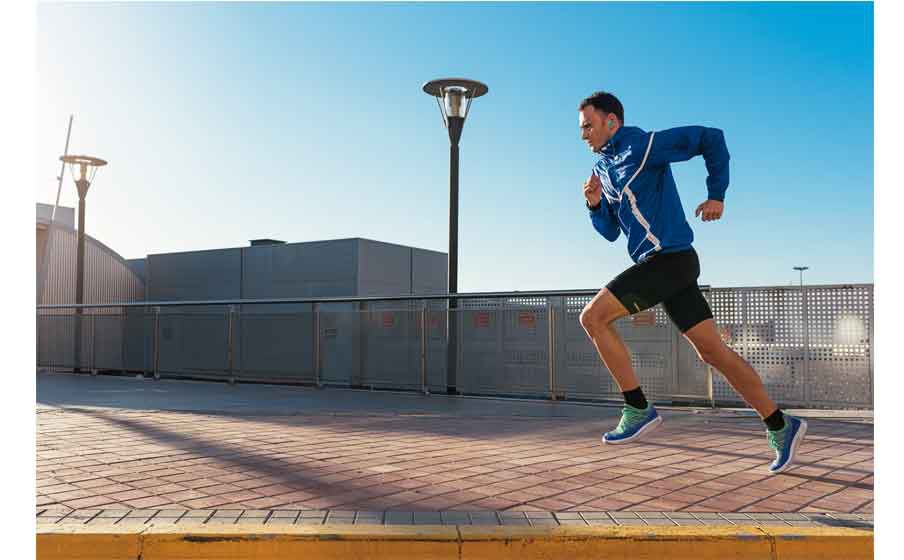 Fliphook™
Flexible two-way design allows you to wear the headphones either in-ear or behind-the-ear.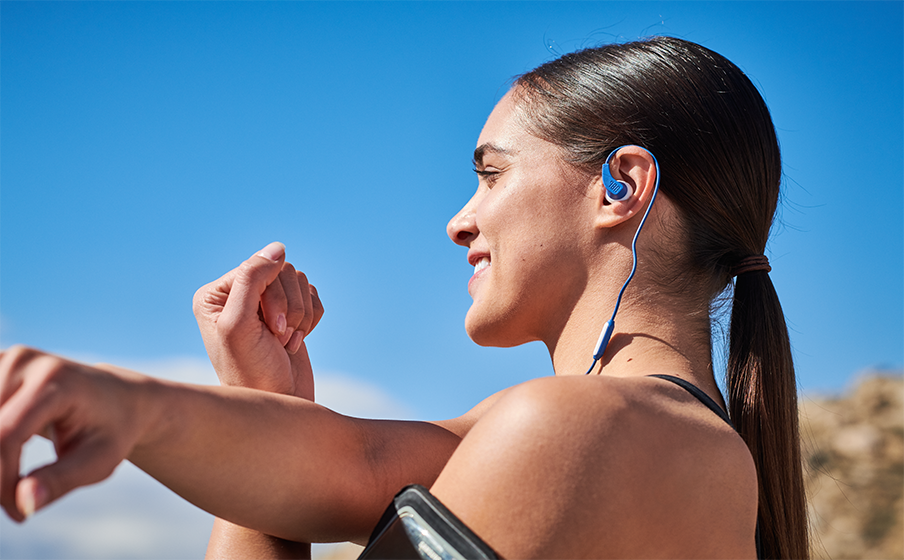 Never hurt. Never fall out.
Thanks to TwistLock™ and FlexSoft™ technologies, these headphones are lightweight and ergonomically built to ensure secure fit and stability no matter the workout.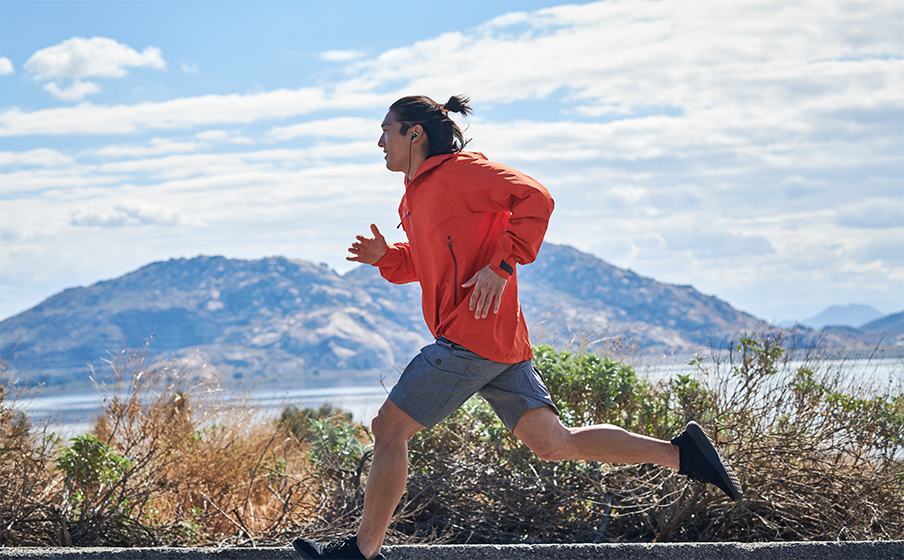 Sweatproof
Designed to endure and outlast your high intensity outdoor or indoor workout sessions in any weather conditions.
Features

Hands-free calls
In-line one button remote with microphone enables hands-free calling, allowing you to focus on your workout. A long press of the button activates Google Now or Siri.

Magnetic Buds
Magnetic earbuds that allow for easy cable management when not in use.
Specs & Downloads
Item# JBLENDURRUNBLK
Description
Never Hurt. Never Fall Out

Results matter, and when you have the perfect headphones there's nothing standing in-between you and your workout. With their FlipHook™ design, they adapt to an in-ear or behind-the-ear fit for added convenience. A comfortable combination of FlexSoft™ ear tips and TwistLock™ technology means these buds are guaranteed never to hurt or fall out. And if you thought a little sweat or rain was going to ruin your run, think again. Thanks to IPX5 sweatproofing, JBL Endurance RUN headphones keep up with your every step, while an in-line microphone and remote ensures you're never reaching into your pocket to answer calls.
General Specifications
Headphones jack type

3.5 mm

Driver size (mm)

8.2

IP Code

IPX5
Audio Specifications
Dynamic frequency response range (Hz)

20Hz – 20kHz

Number of drivers per ear

1.0
Features
Hands Free Call

Yes

In-ear

Yes

Rechargable battery

Yes

Secure Fit

Yes

Siri/ Google Now

Yes

Sweat Proof

Yes

Twistlock

Yes
What's in The Box?
1 x Headphones
3 x Sizes of ear tips
1 x Enhancer
1 x Safety Sheet / Quick start guide
1 x Warranty / Warning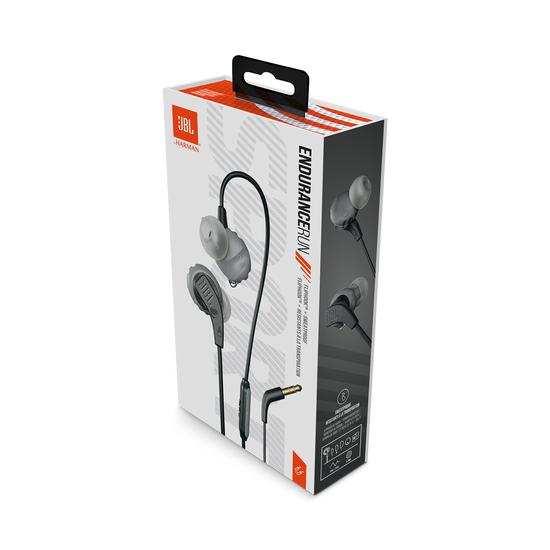 Documents & Downloads
Customer Reviews
Rated

5

out of

5
by
Xman
from
Works great
I use for my gym workouts and have performed well!
Date published: 2018-05-30
Rated

1

out of

5
by
PRUTHVI_777
from
worst quality ear phones,pls donot buy
this earphone i had bought it on march2022,with in 2 months the wire started tearing now .today the both earphones completely broken ..very cheap quality material is used . I had not expected such low standard material from reputed company like JBL. There was 1 year guarantee but, JBL team is not helping me to to get new pair of it and giving some silly reasons pls don't buy this earphone ..jbl customer service is not supportive
Date published: 2022-05-18
Rated

1

out of

5
by
parny
from
Not impressed.
These headphones are advertised as sweatproof, I disagree. I'm now on my second pair that have broken with the same issue. Initially the sound quality is great and they don't fall out, however after my 2nd or 3rd run with each pair I've experienced the same issue where the headphones begin automatically causing my volume to go up and down on their own. This varies from mute to full volume and becomes quite painful. They also cause the 'hey google' feature to constantly pop up, pausing my media and making running very difficult due to the distraction. I feel like this is an issue with sweat getting to the microphone as I can't see any other reason for it to happen on both sets of headphones.
Date published: 2020-04-11
Rated

1

out of

5
by
Tom76
from
Not for running
I am really disappointed. I was looking for a good headphones for running, but this one keeps falling out. The Fliphook is a joke, and the promotional video is fake: you have both the remote and the battery 5cm far away from the plug. If you try to use it in the Fliphook way they would be behind your ears... The sound quality is great, but you can use this only for moderate activity in a gym...
Date published: 2019-11-17
Rated

3

out of

5
by
Ddubya
from
Fell out of my ear :(
I really liked the Inspire twist lock style because they would not fall out during my workouts. I thought I'd give these a try since they are the new style. Unfortunately, they fell out when I tilted my head. I tried the other tips included in the box but the same result.
Date published: 2018-06-22
Rated

4

out of

5
by
Zorphick
from
Good for their price
I quite like these earphone for the moment. Hope they will last me a long time. I found 45 degree angle jack annoying, I'd prefet a 90degree. The magnet that keep the earphone together when not in use or a nice feature, but get in the way when you try to untwist the wire. there is no soft junction between the wire and the component, which could fatigue the wire more easily. The Fliphook technologie is unintuitive as you need to change the earphone of ears to flip them, which break stereo in some song.(I still don't know wich is the real right and real left...) positive: fit really well, light, sound quality is okay.
Date published: 2020-09-29
Rated

5

out of

5
by
Re708
from
Awesome cost effective headphones
I bought them not expecting much at all, I mean they were under 20 bucks. But i ended up very surprised. They offer great volume, solid noise cancellation, comfortable fitting eartips, and they're reversible. So far these are the best in-ear style headphones ive owned besides the beats i had a few years ago. The only thing that sucks id that they shorted out after a month, but I assume that's because i treated them kinda poorly and used them at work pretty much every day. Besides that they're great headphones Would highly recommend.
Date published: 2018-11-25
Rated

5

out of

5
by
mshahidur
from
Excellent sound, superb value for money
I never imagined such good sound quality from an earphone of this price range. Your ears won't get tired easily and overall tonal balance is good if not a little bass-heavy (most people will like that, I guess). Sound is also not harsh on the high end and has reasonably good detail in the mid range. Comfortable to wear and overall satisfying experience.
Date published: 2019-12-04
Rated

3

out of

5
by
RunDude33
from
Disappointed
Went for my first run this morning with my new earbuds & a couple of miles in, the sound kept getting turned all of the way down. My screen continuously was getting turned on. Seems like the inline mic & controller is the cause. I wasn't using this piece, but when it is moved or touches something, and I am listening to Google Play Music, the screen flips back and forth & the volume steadily drops to mute. Seems as if is overly sensitive. I liked them otherwise, but this makes them unusable.
Date published: 2018-08-16
Rated

5

out of

5
by
ryanjeong25
from
Really good stuff
I can't use any other earphones anymore because of how much better these ones are. Sound, comfort, durability are all 5 stars. If you're into traditional wired earphones, and even if you don't use them for working out, you should buy these.
Date published: 2020-08-20
Rated

5

out of

5
by
Bdancer
from
Love the design, color and feel!
So happy with my purchase! I have a JBL portable speaker and it's been One of the greatest investment I've ever made... Trying headphones in the same brand just made sense! I was always having problems with my old headphones falling out of my ear while I was on a run... The design of these make it so comfortable to stay in place and helps cancel out other noises.
Date published: 2020-07-08
Rated

5

out of

5
by
MetroWalt
from
Superb Headphones! Small Price!
I totally recommend these headphones to anyone looking for a great set of headphones. Who doesn't want to spend tons on money. These headphones truly blew me away with the sound quality. It has an insane bass sound. The highs sound very crisp. I will say, I'm not surprised. JBL makes quality products. I own several other JBL products. They all prove to be high end sound quality. Like these headphones & my 3.1 soundbar. These headphones fit snug. But not so tight that they cause discomfort. What's even more impressive is that. When I exercise or do work around the house. I can place them behind my ear & they still sound great & fit nicely. I can't say enough about this product. Get yourself a pair & give them a try. Thanx JBL for quality at reasonable prices! PS: Even the unboxing experience feels great! They come so beautifully packaged.
Date published: 2019-07-24
Rated

5

out of

5
by
KH62
from
The best
I'm so glad I found these headphones. No batteries to charge, amazing sound quality, waterproof, customizable ear tips, in-line pause button, good microphone, comfortable and squishy, can wear regularly or over-ear. They're awesome. Only a couple of improvements would make these even better: 1. Make them more rugged so they can stand up to more abuse. With wire headphones it is inevitable that the wire will be inadvertently pulled on and they can eventually lose connection. 2. Add in-line volume buttons in addition to the play/pause button. Other than those 2 things, they're perfect.
Date published: 2021-10-06
Rated

5

out of

5
by
Uday917
from
Worth more for what i paid
I love the product, they fit in my ears perfectly. Im a gamer, and clear sound really help a lot
Date published: 2020-07-18
Rated

4

out of

5
by
AceStar
from
V
VERY good sound quality. Apparently quite sturdy. Fair bit of cable noise. The trouble with most "best in-ear headphones under $50" lists online is that they are too narrow in the headphones they test. If they bothered to test these, they'd probably end up putting them in their list. The Wirecutter tests other JBL models but apparently not these, possibly because they are "sports" model - a fairly arbitrary exclusion since the audio on these is superior to some of their non-sports models. To the audio: it's nice and flat through the middle, with not much low-mid boom at all, but without sacrificing mids. Voices are nice and present. Bass is not over-emphasised which may lead to claims of "having no bass" by those used to that kind of boominess. The treble is slightly emphasised, leading to a lot of high end detail and a breathiness, but is not very harsh and symbols etc sound pretty natural. All in-ear headphones have some kinds of peaks in the mid to high treble imposing a character to their sound and these have a sound to them, but these are fairly natural sounding in that area, and their brightness does not cause fatigue. All in all very impressive sound and deserving of being placed into "best sound under $50" or similar lists. There is a fair bit of cable noise due to the relatively thick rubbery cable, this is not of the rubbing on clothes variety but just bouncing about on eg your chest. If you wore these over your ears it may help, but these seem designed to be more comfy worn straight down despite their marketing claims, if for no other reason than their left/right channels would be mirrored when worn over the ears. So find a way of clipping it to your shirt or threading it through to reduce cable bounce and that'll improve things. Not a huge deal and certainly not unique to these headphones.
Date published: 2018-12-12
Rated

3

out of

5
by
TrisMcC
from
FlipHook causes reverse stereo imaging
The headphones are well isolating. Maybe too well, it's odd that it is called "Endurance Run" when using them outside at a low volume will cause you to not hear anything around you. May not be too safe. There is less cord noise when flipping them around the ears. The problem is this is that the Left becomes the Right and the Right becomes the Left. Stereo imaging is completely reversed. There does not appear to be a solution for this. There is no instruction booklet at all inside the box.
Date published: 2018-09-16
Rated

3

out of

5
by
ChrisDPro
from
Lasted 6 months
Had a pair of Reflect Minis that I loved. Got a new phone (Samsung S20 FE) and the Reflects weren't compatible with the bluetooth anymore. Got the Endurance Run to replace them and they did pair and worked with the new phone. Audio quality was good for in ear sport headphones. Fit was average. Had to do the reverse twist lock thing which is kind of confusing at first. After 6 months they started shorting out from sweat damage. Doesn't seem very sweat proof to me. They'd be OK if for light activities but for anything moderately intense or more I'd look for a higher IPX rating
Date published: 2021-06-26
Rated

4

out of

5
by
DonBrasco
from
Fit for purpose
These are really good. I've had a few ear phones and I have to say there's are a great replacement for the sort of work ido sweating and constantly moving & carting things. No cord to get caught and pull out, you won't lose these. They can be worn straight down or reversed and over the ear, this is fantastic as regular hard activities makes regular ear pieces retention difficult. These come out on top after my long search these are fit for purpose, They can also be worn under ear muffs(fantastic) Good sound but are a touch shy of great sound. Would definitely recommend these.
Date published: 2020-12-07
Rated

5

out of

5
by
Anonymous
from
Great sound quality
Had these a few weeks now, they sound great . They do actually stay in place and are comfortable. The magnetic buds are good feature re reducing cable getting tangled
Date published: 2019-12-13
Rated

5

out of

5
by
Mac S
from
These earbuds really don't fall out!!!
This is actually my 2nd pair, I was so impressed with the 1st pair I decided to buy a back up pair just in case!!!
Date published: 2020-07-15
Rated

5

out of

5
by
IJORRIN
from
AWESOME
Ok time for the real truth. I looked at this earbud for $19.95 and told myself (another ones) ladies, gentlemen, everybody. THIS EARBUDS ARE WAY MORE THAN PHENOMENAL, OH MY GOD WHAT A GOOD SOUND QUALITY, I COULD NOT BELIEVE IT, YOU CAN HEAR EVERYTHING, EVERY INSTRUMENT IN THE SONG, BASS SOUND SO GREAT, IM VERY PICKY WHEN IT COMES TO SOUNDS, I CAN HEAR ANY INSTRUMENT BY ITSELF IN A SONG, AND THIS EARBUDS ALLOWS ME DOING THAT, PEOPLE PLEASE BUY THIS, WAIT, BUY MILLIONS OF THIS FOR REAL.
Date published: 2019-02-13
Rated

1

out of

5
by
Bogo
from
Nothing like what Yurbuds made
I had a single pair of Yurbuds for 6 years and never had an issue with them falling out during runs or workouts. After many years of use the ear enhancers got stretched and I also wanted a pair of headphones with a mic and phone/music control. I purchased Endurance Run hoping for the same, and they are terrible. Non of the enhancers fit my ear and there seems no other sizes than what came with the Endurance Run. During runs and workouts I am constantly having to adjust. I wear my wire under my shirt and with the Yurbuds ZERO issues but with the Endurance having the wire in my shirt cause so many issues with them falling out. I could not recommend Yurbuds enough to everybody but with these, I having nothing good to say. It is so disappoint to see what JBL has done with the Yurbud locking system.
Date published: 2019-02-09
Rated

5

out of

5
by
GregP507
from
Exactly what I have been searching for
I have tried dozens of earphones, and they all either hurt my ears, or they constantly fall out. These earphones never fall out, and I can wear them for hours and they never hurt my ears. I carry them in my pocket every day, and I use them whenever I want to listen to music or talk on the phone in private.
Date published: 2019-07-04
Rated

1

out of

5
by
PoonM
from
Not good at all
I bought this 10 days back and its a total wastage...people are not able to hear me clearly and they also say that they hear a constant noise at the background. I have ensured the volume is full but still people can barely hear me....I am not sure what else to do as it seems its a total waste of money
Date published: 2020-08-11
Rated

5

out of

5
by
Elijah S
from
Great earbuds!!!
I bought these because I wanted a good pair of earbuds for a low price, and I am amazed with these. They sound great and have way more base than I expected I would recommend these to anyone who wants great earbuds for a low price.
Date published: 2020-01-17
Rated

5

out of

5
by
ErikaMC
from
I've had already brought a pair before, and these are by far my favorite headphones they have a nice sound quality. I don't really have any complaints other than I wished these had a control for the volume.
Date published: 2019-07-01
Rated

1

out of

5
by
Anonymous
from
Cannot handle any moisture
Out of the box got a week before the moisture made the headphones glitch qnd freak out on my phone. Complete waste of money, utter disappointment. Great headphones if the actually worked.
Date published: 2020-10-29
Rated

1

out of

5
by
RAD30
from
Good set when they work!
I bought this set 5 months ago. They don't work anymore! No physical damage at all. Just not working anymore...
Date published: 2021-03-23
Rated

5

out of

5
by
_zackattak
from
Best in-ear I ever bought!!
These are just the best in-ear I have ever owned. I've had them for over a year now and they to there job and more. I'm a drummer so I need some in-ear that block a lot of outside noise to protect my ears and stay in my ears even when doing some crazy head movement. The loop feature is just the best for keeping it in place. So if you're hezitant on buying these, just know that if a drummer can play with them and not fall off plus blocks a lot of outside noise, they'll be perfect for your workouts, runs and other activities even snowboarding!!!
Date published: 2022-02-20
Rated

5

out of

5
by
Jess holly 7
from
Works great
I'm a distance runner and these definitely stay in my ears no matter how much i sweat.
Date published: 2020-06-21
bvseo_sdk, dw_cartridge, 18.2.0, p_sdk_3.2.0
CLOUD, getReviews, 7ms
reviews, product
Product Q&A
Where's the manual so I can understand the different functions of the remote button? Especially, how do I remote control volume? One click seems to get different actions with Stitcher vs Spotify.
Our JBL Endurance Run doesn't have volume controls and needs to be directly adjusted using your phone/source. It's a one button remote for accepting calls with a single press, a long press activates Google or Siri .
Date published: 2021-06-06
London Drugs specifications for this product said it was compatible with iphone. Is this correct? The connector is not lightening. Is there an adaptor?
Our JBL Endurance Run has a male 3.55mm port and is compatible with any device that has a 3.55mm female port. If your device does not have an aux port, you may need to purchase a headphone jack adapter.
Date published: 2022-02-02
How can I turn off microphone?
The microphone on our JBL Endurance run cannot be disabled.
Date published: 2021-06-06
How long is the battery lifs
The JBL Endurance RUN is not a wireless earphone and needs to be plugged in to an audio jack to work.
Date published: 2021-06-06
Is this Headset compatible with Notebooks. As I am planing to purchase the same to be used with my Notebook. Please check & update. Thanking you in advance.
Our JBL Endurance Run is uses 3.5mm cable to be plugged in to devices. All you need is to plug the headphones to your notebook's 3.5mm port and it would work. If you have more questions, please contact us so we can help you.
Date published: 2021-06-06
Where are these made?
Our products are assembled in China.
Date published: 2021-06-06
I just got the Endurance Run headphones. The mic is not working. I can hear through the headphones. I've tested; I can't be heard at the other end. I have an iphone 5. Is there a way to troubleshoot or is this a product fault? Thanks.
We would like to get more information to help you out, please contact us so we can assist you: https://bit.ly/2XdXuK1
Date published: 2021-06-06
Low volume, really low...Is there anything I can do about that...
As your question requires troubleshooting by our Product Specialists, we invite you to contact the Harman Customer Support team by telephone, email or chat in order to receive direct assistance. Please see https://no.harmanaudio.com/support-contact.html for further details. Thank you.
Date published: 2021-06-06
Do these ear buds have rubber or latex on them? Is it silicone?
Hello! The Endurance Run is made from silicone rubber as we do not feature latex in our ear buds.
Date published: 2021-06-06
Will the aux fit in my iPhone 6s?
Yes it should.
Date published: 2021-06-06
What is the battery life for these heads phones and charging time. Thank you
Thank you for your question. The Endurance Run BT can play for up to 6 hours and will recharge to full capacity in 2 hours. Should you wish to receive further support, you may contact the Harman Customer Support team by telephone, email or chat in order to receive direct assistance. Please see https://uk.harmanaudio.com/support-contact.html#ns for further details. Thank you.
Date published: 2021-06-06
Is it possible for us to increase/decrease the volume without using the mobile ?
No. Just one button for track and call control.
Date published: 2021-06-06
My buds will not charge. Red light is on when on charge, but the buds will not turn on. They were working. I have had them for 3 weeks.
We would like to get more information to help you out, please contact us so we can assist you: https://bit.ly/3cdlRNp
Date published: 2021-06-06
Do you sell replacements for the silicone ear tips jbl endurance run?
Yes, we do sell ear tips for our JBL Endurance Run. You can place an order through our Customer Support. Please call us at (800) 336-4525 Mon - Fri - 9:00 a.m 11:00 p.m (E.T) Sat - Sun - 9:00 a.m 5:00 p.m (E.T)
Date published: 2021-06-06
Do the magnetic buds affect the sound? I bought a these earbuds about a month ago and have used them a few times and noticed that the left earbud sounds extremely low, the only thing I can think that affects the sound might be the magnetic buds
Hi there, interesting question. No, the magnetic feature on the earbuds' only purpose is to easily manage the cable when the headphones isn't in use. If you're experiencing low volume on the left side, it could be caused by something else. Try to make sure that there aren't any obstructions on the earpiece itself or check to see whether there's any physical damage to the left earpiece. If you need help with this, we'll be more than happy to assist you — just contact us through here: https://latam.jbl.com/support-knowledgebase.html
Date published: 2021-06-06
how to pair to an iPhone
Our JBL Endurance RUN is our sweatproof, wired sports in-ear headphones that use a 3.5 mm AUX connection and it doesn't have Bluetooth.
Date published: 2021-06-06
How to to transfer music to device? I plugged USB into my laptop it won't find the device to Bluetooth connect
The Endurance series with the music storage built in is the JBL Endurance DIVE since bluetooth cannot be used while swimming. It has an mp3 mode feature that allows you to store 1GB worth of mp3 music.
Date published: 2021-06-06
How long do they take to charge? How much play/talk time when fully charged?
The suggested charging time of our JBL Endurance Run is two hours. Music play/talk time can last up to 6 hours. This can vary depending on volume and music content.
Date published: 2021-06-06
What's the difference between the Inspire 100 to 300 series compared to the Endurance Run model. Does the larger drivers in the Inspire models improve sound quality and/ or volume?
Driver size isn't a direct relation to sound quality or volume. The main difference of the Endurance series to those Inspire models is that these use a fully closed aural design that seals against the ear canal, so they block out more outside sound. This can also lead to more consistency in sound quality and a more secure fit, but don't allow you to hear your environment around you as well.
Date published: 2021-06-06
I was recording and I pressed the mic button, it turned my mic off and now it won't record.
JBL Endurance Run has a built-in mic, and it should allow you to take phone calls. Please check the voice-recorder app that you're using or try to test using the earphones for phone calls. If you need more help, please reach out to our Customer Support.
Date published: 2021-06-06
What is this the enhancer? That is included in the box? ₹
That is the first part being attached on each ear piece (largest part). The 3 pairs of eartips are the ones that go inside the ear. If you have further questions please reach out to our customer support by submitting a form on our website: https://support.jbl.com/us/en/customer-service/contact.html
Date published: 2021-06-06
hey can i add on the yurbuds to these headphone
We would like to work with you directly to help you with your issue. Please submit a case request at https://www.jbl.com/support-contact.html and the Customer Service Team will be more than happy to assist you.
Date published: 2021-06-06
The earbuds have fallen out of the earphones and I have lost them........not good How do I order new ones?
We would like to get more information to help you out, please contact us so we can assist you: https://bit.ly/2yr21Rj
Date published: 2021-06-06
Recently I lost one of the silicon earbud of this product. Where can I buy the replacements?
We would like to get more information to help you out, please contact us so we can assist you:https://bit.ly/2zwFkYM
Date published: 2021-06-06
Where can I buy replacement silicon ear buds for this product?
We would like to get more information to help you out, please contact us so we can assist you: https://bit.ly/3aY0OQd
Date published: 2021-06-06
Can I use them for an ipod?
Hi! Yes you can us the JBL Endure Run to your iPod using the auxiliary cable connection.
Date published: 2021-06-06
Length of the cord? Thank You in advance.
Hi The cable on the JBL Endurance RUN is 120cm
Date published: 2021-06-06
What is the warranty period?
For our headphones like the Endurance Run, its warranty is for 12 months from the date of purchase.
Date published: 2021-06-06
Cord length? Thank You in advance.
1.2m according to another answer which is around 4 feet.
Date published: 2021-06-06
Is there a charging port and how do I charge it??
Our JBL Endurance Run is a wired in-ear headphone. It doesn't need to be charged because it's simply a plug-and-play unit. All you need to do is plug the earphones to a 3.5 mm auxiliary output from your phone, tablet, or laptop.
Date published: 2021-06-06
bvseo_sdk, dw_cartridge, 18.2.0, p_sdk_3.2.0
CLOUD, getContent, 5ms
questions, product