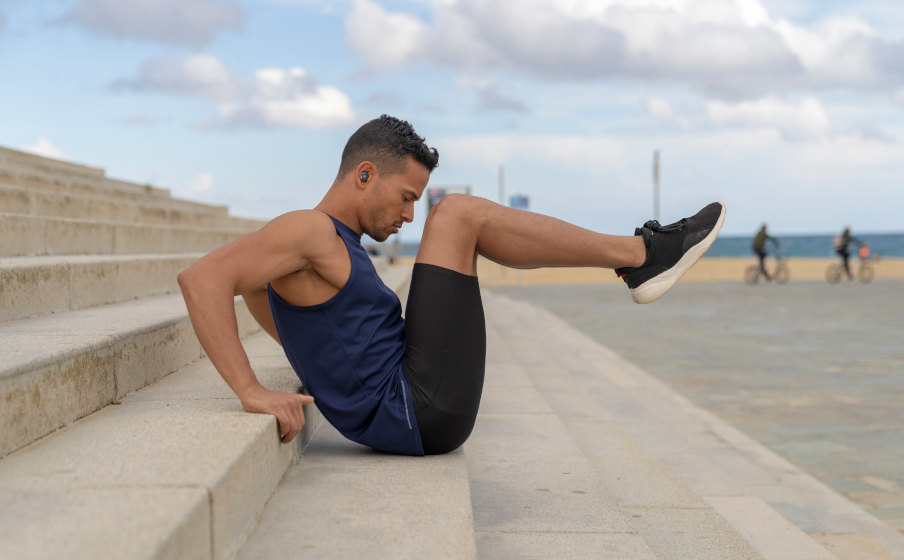 Adaptive Noise Cancelling with Smart Ambient
Hear more of what you want and less of what you don't. Adaptive Noise Cancelling adjusts automatically or via the JBL Headphones App to control distractions and stimulate motivation. Smart Ambient helps you feel safe on walks and runs or allows you to chat with a friend while listening to music.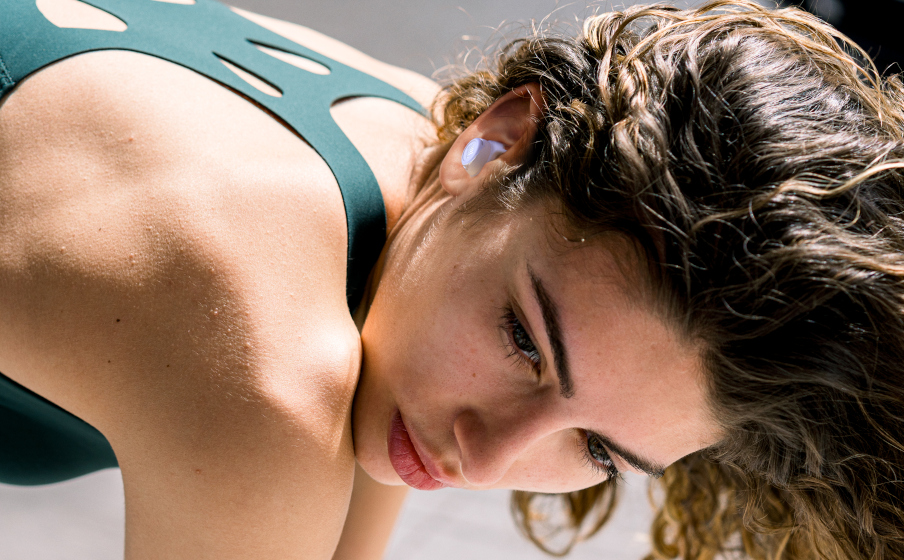 JBL Signature Sound
Reflect Flow Pro earbuds sound as good as they look, utilizing 6.8mm dynamic drivers to deliver incredible JBL Signature Sound whether you're in your office or crushing your workout in the great outdoors.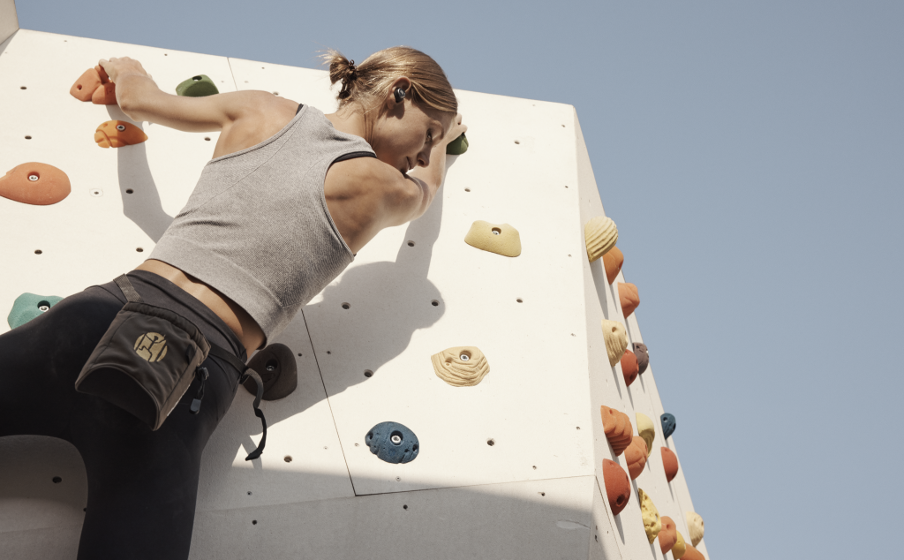 6 mics for perfect calls and zero noise
Never worry about your voice dropping out when you're outside, in a crowd, or running on a breezy day. Two beamforming mics plus a third for wind suppression ensure you'll stay connected wherever you are with crystal clear sound and no audio failure on either side during calls.With VoiceAware you can control the amount of mic input routed back into your earbuds and choose how much to hear of your own voice.
Features

IP68 protection and secure fit
Extreme IP68 water and dustproofing means workouts on land are no sweat in any weather or conditions -- but so is surfing with your JBL Reflect Pro earbuds, or rinsing them after a workout, all without missing a beat. Designed to enhance your performance, the earbuds POWERFINS in 4 sizes keep them safely and comfortably in your ears.

30 hours of playtime with Qi-compatible wireless charging
Work or work out on the go with the convenience of Qi-compatible wireless charging. Nothing can stop you with 10 hours of power in the earbuds and 20 in the case for seamless connection all day.

Get help just by using your voice
Get help from Hey Google(*) or Alexa(**) using your voice or with a tap on the earbud. Activate ANC or Ambient Aware, check the battery life or power off your JBL Reflect Flow Pro simply with your voice with Hey Google(*). Use the all-new My JBL Headphones App to easily set your preferred voice assistants.(*) Only supported on Android (**) Android 6.0 or higher is required for full access to Alexa features when using this device.

Customizable all-access touch control
Should a call come in during your run or yoga session, answer or reject it with a simple touch of the earbud. Engage your voice assistant, start or stop your music, or adjust the volume in either earbud with a quick tap or by downloading the free JBL Headphones App to personalize your Reflect Flow Pro sound and functionality.

Maximize the comfort to improve the performance
The last thing you need is for your earbuds to hurt or fall out while working out. Use the JBL Headphones App and the Check My Best Fit feature to get the best sound performance and maximum comfort. By testing for sound leakage during headphone usage, the app quickly determines when you're getting the best fit from the ear tips.

Dual Connect + Sync
From the moment you open the case, Dual Connect + Sync starts the Bluetooth sync process for an ultra-stable connection. Plus, you can customize the functionality of each earbud through the app and use either or both to manage calls, music and Voice Assistant, saving battery. While you enjoy music from one bud, the other one stays in the case charging up for endless fun!
Product Comparison
REFLECT-FLOW-PRO-
ENDURANCE-PEAK-3
REFLECT-AERO
LIVE-PRO-2-TWS-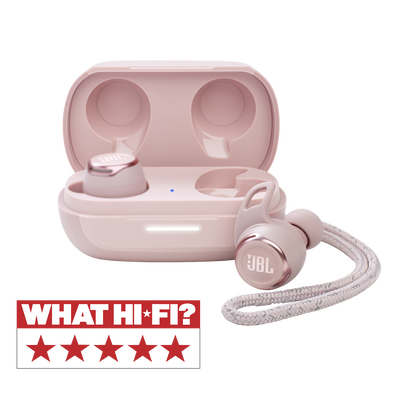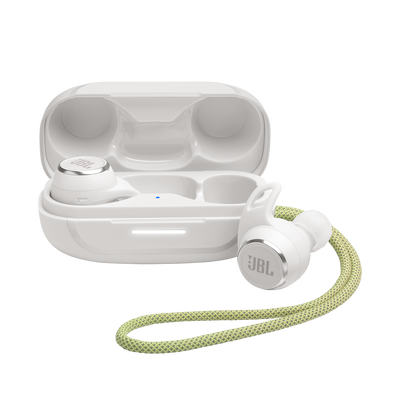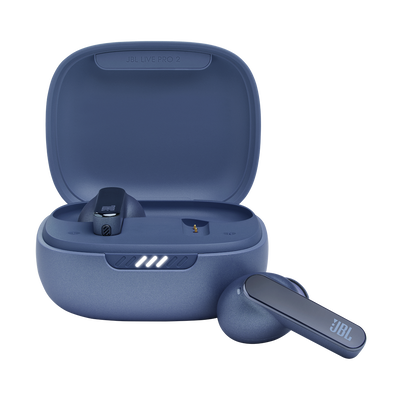 Battery
Maximum play time (hours)
30
Maximum play time (hours)
50
Maximum play time (hours)
24
Maximum play time (hours)
40
Features
True Adaptive Noise Cancelling
True Adaptive Noise Cancelling
True Adaptive Noise Cancelling
True Adaptive Noise Cancelling
Adaptive Noise Cancelling
Adaptive Noise Cancelling
Adaptive Noise Cancelling
Adaptive Noise Cancelling
Voice Assistant integration
Voice Assistant integration
Voice Assistant integration
Voice Assistant integration
Specs & Downloads
Item# JBLREFFLPROPBLK
Description
Work out to the extreme. In style.

JBL Reflect Flow Pro earbuds are designed to enhance your performance, with POWERFINS to make them fit safely in your ears. Get your motivation up with amazing JBL Signature sound for up to 30 hours of playtime. Adaptive Noise Cancelling protects you from unwanted noises, whether you're working or working out. Smart Ambient keeps you comfortable when running in the street, or allows you to have quick chats. The 6 mics ensure perfect voice clarity in any calls or meetings, even in the wind. Work or work out anywhere with IP68 protection against sweat, rain or dust. Need help? Talk to Hey Google (*) or Alexa (**) just using your voice! (*) Only supported on Android (**) Android 6.0 or higher is required for full access to Alexa features when using this device.
General Specifications
Driver size (mm)

6.8

Number of Microphones

6
Audio Specifications
Driver sensitivity at 1kHz/1mW (dB)

100

Dynamic frequency response range (Hz)

20 Hz – 20 kHz

Impedance (ohms)

16
Dimensions
Weight (g)

14.4

Weight (oz)

.5
Control and Connection Specifications
Bluetooth version

5.0

Bluetooth profiles

A2DP V1.3 AVRCP V1.6 HFP V1.7

Bluetooth frequency

2.4 GHz - 2.4835 GHz

Bluetooth transmitted modulation

GFSK, π/4 QPSK, 8DPSK

Bluetooth transmitter power

10 dBm
Battery
Charging time (hours from empty)

2

Maximum music play time with ANC off (hours)

10

Maximum music play time with ANC on (hours)

8

Maximum play time (hours)

30
Features
Hands Free Call

Yes

JBL Signature Sound

Yes

Touch Control

Yes

True Wireless

Yes

Waterproof

Yes

Charging case

Yes

IP Code

IP68

Charging cable

Yes

Voice Assistant integration

Yes

Ambient Aware

Yes

Built-in Microphone

Yes

TalkThru

Yes

Wireless

Yes

Adaptive Noise Cancelling

Yes

Rechargable battery

Yes

Bluetooth

Yes
What's in The Box?
1 x JBL Reflect Flow Pro TWS headphones
1 x Type-C USB charging cable
1 x 3 sizes of ear tips
1 x 4 sizes of POWERFINS stabilizers
1 x Charging case
1 x Quick start guide
1 x Google Assistant set up guide
1 x Amazon Alexa set up guide
1 x Warranty / Warning (W / !)
1 x Safety Sheet (S / i)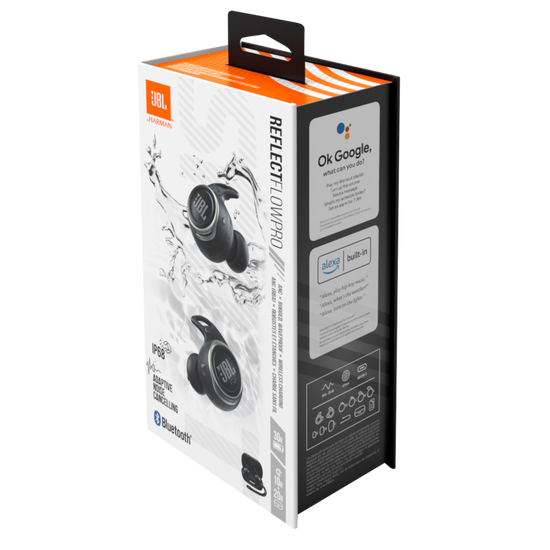 Documents & Downloads
Customer Reviews
Rated

5

out of

5
by
Jane618
from
I bought this I think a month or 3 weeks ago when it was in sale. I found the review on YouTube and the guy love it so I was like me try it . I love it. I think it's better than my beats and apple AirPod . Im really happy with this purchase. Good thing I bought two one for me and husband . He loves it too .
Date published: 2023-01-28
Rated

3

out of

5
by
Alex6868
from
How to turn on?
The tool is super. The app EQ does not change the sound much. The biggest problem is that I can't turn on the headphones. Only if I put it back in the case and then take it out again. Dear Support, can you help me with this? How to turn on earbuds without a case?
Date published: 2022-04-26
Rated

4

out of

5
by
ThatGuy3127
from
Great buds just lanyard
I got the Reflect Flow Pros when they were on a good sale and I like em. Only con being it looks like the lanyard on the case got caught on something sharp you know and has a bit of a tear. But I don't think it'll matter too much. Just thought I'd mention it.
Date published: 2023-01-27
Rated

5

out of

5
by
Fiddlers
from
The custom Equalizer is a must have
Thee MOST amazing earplugs I have. Hardstyle music and Bass never sound so good. The comfort and the feel I get off the sounds when I'm at the gym with these headphones were everything I ever needed for years. Worth every penny! It's JBL or nothing!
Date published: 2022-04-11
Rated

5

out of

5
by
Anuj
from
JBL's masterpiece
JBL nailed it with this one, amazing battery life and great fit. The sound is really good and ANC works really well. Haven't got the chance to test out the waterproof and dustproof capabilities so can't comment on that.
Date published: 2021-12-09
Rated

5

out of

5
by
Anonymous
from
Workout with a "twist"
For a work out earbud these are very secure and they do not move. The sound is solid after tuning it in the JBL app. I would recommend these for anyone who works out regularly. The Battery life is amazing!
Date published: 2021-11-24
Rated

1

out of

5
by
Shell82
from
Had for just over a month and disappointed in them … Sore ears, uncomfortable and constantly falling out which isn't ideal when running on the beach … More expensive isn't necessarily better in this case…
Date published: 2023-03-06
Rated

5

out of

5
by
JZ Florida
from
10/10
Received mine 3 days ago and let me just say wow. Blown away, perfect separation and tonal balance. I am an audio purist and these blow me away. They are so comfortable you forget you have them on
Date published: 2022-12-23
Rated

1

out of

5
by
gorillafish138
from
Defective
I got these for Christmas and they haven't worked properly since, they won't turn on unless the charging case is connected to power making them basically useless for me take them out for sport
Date published: 2023-05-17
Rated

5

out of

5
by
PhiL850
from
Great value for money
I'm using the product for about 2 weeks. The sound quality is amazing for me and for everyone who i Speak with on the phone. I use them with Google Assistant and they work perfectly.
Date published: 2022-01-15
Rated

1

out of

5
by
LeeRod
from
Volume is Rubbish !!!
These headphones are so much quieter than any JBL headphones I have had before, even on full volume, even after being adjusted on the App. Not happy at all !!! : (
Date published: 2023-02-22
Rated

5

out of

5
by
Arty
from
My new favorite JBLs!!!
I did try almost every newly released JBL earbuds since 2019, and this is by far the best one. The first thing I want to mention the mic on these is excellent. There were no JBL earbuds I did try with such microphone quality. I currently have the 3rd generation of that white earbud released a month ago, Fits Pro and Buds A(from the other major brands). When I switched from JBL reflect flaw pro to those, no one could tell any difference, and for some of those, I sounded better)! You don't have to use both earbuds: With just one earbud, either left or right, you'll have an excellent call quality! So, these are premium earbuds, and you'll feel that build quality and materials are excellent right away. The charging case might feel a bit large, yet that's not an issue for me!! There are four different wings, and I had to try all of those with varying ear tips until I could find the right fit for me. Battery life is good enough. It depends on how you are going to use it! Wireless charging and USB type C are there for you)) JBL headphones app will let you customize the touch controls, and you can use the app to change the volume using google assistant or Alexa, control noise canceling, etc. Also, through the app, you can customize the EQ and create your EQ profile to get the sound you like. Also, you can update the firmware through the app. I have never had any connection issues on my iPhone, and it will connect flawlessly! Talking about sound quality, JBL always had great-sounding earbuds with rich bass, which I prefer most of the time; and this one is by far the best sounding one for me!! I love how these earbuds sound. It is loud and clear. I don't want my review to sound like an advertisement because had I not liked these this much would never put such a review! If you are looking for a pair of earbuds that you can use in the GYM, for phone calls, and simply for everyday music listening, you can't be mistaken here!!
Date published: 2021-11-26
Rated

3

out of

5
by
Jaf123
from
Will get the job done
Just bought them a week ago. Good sound quality. Very good build, but a bit bulky. ANC needs improvement. A bit pricey. AirPods are still better.
Date published: 2022-03-17
Rated

4

out of

5
by
Accia
from
New to Wireless, slight hiccup but good experience
Had these for about a month now, at first I wasn't happy because they kept pausing music due to them not being 'fit' in my ear - infra red sensing issues - turns out by factory resetting them and reperforming the fitting procedure via the app was the way to fix this - better documentation on the fitting would have been helpful. After this has been sorted, the product has great sound and are easy enough to wear and use with the functions explained clearly, I'm now glad to have made this purchase. Assuming the fitting procedure in the app does adjust the infra red system to your ear (there is little mention in the booklet if this is how it works), it may be an idea to allow the procedure to function when 'not fitted' as if these ever get over adjusted, the procedure can't be activated to refit them as putting them normally in my ear is no longer enough for them to detect being fitted in my ear, a factory reset is then required. This may just be my inexperience talking though but if this is the purpose of the fitting procedure, then it doesn't make sense for it to only adjust to a closer fit, alternatively explain that a reset is needed to go the other way!
Date published: 2022-09-02
Rated

5

out of

5
by
Cedge
from
Easy to connect and long life battery
They connect automatically if you have your Bluetooth on and the battery lasts for really long periods
Date published: 2022-04-20
Rated

4

out of

5
by
e_ab
from
Great earphones
I'm still getting used to some of the gestures, but like them overall!
Date published: 2022-04-23
Rated

1

out of

5
by
craigc001
from
One bud just stopped working
One bud just stopped working, were cool earbuds until this happened
Date published: 2023-02-15
Rated

2

out of

5
by
Simon123123123
from
They work - kind of
When working properly they sound good are a little large but generally comfy and stay secure ish whist running. Unless you get too sweaty in which case they are like bars of soap in your ears, also expect any sweat that touches the side to pause your music or switch from Underworld to ABBA mid run. If you are okay with constant faffing about with apps and you are okay with carrying the case about wherever you go as well as constant messaging to connect with Google voice commands then you should be fine with these headphones. I have used JBL products for years and my previous JBL Free x never missed a beat until they went through a hot wash (and dry) - and even then they worked intermittently. The thing that made them good was the ability to turn them on... and off... with a button. As crazy as it sounds they had an on and off switch, whereas the flow pro will time out after 10-15 mins and become just two useless bits of plastic. In addition to the above, I have had constant connection issues such low fi sounding music following a call and which then requires to unpair Bluetooth and repair - only to find that it will no longer re pair without the case. This happened the first time on a long walk in the middle of nowhere with the case left in the car. Because why would you expect something that has individual batteries to have the ability to be witched on and off - that's just something of the past surely. I've contacted JBL customer services who has essentially said - it's fine - that's what they are supposed to do. I think my next headphones or speaker will be from a different company. It was good while it lasted.
Date published: 2023-02-21
Rated

5

out of

5
by
LLEVRYDAY
from
Great earbuds that check all the boxes!
With every new set of JBL earbuds that come out the bar gets raised higher and higher. These are a perfect example! Starting out with what some may consider the most important category, sound quality. The sound quality of these buds when tweaked to your personal preference using the JBL Headphones app is amazing! I listen to different genres including classical, old school r&b, rap, and hip-hop. The sound is impressive throughout! The highs are crisp and clear, the mids are full, and the bass is booming! The app comes with a few presets but when you adjust the EQ to your liking it really highlights the capabilities of the audio quality. Another category that it checks the the box in is battery life. It's advertised as 10hrs without using the ANC (adaptive noise cancelation) with an additional 20 hrs in reserve charging packed into the usb-c/wireless charging case. That's a total of 30hrs of battery time off of one full charge! If you're using the ANC then you can cut the battery life by about 20%. Also if your on the go and time is of the essence a quick 10 mins gets you 1hr of listening! This should be enough battery life for even the most frequent earbud users. The fitment can be customized to your personal fit by utilizing the 3 different sizes of included powerfins and earbud tips. When the correct size powerfins are used these buds stay in place! Whether you're running, cycling, lifting, climbing, or relaxing you don't have that constant concern that one may fall out. Speaking of being active in these buds did I mention that they are IP68 rated! That's means that they are extremely waterproof and dust proof! So even if surfing is your activity of choice or 4 wheeling in Dubai these will be your earbud of choice. While your out there hanging 10 in Hawaii or climbing Mount Everest these are perfect for keeping in touch and having a clear quality conversation with the 6 voice clarity microphones (3 per bud)! Even in the midst of the most noisy backgrounds the person on the other end will be able to hear you like your standing next to them. The are bluetooth 5.0 with fast pair technology which makes connecting them to your favorite devices a breeze and lightening fast after the initial pairing. The touch commands are accurate and responsive which can also be configured to your liking in the headphone app. They are compatible with your favorite smart assistants (ex: Google, Alexa, etc) I could go on and on about these loaded buds, but I think you get the picture by now. The only downside I can think of is the initial slight soreness that you experience is you aren't use to the powerfins being in your ear. Nothing different than what you deal with when using any earbuds of any style, and that goes away once your ears get use to the foreign objects. Over all these buds get 2 thumbs up from me!
Date published: 2021-11-28
bvseo_sdk, dw_cartridge, 18.2.0, p_sdk_3.2.0
CLOUD, getReviews, 6ms
reviews, product
Product Q&A
bvseo_sdk, dw_cartridge, 18.2.0, p_sdk_3.2.0
CLOUD, getContent, 190ms
questions, product
bvseo-msg: Unsuccessful GET. status = 'ERROR', msg = 'Not Found.';